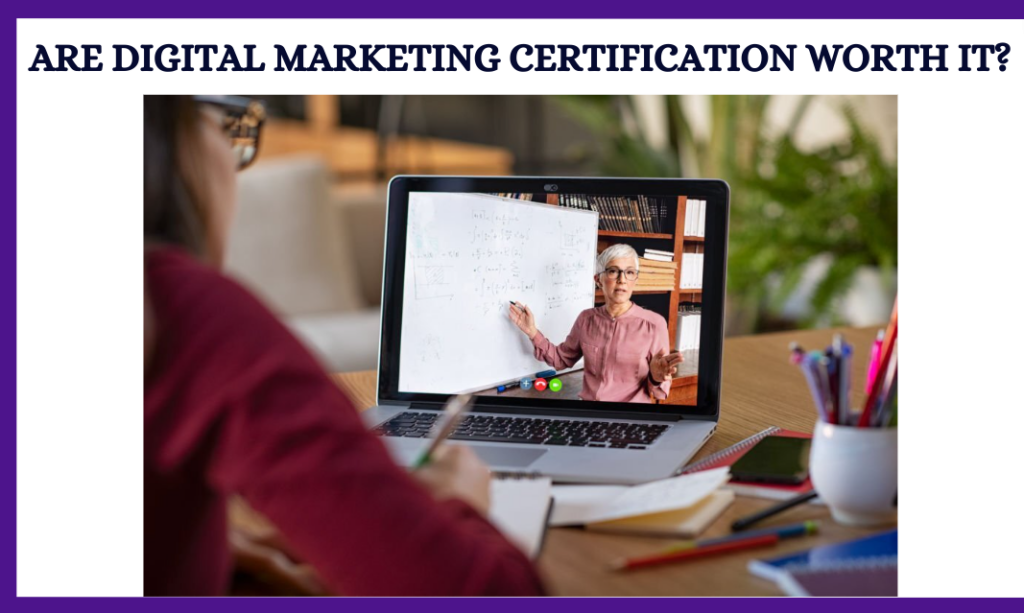 Digital marketing certifications are extremely beneficial because they provide you with additional training regarding specific digital marketing techniques and skills. They also help to boost your career prospects as a result of the fact that many employers look at these certifications when hiring new employees.
Digital marketing certificates can be extremely useful for those seeking career advancement. They provide a means by which you can demonstrate your knowledge and expertise in digital marketing. You'll find that most companies require their employees to hold some sort of certification or degree before being hired. By obtaining this certificate, you'll show that you're well-versed in all things digital marketing. This will make it easier for potential employers to hire you.
The best part about earning a digital marketing certification is that you get to learn what's really going on in today's digital world. The information taught within the classroom setting is applicable to any business regardless of size. The more you learn and study, the better prepared you'll be for any future job opportunities. If you want to start working in the field of digital marketing today, then you should consider pursuing one of the available digital marketing certifications out there.
What Is A Digital Marketing Certification?
Digital Marketing Certifications are specifically designed to prepare individuals for careers in the digital marketing arena. They offer comprehensive courses that cover each aspect of digital marketing including search engine optimization (SEO), social media marketing, email marketing, website design, content creation, conversion rate optimization, mobile marketing, analytics, etc.
Digital marketing continues to grow rapidly, but the need for qualified professionals is growing even faster for people who understand how to use digital tools to promote products and services. Companies are looking for people who can create websites, manage online campaigns, write blogs, optimize web pages, analyze data, and much more.
The Demand for Digital Marketers Is Growing
Digital marketing has become increasingly important to businesses, especially small businesses. According to an article from Statista, "the number of internet users worldwide reached 4.9 billion in 2021, up from 1.3 billion in 2007." With such a large audience, it makes sense why so many companies are investing in digital marketing.
Many companies recognize that having skilled workers who know how to use digital marketing properly can mean the difference between success and failure and is essential to maintaining a competitive advantage over their competitors. As a result, many companies are looking for ways to attract and retain top talents that understand digital marketing to ensure they have a successful company for years to come.
How Much Does It Cost To Get Certified?
It depends on what you'd like to be certified in. There are many free certification programs available online for Google Adwords, Google Analytics, Facebook Ads, and more.
However, if you want to learn new skills and gain relevant experience for your job, seek out a certification that teaches you skills and knowledge that will benefit you in your current role and in future roles. These certifications are generally offered through colleges and universities, professional associations, online courses, and other organizations.
The price of these digital marketing certifications varies depending on where you live, what type of program you choose, and whether you take traditional classes or online classes. However, they typically cost between $50 – $1,495.  
Why Enroll In A Digital Marketing Course?
Digital marketing skills are in high demand. And it's only going to become even more and more in-demand as we move further into this digital age. Therefore, businesses of all sizes are looking for digital marketing specialists and professionals. In fact, according to The McKinley Marketing Partners' Trends Report, 61% of companies surveyed reported that they planned to add digital marketing specialists to their teams.
The good news is that there are now many options for learning digital marketing and getting certified. Whether you want to learn about social media advertising, email marketing, influencer marketing, analytics, SEO, or anything else, there's a course out there for you.
So why enroll in one? Because it'll help you build a strong foundation in digital marketing. You'll be able to work across platforms, understand how people use different channels, identify conversion points, help in planning strategies, implement them effectively, and measure results. These are all essential skills for anyone entering the digital marketing industry. These skills will serve you well no matter what career path you choose. Plus, you'll gain confidence in your ability to market products and services effectively.
READ ALSO:
Benefits Of Enrolling In Digital Marketing Courses
There are several reasons why you should consider enrolling in digital marketing training courses. Here are just a few benefits:
1. Career Advancement
If you want to advance your career and increase your chances of success, then you should obtain a digital marketing certification. Many jobs require applicants to have specific types of training and education. For example, search engine optimization (SEO), content creation, lead generation, email marketing, etc., all require a certain level of expertise. If you're just starting out in your career, then earning a digital marketing certificate can help you get ahead of the competition.
2. Make More Money
According to PayScale, the average salary for a digital marketing specialist is $51,085 per year. That's higher than the national average for all occupations. So, if you want to make more money, then you need to develop the right skills. Earning a digital marketing certificate shows employers that you know what you're doing, which makes you more likely to be hired. This makes you an attractive candidate for any job opening.
If you want to earn a high income in the digital marketing industry, then you need to learn as much as possible about this growing field. By taking online courses, you can quickly expand your knowledge base and become a highly skilled professional, capable of handling various projects.
3. Build Your Confidence
You may feel like you don't have enough experience to do the tasks required. But, with a digital marketing certification, you'll show potential employers that you've got the skills needed to succeed. Plus, having a certificate under your belt gives you credibility and helps boost your self-confidence.
4. Get Better Job Offers
A lot of employers look at certifications when hiring someone. And, if you earn a digital marketing certificate, then you'll stand out from other candidates who haven't taken these classes. Employers are always on the lookout for qualified employees, so if you have the right skills and knowledge, then you'll find yourself landing better-paying jobs.
Getting a digital marketing certification will help you build a strong portfolio of work that demonstrates your ability to apply technology to solve real problems. You'll also be able to show prospective employers that you've got the right skills to succeed in whatever position they might offer you. This is why it is important for you should enroll in a program that offers you the opportunity to earn a certificate that proves your proficiency in various aspects of digital marketing.
5 Digital Marketing Courses That Are Worth Your Time
Now that you understand the many advantages of earning a digital marketing certification, here are five courses that are worth considering:
1. Search Engine Optimization (SEO)
Search Engine Optimization or SEO is one of the most popular forms of digital marketing. In fact, most businesses use SEO to drive traffic to their website for the purpose of generating leads, increasing sales, and boosting profits. 
Becoming an expert in SEO requires extensive study. The good news is that there are several excellent online courses available that teach you everything you need to know about SEO, including keyword research, content creation, link building, on-page SEO, and more.
2. Social Media Management
Social media management is another common form of digital marketing. According to Statista, 63% of marketing professionals say social media plays a role in their business overall strategy. This is a great reason to consider getting certified in social media management.
3. Online Reputation Management
Online reputation management is another type of digital marketing that has grown tremendously over recent years. This is because companies realize how important it is to protect their brand image.
Companies spend millions of dollars each year on advertising campaigns to promote their brand. However, negative reviews posted by dissatisfied customers can harm a company's image. If you know how to manage online reputation, then you could land a job working for an organization that wants to protect its reputation.
4. Content Creation
Content creation is another area where employers seek out those who can create compelling content for websites, blog posts, etc. Companies want to make sure they're using high-quality content that attracts visitors.
If you have the skills to write well, then this is a skill you can put to good use. There are plenty of opportunities out there that need people who can write engaging copy. So, if you want to get hired as a writer, then earning a digital marketing certificate can help you to become a professional in this field.
5. Email Marketing
Email marketing continues to grow in popularity among small businesses. The truth is, that email marketing is still one of the best ways to connect with potential clients.
Email marketing is another way for businesses to connect with prospects and customers. Many companies rely on email as a primary way of communicating with consumers about new products, special promotions, and other relevant information to keep them engaged and loyal to their brand.
Are Digital Marketing Certifications Worth It?
Yes, earning a digital marketing certification will give you the knowledge and experience necessary to succeed in your career, especially in today's competitive market. When you earn a digital marketing certification, you'll be able to demonstrate your expertise to prospective employers and clients for higher pay and better positions.
As you can see, there are several different types of digital marketing certifications available today. To find the one that suits you best, it's important to look at what you'd like to achieve from your training.
In order to be successful in today's competitive market, you must possess certain skills that will set you apart from others. By taking advantage of these digital marketing certification programs, you will develop valuable skills that will help you succeed in any career path you choose.
There's always something new to learn when it comes to digital marketing. Digital marketing courses give you access to the most up-to-date resources and training materials available today, so you can stay ahead of the competition.
The goal of any digital marketing course is to teach students the ins and outs of the industry and equip them with the knowledge necessary to succeed. So, whether you want to start a career or simply improve upon your current skills, these digital marketing certificates will provide you with everything you need to kickstart your success.  
Conclusion 
Digital marketing is a rapidly growing industry that offers many exciting opportunities for individuals looking to enter the workforce. With the right digital marketing training, you'll be able to build a strong foundation in all areas of the industry.
Whether you want to work for yourself or pursue a corporate career, investing in your education will pay off in the long run. You don't have to worry about getting stuck because you lack the basic skills needed to succeed in the modern workplace.
So take charge of your future by enrolling in an online digital marketing program today!