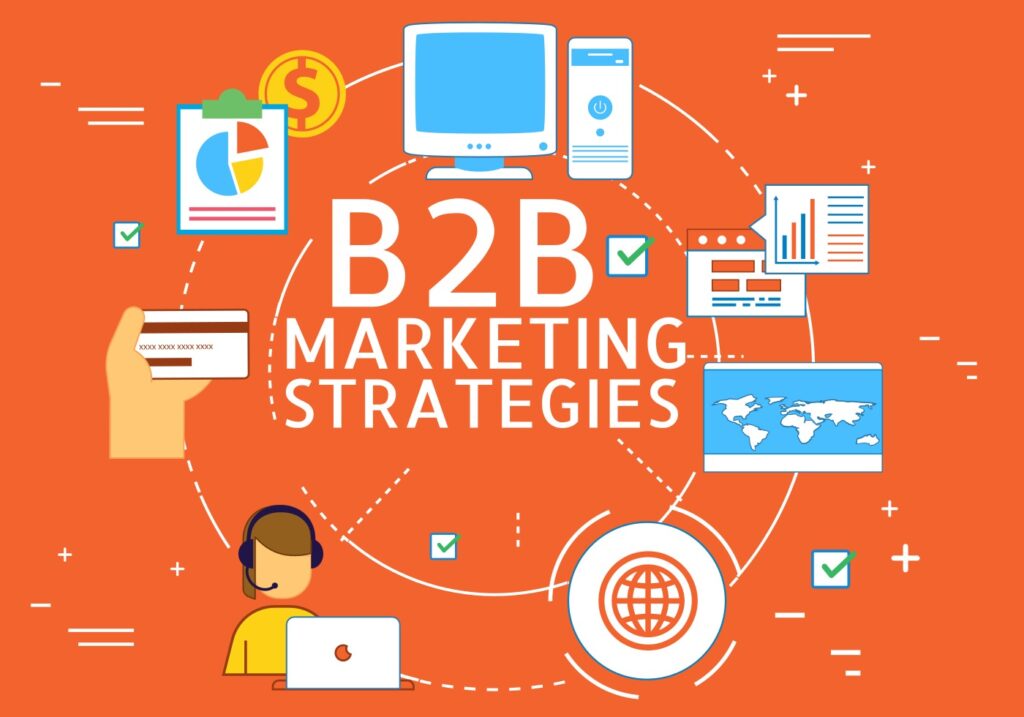 B2B (business to business) marketing is a very important part of any company's strategy. If you want to get ahead of your competitors, then you need to invest time and resources into B2B marketing.
B2B marketing is a type of marketing where companies sell their goods or services directly to other businesses, instead of selling them to individual consumers.
B2B marketing requires more effort than B2C marketing because it takes longer for the sales cycle to complete. This means that there are fewer prospects who will be interested in buying from you. However, these prospects can also generate higher revenue for you if they become customers.
In this post I'll be discussing some key strategies for growing your b2b marketing by using the best strategies. These methods have been proven to work and therefore represent an effective use of online marketing tactics.
What Is Growth Hacking?
Growth hacking is a term used to describe the process of testing out new ways to grow a business through digital marketing tactics. Many people think that growth hacking only applies to startups and small businesses because they don't understand how big companies like Facebook and Google use growth hacking to stay on top of things. In reality, anyone with a website can apply growth hacking techniques to increase traffic, leads and conversions.
The reason why growth hacking works so well for large corporations is due to the fact that they have access to high-quality data about what works and doesn't work, which allows them to test different strategies quickly and efficiently.
Growth hackers are individuals who focus on acquiring new customers by using low-cost strategies. They may work with marketers or non-marketing professionals to create these strategies. Growth hackers are typically analytical and focused.This approach can be used for B2C or B2B companies.
The main purpose of growth hacking is to to find new ways to acquire new customers while keeping costs down. The idea behind this is that when you spend money on advertising and promotion, you end up spending more money than you would have spent had you simply invested the same amount in customer acquisition. Growth hackers use data analysis and information gathering to discover new ways to attract potential customers with low-cost budget solutions.
How To Get Started With B2B Growth Marketing
To start off with, you should know exactly what you're looking to achieve with growth marketing. What's your goal with your company's brand? How do you plan to make money? Do you just want to build awareness? Or do you want to actually turn those followers into paying customers? Knowing these goals will help you set realistic expectations and figure out whether or not growth marketing is right for you.
1. Analyze Data
First step in the process of growth hacking is analyzing data. No matter what industry you're in, you need to gather as much relevant data as possible. When you analyze the data, you will uncover valuable insights that allow you to make better decisions and optimize processes.
2. Create A List Of Potential Ideas
Now that you have gathered relevant data, you can start brainstorming ideas. Start off by creating a list of potential ideas for growth hacks. There are three types of growth hack ideas: content creation, social media and paid ads.
Content Creation
Some of the most popular growth hacks involve content creation. Content can take many forms including blog posts, videos, infographics, podcasts, ebooks, etc. You must remember that the goal here isn't just to produce good quality content. Instead, you should aim to create content that resonates with your target audience. This means that you need to ensure that your content is engaging enough to keep your readers coming back for more.
Social Media
There are several ways to build brand awareness through social media. Some examples include tweeting regularly about product news, posting images related to your niche, commenting on other's blogs, building communities on various platforms, sharing links on social networks, etc. As long as you're doing something active, it shouldn't cost too much to get started.
Paid Ads
Paid ads are one of the most effective methods of gaining targeted traffic. They include advertisements that appear within search engines, social media sites, email newsletters, etc. If you want to gain more customers, then you'll need to figure out where your target market spends their time online. Once you know this, you can create an ad campaign that targets those users and redirects them from your site to yours.
3. Test Different Strategies
Once you've created a list of growth hack ideas, you can begin testing different strategies. In order to test each strategy, you'll need to set aside some funds. However, if you plan well, you won't have to worry about running out of your budget.
4. Evaluate Results
Once all of your tests are complete, evaluate which ones worked best. It's important to note that not every growth hack will work for every business. This is why it's so important to test multiple ideas before deciding on one. Once you've decided on a winning growth hack, be sure to implement it immediately.
5. Repeat Steps 1 Through 4
The steps outlined above may seem like a lot of work, but they're really quite straightforward once you break them down into smaller parts. All of these steps require planning ahead. This means that you'll need to spend at least a few hours researching topics, gathering data, brainstorming ideas, testing different strategies, evaluating results, and implementing winning growth hacks. 
10 B2B Marketing Growth Hack Strategies
Growth hacking is a strategy used for marketing purposes. This strategy is being used by all kinds of businesses around the world. In this article, I am going to share with you the top 10 growth hacking strategies that you should use to increase your sales.
1. Know Your Target Audience
If you don't understand who your target audience is, you might find yourself spending a lot of money trying to reach people that are not interested in what you offer. To identify your target audience, you first need to research your competitors. This way, you'll know how they market themselves and what works for them.
Growth hackers know how to take advantage of limited resources by focusing on the right customers. Before launching any growth hacking campaigns, they do extensive research into their ideal customer. They should also be aware of the different types of customers.Demographics – Age, Gender, Income, Interests, etc.
2. Create A Content Strategy
While creating content isn't necessarily part of a growth hacker's job description, they should make sure that their company has a clear content strategy. A good content strategy includes everything from writing blog posts to developing videos. The goal of a content strategy is to ensure that you provide relevant information to your target audience.
You can increase your visibility across different platforms, and create one long-form piece of content that you can then share on different platforms. You can also repurpose this content into videos, carousels, and other formats for different social media platforms, increasing your reach even further. Content marketing is a great way to attract potential customers.
Publishing white papers, case studies and eBooks, and holding webinars and conferences is a great way to gain a good reputation in B2B business. If you publish interesting and useful content regularly, people will start to recognize you as an authority in your industry. 
3. Optimize Your Website
One of the most overlooked aspects of a website is its design. While many small businesses have an online presence, they often fail to optimize their websites properly. If you want to grow your business, you must invest some of your time and energy into optimizing your site.
Growth hacking is an important part of any online business strategy. You need to ensure your website is optimized for growth hacking. People must be able to easily engage with you on your website, so it needs to load quickly. It shouldn't take longer than 3 seconds to load. When users visit your website, they want to see something useful or interesting. By making your website user friendly, you can increase conversion rates.
4. Send Personalized Emails To Existing Customers
One of the most effective ways to keep in touch with existing clients is through personalized emails. You should include something special in every message, such as a discount code, an exclusive offer, or a promotional announcement. If possible, you should also ask your current customers for feedback. This will give you insight into how you can improve your services.
5. Use Social Media
Social media has made it possible for small businesses to connect with each other. These days, most companies have a Facebook page or a Twitter account. Having a presence on these networks lets you interact directly with your customers. It allows you to answer questions, give advice, show off new products, and more.
Social media helps you grow your brand and build relationships with your target audiences. As a result, you can get leads, generate website traffic, and improve your conversion rate. There are many ways to utilize social media to promote your business. One thing is certain: if you want to succeed online, you must master social media marketing.
6. Study Competitor Tactics
Try studying what competitors are doing and taking note of which strategies seem to work best for them.
You don't always have to reinvent the wheel when it comes to growing your company. Sometimes, all it takes is taking what worked for someone else and applying it to yourself.
If you are not having success in one particular area, try to focus on that specific niche and do more of those things that are working there. Focus on your strengths and use them to their fullest extent.
By studying your competition, you can learn from their mistakes and avoid them at the same time.
7. Build A Community Around Your Brand
A community around your brand is essential for success. You can do this by having a blog, starting a Facebook group, creating a YouTube channel, or whatever works best for your niche. Once you have created a community around your brand, you can use it to generate traffic to your website.
8. Offer Discounts Or Promotions On Social Media
Social media offers a great opportunity to connect with customers. One way to encourage interaction is to share discounts or promotions. For example, you can announce a promotion on Twitter and invite followers to retweet the message. This will increase traffic to your social media profiles and drive more sales.
9. Network With Other Companies
Networking is another key element of growth hacking. It's very beneficial to meet other local businesses and exchange ideas. In fact, this approach works well no matter what type of business you own. The idea is to find out who you know and then make sure to introduce yourself to companies that might be interested in partnering up.
By partnering with other businesses, you can gain access to resources, expertise, and connections that you would otherwise never be able to reach on your own.
10. List your products on ProductHunt
ProductHunt is a community-based site that allows makers and marketers to launch new products or services and connect with their first real users (or potential users). The community can help kickstart products by voting and reviewing them honestly, which are essential at the beginning of campaigns.
Using Product Hunt can also give you an insight into how people perceive your product, so you can fine tune it accordingly.
Conclusion
Growth hacking is a highly effective strategy that has been proven to help businesses achieve incredible results. By following these 10 tips, you'll be able to create better content, engage your audience, and eventually see your business flourish.
Once you see the effects of your efforts, you'll be motivated to keep going!
What are some of the most successful growth hacks that you've seen? Let us know in the comments below!