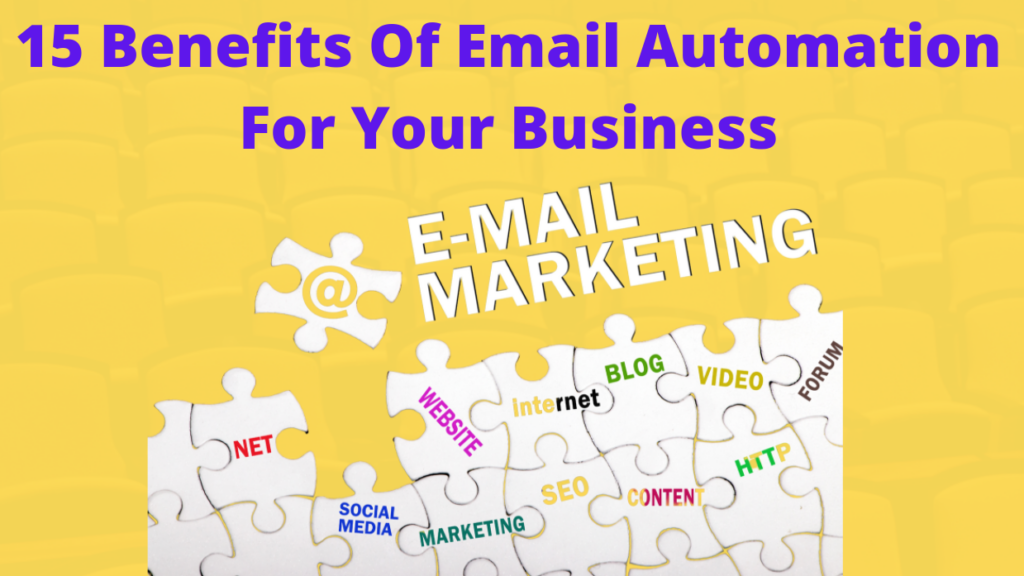 Email is still the best channel for engaging with your customers. Email is also the best channel for nurturing leads, creating a relationship with your prospects, and generating new business. It's also the best channel for building trust and loyalty, and increasing brand awareness.
Email is the perfect medium for communication. It can be used to send mass emails to your entire list and email blasts, as well as provide targeted messages to individual customers. It is also easy to use at scale, so it can do a great job of managing your business without you needing much time or effort.
There are many advantages of email marketing automation software that help businesses to automate their marketing process.
Email marketing is about getting your message in front of the right people at the right time – and it can be difficult to keep up with all the tools, services, and platforms that are available. Email automation can automate the process and make it easier for you to get your message out there.
What Is Marketing Automation?
Marketing automation is the use of a software platform to consolidate, automate, and streamline a variety of related marketing efforts. Automating this process allows marketers to spend less time on routine tasks and more time focusing on higher value activities.
Marketers should focus on creating unique automated marketing campaigns for each of the different target audiences. This will allow them to provide better personalized experiences to consumers while also giving them more time to develop more innovative marketing strategies. By doing this, they'll see an increased amount of engagement, more leads, more conversion, and more sales.
How Does Email Automation Work?
Email automation works because you set up rules that determine how emails should be sent out based on certain events. These events could include when someone subscribes to your website, purchases something from you, or signs up for a newsletter. When these events occur, you send them a welcome email, thank them for signing up, or let them know about new features or products. Once the event occurs, you can create a workflow that automatically sends a follow-up message. This way, you don't need to manually check each email address to respond to them.
Why Is Email Automation Important?
Email automation is important because it saves you time, money, and effort. If you send out emails manually, you will spend hours each week sending emails to customers. With automated email campaigns, you can send out hundreds or thousands of emails per hour. This allows you to stay close to your customers, and provide them with valuable information.
15 Benefits Of Email Automation For Your Business
Here are 15 benefits of email automation for your business:
1. Increase Sales & Leads
The first advantage of email automation is that it increases sales and leads. When you have an automated system set up, you will receive more responses from your subscribers than when you don't. You can then nurture these leads by sending them relevant content and offers based on what they've shown interest in. This means that you'll not only increase sales but also save money since you won't need to hire extra staff to handle the workload.
Email marketing is one of the most cost-efficient ways to increase revenue, and it works for any business. Email marketing can be an effective way to increase revenue. Customers spend 138% more when they receive email offers than when they don't.
Email marketing continues to remain one of the most effective ways to market your products and services to increase sales. With email marketing, you can reach a large number of potential customers quickly and easily.
2. Save Time
Email automation can save time for your business. When you have an automated system set up, you will spend less time worrying about your email campaigns and more time on other parts of your business. Automated email marketing software also saves money by allowing your employees to focus on other tasks rather than dealing with the headaches of sending out mass emails manually.
Automated email marketing software will also help you improve communication between departments in your corporate structure. It will allow each department to work more efficiently without cluttering up their inboxes with unsolicited emails that they don't want or need. You'll find that automation increases productivity and improves efficiency in a wide variety of ways.
Time is money, and if you're spending too much time sending emails manually, you could be losing money. If you have an automated system setup, you can spend more time focusing on other aspects of your business instead of wasting time sending emails manually. 
3. Improve Customer Service
When you're able to send personalized emails to your customers, you can improve customer service. The more personal you can make your emails, the better your relationship with your customers will become. Customers appreciate receiving emails that are tailored specifically to them. They like knowing that you care enough to take the time to write something special just for them.
4. Reduce Marketing Costs
An automated email marketing system can help you reduce marketing costs. When your system is set up and running, you won't need to spend time sending emails manually, which means less time and money spent on sending emails.
Email automation software allows you to use the masses for your advantage. You won't need to worry about creating a lot of emails for a small audience, nor will you need to spend extra money on creating individualized content for each of your subscribers. Automated software creates hundreds or even thousands of generic, one-size-fits-all messages and distributes them automatically. Since there's no personalized data being used here, this allows you to save time and money as well as improve the overall efficiency of your business.
If you use an automated email marketing tool, you can reduce marketing costs. Since you no longer need to pay someone to manage your emails, you'll be able to cut down on marketing expenses. You'll also be able to save money and resources by using an automated email marketing tool instead of hiring additional staff members to do the job.
5. Increase Sales
Email marketing can increase sales for any business. It can spread awareness about your business and help build trust and loyalty for your brand. When you're able to send targeted messages to your customers, you can impress them with how much you care about them. This means that they'll be more interested in buying from you than someone else.
Using an automated email marketing tool will increase sales which will help you grow your business. With an automated system, you won't need employees to create and distribute emails manually. Instead, you'll be able automate all of these processes so that you can focus on growing your business.
The aim of every business is to increase sales and drive revenue. Having an effective email marketing strategy can help you achieve this goal, but it doesn't happen overnight. You must put in the work to get started and then continue to nurture relationships with your customers over time.
When you send personalized emails to your customers, you'll be able to provide useful content that adds value to their lives. If you're building a relationship with your audience, you'll find it easier to sell to them when you know what they want.
6. Grow Relationships With Customers Faster
Automated email marketing tools allow you to connect with your customers faster than ever before. When you have an automated program setup, you don't have to wait days or weeks between interactions with your customers. You can reach out to them right away and keep them updated on new products or services without delay.
Automated email marketing software gives you the ability to grow your relationships with customers much faster than if you don't use an automated system. You will be able to create one-size-fits-all emails that serve each customer's unique needs more effectively.
Without automated email marketing software, it can take time to ensure that everyone is getting the information they need from your emails. If you're sending out hundreds of emails per hour manually, there will be a huge amount of extra work and this can slow down the speed at which you're able to grow relationships with your existing customers.
By using an automated email marketing solution, you can make sure that everyone who wants to receive your emails gets access to them quickly and easily. Once you've set up your marketing campaigns, you can sit back and relax while the rest happens itself.
7. Boost Brand Awareness
Email marketing is one of the most effective ways to boost brand awareness. Whether you're a small business or a large corporation, sending personalized emails can help you establish a personal connection with your customers. It can also increase trust in your brand and convince existing customers to come back for more.
Automated email marketing software allows you to capture this information, and then distribute it automatically to everyone on your mailing list. With an automated system, you'll have the chance to build up trust with your customers and continue bonding over time. You'll be able to communicate with them directly through their inboxes.
If you want to boost brand awareness for your company, you should consider implementing an automated email marketing tool into your marketing plan. By creating automated emails, you can instantly share your product knowledge with potential customers.
You'll also be able to track how many people opened and read your messages, giving you valuable insight into how well you're connecting with your audience. This kind of data can help you improve your strategies as you move forward.
READ ALSO:
8. Grow Your Email List
The best way to grow your email list is by making sure that you're providing regular updates to your current customers. As you get closer to launching a new campaign or service, you can follow up with your customers to let them know about it. This helps you build loyalty among your current customers and encourage them to sign up for future promotions.
When you use an automated email marketing tool, you'll be able to grow your list at a much faster rate than if you're not using one. You won't have to worry about manually creating emails and then having them sent out manually. Instead, you can set up actions that allow your email software to automatically send out emails whenever someone signs up for your mailing list.
You may feel like you have one million customers already but there's more than likely customers  who haven't signed up yet. As soon as they do end up signing up, they'll start receiving personalized, targeted messages that will help them understand what it is you do and why they should choose to work with you in the future.
Growing your list takes some effort, but when you combine that with the other benefits of automation, you'll see results that will exceed your expectations.
9. Increase Customer Engagement
Personalized communications are key to customer engagement. When you provide relevant content and keep your customers updated about your products and services, you'll create lasting relationships that will lead to increased sales.
You want to make sure that they remain loyal to you and become advocates for your brand. In order to accomplish this, you need to connect with them personally so they see you as an expert in your field.
Automated emails give you the opportunity to interact with your customers directly through their inboxes, which makes personalization easier than ever.
When you automate your email marketing campaigns, you'll be able save lots of time and increase your chances of reaching your goals. It's important to note that the right automation tools can actually reduce costs while increasing efficiency.
Customer engagement is something every business needs to focus on, it will help ensure your success over the long run.
10. Improve Marketing ROI
If you want to quickly determine whether or not your investment in email marketing was worth it, you need to look at the return-on-investment (ROI). As you continue to invest in marketing activities, you need to make sure that you're getting the most return for each investment.
If you're looking to improve your marketing ROI, you need to automate your efforts. With a good email marketing tool, you can easily manage multiple campaigns from one place, ensuring that you spend less time managing everything and more time focusing on growing your business.
Email automation allows you to scale your marketing efforts without sacrificing quality. By automating your email marketing, you'll be able reduce your workload and increase your productivity.
Email marketing has a lot of benefits, but the ROI that emails give to a business is unquestionably the best out of any other type of marketing tactic.
11. Better Targeting And Segmentation
Automation is an important tool to get things done efficiently. Segmenting your email contacts by using the right criteria helps you reach out to them more effectively. Lead scoring allows you to determine if someone is interested.
Your CRM stores all the information about your customers. With this data, you can create automated messages for different segments. This makes sure you follow up with the right message. When you divide your list into smaller lists, it increases your chances of engaging with your audience. 
Your primary goal should always be to reach as many people as possible. However, you also need to make sure that those people are the ones that are most interested in what you have to offer.
By segmenting your audience into smaller groups, you'll be able to send more targeted messages to your subscribers. This way, you can better target your message and get a higher response rate.
12. Generating Traffic To Your Site
You may already know how powerful email marketing is, but you may still underestimate its power when it comes to driving traffic to your site. The truth is that email marketing is one of the best ways to drive visitors to your website.
Email marketing campaigns are a great way to reach out to your audience. You can also use them as a tool to grow your business. Sending high-quality content via email helps you to keep your audience interested. When you are creating an email make sure that you link back to your website, make sure that it contains a call to action(CTA) button or link. This will help people who receive your emails to click through to your website.
13. Establish Authority
When you establish yourself as an authority within your niche, you become more credible. People trust what they see coming from you. They believe that you know what you're doing.
Being an authority in your industry means building credibility over time. It takes time to build your brand, so don't expect instant results. Take small steps towards becoming an authority every day. Be consistent and show that you care about what you do.
Email marketing opens doors for businesses an authority in their industry around the globe. With a little bit of effort and planning, you too can take advantage of these amazing opportunities.
14. Track Responses To Collect More Information
It's hard to track whether your campaign was successful without collecting some data. If you want to know how well your email marketing campaign did, then you need to collect some data.
Email automation lets you easily collect responses from your recipients automatically to gather feedback. Once you've collected this data, you can improve future campaigns.
15. Offer Discounts Strategically
To attract new clients, you must give away something of value. You can offer discounts on products or services that your client wants.
Offering discounts is a good way to increase sales. But it has to be done strategically. Make sure that your discount offers are relevant to the products and services that your customers buy.
You can also offer discounts strategically with email marketing. A few days before a sale starts, you can send promotional emails to your list offering discounts, special promotions or free gifts.
With email automation, you can create emails with pre-written text and images that automatically go out to your contacts based on certain criteria. This saves you time and energy by letting you focus more on running your business, rather than manually sending hundreds of emails every day. In addition, you can save yourself some cash because you're not paying someone else to send those messages. Automating your email marketing can help you get better results, while saving you money at the same time. 
Conclusion
Email automation is a powerful tool that can save you hours of work each week. By setting up automated emails, you can send messages out automatically without having to spend any time doing it manually. Whether you have a newsletter you want to send out once per month or an entire series of messages that need to go out regularly, automating your emails will save you tons of time and allow you to spend that time focusing on other aspects of your business. 
Email marketing can do a lot more than just send out newsletters to your subscribers. When you use email automation, you can utilize your time and resources to focus on other important aspects of your business. Email marketing takes time, but it's well worth the effort if done right.