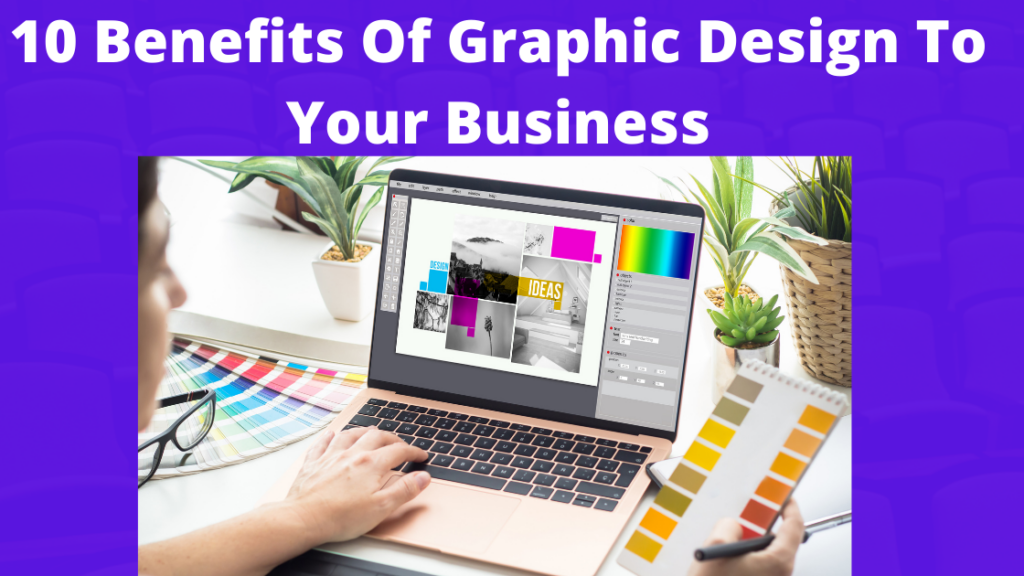 In today's world, graphic designers play a vital role in helping companies promote their brand. Graphic design has become a fundamental part of businesses and the internet, which is why it's so important to have a good understanding of what graphic design is and how you can use it to help your business grow.
Graphic design can help your business stand out from the crowd. It can help your business be more memorable, more attractive, and more attractive to potential clients. Graphic design can also help your business to be a more effective marketing tool. Graphic design can help make your business more efficient and profitable, so it's important to make sure that you invest in the right kind of graphic design to help your business succeed.
It's no secret that graphic design is a very important part of any business, and it's also no surprise to know that most small businesses don't have the budget for professional designers, but there are many other ways you can use graphic design in your business without breaking the bank.
Graphic design has become a very important part of almost every business sector. Every company uses graphics in their marketing strategies, and even non-profit organizations rely heavily on visual communication for fundraising purposes.
10 Benefits Of Graphic Design For Your Business
Graphic design is an extremely versatile discipline that can be applied across a wide range of industries. It allows businesses to create logos, brochures, advertisements, websites, social media graphics, e-books, posters, flyers, presentations, infographics, etc. As long as you have some basic knowledge about designing, you can make anything from scratch.
But not all graphic designs are equal. Some are more effective than others, and therefore they will bring more value to your business. That said, here are 10 benefits of graphic design to your business:
1. Increase Brand Awareness
Brand awareness is about how much people know about your brand. Your customers' brand recognition will greatly influence their buying decisions and may make them stick to your products or services. You should use graphic design to make your brand identity more recognizable and memorable.
One of the most common reasons that people hire a designer is because they want to increase awareness of their brand. When consumers see your logo or branding, they subconsciously associate it with your business. This means that when customers think about your product or service, they'll automatically associate it with your brand.
Never underestimate the power of your brand. If you're looking to increase brand awareness, then hire a professional graphic designer who knows how to use design elements effectively to improve your brand image. A well designed logo will let your audience remember your brand and keep coming back for more.
2. Helps You Stand Out From The Competition
If you want to build up a strong customer base, then you need to differentiate yourself from the competition. Using graphic design can help you do this by creating unique visuals that promote your brand and distinguish your products or services.
You can also use graphic design to highlight your company's strengths and unique selling points. A good graphic design can make your business look more professional and credible. This will attract more customers and help you stand out from the competition.
Branding is a key part of any business. You need to differentiate yourself from others by creating a unique identity. Good branding can make your business look trustworthy and reliable. With these qualities, you will be able to gain new clients and increase sales.
3. Improve Customer Experience
When customers visit your website, they expect to find information fast and easily. They want to get what they came to your site for in the shortest amount of time possible. Good graphic design can help you achieve this.
It provides visitors with visual cues on where to click next so that they can access the information they were looking for. It also helps make navigation easier for customers.
By using graphic design, you can provide your customers with a better user experience. This will ensure that they stay longer and come back often.
4. Makes Your Marketing Plan More Effective
Graphic design plays an important role in marketing plans. In fact, without a proper planning process, it would be hard to create the right visual content.
Graphic design can make your marketing materials more effective. well-designed flyers, posters, and brochures can capture attention and communicate your message more clearly.
Marketing experts agree that graphic design has become one of the most essential tools used by marketers today. Hire a creative graphic designer to help you craft a compelling design that will resonate with your target market.
5. Increase Conversions Rate
The way that you present your products or services to potential customers can have a big impact on whether or not they choose to buy from you.
Good graphic design can help you convert leads into paying customers. By making your website visually appealing, you increase conversion rates.
People are attracted to attractive websites. When you create graphics that are eye catching, you may even attract people who never thought about buying anything from you before.
READ ALSO:
6. Boosts Brand Recognition
Another reason why you should invest in graphic design is because it makes your brand recognizable. Good graphic design can help improve recognition of your brand. Customers will be able to identify your products or services more easily.
Having a logo that stands out from the crowd is important if you want to increase brand recognition.Good graphic design is also useful when you're trying to position your product as being different than its competitors.
Brand Identity is the visual aspect of your company. It is the first impression people receive when they see your company or product. Your brand identity should represent you and your entire business, so it's important that it reflects your personality as well as your products. A well designed brand identity can only be done through graphic design, which revolves around the process of communicating visually.
7. Increases Visibility On Social Media Platforms
Social media platforms like Facebook and Twitter play a huge role in how successful your business becomes.
If you don't use social media, then you're missing out on a lot of opportunities. You need to reach out to your audience on these sites because they are the perfect place to connect with them.
Social media users love visuals, and good graphic design can help you get more engagement on these sites. With high quality images, users are more likely to share your posts, comment, and interact with your page.
8. Enhances Product Sales
A good graphic design can make your products look beautiful and appealing. Good graphic design also helps sell the products more effectively, especially when the design conveys a certain emotion.
Your graphic designer can come up with ideas for new designs that will appeal to your customers. This includes things such as adding special effects to your designs or creating a unique style that will give your products an edge over others. All this creativity translates into increased sales for your business.
9. Helps You Communicate Your Message More Effectively
A good graphic designer can create images that are effective at getting across your message. They can use any number of techniques to communicate your message clearly.
Graphic design can help you communicate your message more effectively. You can use visuals to make complex information more understandable and memorable by using colors, shapes, typography, and other elements.
Graphic designers can take pictures and edit them to highlight the features of your product. They can also make 3D models of your products and present them in various ways. By doing all this, you can make your products stand out among your competition's products.
10. Helps Make Your Brand Look Professional
Graphic design makes your business look professional and trustworthy. It helps you communicate your message effectively and efficiently. It reflects how much effort you put into your product or service. It also shows that your company pays attention to your customer.
Professionality matters when it comes to branding, so having a great graphic designer is essential to making sure your brand looks sharp and polished.
Conclusion
Graphic design is one of the most important aspects of running a business. It plays a big part in how you market your products and services. If you want to grow your business, then you must have a good graphic designer working for you.