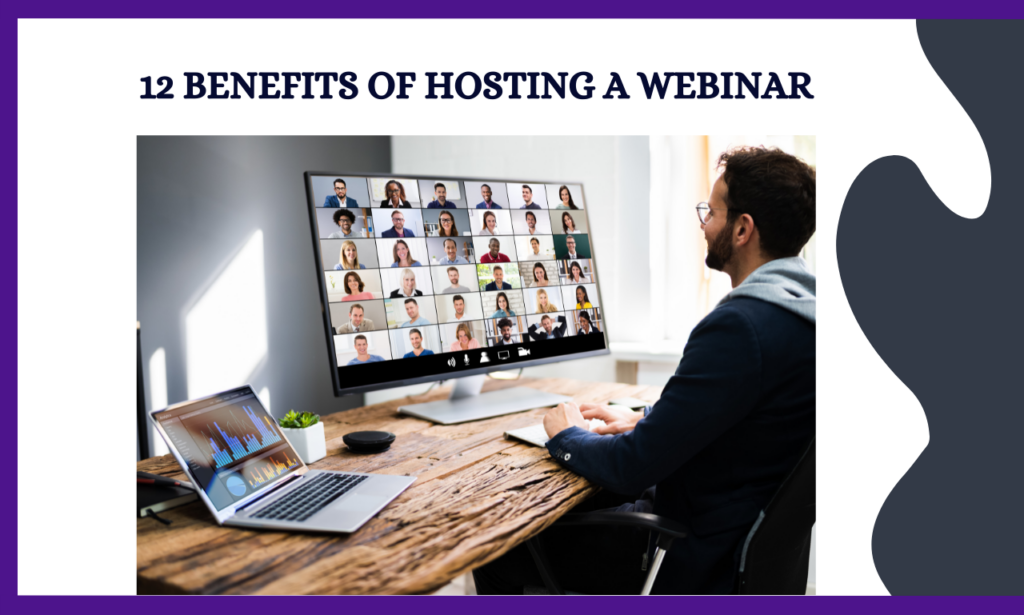 Hosting a webinar has become a common practice among businesses today. It is a great way to connect with their clients and prospects. This is especially true for companies who want to reach out to the masses quickly, or those looking for an easy way to get to know more about potential customers.
What Is A Webinar?
The word "Webinar" is derived from two words: "web" and "seminar". Webinars are essentially events that are held virtually which can exclusively attend by an online audience from anywhere in the world.
Webinars have become extremely popular due to their ability to reach out to large audiences around the world. They are typically hosted by companies that wish to educate their target audiences on various topics related to their business. The host company also provides a platform where people can register for the event at any time during its duration. Attendees will be able to view the presentations via live streaming technology.
14 Benefits Of Hosting A Webinar
There are many benefits of hosting a webinar. These include:
1. Reach A Wider Audience
One of the main reasons why you should host a webinar is because it allows you to reach a wider audience than other methods of marketing. One of the best things about hosting a webinar is that you don't need to go through multiple channels like print ads, TV commercials, radio spots, etc.
You are only required to go through one channel – the internet. The reason behind this is that you are reaching your audience directly without having to spend much money.
Webinars are one of the best ways to get your message out there because they're so widely accessible. You can have a conversation with thousands of people from different parts around the world through a webinar. Also, all of this is happening from the comfort of your own home.
2. To Boost Brand Awareness
Another advantage of hosting a webinar is to boost brand awareness, as well as increase visibility. Your audience gets to interact with your company and learn more about what you do. In addition, it gives them a chance to ask questions and gain more knowledge about your products. Many times, attendees leave with a sense of loyalty towards the brands they've interacted with.
If you're running a business, you probably realize how important it is to let potential customers know about your brand. Through a webinar, you showcase your expertise and allow your audience to become familiar with your brand.
This helps build relationships between your company and your target market.
Webinars are a great way to build trust and credibility with your audience. You need to create an engaging experience for them, and webinars are the perfect way to do just that.
3. To Get More Leads 
The third benefit of hosting a webinar revolves around generating more leads. If you host a webinar on a topic that relates to your products/services, then chances are good that you'll attract new leads.
Webinar registration forms are one of the most effective ways to gather leads. People are used to giving out their contact information when they register for a webinar. Your signup form should be designed so that visitors can provide their name, email address, and phone number. These kinds of forms are easy to build and are a good source of leads.
Webinars are an effective way to connect with your clients from a distance. It allows you to talk directly to your customers and help them learn more about your company, while giving your prospects an opportunity to get to know your brand better.
This means that you'll have a greater chance of getting qualified sales leads.
4. Increase Customer Loyalty
Hosting a webinar gives you the opportunity to promote customer retention. When your guests attend a webinar, they get to see how knowledgeable you are about your product or service. This shows them that you care about their needs and want to serve their interests.
People who attend these events tend to feel appreciated and valued. This makes them loyal to the brand in question. As you continue to host webinars, you will develop a reputation for brand awareness. This will lead to increased customer loyalty.
5. You Can Deliver Tremendous Value To Your Audience
A webinar is a great tool for delivering value to your audience, especially if it's related to a subject that your audience would find valuable. 
When you host a webinar, you can teach people how to use your products and services effectively. By doing this, you show your audience that you understand their needs and that you care about helping them succeed.
You can share your webinar recording with everyone. Your audience can access your recorded sessions at any time, even years after the event. If someone misses something during the webinar, they can watch it again, and catch up on missed content.
By offering live webinars, you give your audience the ability to ask questions and engage with you, which increases the likelihood that they'll buy from you.
6. Increase Sales
If you're looking for ways to generate more revenue, webinars are a great option. The fact that people can join in real-time lets you interact with them in person. This creates a more personal connection that encourages them to buy from you.
Webinars are a fantastic tool for generating leads. They give you the opportunity to develop a rapport with your audience. In return, this improves their trust level and increases the likelihood that they'll purchase from you.
Webinars can be educational, inspirational, or entertaining. When conducting webinars, focus on delivering "value" rather than just presenting a sales pitch.  Webinars are also an excellent tool to promote your brand and company culture. When done correctly, webinars can boost sales conversions and create loyal customers.
7. Builds Trust And Credibility With Your Customers
If you run a small business, you know how important it is to maintain high levels of credibility with your clients. Building trust and credibility with your clients helps you retain them as customers.
One way to do this is to regularly host webinars. Webinars allow you to demonstrate your knowledge about your industry and your ability to deliver results to your clients.
READ ALSO:
8. Building A Relationship With The Audience
The best thing about hosting a webinar is the chance to build relationships with your audience
You can talk directly to your audience through a webinar. This allows you to communicate with them in a more personal manner. It also gives you the opportunity to answer questions and address concerns.
Webinars allow you to build relationships with your audience by having real-time one-on-one conversations with them. This builds trust between you and your audience.
By making yourself available to your audience, you establish a relationship with them, which makes them feel valued and appreciated. This will encourage them to continue buying from you.
9. Helps You Stand Out From Competitors
Hosting a webinar shows that you have expertise in your field. This demonstrates that you're knowledgeable about what you offer and that you're willing to help others learn more about it.
This sets you apart from other businesses who don't provide training opportunities. These companies may not realize that providing training opportunities is beneficial to their bottom line.
So you should consider hosting regular webinars if you want to stand out from competitors.
10. Increased Customer Engagement Levels
Hosting a webinar allows you to connect with your audience in a different way. This means you can get closer to them and make them feel special.
When you host a webinar, you can ask questions and answer any concerns that your audience has. You can even use this time to teach them something about your product or service.
This engages your audience and keeps them interested. As a result, they become more likely to buy from you which boosts conversion rates.
11. Allows You To Demonstrate Expertise
In order to attract new customers, you need to show that you're an expert in your field. If you want to demonstrate your expertise, then hosting a webinar is a great option.
Webinar allows you to share your knowledge with your audience. This allows you to educate people about your products and services.
As a result, you'll gain a reputation for being an authority in your industry. People will come to you when they have problems because they know that you'll be able to solve their problem.
You should try to host a webinar at least once per month. Doing so will keep you on top of trends in your industry and help you stay relevant.
12. Cost-effective
Webinars are cost-effective ways to reach potential clients. They're affordable and easy to set up.
If you want to promote your business, then hosting a web seminar is a good place to start because it is extremely cost-effective method of sharing information with your targeted audience. 
Webinars are an excellent alternative to conferences because you can host them online and at any time. You also get the benefit of not having to pay for expensive venues and other expenses. Webinars are usually cheaper than hosting a physical event, too.
Webinars cost relatively little effort and money, so they're worth doing. It is also a very cost-effective way to market your business.
13. Time Efficient
Webinars are very effective because they allow you to connect with your audience wherever they are at any given moment. You can also easily share information during the webinar, making them an excellent tool for promoting your business.
Webinars take anywhere from 30 to 45 minutes to host, it saves everyone money and time. You don't need any venues to hire, caterers to deal with, or travel costs to cover.
By using webinars, you can save a lot of money and time. You can host them whenever you want, as long as there's internet access available.
14. Ideal For Obtaining Feedback
Webinars are ideal for obtaining feedback, especially if you're looking to improve your marketing strategy. By asking questions and answering concerns, you can learn what your audience likes and dislikes about your company.
Make sure to ask for feedback at the end of your webinars. You can ask for feedback at any time during an event, or you can send out a survey afterwards.
By asking for feedback, you can find out what your audience wants and needs. You can then make changes accordingly.
Conclusion
Hosting a webinar is a powerful marketing tool that can help you build relationships with your target audience.
It's a simple yet effective way to communicate with your prospects and customers. With the strategies, you can use webinars to grow your business.
Webinars allow today's businesses to connect with their target audiences from all corners of the globe. Businesses can enjoy all of the benefits of webinars on a consistent basis if they use the right solutions and execute them properly.