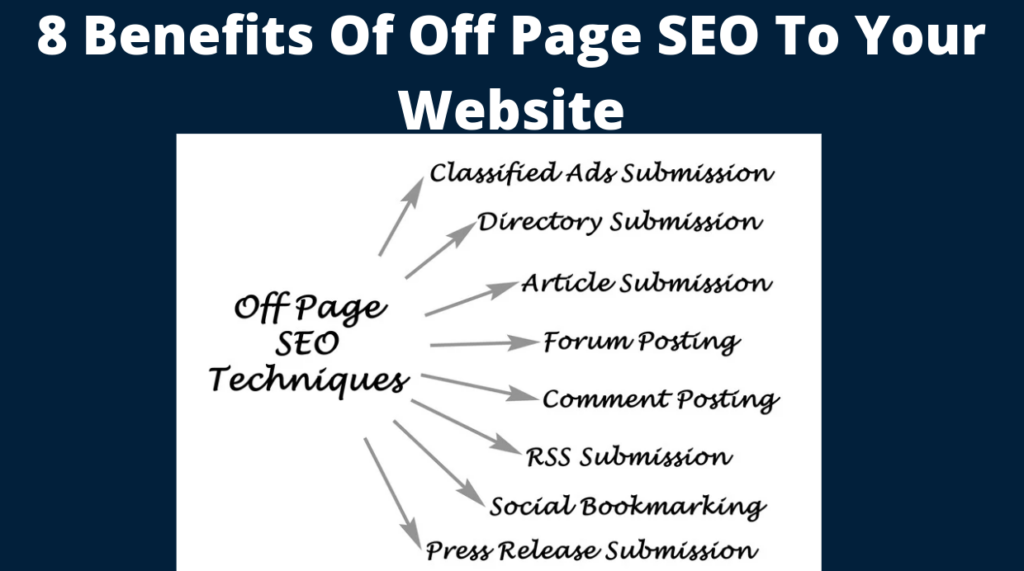 `Every website owner wants to rank on the top of search engines like google, bing and yahoo. This is one of the most important aspect of any business. If you are not ranking high enough in search results then it will be difficult for your customers to find your site. So, if you want to improve traffic to your site then off page optimization is very helpful for you.
What is Off Page SEO?
Off page SEO refers to all the activities you do outside of your website that influence how search engines ranks your site. This includes building links back to your website, guest posting, submitting press releases, and other methods that will help your site get more visibility.
What Are The Types Of Off Page SEO?
There are many types of off page seo, they include:
This involves writing articles on blogs related to your niche and submitting them to various websites so that they can link back to your website. 
This means sending a press release to all major news sites including online newspapers and magazines. Once it is published, these sites will give credits to your company by linking to your website. This helps increase your brand awareness as well as traffic.
In this method you look for broken links on other websites. You can use tools like ahrefs or snipurl to locate these links. Then you send an e-mail to webmasters asking them to fix the broken link by replacing it with a working link pointing to your website.
Building strong social media presence with relevant posts and comments will naturally increase your reputation.
When you comment on blogs, you create a backlink for your own site which helps you to establish your authority and therefore gain traffic. Remember that it's not the number of comments you leave, but the quality of them that will make a difference.
READ ALSO:
8 Benefits Of Off Page SEO To Your Website
1. Increased Domain Authority
Your website's authority increases when other websites that have good domain authority link to your site. 
One of the benefits of off page SEO is that it increases your domain authority. Your site will have a greater chance of ranking high in search results because you have done good things for your site that increased its authority.
When you do off page SEO, you are building links to your site from top authority websites. This builds more trust and authoritativeness to your website. When other websites link back to your website, Google considers it as an indicator of quality content on the internet and ranks you higher in search results.
2. More Traffic 
Another benefit of off page SEO is getting more visitors through organic searches. With the right off page SEO strategy, you can drive more traffic to your site which will eventually bring more potential customers.
3. Better Ranking In Search Results
You can use off page SEO to optimize your site so that it gets better rankings in different search engines. This way, when people search for products or services online they will see your site at the top of the list.
Search engines like google, bing and yahoo use the expertise, authoritativeness and trustworthiness of the websites to rank them. Building links from authoritative sites with quality content helps increase your rankings in search results.
With off page optimization tactics, you can increase your site's visibility in search results from not only top rankings but also from the number one spot in the first page of Google search results.
4. Improved Brand Awareness
When people see your site in search engine results, it's a great way to build brand awareness. Your customers will see your site regularly if they are looking for products or services that you offer, this means your brand name stays in front of the eyes of potential customers.
5. Long Term Gain
Off page SEO is a long term strategy that you can use to improve your brand's credibility and visibility, especially for businesses who want to reach a wider audience.
7. Generate More Sales
If you sell products or services, having a strong presence in search results can generate more sales. Customers will be able to find your business easily and buy what you're offering.
This is a great advantage for small businesses who don't have a big budget for marketing, since they can still get their product out there by using off page SEO strategies.
8. You Can Rank For Any Keyword You Want
Using off page SEO techniques, you can rank even for any keyword that you want. If you have a niche market, then you can target specific keywords within this niche to help attract customers because you now have an increased domain authority in your niche.
What Is The Difference Between Onpage And Offpage SEO?
On page SEO is a process that involves optimizing your site for search engines. This includes using keywords properly, using meta tags, using title and meta descriptions and many more. 
Off page SEO refers to external factors that impact how well your site ranks in search results, such as guest posting articles in other websites, submitting press releases, etc.
Conclusion
SEO has become very popular among many businesses these days. It is one of the best ways to promote your website. However, make sure that you know how to perform good off page SEO before you start applying it to your own website.
Off-site SEO is just as important as on-site SEO. Both play a role in improving your rankings. However, off-site SEO is a little trickier than on-site SEO because you have to work harder to make sure your efforts pay off.
To ensure that you succeed, you must focus on getting links from authoritative sources. These include blogs, forums, news sites and directories that are relevant to your industry. When you do this, you'll be rewarded with higher rankings in search engines.