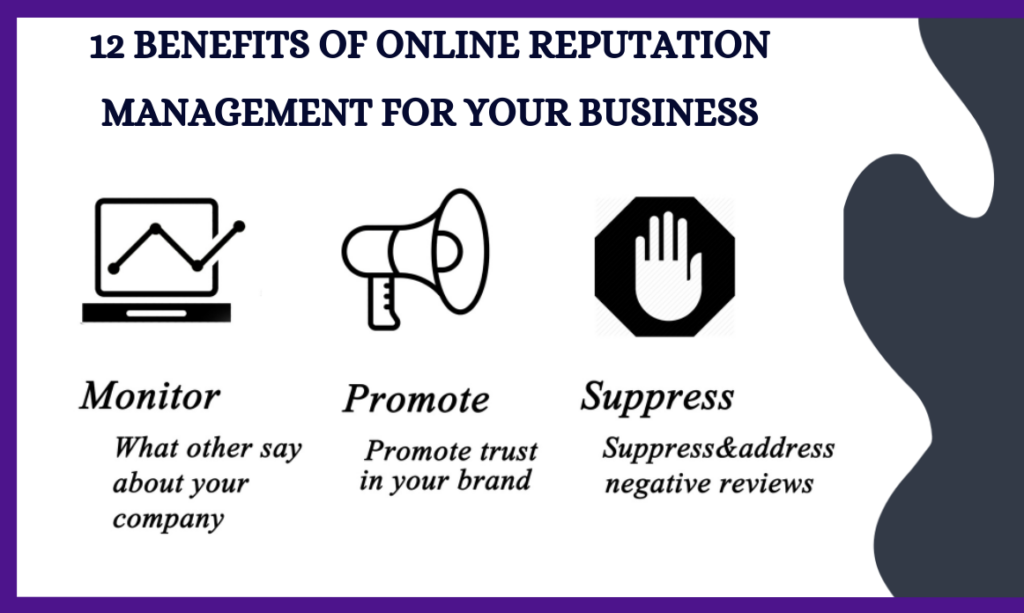 A good reputation is essential for any successful business, and it can be an invaluable asset when you are selling a product or service. It's important to get your online reputation right because potential clients could find out about anything from bad reviews online. If they see that you have a poor online reputation, it will affect their perception of the company as a whole and make them less likely to buy your products or services. This is why it's so important to manage your online reputation properly.
What Is Online Reputation Management?
Online reputation management (ORM) is the process of managing, monitoring, and improving the online reputation of a person, organization or product. The main objective of ORM is to make sure that a business or brand's online reputation stays positive and consistent. This helps them to increase trust among customers and potential customers.
In order to achieve this goal, every business must take steps to ensure that they maintain their online reputation. They must monitor what people say about their products and services, respond to negative reviews and complaints, and remove inaccurate information about their brand from the internet.
How Is Online Reputation Important For A Business?
The online world is becoming increasingly important to the success of any business. 
If you want to generate leads for your business, then having a positive reputation is essential. The internet is full of negative reviews about your company, which means that potential customers may avoid doing business with you. Having a bad reputation online makes it harder for you to reach out to new clients.
The importance of online reputation for business is huge. If you want to sell anything online, you need to be able to trust others about your product. This means that you must be able to prove to customers that you're legitimate and trustworthy.
By taking the time to improve your online reputation, you'll be able to attract more customers and grow your business. 
12 Benefits Of Online Reputation Management For Your Business
1. Create Positive Credibility
Most people look at other businesses before choosing one for themselves. When companies have a good reputation, they tend to attract more customers who want to use their products or services. Having a positive reputation means that customers are more willing to trust your products and services. In addition, having a strong reputation makes you seem like a reliable company.
2. Builds Brand Loyalty
Brand loyalty refers to how much someone values a particular brand or product. People with high levels of brand loyalty are loyal to brands that have great reputations. A strong reputation means that customers will continue using your products or services even if there are cheaper alternatives available in the market.
3. Boosts Sales
When people know that you have a good reputation, it increases sales. Customers are more likely to purchase your products or services since they feel safe doing so. 
Having a positive reputation can help improve sales. Customers know that if they buy something from you, then it will work properly. Therefore, they are more likely to purchase your products or services again in the future.
4. Improve Search Engine Rankings
A positive review or news about any brand or product will attract a lot of attention. If you have a positive review online or if lots of people talk about your product, then your business's website traffic will increase, and it will appear higher on search engine results and news reports. This will make you seem like a more trustworthy brand and improve your search engine rankings.
5. Establish Professional Image
Your online reputation reflects your professionalism. If you don't care about maintaining a professional image on the web, then it shows. As a result, your business may lose credibility and turn off potential customers.
6. Increase Social Media Presence
People trust companies that have a lot of followers on social media platforms. Social media is one of the best ways to spread positive online reputation about your business and products. The more people you have on social media, the better it is for your business's reputation online.
READ ALSO:
7. Capture New Customers
It's easier to attract new customers when you have a good reputation. Potential customers believe that your business or brand is reliable. This means that they will be more likely to buy your products or services.
8. Improve Employee Morale
When employees work for a company that has a good reputation, they feel proud of being part of such an amazing organization. As a result, they perform their jobs well because they feel valued by the company.
Employees usually enjoy working for a company that has an excellent reputation. This creates a sense of pride among them.
Employees want to work for companies with a good reputation because it means they are doing a job that matters. They also want to do what they love so they can keep up with their passion.
9. Prevent Negative Reviews From Being Shared
If you get negative reviews online, then this could damage your reputation. It's important to take action as soon as possible to prevent these reviews from getting out into the public eye.
A lot of businesses suffer because of bad reviews. Most often than not, a negative review will get shared more than a positive one. A negative comment needs to be handled immediately in order to avoid any further damage. This is why brand owners need an online reputation management system to keep track of all mentions and comments regarding their business. An online reputation strategy helps them address any problem before it becomes bigger and more damaging.
10. Generates Valuable Business Insights
An effective online reputation management strategy can provide valuable insights about your business.
You can use an online reputation management tool to discover which of your products and services are most popular. This information will help you to determine whether there are any areas you should focus on improving to increase sales even further.
By using online reputation management analytics, you can also pinpoint what improvements are needed to improve your overall performance.
11. It Increases Revenue
Online reputation management is a powerful way to generate revenue. You can use it to promote your products and services to gain more customers that will eventually become loyal to your brand.
The more customers you have, the more money you make. In addition, if you manage your reputation properly, you'll be able to retain existing customers while attracting new ones.
A good reputation has the power to make people think that you are a nice company. When your customers see how honest and friendly you are, then they will be more willing to buy your products or services. A positive online reputation can change people's opinion about your business and help you gain respect in your community as well as among your existing customers.
12. It Is A Cost-Effective Marketing Tactics
A well-done online reputation management campaign attracts positive reviews from other people who will likely look up your business online. This can be called a free marketing strategy for your business. The more visitors your site gets, the more profit your business makes.
Reputation management costs businesses much less in terms of time and money than the expenses associated with reputation harm. That means, the costs associated with maintaining a profile or brand online are significantly lower than the costs associated with a lack of trust by customers, stress and pain suffered by business owners/operators and loss of business and loss in sales.
Conclusion
As you can see, online reputation management is a great idea for every business owner. If you want to succeed in today's competitive market, then you must learn how to control your online reputation. There are many benefits to having a strong reputation online. By taking advantage of these benefits, you can boost your profits and turn your business into a success story.
The bottom line is that you want to build trust with your customers. That means building positive relationships, responding to customer service issues, and doing whatever it takes to keep them coming back for more. When you do that, you'll earn their loyalty and respect, which will help grow your business and increase profits.