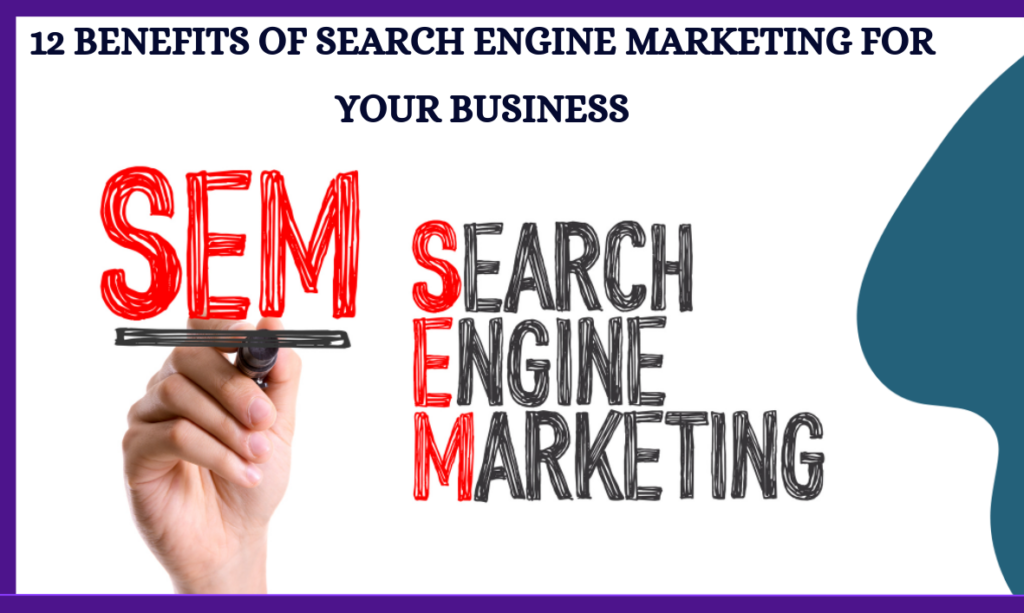 Search engine marketing has become a staple part of any digital marketing plan.
There are numerous benefits to search engine marketing (SEM). In fact, most companies will tell you that SEM is vital to their success.
Search engine marketing is important for every business, regardless if it is big or small. It can help your brand gain traction and increase sales.
What Is Search Engine Marketing?
Search Engine Marketing (SEM) is the practice of using various methods to improve the visibility of websites in organic results on major search engines such as Google, Bing and Yahoo. The main goal of SEM is to drive traffic to your website via paid ads. These ads are often displayed at the top of the page when someone searches for something related to your business. 
An SEO strategy is essential for SEM campaigns to work effectively. Without one, you won't know what keywords to use in your advertising. Your goal should be to relate to questions your target audience search for online. 
SEM is a powerful tool that ensures that your target audience sees your content in their search query results, which means more visitors to your website. Your ads are displayed at the top of the page, so you don't have to compete with others for organic space. You can effectively reach this audience, increase traffic, and boost conversions with this effective advertising method.
12 Benefits Of Search Engine Marketing For Your Business
1. Boost Brand Awareness And Recognition
In today's competitive market, consumers want to find businesses they trust. One way to ensure this happens is by investing in search engine marketing.
By targeting relevant keywords, you'll make sure your content is seen by people searching for information about your product or service. This increases brand awareness among prospective customers.
With the right strategy, you'll also see an increase in customer recognition. People who visit your site are already familiar with your company, which makes them more likely to buy from you.
If your product or service ranks high in search engines, it means that consumers are more likely to visit your website and prefer or even recommend your offerings to others.
Over time, you'll notice that the keywords of your prospects' searches are becoming increasingly relevant to your business as they become more familiar with you and see your company as a trusted advisor or provider.
2. Increase Leads And Conversions
One of the biggest benefits of SEM is that it can be used to increase leads and conversions. You can use your investment to get more people on your website and ultimately increase your sales.
The most effective way to achieve this is by determining what keywords your target audience uses when they search online. You need to target these, so you can show up in the top results when they click on these terms. This will drive a lot of people to your website who are searching for information about what you're selling.
By increasing your rankings, you'll help people discover your products and services faster. You can then convert those visits into leads. When people land on your website, they're more likely to purchase if they like your products/services and feel like they found what they were looking for.
3. Gain More Customers
When you invest in search engine marketing, you automatically gain access to a large number of new customers. Since you're showing up at the top of the search results, you'll attract attention from potential buyers.
You can then convert these visitors into customers if they end up buying something. With SEM, you can easily scale your business and grow your business without having to spend much money.
4. High ROI For Your Budget
SEM is one of the more affordable forms of digital advertising, which means higher returns for every dollar invested.
Using SEM to drive traffic and boost conversions can be a smart investment. When you use this form of marketing, you're not going to spend a lot of money.
However, it pays off in the long run by attracting potential customers to your website. Since they're already familiar with your brand, they're likely to make an actual purchase on your site. You should expect an increase in leads and sales as a result of investing in SEO campaigns.
5. Increased Traffic
Traffic is the lifeblood of many online businesses. It's how prospective clients find out about your products and services.
If you bid for keywords that match your business's products or services, and set a reasonable budget, your ads will be shown only to people who are actively searching for your products or services. Hence, this attracts relevant traffic. You can use SEO tools to find out which search queries people are using when they're looking for your products or services, so this ensures high quality traffic.
SEM benefits businesses that need more traffic that's targeted towards their products or services which will increase sales and eventually lead to increased profits.
6. You Only Pay Per Action
Another benefit of using SEM is that you only pay per action, rather than paying per impression. When someone clicks on your ad, that is when you will only have to pay for that particular conversion.
You're only liable to pay if people actually click through to your site. If nobody clicks or takes any action after seeing this ad, you won't be charged for it.
Even if nobody clicks or takes any actions, awareness will already be established among people who might have already seen your ads, but didn't take any action.
This is a great way to ensure that you don't waste time and money on ads that aren't converting.
READ ALSO:
7. It's A Long Term Strategy
Search engine marketing isn't just about getting quick results. It's a strategy that requires patience and persistence.
It's not something that happens overnight. Instead, you need to build a solid foundation over time. By doing so, you'll see better results over time.
And the more SEO time, effort, and money invested into it, the better and more likely it is that a website will stand out from the competition.
As the market evolves and changes, it's important to keep up with the latest trends and changes to stay ahead of your competitors.
8. Very Affordable
The cost of search engine marketing is very low compared to other forms of online marketing.
If you're looking to invest in a new marketing campaign, SEM is a good place to start.
You can spend as little as $5 per month to promote your website through search engine ads. The results will obviously differ depending on how much money you spend, but you can still achieve some significant results with a small budget.
9. Highly Intent Driven
One of the main benefits of search engine marketing is that your efforts are tailored to a highly intent-led audience, which helps you get higher conversions.
Your ads are specifically targeted to someone who is looking for your product or service related to your business, which means the user is already interested in your type of service, when your ads appear, you've got a good chance of converting a sale.
Paid search ads are highly targeted. They are therefore considered far less intrusive than traditional display ads. Providing a good user experience for Internet users which will result in more conversions and increased return on investment (ROI).
10. Simple Management
SEM is also very simple to manage because all you need to do is create an account, set your daily budget, choose keywords, and then sit back while the rest is done for you.
Managing ads on search engines is relatively easy with a platform like Google AdWords. All the viable options are presented in an easy-to understand way. You can simply start/stop your campaign whenever you want.
Setting up a SEM campaign is quick and easy. It might take a little while before you can see the full effect of a campaign, but it's highly flexible and configurable, and can be set up quickly.
11. Ability To Target Local Market
Local search has become increasingly popular as people use their mobile devices to find local businesses around them. 
With SEM, you can target specific geographic locations using geo-targeting, allowing you to reach potential customers at the right location. This allows you to connect with people where they are most active and relevant to your business.
Geo-targeting is one way to increase your exposure to consumers in a certain area. To make sure that your ads only appear in those areas, you need to understand what your audience is looking for. Google AdWords provides insights into consumer behavior by showing keywords that people used to find your business. Using this data, you can create campaigns that match your business's goals and interests.
If you need to get your products into your local market, you should take advantage of the initiatives offered by search engines for reaching them at the best possible time.
12. Complete Control On Your Spending
The amount that you're willing to spend on paid search advertising is completely under your control. You can easily adjust your spending levels throughout each day or month, so you can always stay within your budget.
You can review your monthly advertising budget, and then adjust it as needed. Based on your strategy, you can adjust the budget to fit your needs. So, you can allocate more or less money depending on how well it works. This allows you to maximize your advertising efforts while keeping your costs low.
How Effective Is SEO Marketing?
SEO marketing is an excellent way to promote your business online. The main goal of any search engine optimization campaign is to drive traffic towards your website. This means that customers who use those search engines are directed to your website when they search for related keywords to your business. If you want to rank high in search results, then you need to create quality content that matches what users are looking for.
Conclusion
Search engine marketing is an incredibly powerful tool for businesses today. As long as companies know how to use it correctly, they can reap significant benefits from search engine marketing.
Whether you have a small business or a large company, there will come a point when you'll need to invest in search engine optimization to help improve your company's visibility online. With the right strategy and the right tools, you can easily increase your visibility online and improve your chances of finding customers and generate sales.