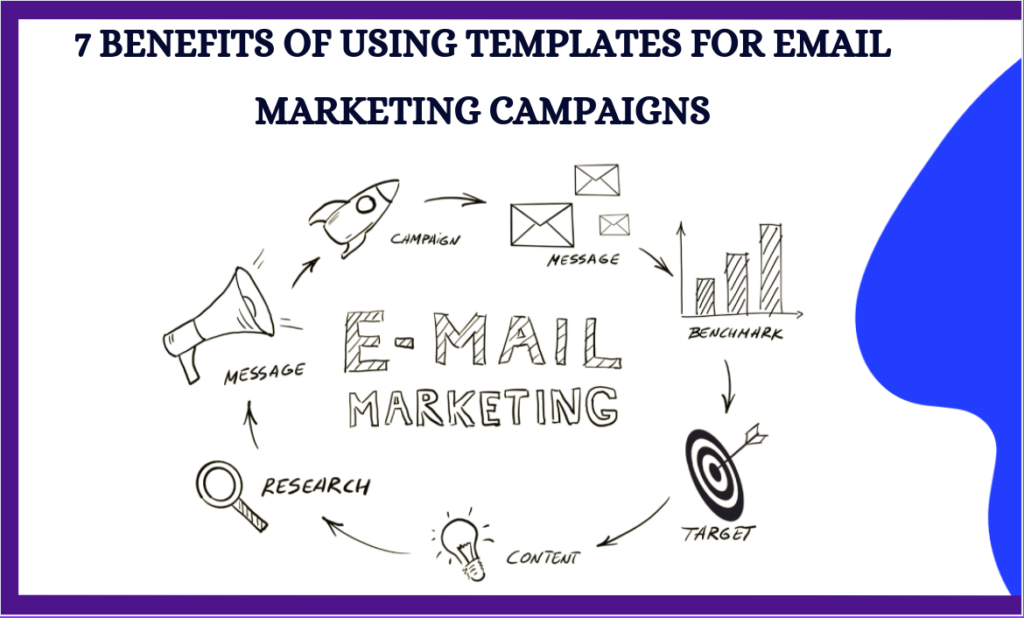 Email marketing is one of the most powerful forms of digital marketing because it allows you to communicate with your audience directly. It's also one of the most cost effective forms of marketing to do. The fact that email marketing can help you reach a large, targeted audience at low costs means that it's an excellent choice for any business looking to grow their brand and increase sales.
The important step in any email marketing campaign is choosing the right template to use. There are many different templates available, but not all will suit every business. It's important to choose one that works well with your brand and message. 
What Is An Email Template?
An email template is a simple text document that contains all the information necessary to send out a single email message. It includes everything you need to create your email campaign including the subject line, the body of the email, images, links, etc.  You can use the exact same template again and again. You can also edit the template and reuse it for other campaigns.
Email templates are great because you can reuse them and customize them to fit your needs. You can also create different versions of the same email to send out to different audiences. Email templates allow you to save time and effort when sending out emails.
You can use them to send out different messages to your customers, prospects, or other contacts. Templates allow you to easily reuse content and design elements across various types of emails. You can also customize the template to fit your brand identity.
An email template is a collection of text snippets that you can reuse across different emails. You can create them easily with tools like MailChimp, Constant Contact, and Campaign Monitor. These templates save time and effort when sending out multiple messages, and they make it easy to maintain consistency across your entire email marketing strategy.
7 Benefits Of Using Templates For Email Marketing Campaigns
1. Save Time And Effort
Using a template means you don't need to spend time designing every single element of your email. The design process will be much faster when you simply choose from among many pre-designed templates.
It takes a lot of work and planning to build up a successful email list. That's why it's so important to invest in building relationships with your existing clients and customers. By using pre-designed templates to send out personalized messages, you can quickly get started on creating new lists without having to spend hours designing and coding individual emails.
An email template allows you to create emails quickly and easily. You can also save time when creating new campaigns. Instead of spending hours designing each email, you can just copy and paste your content into a pre-designed template. That saves you time and energy, allowing you to focus on what matters most and getting more done in less time.
2. Can Be Customized To Fit Your Needs
Templates are designed to be flexible so they can be easily adapted to suit your business, your brand, and your message. They include placeholder text that you can modify as needed. This makes them ideal for businesses that have unique branding requirements.
You can add custom company logos, colors, and fonts to give your email an entirely custom look and feel. 
You can customize the content of your emails by adding, editing, and removing sections, headers, and footers.
3. Consistent Branding
By using templates, you can ensure that all your messages are consistent with one another.
If you want your brand to stand out from competitors, it's essential to keep your branding consistent throughout your marketing activities.
By choosing an email template that matches your brand, you can ensure that your messaging stays cohesive and professional.
READ ALSO:
4. Easy To Update And Maintain
When you're working with a large number of subscribers, it's important to stay on top of things. It's hard to do this manually if you're constantly updating your own copy and writing new emails.
With an email template, you can update your content once and then let your software automatically handle everything else. When you're ready to send out a new campaign, you can simply edit the template and send out new messages.
5. Facilitates Scalability
It's hard to grow a business if you can't reach more customers. One of the best ways to do that is by using email to connect with customers and prospects. You should use an email template so that your messages are consistent and professional.
You can improve your brand's visibility by sending out a variety of emails, but it takes time and effort to create each one. With an email template, you can easily create multiple messages without having to worry about them being inconsistent or sloppy.
By using a template, you can increase your efficiency and help your business scale.
6. Improves Response Rates
One of the biggest challenges facing small businesses is keeping their inboxes full while still providing value to their customers.
The best way to achieve both goals is through effective email marketing.
Email marketing allows you to provide valuable information and generate leads for your business. But it requires careful planning and preparation before you begin.
That's where email templates come in handy. They make it easy to produce high quality emails at any given moment.
7. Increases Customer Loyalty
Customers who receive frequent, relevant communications tend to become loyal customers over time. By using email templates, you can deliver regular updates and offers to your customers.
This helps them get to know you and understand how you work. Over time, these relationships will pay off. 
Are Email Templates Effective?
Yes! The key to delivering high-quality messages lies in how well you design your emails. A poorly designed email can actually hurt your reputation. By using templates, you can communicate effectively while ensuring that your emails are visually appealing.
Conclusion
Email templates make it easy to send the same messages over and over again. They allow you to spend more time on other aspects of your business rather than spending countless hours crafting individual emails. If you need to send out regular updates or newsletters, using templates will enable you to get more done in less time, saving you money in the long run.