What are the best ad servers for publishers? What makes them stand out from the others?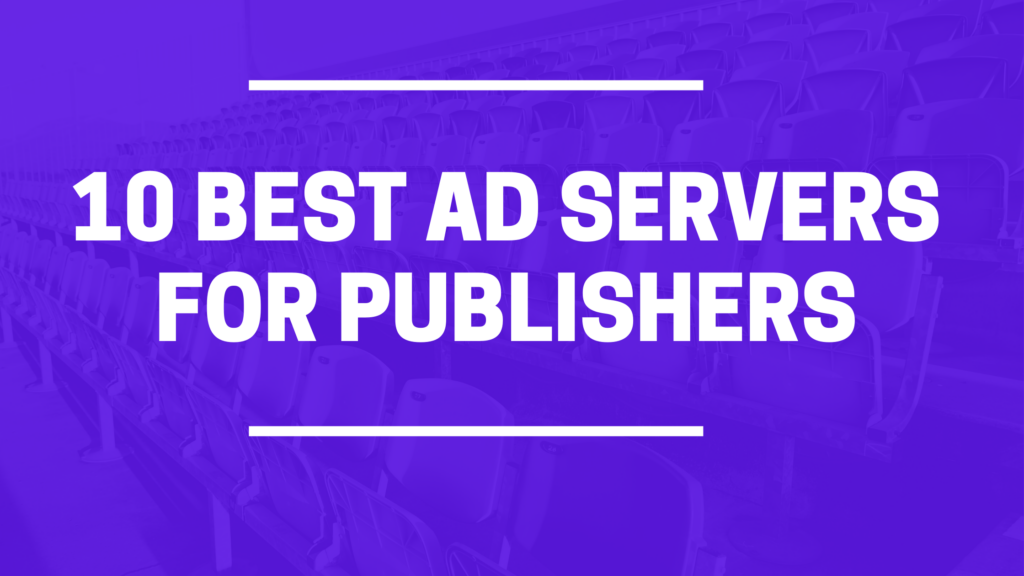 Publishers are looking for ways to increase their earnings without compromising quality or user experience. This means they need to partner with ad networks that offer high performance and transparency. As publishers struggle to monetize their content, they look for ways to increase ad revenue. One way to do this is through ads served via ad servers.
What Is An Ad Server?
An ad server automates the process of managing an advertisement campaign. Ad servers allow publishers to create ad units, track key performance indicators (KPIs), manage ad sizes and formats and set frequency caps, etc
An ad server is an intermediary between advertisers and publishers. It's responsible for serving ads on publisher websites. The ads are usually delivered by the ad network, which delivers the ads to the ad server. Then it passes the ads onto the publisher's website. Publishers can then serve these ads directly to users as well if they choose.
Publishers should consider using an ad server when trying to monetize their website. An ad server provides many benefits including helping to manage the integration of advertising into the site. An ad server also helps to coordinate the various processes involved in managing to advertise.
Publishers can choose from several different types of ad servers. Some may work better than others depending on what type of website you're running.
Why Use An Ad Server?
There are many reasons why publishers use ad servers. Here are some of the key ones:
1. More Control Over Your Website
When you own your ad server, you have complete control over your Website. You can decide whether to display ads in specific places or if you want to restrict them to certain pages.
2. High-Quality Ads
A lot of publishers are concerned about the quality of ads being displayed on their sites. But with an ad server, you don't have to worry about that.
3. Advanced Tracking & Reporting
Many ad servers allow you to track your ads and measure how effective they were. This helps you understand what works and what doesn't. With an ad server, you can set targeting criteria for different groups. This enables you to direct traffic towards certain audiences. Or you can segment your audience based on location, device type, demographic information, etc.
4. Improve User Experience
Serving ads yourself gives you full control over everything. You get to decide what type of ads to show, how long they should be displayed, and whether they should appear on mobile devices or desktop computers. This allows you to optimize your site so users see exactly what they came there for.
5. Increased Revenue
The more people who view your ads, the more money you make. And since you can target ads at specific demographics, showing high-quality ads, you can increase your revenue even further.
10 Best Ad Servers For Publishers
Here are the 10 best ad servers for publishers. We've selected our top choices based on usability, performance, features, and support. All of these ad servers are easy to set up.
(Formally DoubleClick for Publishers) is the leading third-party ad server with a large lead. It benefits greatly from seamless integration into Google's other ad products. GAM Advertising Solutions provides a wide range of great features including ad exchange dynamic allocation, simple reporting and management tools, vast monetization options, and reliability.
GAM Advertising Solutions has a proven track record of delivering highly effective solutions across multiple platforms. They offer a full suite of services designed to help publishers maximize revenue and grow traffic by providing them with a variety of advertising formats and distribution channels. Their platform includes both programmatic and direct sales channels so publishers can choose the best option for their business.
Kevel provides members of the advertising industry a unique and custom-built solution unlike anything else. Their API allows users to create their servers faster than building an entire system from scratch. Kevel gives them full campaign control, increases revenue, reports data, and more.
Kevel users can hook into Kevel's API to access features such as a first-party data platform, an ad decision module, an RTB option, and custom ad creation. Users can also create any ad unit they want, including integrated native ads, and use tools for custom targeting and automated reporting.
Epom provides a managed service for both publishers and advertisers. You get access to real-time data about how many people see your ads, what device they're using, and more.
Epom Ad Server is a Saas, cross-platform hosted advertising server for ad network businesses. It's built to provide flexibility across a broad range of media formats, channels, and platforms.
Epom provides several unique benefits to users, including seamless integration with their AdExchange, the RTB platform, and more than 60 DSP partners including Google Doubleclick. Their platform also includes a built-in system for monitoring impressions, clicks, and fraud.
Epom offers complete transparency into all aspects of your account. They offer a full suite of reporting tools, allowing you to see exactly what impressions, clicks, and conversions are happening in your account. This allows you to optimize campaigns quickly and easily.
OpenX is a leading ad-tech company with a strong reputation. It provides a wide range of services including a proprietary ad exchange and SSP. It also provides its publishers with audience management tools.
OpenX has built up a large network of partners — both publishers and advertisers — and is trusted by many of them as a reliable partner. This trust is based on its long history and proven track record. In addition, OpenX has developed a suite of products and services to help publishers monetize their traffic and increase revenue. These include ad exchanges, audience management solutions, and performance measurement tools.
The Magnite ad server allows over 60 000 publishers to reach 900000 advertisers via self-serve ads. Publishers can connect with premium ad-buying companies, showcase their ad inventory, and reach their target audience. Advertisers want to reach specific audiences, so they use the self-serve interface to create campaigns.
Publishers can gain access to real-time insights, automated ad pods, which enables them to increase ad revenue with technologies such as programmatic guaranteed, flexible priorities levels, and more.
The Magnite platform has helped thousands of publishers monetize their traffic by connecting them with hundreds of thousands of advertisers, who have used it to build successful campaigns.
6. Smart Ad Server
Smart is an ad-monetization platform that works directly with premium publishers to drive the performance and value of their audiences. Their unique holistic and flexible approach allows them to deliver ads across all sales channels, ad formats, and screens. They work directly with over 1000 publishers and ad networks, delivering ads to over 50,000 sites and mobile apps, including Tracfone, Axel Springer, L'Express, Le Monde, and Wine Enthusiast.
Smart's technology enables brands to reach new customers in innovative ways while providing publishers with a more efficient way to monetize their audience. By combining the power of data science with sophisticated machine learning algorithms, Smart provides brands with the ability to target specific audiences based on demographics, interests, behaviors, and location. 
7. Verizon Media (Previously Oath)
Verizon Media helps publishers grow businesses through brand advertising and direct response marketing. The company connects media agencies, publishers, and marketers to the people, places, and things that matter most to consumers.
With Verizon Media's Ad Server, publishers can gain access to advanced management and ad serving functionality for the entire digital advertising ecosystem. Publishers can efficiently manage campaigns across different traffic types such as display, video, and Mobile with Verizon's Technology.
Lastly, publishers can enjoy advanced targeting, cross-screen monetization, effective and simplified programmatic management, accurate inventories management, and much more.
8. AdGlare
AdGlare is a useful ad server that doesn't require much maintenance. It comes with many features such as rich media ads, banners, and in-stream videos. The cost of using this ad server depends on the number of requests made by your website. 
The dashboard comes with a well-designed dashboard for users to easily create and manage ads. It has lead conversion features including Geo-targeting and browsers targeting to connect with the right audience. It can be easily integrated into any content management system and is compatible with most.
9. Broadstreet
Broadstreet provides an easy-to-use interface for creating ads. Users can choose from a variety of ad types. They also allow users to integrate with WordPress and automate ad serving. They provide a reporting system and allow users to view stats about their campaigns.
Broadstreet is an ad server that helps small medium-sized businesses. It focuses on direct sales. Niche publishers use this ad server because it provides them with more value than other ad servers. They help their clients improve the value they provide to advertisers by increasing efficiency and overall performance.
10. AdButler
AdButler is a full-stack ad server for publishers. They provide email, video, mobile advertising, digital out of home (DOOH), self-serve marketplaces, order management, APIs, and custom development that help publishers maximize revenue, save time and reduce cost.
AdButler runs ads on desktop, mobile and CTV devices, real-time reporting, native ads, keyword & departing, Geo and IAB content categories based targeting, fast ad delivery, email optimized ad tags.
AdButler has a unique technology platform that allows them to deliver highly targeted ads across multiple channels such as emails, websites, videos, mobile apps, social media, and more. Their data-driven approach enables advertisers to create dynamic campaigns that drive increased conversions, improve ROI and optimize spending.
Conclusion
In conclusion, we've outlined ten of the best ad servers for publishers. There are many different ad servers available on the market so finding the best one may take some time. However, you will find these 10 ad servers to be the best ones. There are many other ad servers available but these are the top 10 ad servers for publishers.