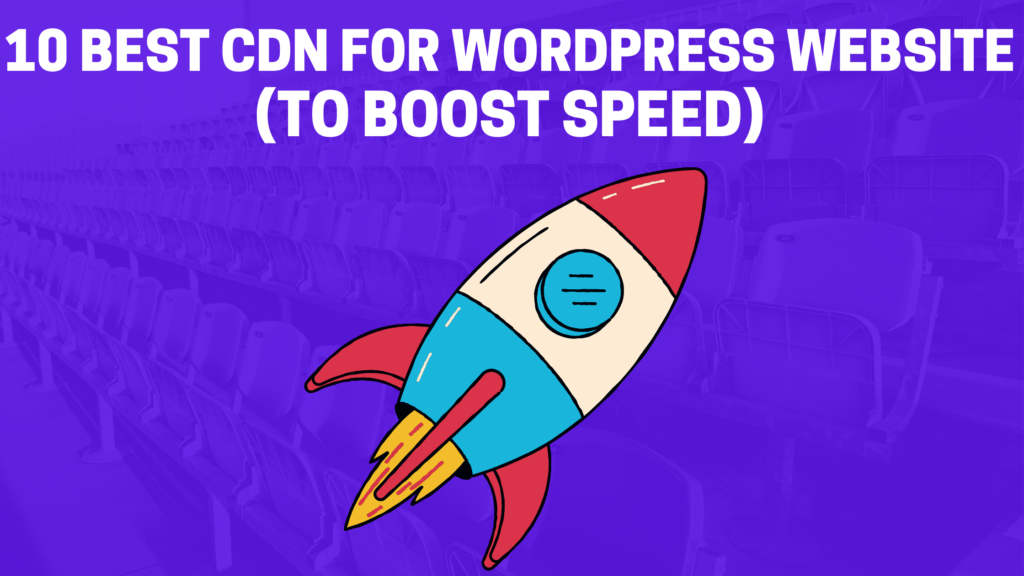 WordPress is a free open source CMS (Content Management System) that allows you to create websites without coding knowledge. It has become the most popular blogging platform due to its ease of use and flexibility.
WordPress is a powerful tool for creating dynamic websites. Its popularity has led to a large number of plugins and themes being developed. The problem is that these plugins often slow down your site.
Slow webpages often leads to poor user experience, high bounce rate, low search engine ranking and loss in sales. That's why it is important to check whether or not your website speed is at an optimum level.
What Is A CDN?
A content delivery network (CDN) is a service that delivers static files such as HTML, CSS, JavaScript, images, videos, etc. directly from a server close to your visitors rather than having them come from your own servers which are located far away. This means faster loading time for your users.
How Does A CDN Work?
When a visitor comes to your website he will first request the page file from your host server. When this happens the file will be cached on their local machine and served when they access it again. However if the file is hosted on a separate location then the visitor will have to download the file again. If there are many people requesting the same resource simultaneously it can cause bottlenecks that slow down the entire website. In order to prevent this from happening the file will be delivered by the CDN instead of your own server.
Why Use A CDN With Your Blog?
The reason we need a CDN is because our blog receives traffic from many different locations around the world. When people visit our blogs, they have to download all the resources on your server. If you have a lot of traffic then this can take up lots of bandwidth and cause your server to run out of space.
This results in slower load times for your visitors. Another issue with running a server yourself is if you get hacked it will affect every single one of your sites. By using a CDN you remove the dependency on your own server and ensure everything runs smoothly.
By hosting your WordPress website on a CDN, you can make sure that your website loads quickly for both desktop and mobile devices. Your WordPress site will load faster because it won't have to go through the process of downloading and uploading data to many different servers. 
10 Best CDN For WordPress Website
Sucuri provides advanced security solutions for WordPress sites. They offer multiple services including website vulnerability scanning and mitigation, malware removal, automated backup, site performance monitoring, and more.
The Sucuri CDNs automatically caches your website so that it loads faster. It can speed up your website by 70% without any configuration.
Sucuri has over 15 years of experience in web application security. Their team continuously monitors thousands of websites across all industries. They provide free security scans for WordPress users and make it easy to remediate vulnerabilities. 
CloudFlare is an easy-to-use service that provides website security, performance enhancements, and load balancing.
Cloudflare uses multiple techniques to ensure that your site loads quickly for your visitors. It caches static content at its data centers and forwards requests to your origin servers if the requested URL contains dynamic content. They use intelligent routing through their network of 200+ data centers, strategically located across the world.
CloudFlare also offers free email services, such as SPAM filtering and virus scanning, for all users. If you want to protect your business against spam, you should consider signing up for CloudFlare's free plan.
CDN77 is another great tool for optimizing your WordPress site. It is a fast CDN with over 34 points of presence (POPs) around the world including 3 in South America.
It speeds up your website by delivering your files to nearest edge location. It does this using multiple technologies like geo-redundancy, SSL encryption, HTTP/2, and HTTP cache headers.
If you're looking for a cheap content delivery network, then CDN77 is a great choice. It offers lots of storage space, flexible pricing options, and customizable features.
Fastly is one among the most popular Content Delivery Networks (CDNs) that provides its services from content caching servers located in different locations.
With Fastly, customers would not need to worry about uploading updated content into the caches. Just by sending Fastly a short message to invalidate content, caches are instantly purged.
Fastly's Image Optimizer (FastlyIO) manipulates and transforms your images for you in real time and caches the optimized versions. When an image is served, FastlyIO can perform one or more transformations tasks before serving and caching it.
You can increase performance even further by connecting your end users and/or origins closer to their edge POPs. Fastly offer connections via your cloud provider, private networks, or internet exchanges depending on your website needs.
With Cachefly, you can quickly speed up your website by using an easy setup process and instant activation that takes place immediately after signing up. The service also makes very small changes in your HTML code so there's minimal chance your pages won't be compatible with their service.
To prevent hackers from accessing your site, CacheFly offers a variety of security features, including an integrated malware scanner, SSL certificate validation, vulnerability scanning, and a firewall.
If you want a reliable partner to help improve your website's performance, then CacheFly is an excellent choice.
6. Jetpack
Jetpack is a paid service offered by Automattic, the company behind WordPress.com. It includes a variety of useful tools, including automatic backups, analytics, spam protection, security updates, and more.
WordPress comes with all the essentials for running a successful website. However, these basic tools are not sufficient to run a successful website as you grow. 
With WordPress, you get all the essential building blocks for running a successful blog right out of the box. However, if you want to take your blog to the next level, you'll eventually need to add additional plugins to enhance its functionality.
The Jetpack team is working hard to keep their plugin up to date. They're also continually adding new features to the plugin.
7. WP Rocket 
WP Rocket is a WordPress plugin that aims to simplify WordPress performance optimization by providing all the tools you need for faster website speeds.
WP Rocket is a popular plugin that makes your site load faster. It does this by compressing your theme and plugins, removing unnecessary code, and combining multiple CSS and JS files into one.
WP Rocket has a lot going for it, but its biggest advantage is its price. At $49/year, WP Rocket is significantly cheaper than most competitors. This makes it more affordable for everyone, including small businesses with limited budgets.
8. Stackpath
StackPath CDN makes it easy to set up and use Content Delivery Network (CDN) services. The company has a vast network of servers across all continents. And Stackpath became extremely popular because it made it simple for anyone to set up and use a CDN.
StackPath is a powerful CDN that supports HTTP/HTTPS, SSE, WebSockets, and Server Sent Events. It uses intelligent algorithms to make sure your visitors always receive the most recent copy of your site's resources.
StackPath CDN makes it easier than ever to set up a CDN service. The company offers free accounts with limited features. If you need more advanced capabilities, you can upgrade to a paid plan. You can also host your own CDN using the StackPath API.
9. Gumlet
Gumlet automatically adjusts images to fit any screen size. It then compresses them to save bandwidth and deliver them using a fast content delivery network (CDN).
With Gumlet you can:
Upto 60% image optimization
Significantly faster mobile page load times
40% reduction in CDN costs
Better SEO and higher organic traffic 
10. KeyCDN
KeyCDN is an easy-to-set up CDN service provider that offers a solid set of features at a very affordable rate.
KeyCDN is a great content delivery network (CDN), built from the ground up for speed, reliability, and ease of use. It provides a simple, fast, and highly reliable CDN. Offering simplified content distribution, KeyCDN can enhance your website by delivering an exceptional user experience. With flexible pay-as-you go pricing, a powerful management dash­board, and a RESTful API, KeyCDN delivers superior security, performance, and cost savings.
Their team customer support are incredibly friendly and helpful, and they answer every question quickly and thoroughly. If you need help setting up your account or using the dashboard, they'll take care of you immediately. And when you're ready to start sending traffic, KeyCDN makes it quick and easy to connect website to their servers.
What Are The Benefits Of CDNs?
There are several benefits why using a CDN would improve the performance of your site:
1. Increase Page Loading Time
The primary reason for using a CDN is because it reduces page load times. Since all requests for resources are sent through the CDN the server doesn't need to make multiple round trips to retrieve the data. So since less bandwidth is used and fewer connections need to be made it results in faster page loads.
2. Reduce Bandwidth Usage
Another great benefit of using a CDN is that it helps reduce bandwidth usage. Since the CDN is closer to where your visitors reside it is able to deliver more of the requested data to them. So even though your website might be getting lots of traffic it may only need to serve a small amount of it to your visitors.
3. Improve SEO Performance
SEO experts recommend using a CDN because it improves the overall performance of your site. Due to the fact that your pages don't have to travel across the globe to reach your audience it makes it easier for crawlers to index and rank your website. Also since the CDN caches your pages it ensures that Googlebot can easily find and crawl your pages.
4. Prevent Downtime
One last advantage of using a CDN over hosting your own servers is that it prevents downtime. Because the CDN is closer than your servers the chances of any issues occurring are quite rare. So if you run into problems with your servers it won't affect the rest of your website.
5. Simplify Setup And Management
Since the CDN is managed by someone else it eliminates the need for you to spend time managing your servers. Plus you won't have to worry about security breaches like you do when running your own servers.