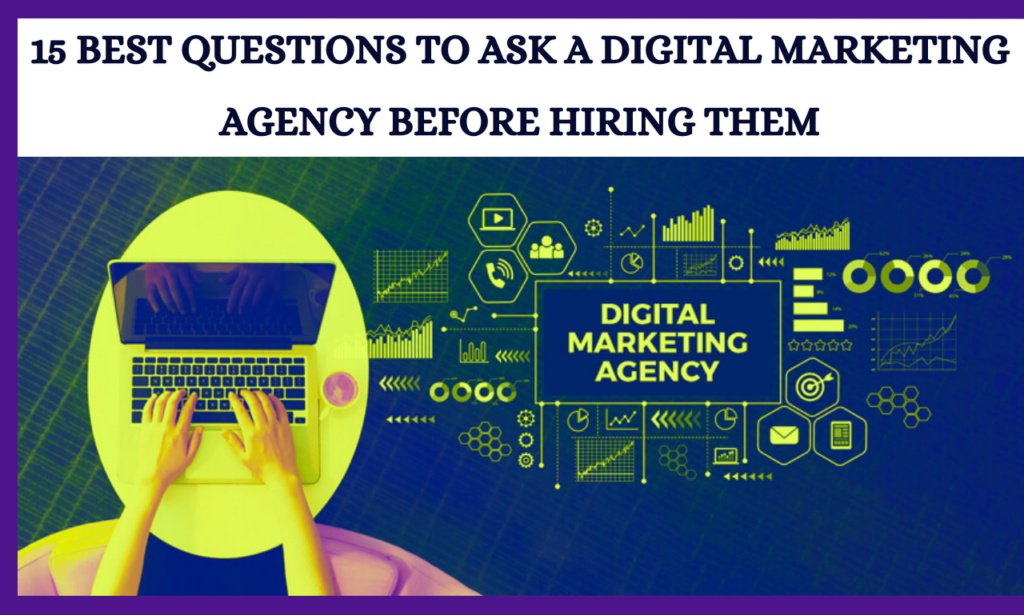 Digital marketing is one of the most important aspects of business today because it's a way to reach out to your target audience and grow your brand awareness. But not all digital marketing agencies can give you what you need, so before hiring them, make sure they have the right skills for your project.
Hiring a digital marketing agency is one of the best decisions you can make for your business, but it's also important to do your research and ask as many questions about the company as possible before hiring them. You don't want to end up with an agency that doesn't know what they are doing or worse, has no idea how to help you accomplish your goals.
15 Best Questions To Ask A Digital Marketing Agency
So, here are 15 great questions to ask a digital marketing agency before hiring them:
1. How Long Have You Been In Business?
The length of time a digital marketing agency has been in business should be one of the first things you look at when you are deciding whether or not to hire them. This will tell you if they have experience working on similar projects and if their knowledge base is strong enough to handle your needs.
If they haven't been around long enough, this may mean they aren't familiar with some of the latest trends and practices. if you want an agent who knows what they are doing, avoid digital marketing agencies that haven't been in business for at least two years.
2. What Services Do You Offer?
Make sure you understand exactly what services they offer and what they will charge you for those services.
Digital Marketing Agencies should be staffed by experts who understand what works online and how to use it effectively. They should offer you a wide range of services including social media management, web design, SEM/SEO, PPC campaigns, and more. 
When selecting a digital marketing company, make sure that they have the right skill set. Experienced teams will usually outperform inexperienced ones, so make sure that you hire an agency that has a vast amount of experience in order to ensure you get the results you want.
3. How Much Will My Project Cost Me?
This question is very important to know before making a decision about hiring a digital marketing company.  A good digital marketing agency will always tell you upfront what your project costs will be, so make sure you find out before hiring them. 
Ask about the budget required for your project and whether there might be any hidden fees.
Remember that cheap doesn't always mean good. As well, ask about the estimated ROI and how much time they think it will take to see results, so you know what you are getting into.
4. What Makes Your Company Different From The Rest?
A digital marketing agency should be able to show you why they are better than others in their field. This should include things like superior customer service, innovative ideas, and creative solutions to problems. Make sure you check these things out before deciding on which agency to work with.
An agency that offers effective services should be able to identify which strategies work and which ones don't. They should have experience in their field and understand how to use this knowledge to provide the most effective solutions possible.
In addition, make sure the agency you choose to work with has a proven track record of success, otherwise, you won't get the results you expect.
5. Who Are Your Previous Clients?
It's important to find out if the agency you're thinking of working with has done similar projects for other clients. If not, then why would they be qualified to handle your project?
It's always beneficial to look at previous client cases when considering hiring an agency. Check out their website and read through some case studies to learn what kind of results they were able to achieve. Seeing specific examples of their work makes it easier to determine whether or not they have the right skill set for your project to deliver excellent results.
6. How Long Will It Take For Results To Be Seen?
The length of time it takes to see results is one of the biggest factors to consider when choosing a digital marketing agency. You need to make sure that they can deliver within your timeframe, as well as the timeline you've agreed upon.
When looking at the past performance of agencies, make sure you factor in the duration of each project, as well as the overall number of projects completed in the past, this will give you a clearer picture of how long it will take to see positive results from your project.
7. Do You Outsource Any Of Your Work?
Having a top digital marketing agency on board can be like having another member of your own team. They should be able to communicate clearly with you so that there is no confusion over what needs to be done. Outsourcing certain parts of your project might mean that they aren't 100% dedicated to handling all aspects of your campaign.
Outsourcing work isn't always bad. In fact, some businesses use it to their advantage by hiring freelance writers, graphic designers, web developers, etc. to perform specific tasks. Having multiple experts on standby can be beneficial because you can quickly scale up or down when needed. However, outsourcing work can lead to unexpected expenses. Make sure you ask the company how much extra money it charges you for any additional services.
Outsourcing is a common practice within the industry. However, this doesn't mean that every agency does it. Some companies only hire freelancers to complete specific jobs. Others may even subcontract the entire project to different agencies, based on the type of service required. They can leverage these resources to meet deadlines and stay competitive.
READ ALSO:
8. What Tools Do You Use?
Digital marketing is a tool-driven industry, which means you'll want to know exactly which tools are being used to carry out your campaigns. Asking about their preferred software package can help you decide if they're equipped to handle the job.
Before you hire a digital marketing agency, ask what tools they use and what tools they plan on using to develop your digital marketing campaign further to deliver great results.
With the rise of technology, there are many new digital marketing tools that are constantly being developed. You must ensure that you choose an agency that uses the latest technologies to provide the best possible service.
9. What Will You Need Me To Do?
This question is important because it gives you a clear idea of what your role will be once you begin working together. If you don't know exactly what you'll be doing, then you won't be able to do your part effectively in the campaign. This can result in poor quality work.
Make sure that you get a good understanding of what roles you will play during the course of your campaign, including setting goals, creating content, developing strategies, managing social media accounts, etc.
Hiring a digital marketing agency is similar to hiring a business partner. Your relationship should be based on mutual respect and trust. Make sure there is a clear understanding of what you expect from the agency, as well as what they expect from you.
10. What Is Your Process and Strategy For My Project?
Every successful agency has a unique approach to marketing its clients' businesses. Each agency uses its own set of processes and procedures to find new customers and promote its products. Their goal is to help you leverage and showcase your uniqueness so you can stand out from your competitors.
A digital marketing agency has a process for everything they do. It's vital that you understand exactly where they stand before making any decisions on hiring them. Ask how they ensure that they get results for clients no matter which industry they're in.
Your digital marketing agency should have a unique approach to everything they do. They should be able to explain what sets them apart from others in the industry. Ask them about their plans and strategies, and why they think they can create success for your company.
11. What Will Be Our Point Of Contact?
You need to know who you're going to talk to when you need answers or assistance with anything related to your campaign. The person you speak to needs to be someone you feel comfortable talking to.
They should also be available at all times to answer questions or assist you with anything that comes up. An effective digital marketing agency will make itself available whenever you need them.
12. Can You Adapt Your Strategy If My Business Goals Change?
If you decide to change your strategy midway through your campaign, you want to be sure that your digital marketing agency can adapt quickly. Some agencies may not want to change their strategy if they've already invested time into coming up with one. However, you shouldn't hesitate to change things around if you find that your initial strategy isn't producing the desired results.
For example, if you are trying to drive traffic to a landing page to sell an online product, but after testing different methods, you realize that people aren't buying, then you might want to switch tactics to try something else.
A digital marketing agency should be willing to go back to the drawing board if you want to make changes to its strategy. They should be flexible enough to adjust to whatever situation you throw at them. That way, they can come up with a plan that works best for you.
13. How Do They Generate New Ideas?
You can ask this question if you want to learn more about how an agency works, or if you just want to see whether they're creative, innovative thinkers. In either case, it's important that you get insight into how your agency thinks and approaches problems.
An agency that doesn't generate ideas is probably not worth working with, because they won't be able to produce fresh solutions to issues. On the other hand, an agency that generates lots of ideas is likely to be very productive and efficient to work with.
14. What Are Your Key Performance Indicators (KPIs)?
You want to make sure that the agency has a way to measure success that aligns with your goals. If they don't, you may not be able to get the results you're looking for.
Key performance indicators (KPIs) are metrics you use to measure how well your digital marketing agency is performing. KPIs allow you to track whether your agency is meeting your goals.
Some common KPIs include:
Number of leads generated
Conversions
Return on investment (ROI)
These KPIs are essential because they let you see how well your agency is performing. Without KPIs, it would be impossible to tell if your agency was actually helping you achieve your goals.
The agency should have a clear understanding of how they measure success. They should be able to provide you with metrics and data to show the progress that they've made towards your goals.
15. Will I Get Any Freebies Or Discounts?
Many agencies offer special deals and promotions to attract new clients. You will want to know what these offers are so that you can take advantage of them when you need to.
By asking this question, you'll be able to determine whether the agency offers any free services or discounts. It's also important to note that some companies offer discounts only to existing customers, rather than offering them to everyone.
Conclusion
Asking questions is vital in determining whether or not you want to hire a particular company as your digital marketing agency. These 15 key questions will help you figure out whether or not a particular agency is right for you.
This article gives you a good idea of the best questions to ask a digital marketing agency before hiring them. Hopefully, it helps you find the perfect fit for your business.