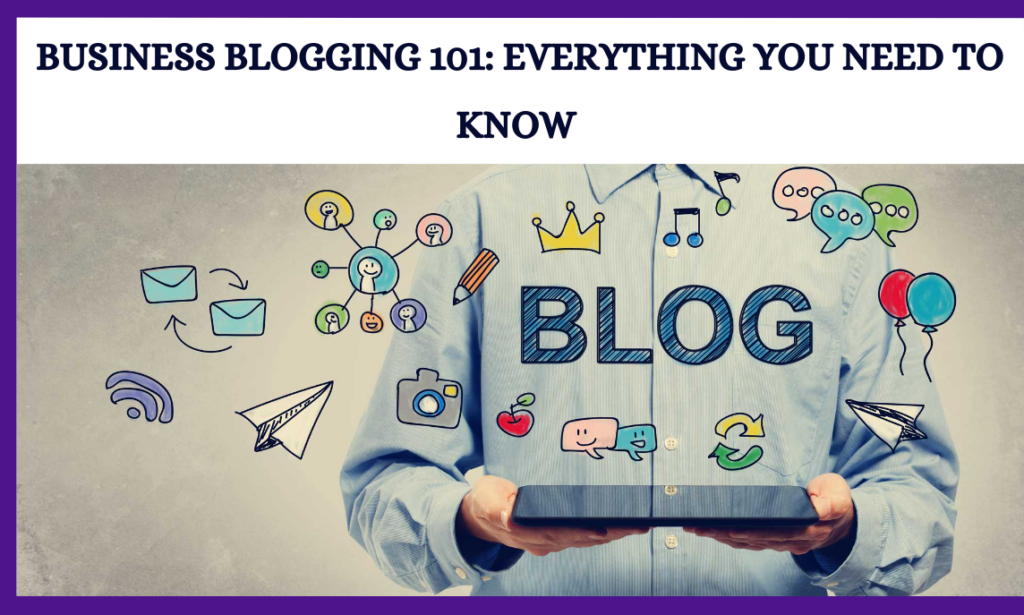 Are you ready to start a successful blog for your business? In this article, we'll cover everything you need to know about starting a successful blog for your company and how it can help grow your business.
In today's competitive market, there are thousands of businesses vying for attention. So how do you stand out and attract potential customers for your products or services? One way is through the use of blogging because blogs have become an essential part of the Internet landscape. A well-crafted blog that provides useful information will not only help you build credibility with your target audience but also increase traffic to your website, generate leads, and boost sales.
Blogging has become one of the most effective ways for companies to connect with their current and prospective clients. It allows them to create valuable content that helps educate consumers on various topics related to their industry. This is why many companies are turning to blogs as a marketing strategy for their businesses.
What Is Business Blogging?
Business blogging is a marketing tactic in which business owners write articles that provide useful information to readers or potential customers who visit their websites. They often use this platform to share tips, news, product reviews, and other helpful information about their business.
Business blogging can be a powerful tool for businesses looking to expand their customer base or improve existing relationships with their prospects. When done correctly, it can help you reach new audiences, gain more exposure and establish yourself as a leader in your field.
Blogging is an effective way to market your business online. It can also improve your SEO efforts and drive visitors to your site. If you create high-quality, keyword-rich, and shareable posts, you can attract new visitors who might not have found you otherwise.
The 11 Tips For Building A Successful Business Blog
Starting a business blog takes time and effort. But if you follow these 11 simple steps, you'll be able to develop a successful business blog that will help you achieve your business goals.
1. Identify Your Target Audience
Knowing and understanding your target audience is key to developing a successful business blog, so make sure to research what they want before you begin writing.
You need to identify your audience. Who are they? What are their interests? Are they looking for information or products? Once you know the answers to these questions, you can better understand what type of content you should post on your blog.
When you identify your target audience, you'll also be able to determine the type of content you should publish. Do you want to focus on providing educational resources? Or would you rather discuss trending topics in your industry? This will depend on your niche and the types of products or services you offer.
2. Do Keyword Research
Keyword research is an essential part of any blog. Without it, you won't be able to find relevant keywords that match your niche.
If you're trying to rank highly for a specific term, you'll need to do some basic keyword research. There are several tools available that can give you insight into what people are searching for when they enter certain keywords into the search bar.
Some of the best tools include Google's Keyword Planner, SEMrush, and Moz. These tools allow you to see how popular a particular phrase is by analyzing its monthly searches, global popularity, competition level, etc. These insights can help you to narrow down your list of possible keywords that you can write about on your business blog.
3. Create An Editorial Calendar
An editorial calendar is a great way to organize all of your ideas and ensure that you don't miss out on publishing opportunities.
You need to decide when you want to publish your content. Will you post once per week? Every day? Updating your business blog regularly is great for keeping your readers engaged and interested in your brand.
When you have an idea of when you plan to publish each article, you'll save valuable time while ensuring that you never miss out on a chance to promote your business.
4. Publish Quality Content
A lot of businesses have blogs, but very few consistently post quality content. But it's never too late to start improving your online presence and building a reputation for your business. If you want to build a strong brand and attract leads, you must focus on creating high-quality content that is useful to the people you are trying to reach.
Quality over quantity is always the best policy when it comes to blogging.
It doesn't matter if your goal is to build traffic or sell more products. The only thing that matters is whether you're delivering quality content that provides value to your reader.
As long as you provide useful information that helps them solve a problem or answer a question, you're doing your job right. When you write high-quality articles, you'll attract more visitors who are likely to become customers.
5. Optimize Your Titles And Descriptions
Titles and descriptions play a huge role in attracting visitors from search engines, social media platforms, email marketing campaigns, and other channels. They influence how often users click through to read your posts.
Your titles and description tags should clearly state what the article is about so that users know exactly what they are going to get from reading your content. 
You need to write something that is compelling enough to grab attention but short enough to fit on a screen. If you try to cram too many words into a headline, it won't work.
You don't need to use too many words either. Some studies suggest that shorter titles tend to perform better than longer ones. But there are exceptions. For example, some long titles might actually do better because they provide context for the content within.
If you're not sure which length works best for your title, test different variations to find out what gets the most clicks, and try to keep your titles under 60 characters and your descriptions under 160 characters.
6. Use High-Quality Images
Images are one of the most powerful ways to increase engagement with your audience. Adding images to your posts will make them look more professional and interesting to read.
There are tons of free image hosting sites like Flickr, Imgur, and Pixabay where you can download copyright-free images for free.
And be careful not to go overboard with adding too many images to your posts. It's important to balance between providing relevant images, making your blog visually appealing, and keeping your readers engaged.
Images are one of the most powerful tools used to convey meaning and emotion. So take advantage of this by using high-resolution photos that are clear and easy to understand.
7. Interlink Your Content
When you link to other articles within your site, it helps both readers and search engines find your content easier.
Internal links are great for helping visitors navigate around your site, so it makes sense to include them whenever possible. By interlinking your content, you'll also help search engines crawl your website faster and index your pages more effectively. 
You should try to create internal links throughout all of your posts. This way, when someone reads an article, they can easily access related articles without having to leave your blog.
8. Include Calls To Action
Call to action (CTAs) are buttons at the end of your blog posts that let your readers know what action you want them to take next.  It refers to any element that encourages readers to take action on your website, such as clicking on links, subscribing to newsletters, downloading files, etc.
Including CTAs in your posts allows you to direct people to certain pages on your site, sign up for emails, or fill out forms. This helps you generate leads and grow your business.
CTAs are usually placed at the bottom of each post, but you can place them anywhere on your page if you prefer. The key thing is to make sure they're visible and accessible to your readers for them to click on.
9. Write Guest Posts
Guest posting is another effective strategy for building relationships with influencers in your niche. When you guest post on blogs that have large readers, you get exposure to new audiences who may become interested in your products or services.
This not only helps to attract more visitors to your site but will also help to build up your reputation as an industry expert. And don't forget to include a link back to your own blog in each of your guest posts, so that readers can learn more about you and your company/brand.
With the right approach, you'll soon see how much traffic you can drive to your site through guest posting.
10. Promote Your Blog Posts
Promoting your blog posts lets you reach a wider audience than just those who visit your blog directly. In addition, sharing your posts on social media platforms gives you the opportunity to connect with potential customers and clients.
Social media sites like Facebook, Twitter, LinkedIn, Instagram, Pinterest, and others allow you to share your blog posts with your target audience, as well as interact with them.
When you promote your posts, you're essentially letting others know about your latest blog post. People often follow companies and brands on these platforms, which means that promoting your posts there could lead to more traffic, sales, and brand awareness.
11. Blog Consistently
If you want to build authority in your niche, then you need to publish quality content consistently. If you write really good content every now and then, then you'll be able to reap the benefits of this over time.
But if you're looking to build a successful business blog, you need to produce high-quality content regularly.
Consistency is key to building trust and credibility among your audience, and it's something that Google values highly. So by publishing regular content, you'll gain more search engine visibility and improve your chances of ranking higher in organic searches to increase your online presence.
READ ALSO:
How Can Business Blogging Benefit Your Brand?
There are several benefits associated with business blogging:
1. Build Brand Awareness
One of the best things about blogging is that it lets you communicate directly with your target audience. It gives you the opportunity to build trust and brand awareness by sharing quality content that educates readers on a variety of topics related to your business.
2. Drive Traffic & Increase Conversions
Blogging is a great way to get noticed in the crowded world of digital marketing. By providing useful, educational content to your readers, you can drive traffic to your website from search engines, social media sites, email newsletters, and other sources. When people find value in what you write, they may want to learn more about your business or buy something from you which could lead to increased conversions.
3. Generate Leads & Sales
Blogging isn't just about providing helpful resources to your readers; it's also an effective lead generation tool. When you write articles based on real problems or issues facing your audience, you're able to connect with your readers and turn them into actual customers.
Blogs are a great place to promote your business and sell your products or services. As long as you offer top-notch content that meets the needs of your audience, you can easily convert leads into customers.
By creating content that appeals to your audience, you can generate leads and sales through your blog. Readers will find your content interesting, engaging, relevant, and informative. Once they realize that you know what you're talking about, they'll trust your recommendations and start buying from you.
4. Improve Search Rankings & SEO Efforts
If you don't already have a blog set up, starting a business blog is a great way to increase your rankings in Google and other major search engines and drive organic traffic to your site.
When you publish fresh, quality content on a regular basis, you can give your site a boost in search engine results pages (SERPs). A higher ranking means more visibility and better chances of being seen by potential customers searching for specific keywords.
SEO plays a huge role in any successful marketing campaign. Without it, you won't rank well in search engines and your website will likely fail to attract visitors. So, by regularly updating your blogs with fresh content, you can ensure that you stay ahead of your competitors and continue attracting new customers.
5. Create More Value For Customers
With a blog, you can provide valuable information to your customers at no cost. This kind of free information can help them make better decisions when purchasing your product or service. This helps them save time and money while improving their overall experience when shopping with you.
If you consistently post useful content, your customers will feel like they're getting an amazing deal because they're receiving so much value for free. They'll be happy to spread the word about how awesome your company is and recommend you to others to help you grow your customer base and expand your reach to even more people. This is why many companies use blogs to create a sense of community among their followers.
6. Build Trust & Authority In Your Industry
A strong online presence is one of the most important aspects of running a successful business. Having a credible web presence allows you to establish yourself as an expert in your field, gain credibility and build trust among your target market.
The best thing about having a blog is that it's a low-cost way to create a powerful online reputation.
As your reputation grows, so does the number of people who trust you. And once you establish yourself as an expert in your industry, you'll become a go-to resource for those looking for answers related to your niche. This will really help you stand out from your competitors and get noticed by prospective clients.
7. Grow Your Email List
Having a blog is a great way for businesses to connect with current and potential customers. By providing helpful tips and advice, you can encourage readers to sign up for your email list. This allows you to communicate directly with your customers and share news and updates about your products and services.
Conclusion
Blogging has proven itself to be a very effective tool for many businesses, especially for small companies. It provides a unique opportunity to offer free information to consumers and generate leads for your business.
The key to blogging success lies in creating engaging posts that are relevant to your audience. The more interesting and informative your writing is, the more likely your reader will come back for more, which means more traffic to your site and ultimately more sales for your business.
So what are you waiting for? Start a business blog today to increase your chances of making your business a success!