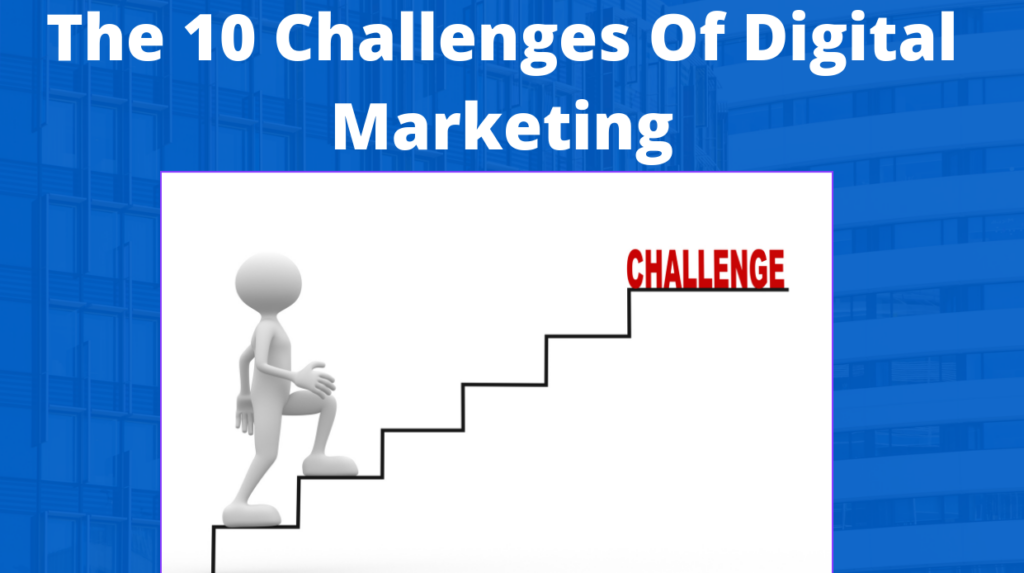 In this article we will explore some of the most common digital marketing challenges facing digital marketers and small business owners.
The digital marketing industry has a lot of potential for anyone who wants to get into it. It plays a key part in shaping the future of business. It also has enormous potential to build your business so that it becomes valuable to customers and profitable. However, if you want to succeed as an online marketer, there are certain challenges you will face along the way. You need to be prepared for these challenges before you even begin your journey.
Digital Marketing is a broad term that encompasses a variety of activities such as social media marketing, email marketing, SEO, etc. Digital marketers often face challenges that can be difficult to overcome.
Digital marketing has become a necessity in today's world. Businesses, both large and small rely on the Internet to reach their target audience. 
Digital marketing has become a necessity for businesses today. The rise of mobile phones and social media platforms has created new opportunities for companies to reach out to their target audience. Yet, it also comes with its fair share of challenges.
10 Challenges Of Digital Marketing
1. Low Conversion Rate
Low conversion rate is one of the major issues faced by all business owners who use digital marketing services. It means that your customers are not converting into paying customers or clients. This could mean any number of things including:
You have a low quality website
Poor landing pages
Lack of a good sales funnel
Ineffective campaigns
Lack of calls-to-action (CTAs)
Slow loading speed of pages
Poor quality of content
All these can cause a low conversion rate and ultimately lead to poor results which can lead to loss of revenue and hurt your business.
2. Generating Quality Leads
Generating leads is another challenge faced by many digital marketers. To generate quality leads, you need to have a well thought out strategy. A good strategy should include the following:
Targeting the right industry/niche
Choosing the right keywords
Creating high value content
Having a clear call-to-action
Using the right channels
Generating quality leads is a long-term strategy. You need to focus on building relationships and nurturing them over time. Marketing automation and a customer relationship management system can help you do this. Make sure your goals and target audience definitions are clear and specific. This will make your efforts more effective, efficient and profitable.
3. Unclear Target Audience
Audiences are the lifeblood of any successful campaign. Without them, there would be no way for your campaigns to generate sales leads, conversions and revenue.
Many organizations struggle when they try to determine the ideal target audience for their campaign. How can they know if their product or service resonates with their potential customers? 
It is important to know exactly what type of people you want to sell your products or services to. For example, if you own a restaurant and you want to advertise your specials, then you might want to target only people who live within a certain distance from your location. However, if you run a travel agency, then you would probably want to attract people living in different countries. If you don't really know who your target audience is, then you may end up wasting money advertising in areas where there is no market demand.
Knowing your target audience is an important step in generating quality leads. You should know who your target audience are before you start generating leads. You must also understand their needs, wants and expectations. Then you must meet those needs, wants and expectations by creating content that resonates with them. 
Know your target audience and know what they expect from you. You should understand who your target audience is, what they want, and what they expect from you before you start any marketing campaign.
4. High Cost Of Running Ads Campaigns
Running ads campaigns can be very expensive due to the large amount of traffic required to achieve desired results. 
Most businesses spend a lot of money advertising their products and services online. But how much does it cost to actually get an advertisement seen by a person on social media platforms such as Facebook, Twitter, Instagram, YouTube and LinkedIn? The answer is very expensive!
This is a big problem to most small businesses because it takes months to see any return on investment (ROI). Most of the time, the advertisements do not even reach the targeted audience and therefore, they are wasted. 
5. Driving Relevant Traffic To The Website
Traffic generation is one of the biggest challenges facing all digital marketers today. It's always easier said than done! Unless you have thousands of dollars to spend each month on paid search, social media engagement or SEO strategies, then you will find it difficult to drive relevant traffic to your website. 
You must be able to create content that attracts and engages readers so that they share it with others, which increases its visibility and drives traffic back to your site. 
Today marketers are constantly facing a challenge in spreading their brands' awareness among the right target markets. It makes it harder for them for them to drive the right kind of traffic to their business websites, which may be a problem. Therefore, understanding which channels to tap into and driving relevant audiences to your website to turn these people into customers is becoming an on­going challenge for marketers, especially when budgets are limited.
READ ALSO:
6. Creating Engaging Content
Creating engaging content is extremely important for every brand, but this becomes more challenging as digital marketers try to figure out ways to make their content stand out among other competing brands and companies.
Content marketing will continue to evolve, and will still be important in digital marketing. The definition of engaging content has changed over time. In earlier times, people were more interested in reading text than listening or watching videos. Nowadays, people prefer to watch videos and listen to audio instead of reading text. This means that agencies should think about what kind of content they want to create and how they want to share it.
Content marketing is an important part of any business strategy. Most B2B companies don't produce content because it takes too much time and effort. However, if you plan and schedule it properly, your content production will grow over time. The right people should be in charge of it, and the quality will improve as well.
Engagement is the key to success. If you can engage users, you'll be able to connect with them and build relationships. This will help you gain trust from them, and eventually, they'll become loyal customers who will tell others about your company.
READ: Learn 7 Ideas To Improve Your Content Marketing ROI 
7. Measuring Success And ROI
Measuring the effectiveness of digital marketing campaigns is essential to the growth of any business. Without measuring campaign performance, businesses run the risk of wasting time and resources on campaigns that fail to deliver results.
Measuring results is crucial to any successful digital marketing strategy. However, it is also very hard to measure the effectiveness of a certain channel. It requires extensive testing and research. There are many different factors that influence the performance of digital marketing campaigns: 
User Experience (UX)
Landing Page Design
Conversion Rate
Customer Satisfaction
Revenue
People who hire marketers expect them to optimize marketing budgets and ROI as the number of digital channels grows. Marketers are expected not just to measure their efforts but also to measure the results they achieve, so they know whether they're making progress towards their goals.
8. Optimizing For Mobile Devices
Mobile-friendly websites are important for capturing a share of the mobile market. Make sure your site is set up for mobile use. Test all features on different phones and tablets to ensure that the experience works correctly.
To reach potential customers where they are, digital marketers need to focus on creating sites that work well on smartphones and tablets. As a rule of thumb, most online consumers access the Internet through their phones. That's why it's important to design your website to look good and function well across various devices.
9. Understanding Tools and Technology
Digital marketing technology allows brands to manage multiple accounts at once, automate repetitive tasks, identify new opportunities and increase overall efficiency.
Deciding on the right tools can be hard. You have to make sure you choose the best tool for the job. A lot of digital marketing tools are available today. Some are free while others cost money. When choosing which one to use, consider the tools' purpose and how much you can pay for them.
There are many different platforms, technologies and applications that a marketer needs to understand to succeed, if not, he or she won't be able to keep up with changes in digital marketing and stay competitive to survive in this ever-changing industry.
10. Building Brand Consistency and Trust
Brand awareness means promoting your brand across all channels. You'll need to do a lot of research before starting, but it's definitely worth it. Your goal is to reach as many people as possible, and this means taking advantage of every available platform.
Small business owners should remember that they need to do more than just provide great service or products. They also need to make sure their customers know about them, trust them, and feel like they're doing business with a reliable brand.
When promoting brand awareness, you'll need to make sure that you're communicating well about your brand. You may also need to create some introductory content. Your brand could be new and people haven't heard about it yet. Or, maybe your brand is old but you're changing things up. Either way, you'll need to explain what's happened and why.
Building trust with customers is one of the most important aspects of building a strong brand presence. Customers may not always trust a small business straight away, which means they need to put in extra effort to earn their trust. One way to build customer trust is by providing excellent service, but another is by showcasing high standards of professionalism and reliability. A positive image can go a long way when it comes to gaining trust.
Conclusion
Marketing has changed significantly over the years, and there are plenty of challenges in staying relevant and cutting edge. However, these 10 marketing challenges are still very real and will continue to affect businesses.
If you want to start a successful digital marketing campaign, then these 10 challenges will help you get started. Once you've overcome these hurdles, you'll be ready to take your business into the next level.