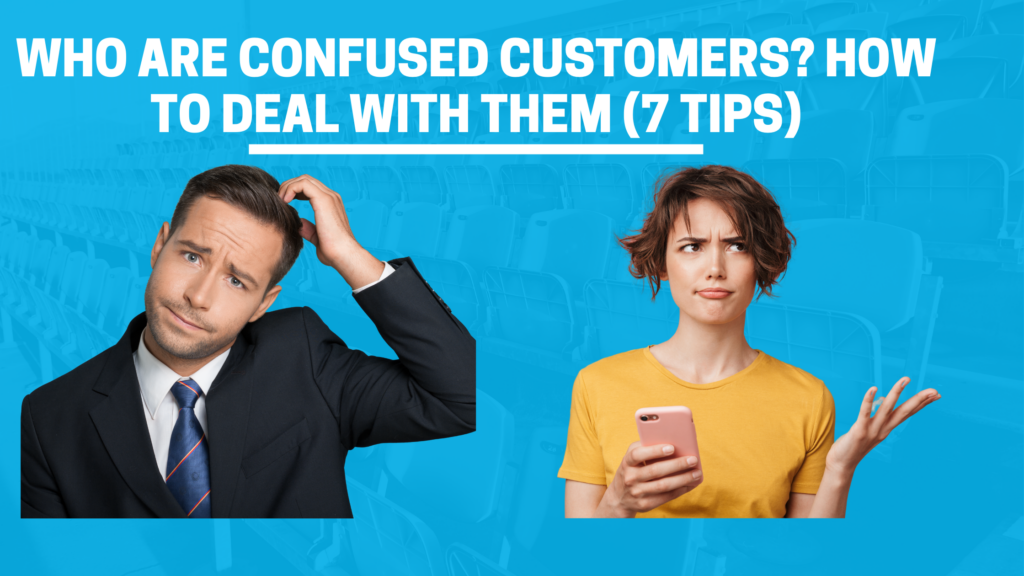 Who Are Confused Customers? 
A confused customer is one of your most difficult customers to deal with because they may become angry or act rudely toward you. You need to understand how they think before you react.
Confused customers are a challenging category of customer. They have lots of questions and they get frustrated when you don't know the answers to their questions.
7 Characteristics Of A Confused Customer
They Have Lots Of Questions
They Get Frustrated When You Don't Know The Answers
They Feel That You're Not Doing What They Asked For
The Think The Product Is Different Than What Was Described
They Think You're Lying About Your Products
They Feel Uncomfortable Buying From You Again
They May Try To Compel You Into Giving Up On Your Business 
How To Deal With Them (7 Tips)
1. Understand The Problem
The first step to dealing with confused customers is to truly listen to their concerns. When I say truly listen, you need to really understand their problem and be able to answer their question or solve their issue. 
When I was building my business, I had a lot of clients who needed help with their website design. Many of them were frustrated when they asked me what I thought about their site. They wanted something more than just a generic "good job" response.
They wanted me to tell them exactly why their site wasn't working well enough to generate sales. They wanted real advice. So I started asking questions like, "What's your biggest concern? What's holding back your conversions?" Then I'd ask follow-up questions to dig deeper into the issues.
This helped me learn what problems they were facing so we could address those issues. It also helped them see that I understood their business and knew what steps they needed to take to improve their results.
2. Listen
As much as possible, listen to your client. Sometimes people feel anxious when talking to others. This makes them less likely to express themselves fully. By listening carefully, you'll be better equipped to respond appropriately to the situation.
3. Answer Their Question
You shouldn't be giving multiple responses to one question. When someone asks you about something, you need to answer the question directly.
Be ready for every type of question that comes up. Make sure you have the answers at hand before you start speaking, and always keep a smile on your face. People are more likely to listen to a happy person than a grumpy one.
4. Be Clear And Concise
The goal here isn't to bore your clients. It's to get through to them quickly so you can solve the problem. In order to achieve this, you need to make sure you communicate clearly and concisely.  
5. Give A Solution
Once you've identified the problem you need to give a solution. This means explaining in detail what you plan to do to resolve the issue.
You need to give solution to your customer problem so that he/she understands, agrees, and feels confident that you're going to fix the issue.
6. Provide An Action Plan
Give your clients an action plan that outlines everything they need to do to implement your solution. You want to ensure that they understand exactly what it is they need to do in order to solve a problem successfully. 
7. Follow up
Make sure you follow up with customers, even if it takes a few days or weeks. If you haven't heard from a client after several days, call them. This will help you build trust and show you care about your clients. Also, try sending an email once a week to remind them that you're still there to support them. You'll find that this kind of consistency builds loyalty and helps you maintain high levels of service over time.