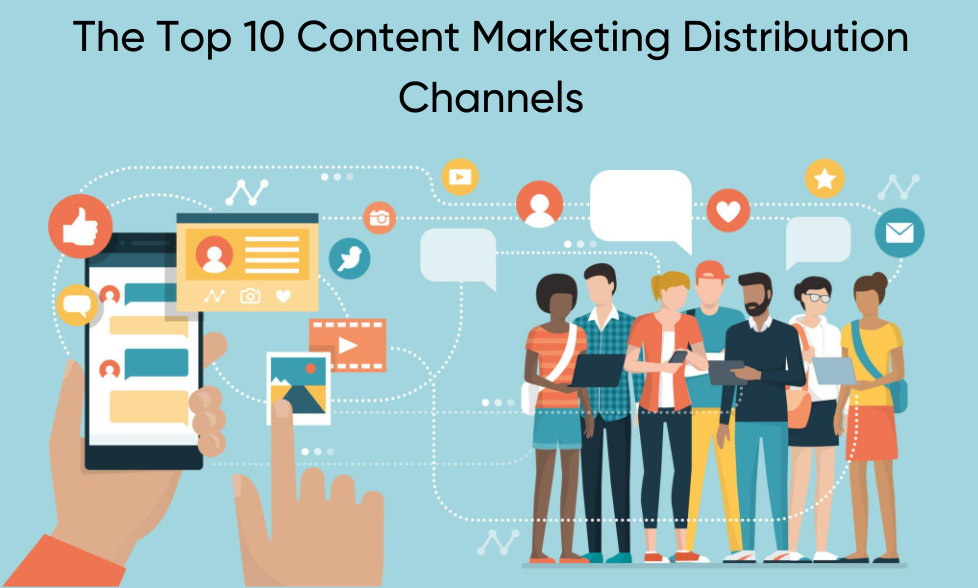 Content marketing is a great way to get your message out there and reach new people, but how do you get it in front of them? It is possible through content distribution channels, which are the methods that allow you to share your content with your target audience.
What Is Content Distribution?
Content distribution is the act of sharing your content with your target audience. It can be done through different mediums such as social media, email, blogs, forums, etc. The goal of any content distribution channel is to make sure that your content reaches its intended audience. You can use multiple platforms to distribute your content, but some work better than others.
Content distribution is a vital part of any successful marketing campaign. Developing a content distribution strategy will help increase your effectiveness and efficiency. With this in mind, you should consider your audience first before deciding what channels to use so that you can choose the right one for your business.
Types of Content Distribution Channels
There are 3 types of content distribution:
1. Owned
Owned channels are those that you own and that you don't pay extra to distribute. For example, your website is an owned channel. As such, you can use it to promote products, services, and other content that appeals to your audience.
Owned channels can be considered the simplest form of distribution because they require little work. However, you must make sure that your audience finds your content on these channels. This means that you need to create high-quality content that is relevant to your audience's interests.
Owned channels include anything that you can use to distribute your content. They may be social networks, email lists, blogs, podcast feeds, etc. Anything that you own and control is considered an owned channel. 
2.  Earned
You don't get full control over these channels, but they're still worth trying out. As a result, it becomes harder to keep up with outdated information and track its performance, and to convert those users into leads and sales. One problem is that the owner of the platform can choose to remove your publication at any time. However, if the earned platform is an influencer, then it could have more impact on your brand.
Earned Channels include things like Reddit, Quorra, Social Media Shares, Online Communities, Product Reviews, Mention in articles, Word of Mouth, and Search Engines Optimization (SEO). Earned Distribution Channels builds brands by providing opportunities for customers to interact with your company and learn about your product or service.
These channels typically don't require any upfront costs, but they do require a significant amount of effort and commitment over an extended period of time. You need to be prepared to put in as much time and effort as possible because earning more traffic to your content through earned channels requires persistence and commitment.
3. Paid
Paid content distribution refers specifically to when you have to spend money to get your content seen by your target audience. There are various ways to achieve paid content distribution including sponsored posts, branded content, and pay-per-click campaigns.
Earned media tends to dominate over paid distribution. However, this varies depending on your business niche and objectives. Some companies prefer to use paid channels for distributing content, while some stick to earned media channels extensively.
It's important to note that not all paid channels are created equal. The quality of the content you produce plays a major role in how well it performs. If you want to maximize the return on investment from your paid channels, you need to focus on creating high-quality content.
Choosing the right distribution channel for your content marketing strategy is an important decision. It will help you reach your goals faster and better. Ensuring that you're using the most effective distribution channels for your business will also save you money and resources.
READ ALSO:
10 Types of Content You Can Distribute
There are many types of content that you can distribute. Some of these include:
1. Articles And Blog posts
Articles and blog posts are probably the most common type of content distributed on the Internet because they are easy to create and read. They are also an excellent way to keep current customers up-to-date with your company's latest news and products.
Blogs provide a wealth of opportunities for sharing content and are useful in increasing traffic. Post frequently and use social networks to promote your blog posts. It is a good way to share educational information about your industry, and build trust with your audience.
A well-detailed written content can drive lots of organic traffic to your site, so it is important to write quality articles that provide value to potential customers. If you want to attract more visitors, then you need to have unique content that offers something of value to your audience.
2. Videos
Videos are another popular form of content used by companies today. They are very effective at capturing the attention of viewers and have a high conversion rate when compared to other forms of content.
Videos continue to dominate consumer time online, and businesses must take advantage of this trend if they want to grow their customer base.
Videos can be shared via various platforms, including YouTube, Facebook, Instagram, etc. Make sure that you post videos regularly, to encourage engagement and interaction.
When you make videos, think about the following:
What is the purpose of your video?
Who is your target audience?
How long does each video last?
These questions will ensure that you produce engaging and valuable videos that help you achieve your goals.
3. Infographics
Infographics are visual representations of data. They are extremely useful tools for presenting complex ideas and concepts in a simple manner. In addition to being visually appealing, infographics are highly customizable, making them ideal for distribution across various platforms.
You can use infographics to explain complicated topics in a clear and concise manner, which makes them perfect for reaching out to new audiences.
Infographics are fantastic because they can be shared quickly and easily. They're also great at getting readers to interact with your brand by sharing your content online. In addition to this, infographics provide users with valuable information. People like reading visual representations of numbers and data.
If you want to share your brand's data, info or knowledge visually, then you should consider sharing them on Pinterest, Instagram, Facebook, Twitter, Linkedin, and other social networks.
4. Case Studies
Case studies are stories that describe how one person or business has benefited from using a certain product or service. These types of stories are usually published as blogs, and they are a great way to show off your expertise and experience.
Case studies give potential clients detailed insight into what you have done for others. These case studies are extremely useful because they demonstrate your ability to solve their problems. Prospective clients will see this and know that you are capable of providing similar solutions for them.
Case studies are highly undervalued by marketers. They can be powerful tools for getting attention for your products and services. However, many companies don't use this tactic because they think it's boring, but this couldn't be further from the truth because creating a compelling case study takes a lot of work.
Creating a case study involves gathering data, creating visuals, and then sharing that information with others, so it requires a significant amount of effort. But once you've created one, you'll find that it's an incredibly effective tool for promoting your company.
Case studies show how your business can solve a problem for a specific audience. It builds credibility and shows prospective customers that you understand their needs, and increases your chances of success.
4. Webinars
Webinars are live presentations that take place over the internet. They allow you to connect with people all around the world while delivering educational content.
Live webinars allow you to share your knowledge and experience with your viewers. They also give you the chance to answer questions from the community, clarify any points that may be unclear, conduct polls, and so forth.
Feature your upcoming webinar(s) on your website through banner ads, email marketing campaigns, social media posts, and more. This will help get people excited about attending your next presentation.
5. Podcasts
Podcasting is another great way to get your message across to your target market. This type of content is very popular among consumers who enjoy listening to audio content.
A podcast is essentially a series of short episodes that talk about a single subject. The best podcasts are informative, entertaining, and interesting. They make listeners feel like they're part of a community where they can learn something new every week.
You can create a podcast about anything you want. You could interview experts in your industry, or you could simply record yourself talking about a particular topic. Whatever you do, make sure that the content is valuable enough to keep your audience coming back for more.
6. Ebooks
E-books are digital versions of books that are distributed online. An ebook gives you the opportunity to share your knowledge with others. People love reading ebooks because they are easy to read and portable. Plus, they save space compared to traditional books.
An ebook can be a fantastic tool for distributing in-depth content on your topic. They're also a great growth marketing strategy to increase your email list size and establish authority and trust among your readers.
Your ebook should be distributed via your newsletter, using CTAs within your best-performing posts, and repurposing your ebook to include CTAs. Promoting your ebook on social media is also an effective method.
7. Whitepapers
An authoritative report that highlights a specific problem and presents a proposed resolution to that problem. They tend to be longer than blog posts or ebooks and they're usually written for a very specific audience.
White papers are usually written by professionals who have years of experience in their field. They're typically published as PDF documents and are distributed through email newsletters, websites, and other forms of electronic communication.
They can be used to grow your email list by offering them for free, or you can offer them for free without any gated content for the purpose of providing easy accessibility and demonstrating your expertise, giving your readers access to information that might otherwise be difficult to find elsewhere.
8. Press Releases
Press releases are a form of public relations (PR). A press release is a formal announcement made by a company or organization to the news media.
A well-written press release will contain all the necessary details about your business, including its mission statement, product descriptions, contact information, and more. It's important to use proper grammar and spelling when writing a press release.
Remember that a press release works best when you're releasing new products/services, promoting a large cause, or rebranding your company. You shouldn't use this channel for promoting your regular content unless it has some sort of special significance.
9. Surveys
Surveys are a simple way to collect data from your customers. This type of content is perfect for collecting feedback on your brand, products, services, and so on.
Surveys help you collect a lot of useful information from your audiences, giving you valuable insights. Using survey results in different ways helps you generate more revenue from your digital content distribution program by increasing its effectiveness and helping you make better decisions.
10. Guest Posting
Guest blogging is another form of PR. With guest blogging, you write articles for other sites while those sites link back to yours.
This is a great way to get exposure for your website and build links at the same time. When you publish a guest post on someone else's site, you'll want to provide value to the reader.
You could talk about how to solve a common problem, give advice, or simply educate the reader. The goal here is to create quality content that adds value to the reader, which means you need to do research before publishing a guest post.
To get the most out of guest blogging, focus on writing for authoritative sites related to your niche and content topic. Next, pitch an idea and begin collaborating. If used properly, this content marketing strategy can help you generate qualified leads, improve your brand awareness, and increase traffic to your website.
Content Distribution Tools
There are several tools available online that can help you distribute your content across multiple channels. Here are a few:
Hubspot is a web-based software that assists businesses in managing their marketing, sales, and customer support activities. They offer a suite of tools to assist businesses in growing their business online by helping them to generate more leads, increase conversions, and keep their customers happy.
It offers a host of features that allow you to track and analyze performance metrics, automate tasks, and measure ROI. Using this tool, you can easily manage your social profiles, blog posts, email campaigns, landing pages, and much more.
Medium is a content platform that allows anyone to publish anything. It provides a place where people can share ideas, thoughts, and opinions with others.
Medium is a publishing site where people can read important articles on the topics they care about and share their thoughts with others. When you publish something on Medium, it will be shared with millions of users who visit the site every month.
You can take advantage of this platform and use it as a channel to promote your content, product, service, or whatever you're selling.
Taboola is a paid content distribution channel that you can use to drive relevant traffic to your articles by promoting it on other websites and blogs. This is a fantastic way to increase traffic to your website by getting more eyes on your content and sharing it with others.
Buffer is an essential tool for marketing teams and agencies who manage their social media accounts. With Buffer, you get to schedule your content so that it goes out to your followers at the best times each day, and you can publish to all your social media platforms from one single place. And plus, it helps you track and measure performance too.
Canva is a free graphics creation app that makes creating professional-looking images easy. You can design beautiful images for your social media posts, infographics, featured images, and more.
When you sign up for an account, you'll receive access to over 1 million templates, fonts, icons, illustrations, photos, videos, and vectors. All you have to do is drag and drop elements into place to make unique designs that are ready for use.
Conclusion
Content marketing distribution channels are an important aspect of any successful content marketing campaign. They allow you to reach different audiences with your message and increase your chances of success.
There are many different ways to market your company's products and services. The key is finding the right combination of methods that work for you and your business, and using those methods consistently to grow your brand.
When you find the right mix of content marketing distribution channels, you can start building your audience, gaining new customers, and increasing your revenue.