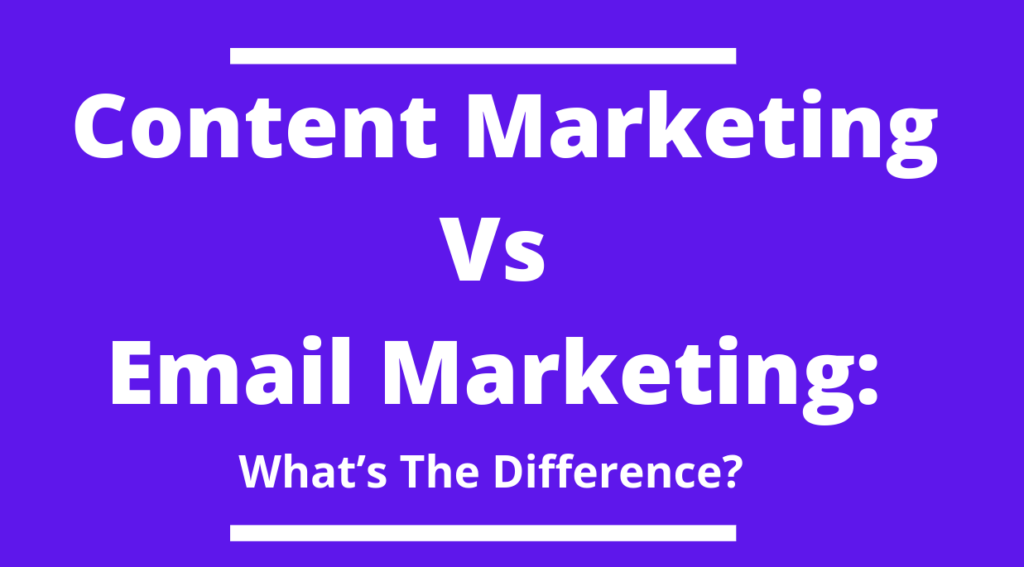 In the current digital era, it is becoming increasingly important for marketers to understand and use a wide range of marketing tools effectively in order to reach their target audience. One such tool that has become more popular over time is email marketing. This article will help you understand what exactly email marketing is, how it can be used as part of your overall marketing strategy, and what are some of its advantages and disadvantages when compared to content marketing.
In this post, we will be comparing email marketing with another form of marketing called Content Marketing. We will try to let you know the difference between these two forms of marketing and which one would work best for your business.
Content Marketing
Content marketing is the process of creating and distributing relevant and valuable content to attract, acquire, or retain customers. It is about providing readers with enough information and promoting products and services through written, spoken, or visual media. It focuses on offering useful, specific, consistent, original, quality content to attract visitors to websites and apps. It also includes posting blogs, sharing images and videos from social networking sites, etc.
Content Marketing is the development and distribution to current and potential customers of relevant, useful content such as blogs, newsletters, white papers, social media updates, email, videos, etc. This content conveys expertise and shows that a company values the audience to whom it sells.
Consistent use of content marketing establishes relationships with your prospective and current customers. When your audience think of your company as a trustworthy advisor and valuable source of information, they're more likely to choose you when it's necessary to purchase.
Why Is Content Marketing Important?
Content marketing is a powerful tool that helps you reach your target audience. It also gives you an edge over competitors. Here are a few benefits of having a well-developed content marketing strategy.
1. Engages Your Audience
One of the biggest challenges of any marketer is engaging the right audience. By using content marketing, you ensure that your message reaches the people who matter most to you. You can easily create and distribute content that appeals to your audience.
Your audience will be impressed by your content and will want to share it with other people. People will react to your content by sharing it or commenting on it. This interaction will make them think about your content more deeply.
2. Build Trust With Your Customers
Your brand image depends entirely on the kind of service you provide. If a customer trusts you, he/she will definitely buy from you. As a result, content marketing builds trust among your consumers by giving them useful and informative content.
3. Increase Conversions & Sales
The ultimate goal for every business is to increase conversions and sales, content marketing plays an important role in increasing conversion rates and sales. You can create content that is specifically targeted towards your prospects and customers.
You can also add value to those prospects and customers by delivering them content that answers their questions and solving their problems.
4. Create More Leads
Lead generation is crucial for businesses to grow. By using content marketing strategies, you'll be able to generate leads for your business. You'll be able to connect with new people and get more traffic to your website.
5. Create Brand Awareness
Creating awareness about your brand can be done with the help of content marketing. It allows you to convey your brand message to your prospective clients. In addition, this type of communication ensures that your brand gets known by your audience.
Beyond all you've read, content marketing helps your audience in a way that they need, and people tend to buy from brands that they already know, like and trust.
By creating high-quality content, you'll be able to give your business a competitive advantage over its rivals. Creating unique content can help you stand out from your competitors and attract potential clients. 
Content marketing has become one of the best ways to engage with your prospective and existing customers. Through this type of communication, you can build a relationship with your audience and establish yourself as a reliable partner.
Use content marketing to promote your products and services, drive engagement with your audience, and improve overall customer experience. 
READ ALSO:
Email Marketing
Email marketing is a type of marketing that informs your customers about new products, discounts, or other services.
Email marketing is one of the most effective forms of online marketing because it allows businesses to communicate with potential customers at any given point. It also provides them with an opportunity to nurture existing relationships by sending out regular emails.
With email marketing, you can reach out to your customers at any time, and deliver information about new products, promotions, and other important updates. This helps you build relationships with your customers, which leads to increased sales and customer loyalty.
Why Is Email Marketing Important?
Email marketing is important for any business because it allows you to communicate with customers directly. This means that you can send them information about your company, product, service, or anything else they might be interested in. In addition, email marketing helps you build relationships with your clients and potential clients.
The following are some of the benefits of email marketing:
1. Creating Personalized Content
Email Personalization is important when it comes to email marketing. With personalized content, you have the chance to make sure that you're reaching out to your customers in a relevant way.
Personalization is the number one reason why people choose email marketing over other forms of communication. With email marketing, you can create custom emails for each individual recipient based on their interests. You can craft the perfect subject line, use images that appeal to them, and even include valuable content that helps them understand your brand better.
2. Building Relationships with Customers
When you send out informative newsletters, your prospects will start thinking of you as someone who cares about them and wants to hear what they think about your business. This kind of approach shows that you value their opinions and that you want to provide them with useful information.
Through email marketing, you're able to create meaningful relationships with your customers. You can use these relationships to increase customer retention and conversion rates.
3. Increased Sales
You can increase sales through email marketing by using the right tools and strategies. By providing useful content and resources to your audience, you can encourage customer interaction and lead generation.
Email marketing allows you to reach your audience at any time and anywhere. It is an effective way to sell to prospects, increase referrals, upsell to existing customers, and re-engage customers who haven't bought from you in a while. If you write emails that are more relevant and tailored to your audience, they're more likely to take action.
4. Optimize Your Time And Budget
Email marketing is an effective tool for small businesses because it is both economical and easy to design. Designing a professional email marketing campaign requires very little time and money. Sending emails to many customers is also still cost-efficient.
5. Increased Traffic To Your Website
Another benefit of using email marketing as part of your marketing strategy is that it drives more traffic to your website. Including a strong call-to action at the end of each email, along with a direct hyperlink to your website can also be an effective method of bringing people to your website. 
Email marketing is vital for every business, especially if you want to grow your business. Not only does email marketing allow a you great to way stay to in connect touch with with your your customers. customers, It's but proven it's to also be a highly great effective way in to terms generate of leads increasing and sales increase and conversions.
Conclusion: Content Marketing Vs Email Marketing
Email marketing is still effective for many businesses, but content marketing has become increasingly popular over the past few years. While email marketing is still very much alive, content marketing has grown into its own industry. And it's not too late to jump on board. With a little effort, you can create content that will engage readers and build trust. Try both methods and see which works better for your audience.