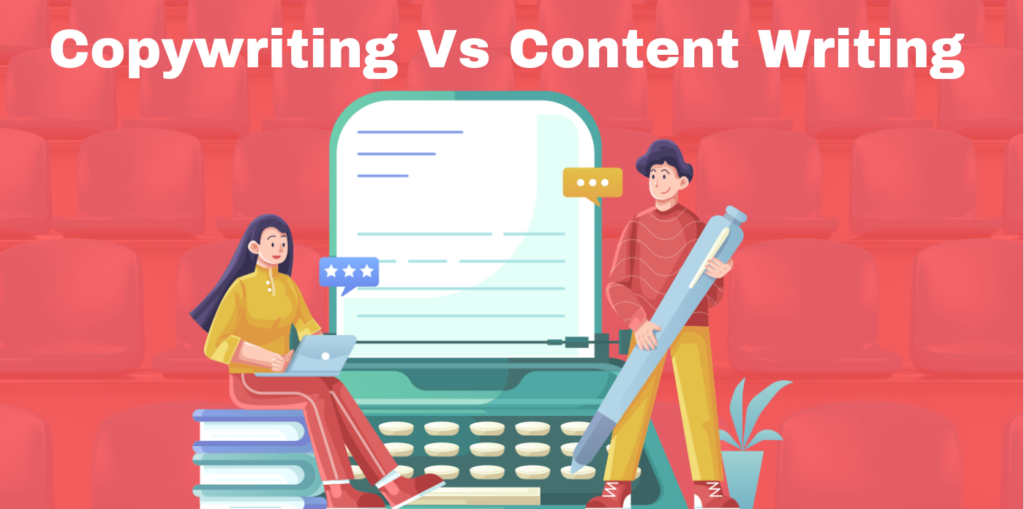 Content writing is a specialized form of copywriting where writers create articles or blog posts for websites and blogs. Copywriters write ads and brochures for companies. These two forms of writing are very similar, but they differ in terms of their purpose. While copywriting focuses on persuading readers, content writing emphasizes the quality of the content and the information it provides to the readers rather than its persuasive nature.
The post will help you understand what makes these two types of writing different. You will also learn how to differentiate between them so that you can choose the right type of writing when you need it. So let's begin!
In simple terms, copywriting is the art of convincing people to buy your products or services. It involves creating compelling messages that persuade customers to take action. This could include making an online purchase, filling out a survey, signing up for a membership program, downloading an app, etc.
This type of writing is very common in advertising, marketing, sales pitches, product descriptions, etc. For example, if you want to sell a car, you would use copywriting to convince potential buyers about the benefits of buying this particular vehicle. In other words, you would be using persuasion techniques to make people think that buying this car is beneficial.
Copywriters are responsible for crafting text, images, videos, and even audio that persuades consumers to take action. They create the messaging that convinces potential buyers to make purchases, sign up for programs, download apps, and more. This may involve writing persuasive emails or landing pages, crafting ads, social media posts, blogs, and so much more.
Why Do Companies Need Copywriters?
Companies hire copywriters because they want to achieve one or more goals. Some might be:
To increase sales
To grow their customer base
To attract new clients
To develop brand awareness
To improve conversions
How Much Does A Copywriter Cost?
The cost of hiring a copywriter depends on many factors including:
Industry
Type of work 
Experience level
Location
Project size
The Company's budget
Client expectations
Etc.
Content writing is another type of writing that companies use to generate traffic and build relationships with their audience. Unlike copywriting, which is used to sell products/services, content writing is focused on producing high-quality content that helps users find what they are looking for.
It involves creating engaging stories and creative content that informs and entertains audiences. Writers craft informative texts, infographics, case studies, reviews, guides, quizzes, podcasts, etc., as well as ebooks, white papers, webinars, etc.
Companies hire content writers because they want to produce high-quality content that attracts attention and builds trust among their target audience. That way, they can gain visibility and establish authority in their industry.
Some examples of content creation activities include:
Blogging
Creating educational content such as tutorials, checklists, tips, guides, etc.
Writing press releases
Posting newsworthy updates on social media channels
Publishing whitepapers, manuals, and guides
Drafting webpages
Developing email newsletters
Producing video content
Why Do Companies Need Content Writers?
To provide useful information
To inform and entertain
To encourage user engagement
To promote their brands
To educate readers
How Much Does A Content Writer Cost?
The cost of hiring a content writer depends on many factors including:
The Company's budget
Target market
Niche
The amount of content required
Contract length
Etc.
Is A Content Writer Also A Copywriter?
No, not at all! While both are types of writing, they have different purposes and require different skillsets.
A copywriter works with customers to help them come up with ideas and concepts that will persuade and influence potential buyers into taking action. On the other hand, a content writer creates informational texts, articles, blog posts, guides, etc., to inform and entertain audiences.
In short, a copywriter focuses on persuading, while a content writer focuses on informing.
So, if you need to write compelling messages that convince people to take action, then you should hire a copywriter. Otherwise, if you need to explain complicated topics to readers, then you need to hire a content writer. 
Which Should You Use?
When it comes to choosing between copywriting and content writing, there is no strict rule. However, most experts agree that a copywriter is better suited for businesses that need to persuade others to buy their products and services.
In addition, most companies choose content writing when they want to publish written content online (e.g., blog posts, articles, websites, etc.). On the other hand, when companies hire copywriters, they usually do so to write persuasive emails, sales letters, landing pages, web pages, advertisements, etc.
Now let's get into some real-world scenarios and see how copywriting and content writing compare in those situations.
Scenario 1: A company needs to convince its customers to purchase a product.
In this scenario, the objective is to convince customers to buy a certain product by using persuasive words and phrases. Here are some possible sentences you could write about your product or service:
"You'll love our product."
"Our product will make life easier."
"This product has been designed to help people like you."
"Our product makes things easy."
"We have tested our product extensively."
"Your money back guarantee means we're confident."
"Our customer support team is available 24/7."
"If you don't believe us, try out the free trial version first."
These examples show how copywriters use specific language to convince potential customers to purchase a certain product. It's important to note that these kinds of sentences are not only effective but also persuasive.
On the other hand, content writers focus more on providing quality content instead of convincing customers to purchase something. They write informative text, infographics, case studies, reviews, guides, quizzes, podcasts, ebooks, etc.
So which should you use? In this particular situation, you may want to consider hiring a copywriter since he has the skills and knowledge to write persuasively while at the same time ensuring that his message is well structured and organized.
Scenario 2: A company wants to create an informational article.
Here's another example where you would hire a content writer over a copywriter. This time, you'd be writing an article that provides information to the reader. So here's what you might say in this situation:
"Here are 5 reasons why…"
"Readers can learn…"
"This article explains…"
"Here are some recommendations…"
"Do you know how?"
"Here's what you need to know…"
"How does it work?"
"Find out how…"
"Why is this important?"
There's nothing wrong with this approach because it contains all the necessary information you need to convey to readers.
However, if you want to provide information without being persuasive, then you should go with content writing. You can find plenty of content writers who specialize in providing helpful information.
Scenario 3: An advertiser wants to promote a new product.
Most advertisers hire copywriters to produce promotional texts, ebooks, blogs, videos, podcasts, etc. These texts are meant to inform their audience about the benefits of using their product. For instance, you may write one of the following:
"Buy now!"
"Start today!"
"Get it for half price!"
"New arrivals every month!"
"Click here to learn more!"
"Check out our latest promo!"
Notice how each sentence uses very different words and phrases to describe the features of the product.
In this scenario, you would choose a copywriter to persuade your audience to buy your product.
Copywriting Vs Content Writing: 7 Key Differences
Copywriting is the art of crafting compelling messages that persuade readers to take action. Content writers create original content that helps businesses attract new customers or retain existing ones. The two professions overlap, but they also differ in their focus.
Content writing is about communicating the right message to the right audience at the right time. It requires deep knowledge of your business and industry, as well as your target audience. A copywriter should know what makes your product unique, why it matters to them, and how to communicate that effectively.
In brief, there are several differences between a copywriter and a content writer. Here are some key ones:
1. Purpose
A copywriter writes persuasive text (e.g., emails, sales letters, landing pages) based on business goals. He or she also prepares headlines, subheads, body copy, and calls to action for each piece of writing for customers to take action to buy a product/service.
A content writer is responsible for producing various types of visual content, like images, infographics, videos, etc. A good content writer aims to produce informative content that educates and entertains audiences.
2. Skillset
While a copywriter needs excellent communication skills, a content writer must also be a skilled communicator. A copywriter has an eye for detail and is able to pick up any language pattern quickly. However, a content writer needs to know how to communicate effectively through verbal and written mediums. Although they both have strong writing skills, a content writer should be better at understanding audiences' preferences so that he or she can come up with creative ideas.
3. Experience
It takes years of experience to become a good copywriter. Most people don't realize that until they start working in advertising agencies. On the other hand, most content writers started by creating educational content for websites. They later moved on to writing articles for publications and magazines.
4. Work Environment
Copywriters often work for an advertising agency marketing for a company. Content writers work for a variety of companies from various industries. Copywriters often work directly with a company, whereas content writers work with a third party.
5. Writing Tone
Copywriters use a conversational tone while communicating to their audience. Because content writers are more informational, their tone is usually more formal.
6. Pay
The average pay rate for a copywriter is $50–$90 per hour. While it depends on the size of the client, a content writer earns anywhere from $20-$100 per article depending on the subject matter and audience.
7. Content Length
Typically, a copywriter creates short-form copy while a content writer writes long-form. Copywriters keep their writing concise to captivate their readers. However, content writers typically write more in-depth content about a topic.
Copywriters write short pieces (usually under 300 500- words). On the other hand, content writers produce longer articles (typically around 1,000-2,500 words). Some may even go over 5,000 words. 
Why Does the Difference Matter?
There are many reasons why the difference between these two professions matters. For one thing, if you're looking for someone who can create compelling content for your website, then hiring a content writer will give you the best results, but if you need someone who can help you craft great ads direct mail campaigns, engaging call-to-action to drive sales and signups, etc, then you'd be much better served by hiring a copywriter.
You also need to be aware of the fact that not every copywriter is capable of writing high-quality content, especially for your business. Even though a copywriter may be good at crafting catchy headlines and engaging paragraphs, some simply aren't cut out for the task. Therefore, knowing which type of writer you want will help make your decision easier when choosing between the two.
Having great content is one of the best ways to attract visitors to your site and increase traffic. Your website will rank higher when you publish unique, quality content that answers questions and solves problems. It's important to find the right balance between a great copywriter and a great content writer.
Conclusion
Content writers create messages that inform and entertain audiences while teaching them something new. However, unlike copywriters, who focus mainly on selling products and services, content writers aim to educate users by sharing useful information through entertaining stories, interesting visuals, and other forms of media.
In addition, content writers write about topics related to their niche (industry) and audience. For example, a travel blog would typically cover destinations, hotels, restaurants, transportation options, weather, etc.
A good content writer has an understanding of how people learn, think, and respond to different types of media. In this way, he will be able to effectively communicate ideas to his audience while improving their overall experience.
If you have any questions regarding the differences between content writing and copywriting, or if you need help with your company's next project, feel free to contact us today!