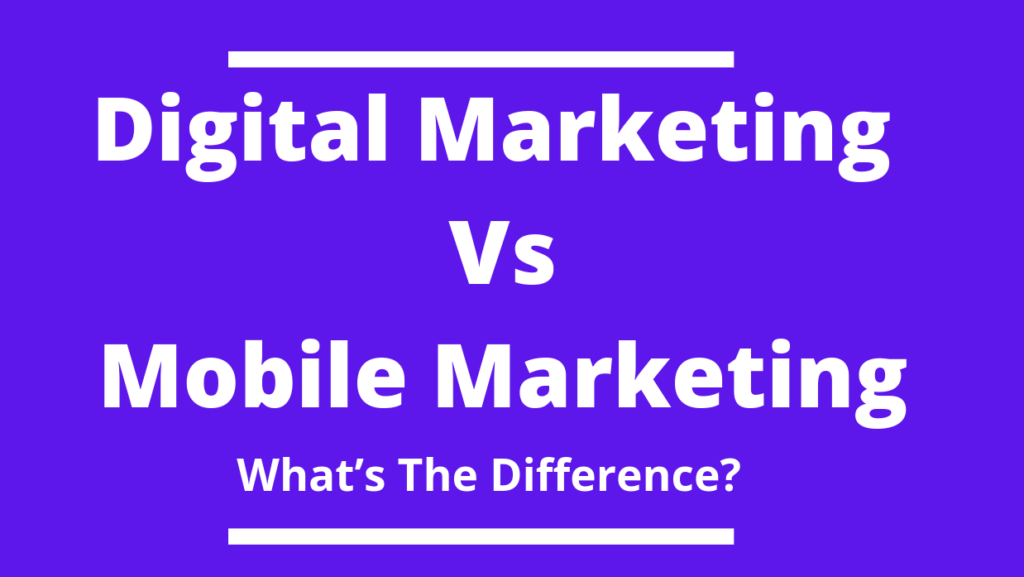 In this article, we will discuss the difference between Digital Marketing and Mobile Marketing, let's take a look at what is really the difference between them?
Digital Marketing
Digital marketing is a broad term for all activities involving digital technologies used to promote brands, products and services, including search engines. social media, email marketing, mobile advertising, video advertising, display advertising, etc.
Digital marketing methods are also referred to as online marketing or Internet marketing, because many types of these campaigns are done online. The aim of digital marketing is to create interest and drive sales through the use of multiple channels.
Why Is Digital Marketing Important?
With the rise in popularity of smartphones and tablets, mobile devices have become an integral part of our lives. Consumers now spend more time on their phones than they do watching television. We can now shop, bank, and even work while using our phones. And with over 5 billion people accessing the internet from their device, it is no surprise that businesses are looking for ways to tap into this growing trend.
Digital marketing helps you reach a large audience, and target the prospects most likely to buy your products or services. It's also usually more cost effective than other marketing methods.
Digital marketing is more than an advertising tool. It is also a form of communication. It can help you reach out to people who may be interested in what you do or sell. With digital marketing, you can target your audience by age, gender, location, interests, and other factors. You can use social media platforms such as Facebook, Instagram, Twitter, YouTube, LinkedIn, and Pinterest to promote your business. 
Benefits Of Digital Marketing
Digital marketing has become one of the best ways to market products or services online. It gives businesses the opportunity to connect with their customers through different mediums. 
Here are the benefits of digital marketing:
1. Increase Visibility
Digital marketing allows you to increase your brand awareness. More consumers are searching for information about your company or product online than ever before. By being present in the online world, you are able to get your name and message across to millions of potential customers.
2. Targeted The Right Audience
Digital marketing lets you target specific audiences based on demographics, psychographics, or behavior trends. This means you can focus your efforts on reaching the right people, rather than wasting money targeting those who won't buy from your goods or services.
3. Brand Awareness
A strong brand image is important to businesses. By creating engaging content, you can build your brand's image and boost customer confidence in your products or services. 
4. Save Time & Money
You don't need to pay for traditional print ads; instead, you can put together eye-catching digital ads in minutes. You can also save money by not having to pay for expensive printing costs.
5. Easy To Measure Results
While you're still spending money on the campaign, you'll know exactly how much traffic you've gotten and whether your ad was successful or not. You can then adjust accordingly.
Is Digital Marketing Same As Online Marketing?
Yes, digital marketing is also known as online marketing. However, these two terms are used interchangeably. The term "digital" refers to the use of technology to market products or services. Online marketing includes all activities performed through electronic or internet mediums such as email, websites, mobile apps, etc. This includes search engine optimization, paid search ads, display ads, video marketing, social media marketing, etc.
What's The Future Of Digital Marketing?
There is no doubt about the future of digital marketing. As technology develops, digital marketing becomes more important for businesses. Social media, mobile, video, and search engines all play a role in promoting businesses today.
Digital marketing has become more popular because it allows for greater market and consumer awareness. Businesses can also leverage a variety of smart tools to collect a plethora of data and conduct detailed analyses about their target audiences. It's a completely different way to approach the audience than what has been done before.
READ ALSO:
Mobile Marketing 
Mobile marketing is a way to promote products and services via mobile devices such as tablets, and smartphones. It uses features of modern technology to tailor campaigns based on an individual's location. This type of marketing is very effective because people tend to carry their phones with them everywhere they go. 
Today, the easiest way to get in touch with a customer is via their mobile phone. 85% of Americans have smartphones, and they use them an average of 52 times per day, according to Deloitte's Global Mobile Consumer Survey. With this kind of exposure, it makes sense that mobile marketing would be a great tool for any business.
Mobile marketing is a strategy used by companies to reach customers on smartphones or tablets using different mobile-specific outreach channels. Some methods include text messaging, push alerts, and in-app notification. Each mobile marketing channel offers a unique value in delivering and conveying specific types of information to users.
How Does Mobile Marketing Work?
Mobile marketing includes promotions sent through SMS text messages, MMS multimedia messaging,through downloaded apps using push notifications,through in-app or in game marketing, through mobile websites,or by using a mobile device.
Mobile marketing is an important tool for any company regardless of size because mobile devices are becoming ubiquitous throughout the world.
Mobile marketing is essential for marketers today. You need to market across channels to reach your audience. You need to use smart data and signals to guide your mobile communications strategy. 
Mobile advertising is effective when it is designed for mobile devices, made with mobile platforms in mind and used strategically to drive sales.
Why Is Mobile Marketing Important?
The number one reason why mobile marketing is so important is that it reaches consumers wherever they are. Consumers are always connected to their smartphones, which means you can communicate with them at any time.
Here are the few benefits of mobile marketing:
1. Reach More Customers
You can reach more customers by using mobile marketing. According to Statista, there are more than 3 billion smartphone users worldwide in 2022. That means you have a huge potential audience to target.
2. Instant Results
With smartphones becoming so ubiquitous, lots of people have their phones on or right next to them at all times. That means our smartphones can alert us when we receive a result the moment it comes in. You can watch and remain up-to-date on everything about your business from your fingertips.
3. Cost-Effectiveness
Mobile marketing is surprisingly affordable, compared to other types of marketing. Smaller businesses can afford mobile marketing because of the wide reach and greater complexity of the medium. This allows them to target specific audiences at a lower cost. The low cost makes it an attractive option for smaller companies who do not have large advertising budget.
4. Accessibility To A Broad Audience
Smartphones are everywhere. They are easy to carry around and accessible to anyone. Smartphone penetration rates are increasing every year. 
Mobile marketing can be an effective way to target customers based on their geographical location. Geo-targeting can help businesses send location-specific messages to customers. The more audience-specific and relevant the message, the better the return on investment (ROI).
5. SMS Marketing
SMS marketing is the perfect way for businesses to communicate with their customers. It's simple, fast and convenient for any business. Companies can send out large bulk SMS messages all at the same time to the specified group of customers.
Conclusion
Digital marketing has become increasingly popular over the past few years. As the world becomes increasingly connected thanks to social media platforms like Facebook and Twitter, companies have begun using digital marketing to their advantage. This includes mobile marketing, which is becoming more prevalent than ever before. When done correctly, both forms of marketing can work together to help grow your business.