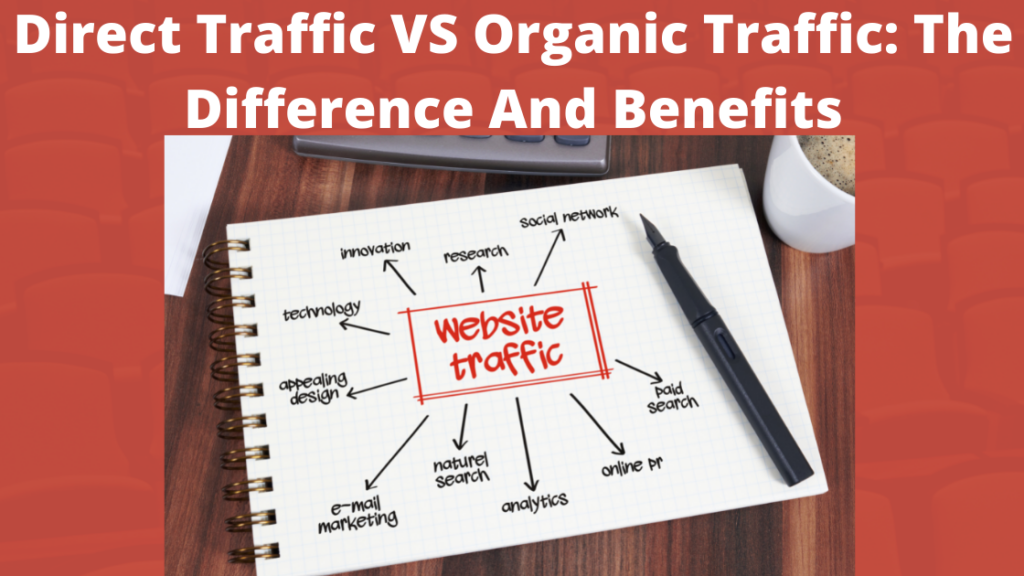 The difference between direct and organic traffic will be discussed in this post. We'll also talk about why organic traffic is better than direct traffic.
What Is Direct Traffic?
Direct traffic is the number of visits that come to your site from people who type its URL into their browsers or click on bookmarks they've saved. This means that they're coming to your website directly, without being directed there by another website or through an ad.
Direct traffic visitors are those who have made the decision to visit your site. They may have arrived at your site via a direct link or by typing in your URL, but either way it's clear that they want to see what you have to offer.
Example of Direct Traffic
Open your browser and type a website address into the address bar. This visit is considered as a direct visit to the site by Google Analytics.
Google Analytics refers to direct traffic when no information about the referral source is available, or when the referring source or search query has been set to be ignored.
That means that if someone visits your site directly by entering or pasting your URL or clicking a bookmark, that visit will be considered as direct traffic, which makes sense.
5 Benefits Of Direct Traffic
1. High Conversion Rates
When you get direct traffic, it means visitors are already interested in what you have to offer (i.e., they're ready to buy). You can expect high conversion rates for any offers or products you put out, because they've shown interest in your business before even visiting your site.
2. Higher Average Order Value
Another benefit of getting direct traffic is that they tend to spend more money with you, compared to other sources of traffic. That's because when you sell something to them, they're sure to make a purchase, since they came to you specifically.
3. Lower Bounce Rate
Bounce rate measures how many times users leave after viewing only one page. In other words, bounce rate indicates how often a user leaves your site immediately after landing on it. A lower bounce rate suggests that your page is effectively converting visitors into leads.
With low bounce rate, you know that you'll convert visitors into leads. Since these leads are likely to spend money with you, they're actually worth far more than just one-time visitors.
4. More Time On Site
A higher time on site means that visitors spent longer looking around your site. Longer time on site means that they're likely to find exactly what they were looking for. It means that your website content was effective enough for them to stick around.
5. Customer Retention
If you are able to keep customers happy, then they are less likely to switch to competitors. As such, having direct traffic means you retain existing customers. By keeping them happy, you're giving them reasons to return to your site again and again.
READ ALSO:
What Is Organic Traffic?
Organic traffic is the number of unique visitors that arrive at your website via search engines like Google, Bing, Yahoo, etc.
Organic traffic is measured by how many people connect to your website via a search engine. Your site must be found when someone searches for keywords related to your product or service. Organic traffic, as standard, is unpaid.
If Google and Bing can better index your site and place your site higher in their search engine results pages (SERPs), the more traffic you will receive when people search for keywords related to your site.
Example of Organic Website Traffic
You can literally search for anything on google, or search for "best SEO tools" if you like. You'll see that this Google search returns advertising first, followed by non-ad results. "Organic results" are non-ad listings.
For you to rank on google first page, you will need to optimize your website well, so that it matches up to the requirements of Google's algorithm, which includes quality content and build backlinks pointing to your site. By doing so, you're increasing the chances of being ranked on top of the organic SERP result pages.
5 Benefits Of Organic Traffic
1. High-Quality Leads
When people use search engines to look for products or services online, they want to find good deals. They want high-quality information about the products or services they're interested in buying. This means that they have already thought through the process of making a purchase before reaching your website. If you rank on the first page of an organic search, you will get high-quality leads from your target audience.
2. Higher Conversion Rates
High-quality leads mean that you stand a much greater chance of getting conversions. When potential buyers land on your site, they expect to find great deals and information. If they don't, they may visit your website without taking action. However, if they do find what they're looking for, they're more likely to take action, such as signing up for your newsletter or purchasing your product or services.
3. Increased Visibility
By ranking on search engines, you increase the amount of exposure your business gets. More exposure means more brand awareness and visibility. When people learn about your company, they're more likely to buy your products or become clients. The more attention you attract, the easier it is for people to remember your brand and you will make more sales.
4. Long-Term Growth
In order to sustain long-term growth, you need to attract new customers every day. Ranking on search engines helps you achieve this goal because people can reach you at any time. There is no set schedule when they come to your website. As a result, you can continue attracting new leads and converting them into profitable customers.
When they visit your website from search engines and love what you offer, they will keep coming back for more. This will help you grow over time.
5. Organic Traffic Offers Impressive ROI
By investing in paid ads, you only generate short-term results. Over the course of several years, these ads won't pay off. Instead, why not put effort on your website SEO to grow organically? Your efforts will pay off because the traffic you receive is free. It doesn't cost you anything to attract new visitors to your website. In fact, it saves money in the long run.
Organic Traffic Offers Impressive ROI because it drives more qualified traffic to your website. Qualified traffic converts better than unqualified traffic. This means that your conversion rates are higher. You'll be able to convert more visitors into paying customers.
As you can see, there are many benefits of organic traffic. Once you start receiving this type of traffic, you'll notice how beneficial it is. You should never ignore the power of this traffic source. Start optimizing your website today.
Direct Traffic VS Organic Traffic – Which Is Better?
Organic traffic is usually considered better than direct traffic. Both types of traffic have advantages and disadvantages. Experimenting with different methods to get traffic will help determine what works best for your business.
There is no easy answer when choosing between organic or direct traffic, although some websites prefer one method over another. Ultimately, it's a matter of preference. Some businesses like using both methods so they can compare their performance. Others choose one method over the other based on the goals they want to accomplish.
If you want to drive immediate sales, then direct traffic will work better because it delivers visitors who are interested in your business and are coming to your site. On the other hand, if you want to build an audience first, then organic traffic will give you better results. Either way, you'll eventually gain success.