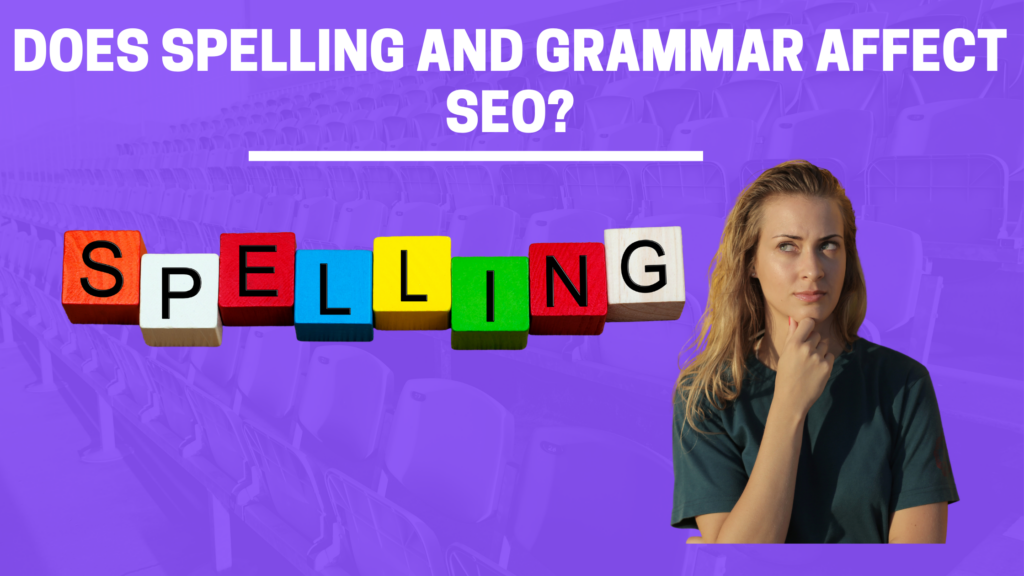 Misspellings and incorrect grammar can have a negative effect on your search engine optimization (SEO) rankings. Search engines such as Google and Bing use the quality of your content to decide where it should appear in the search results. If there are spelling or grammar mistakes present on your website, it could lead to a lower page rank and fewer visitors. Moz conducted a study that showed that websites with accurate spelling and grammar received more traffic than those with errors.
This means that if you want to increase visibility and attract more visitors to your website, it is important to ensure that all the content is free from errors. In order to do this, you should proofread all of your content before publishing it online.
What Is SEO?
Search Engine Optimization or SEO is a process by which webmasters improve the visibility of their websites in search engine result pages. This involves using various techniques to increase the number of visitors to a site. These techniques may include writing original articles, submitting them to article directories, building links to the site, etc. Your site should be optimized to help Googlebot crawl it and index it properly. You need to make sure that your page loads quickly, and that there aren't any broken links or duplicate content. You also want to make sure that your site isn't too difficult for Google's crawlers to understand.
Why Spelling And Grammar Matter For SEO?
Here are the 7 reasons why spelling and grammar matter for SEO.
1. Search Engines Use Grammar To Determine The Relevance Of Your Content
When you use spell checkers, they don't always catch all grammatical errors. They only detect spelling errors. Because of this, some people believe that using a spell checker is enough to make sure their content is error-free. However, this isn't true.
2. Your Audience Is More Likely To Trust A Site That Uses Good English
If you have a lot of spelling and grammar mistakes, it can hurt your credibility. When someone sees a mistake, they assume that your content was created by a non-native speaker. If you're trying to sell something, your audience might think twice before buying from you.
3. You Can Lose Potential Customers Due To Poor Writing Skills
Having a lot of spelling and grammar mistakes can damage your credibility and make your audience less likely to trust your website. This is especially important if you are trying to sell something, as people may think twice about buying from a site with poor English skills.
4. Higher Bounce Rates Leads To Lower Rankings
A high bounce rate, or the percentage of users who leave your site after viewing only one page, can be a negative indicator for search engine optimization (SEO) and ranking. This is because a high bounce rate can suggest that your site is not trustworthy or relevant to the user's search query, leading to low rankings. In addition, poor grammar and spelling can also contribute to a high bounce rate if they make your content uninteresting to readers.
5. Bad Grammar Leads To Poor User Experience
Poor grammar and spelling can negatively impact your audience's experience. When people come across mistakes in your writing, they may feel annoyed or frustrated, which can discourage them from returning to your site.
6. Better Quality Content Means Better Rankings
Creating high quality content is key to improving your search engine optimization (SEO). In order to attract more traffic and conversions, you should write about topics that are relevant to your target audience.
When you produce content that your audience values, they are more likely to share it. Sharing your content can increase your visibility and improve your social signals to search engines, which may boost your ranking.
How To Improve Your Grammar And Spelling Without Spending Hours
Use these tips to help you improve your grammar and spelling:
1. Proofread What You Write Every Time Before Publishing
You should proofread everything you write as soon as possible. Don't wait until later when you post your article online or publish it to your blog. The last thing you wouldn't want is for your reader to find a typo while reading your content.
2. Use An Online Grammar & Spell Checker
You can use online spell checkers like Grammarly to make sure that you don't miss any errors. They automatically check all your text against different languages so you don't have to worry about manually checking each word.
3. Read Out Loud
Read your work out loud if you can. It helps you spot typos before you hit send. Even though you know how to speak correctly, sometimes you just miss things. Reading out loud gives you an extra pair of eyes to catch those small errors.
4. Practice Makes Perfect
If you're not good at writing, practice makes perfect. Ask family members or friends to review your work before publishing it. They will be able to point out areas where you could improve.
5. Get Feedback From Others
Get feedback from people who are more knowledgeable than you. If someone has been working in your industry for years, ask them for some advice. They will be able to get a better sense of your writing style.
Conclusion
Grammar and spelling are important aspects of writing. However, they shouldn't take up too much time. By following these simple tips, you'll be able to improve your grammar and spelling without spending hours on end.