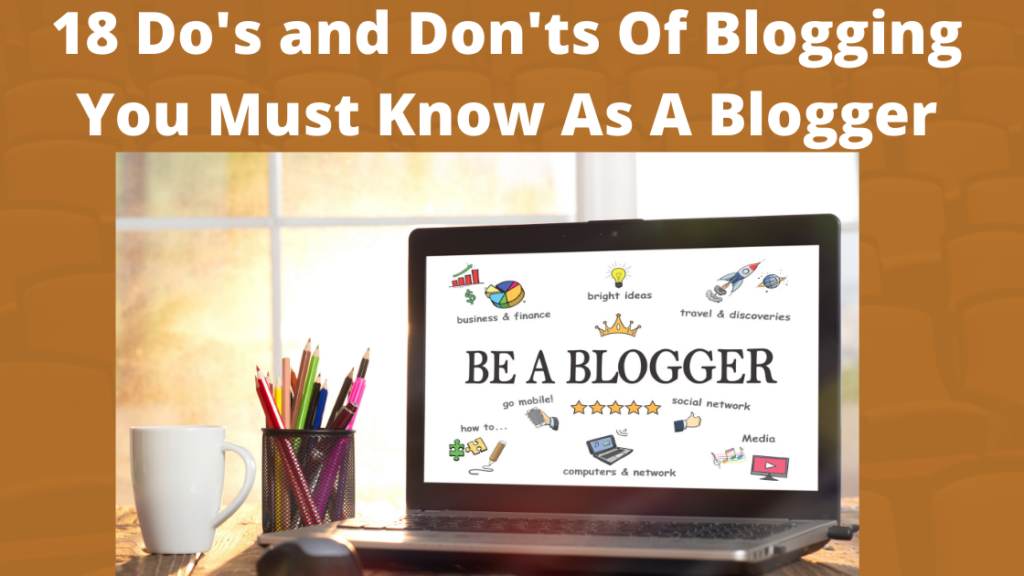 Blogging is a passion for many people and it can also be a profitable business. However, not everyone knows how to blog in the best way. We all know that blogging is a significant way of making money on the internet. The only problem is that a lot of people get it wrong. So we thought to share with you some of the things you need to do and don't when you are starting out as a blogger.
Blogging is a great way for you to share your knowledge and experience with the world. It's a great chance to get your name out there, get new followers, and build relationships. However, don't forget that as a blogger, you have to keep up with the trends. Blogging is not easy, but it is manageable with a few tips and tricks. In this article, we'll help you understand the do's and don'ts of blogging so you can become a successful blogger.
18 Do's and Don'ts Of Blogging You Must Know As A Blogger
Do's Of Blogging
Before you start writing, make sure you've done enough research on what your audience wants to read about, including their interests, hobbies, etc. This will give you an idea of what kind of content you should write about.
2. Do Be Yourself
It may sound cliché, but being yourself is one of the most important rules of blogging. People want to hear from you because they feel like they already know you. By sharing your thoughts and opinions, you're showing them who you really are. They might even find themselves relating to you more than if you just wrote something generic.
3. Do Keep Up With Current Trends
As much as possible, stay updated with current trends. This means reading blogs, news articles, and watching videos on YouTube related to your niche, by doing this you can ensure that you are keeping up with what is going on in the industry and you can easily adapt your blog accordingly.
You don't need to spend hours searching Google every day to find out what's trending. Bloggers can quickly add trending topics to their blogs by using tools such as Google Trends. Not only does this save time, but it also allows them to create engaging posts based on the latest trends.
4. Do Focus On High Quality Content
Quality content is more likely to attract readers and increase engagement. When you focus too much on quantity, you end up producing low quality posts. Make sure you produce high-quality content and maintain an engaging tone.
Blog visitors are looking for something relevant to them, so you need to make sure your posts are engaging. This includes using images, videos, and infographics. It also means creating original content that people want to share with others.
5. Do Use High Images And Videos
Images and videos are very effective at holding attention. When visitors come across your post, they see images first, before they read anything else. So use lots of pictures and short videos to grab their attention.
Images and video are great ways to grab a visitor's attention and keep them reading. If you're writing about something visual, such as a product, make sure that you add plenty of photos to help the reader understand what you're talking about. And if you're writing a long article, include high-quality images, infographics, and videos to hold interest.
6. Do Create Unique Titles
Titles are one of the main ways to entice readers into clicking through to your blog. You should always take time to create unique titles that capture the interest of your target audience.
Titles are one of the most important parts of any blog post. They are what people see when they search for something related to your topic. As such, you should spend extra time crafting them. If you write a headline that doesn't stand out, no one will click through to read more.
7. Do Promote Your Blog
Promoting your blog is another key factor in increasing traffic and growing your following. If you want to grow your following, then you need to promote your blog regularly. There are many ways that can help you promote your blog, such as social media marketing, guest posting, emailing, etc.
You should start promoting your blog as soon as possible. This way, you can establish yourself as an authority in your niche. Once you have established yourself as an authority, you can build up your audience over time.
8. Do Build Relationships With Your Readers
One of the best things about blogging is having a relationship with your readers. By interacting with them and responding to comments, you show them that you care about them and that you value feedback.
When you write a blog post, don't just sit back and wait for people to read it. Respond to comments, interact with commenters, and engage with your audience. This shows your readers that you care about what they think. It also makes them feel more connected to you and gives them something to talk about.
9. Do Post Regularly
Posting regularly is one of the most important things that you can do with your blogging efforts. You can do this every day, once a week or once a month, but it must be consistent.
If you want to increase traffic to your blog, then you need to post consistently. People follow blogs that post frequently because they know that there will always be new content on those sites.
By posting regularly, you give your readers a reason to visit your site again and again. This means that they'll eventually become regular visitors who return often to your blog.
READ ALSO:
Don'ts Of Blogging
1. Don't Ignore Your Readers
It may seem like you're not doing anything if all you do is write blog posts and leave it at that. But your readers expect interaction from you. Keep in touch with them by replying their comments or replying to emails.
If you ignore your readers, you'll lose them. You never know who might be interested in your blog, and you certainly won't find out unless you reach out to them.
2. Don't Copy Other Bloggers
The best bloggers aren't those who constantly copy other blogs. Instead, Be original and creative, but still provide useful content that others would enjoy.
Don't also plagiarise other bloggers' content. Plagiarism isn't only against Google's rules, it's also unethical. You need to be original and authentic in everything that you do.
3. Don't Use Clickbait Headlines
Clickbaits headlines work because they get people excited about the subject matter. But they often end up being misleading, which can result in a bad user experience.
Make sure that your headlines are clear and concise so that users understand exactly what they are getting themselves into.
4. Don't Over-Promote Yourself Or Your Products
Your readers come to your site to learn new information and gain knowledge. So make sure that you don't tell them too much about your company or products. Instead, focus on providing quality content and let your brand speak for itself.
5. Don't Use A Passive Voice
This is a tough one. If you can't completely avoid it, try limiting the number of times you use passive voice. Practice makes perfect. Instead, try using words that are more persuasive, descriptive, and specific.
6. Don't Hit Publish Without Proofreading
Proofreading is important when writing any type of text. However, it's even more important when writing a blog post, since it has to be readable.
Your blog posts need to be easy to read and understandable. Make sure that you proofread every single word before hitting publish.
7. Don't Post Too Much or Too Little
You want to have an ideal balance between posting too little and too much. Aim for somewhere around 1-2 posts per week, depending on how busy you are.
Posting too much will make your readers bored, while posting too little will make your readers not visit your blog regularly.
8. Don't Forget About Social Media
Social media sites such as Facebook, Twitter, Instagram, Pinterest, etc., are great places to promote your blog posts. Share links of your post on these platforms, and encourage your followers to share it as well. You can also join groups related to your niche and participate in discussions there. This way, you can interact with your audience directly and build relationships.
9. Don't Write For Search Engines
Keyword stuffing and simply writing for the sake of pleasing search engines does not work. It is better to write for the audience that will read your content. Your visitors will be able to tell if you're writing something for them or for search engine algorithms. If it'll be the latter, you can be sure that those visitors will just leave your website.
The best way to start a blog is to write about something you know well, such as your hobbies or experiences. Blogging is all about writing, so the quality of your work matters. If you want to be successful at blogging, focus on writing high-quality articles and keep them short and engaging. Also, use images to add visual appeal to your blog posts.
Conclusion
Blogging is a great way to share your thoughts, ideas, and opinions with others. It may take a little time to figure out what works for you, but once you do, you'll find that blogging is both fun and rewarding especially when you start seeing positive results from your efforts.
Don't be afraid to experiment with blogging. It takes time to build an online presence and traffic. Try different things out until you find what works for you. Find your voice and have fun!
If you found this article helpful, please share it with others who might benefit from reading it. Thank you!