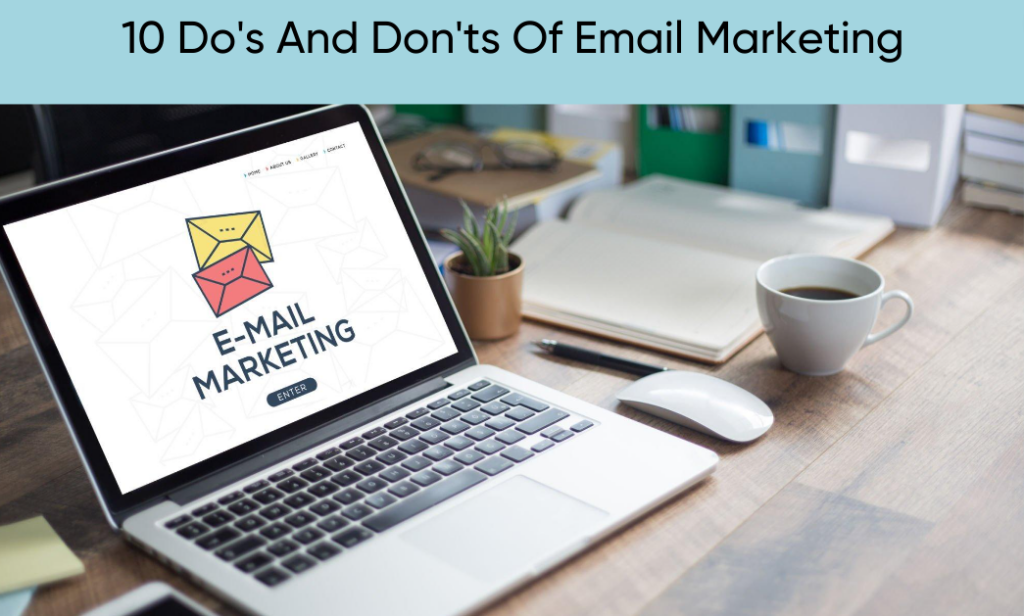 Email marketing is one of the most effective ways to communicate with your customers and prospects, but it's also a lot more complicated than you might think. There are many things that you need to know to get the best results from your email campaigns, there are some basic rules you should follow. Here are 10 do's and don'ts for email marketing.
10 Do's And Don'ts Of Email Marketing
So let's take a look at what these 14 pros and cons entail:
Do's Of Email Marketing
Let's begin with 5 do's of email marketing: 
1. Do Have A Clear Purpose For Sending Your Emails
It's important to have a clear purpose in mind when sending emails. Having a clear purpose for each email will help you avoid sending irrelevant messages to your subscribers. This way, they won't feel like you're spamming them. You can use this as a way to keep your subscribers up-to-date on new products, services, offers, etc.
You must ensure that all your emails contain relevant information so that your readers can make an informed decision. If you send out too much content, then you may end up losing potential clients because they'll be overwhelmed by the number of mails being sent by you to their inboxes.
2. Do Make Sure That All The Links In Your Emails Are Working
When sending out emails, it's essential that you check if all links work properly before sending them out. So, make sure that all the links in your emails are working correctly.
It is very easy to miss out on something small such as typos or broken links. These errors could lead to lost sales. It's always better to be safe than sorry.
3. Do Use An Optin Form To Get More Subscribers
If you want to increase your subscriber count, then you should consider using opt-in forms. They allow people to subscribe to your mailing list without having to fill out any lengthy forms. 
4. Do Send Out Regular Updates On New Products Or Services
Another great thing about regular updates is that it allows you to stay connected with your audience. By doing this, you can build trust between you and your audience.
This will help them stay updated about anything that you have going on in your business, which can ultimately benefit both parties.
5. Do Keep Your Subject Lines Short & Simple
Your subject lines should be short and simple. When writing your subject line, try not to go overboard with words. Instead, stick to the essentials and write something that will catch the attention of your reader.
With the right subject line, you can easily grab the attention of your readers and get them interested in reading your message, which will eventually lead to increased conversions.
READ ALSO:
Do's Of Email Marketing
Now, here are 6 things you shouldn't do when sending emails:
6. Don't Forget About The CTA Button
CTA buttons are extremely important when it comes to getting conversions. Without a good call-to-action button, you won't be able to convert your email subscribers into paying customers.
When you include the right CTA button, you can easily encourage your readers to take action to do what you want them to do.
7. Don't Be Too Promotional
We all know that promotional emails tend to perform poorly. However, there is nothing wrong with promoting your brand or product within your emails, but don't overdo it.
By making your emails overly promotional, you might lose some of your credibility, which could result in fewer conversions.
8. Don't Overuse Images
Images are great, but overusing them can actually hurt your conversion rate. The reason for this is that images can distract your readers from reading your text.
Instead of including lots of images, use them sparingly. This way, you can still convey the same message while keeping your readers focused on the text.
9. Don't Include Too Many Links
Links are great, but too many of them can actually harm your conversion rate. If you send out an email that is full of links, then chances are that most of your readers will not convert, because they will be distracted by all those links.
10. Don't Ignore Grammar Mistakes
Grammar mistakes can really turn off your readers. Make sure that you proofread everything before hitting "send." There is no point in spending time creating content if you aren't willing to spend even more time editing it.
By ensuring that you proofread your emails, you can avoid wasting time on sending out unreadable messages, which will definitely affect your conversion rates and overall success.
Conclusion
Email marketing has become one of the best ways to connect with your audience and keep them up to date with what you have to offer.
However, just like any other form of marketing, email marketing also requires proper planning and execution, so make sure that you follow these 10 tips above to ensure that you maximize your results from every single campaign that you run.