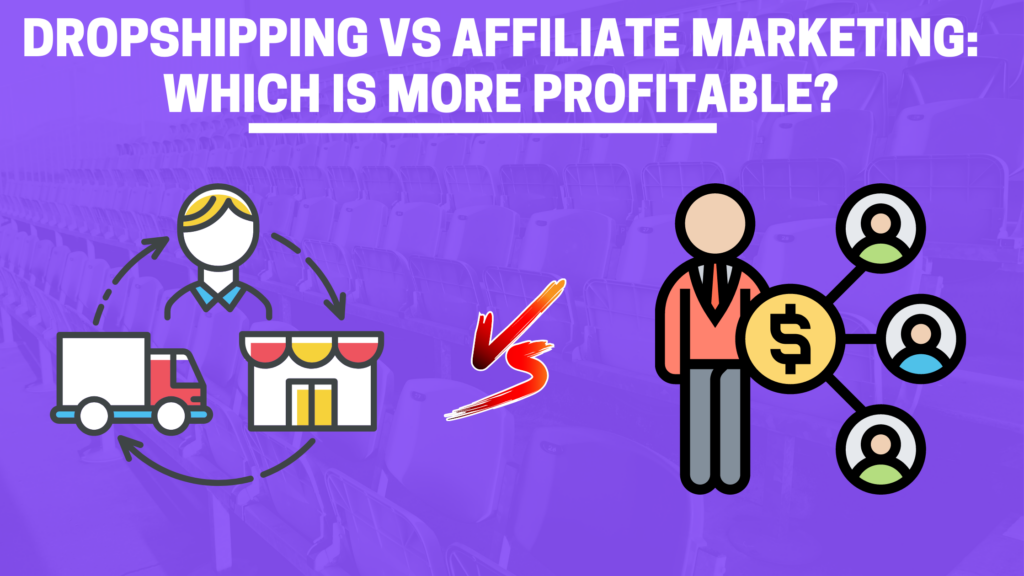 In this post we are going to look at the differences between dropshipping and affiliate marketing, how they work, pros and cons, their difference and which one is more profitable.
Dropshipping is an e-commerce business model in which the retailer does not keep the goods it sells in stock. Instead, when a customer orders a product, the retailer purchases the product from a third party and has it shipped directly to the customer's doorstep.
Affiliate marketing is a type of performance-based marketing in which an affiliate advertises products or services of another company on their own website or social media page. The affiliate earns a commission on any sales or leads generated from their own marketing efforts.
What Is Affiliate Marketing?
Affiliate Marketing is the practice of earning a commission from advertising someone else's product or service. Amazon Associates Program For example, you might get paid if you place an affiliate link on your blog or website. If people click through to your site and purchase something, you'll receive a commission.
With affiliate marketing, you do not have any direct connection to the customer. You are simply helping them find a product that they would want to buy from someone else's store. When they purchase the product, you receive a commission.
An example of affiliate marketing would be if I wanted to promote a certain brand of shoes and I found a site that sells those shoes. I can write a review about the quality of the shoes and include links to the actual shoe retailer. If my readers click on the link and purchase the shoes, then I get paid.
 Pros of Affiliate Marketing
Affiliate marketing has its share of pros as well. These include:
1. High Potential Revenue
Compared to dropshipping, affiliate marketing seems like the more lucrative option. However, keep in mind that the potential revenue from affiliate marketing is still relatively small compared to dropshipping.
2. Many Opportunities
Unlike dropshipping, where you are limited to one niche, an affiliate marketer can specialize in multiple niches. This gives you a wider variety of opportunities when it comes to making money online.
3. Low Startup Costs
In order to create a profitable affiliate program, you just need a web host account and a website. After that, you can focus on building the audience.
4. Low Maintenance
Unlike dropshipping stores that require constant maintenance, affiliate programs only need to be maintained once every month. You just need to update the content and upload new offers.
5. Long-Term Income Growth
An affiliate program usually takes time to build traffic and acquire subscribers. Once this happens, you can expect steady monthly incomes.
6. Multiple Sources Of Income
Besides selling products through your own website, you can also generate passive income through affiliate programs. This way, you can make money while you sleep!
Cons of Affiliate Marketing
There are several disadvantages associated with affiliate marketing. Some of these include:
1. Low Conversion Rate
When you run an affiliate campaign, the conversion rate may be low. This can lead to a loss if you run ads to promote products.
2. No Ability To Generate Leads
The main reason why most affiliates fail is because they lack leads. Without leads, you can't sell any products.
3. Payments May Be Delayed
Payments may sometimes be delayed for up to 60 days after you've generated a sale.
4. Time-Sensitive Sales
Because of the nature of the digital world, all transactions must be completed instantly. If someone wish to buy something but the payment method isn't user-friendly, he or she may lose interest.
5. Can Become Boring
It might seem fun to promote different brands and products, but over time, affiliate campaigns tend to become boring.
6. People Can Remove Affiliate Links
People who find reviews about certain products online may decide to remove the affiliate link. If this happens frequently, then you risk losing commissions.
7. Low Customer Retention Rates
Once you have made a sale, there is a high chance that your customer will not return.
8. Full Dependency on Affiliate Marketing Programs
You would have no choice but to rely exclusively on affiliate marketing programs if you're looking for steady sources of income.
What Is Dropshipping?
Dropshipping is a type of eCommerce that helps you rely on relies on wholesalers, manufacturers, and retailers to deliver products without yo handling the orders yourself.
This means that the dropshipper only needs to set up an online store and add products to it. They don't need to purchase stock or fulfill orders. All they do is offer their products for sale and wait for buyers to come and buy a product from the store, and the store passes on the sales order to a third-party supplier.
Pros of Dropshipping
The advantages of dropshipping are numerous. Here are some of the most important ones:
1. No Inventory Needed
There is no need to worry about storing inventory. All you need to do is put the product up for sale.
2. Low Cost
With dropshipping, you are able to save money on storage, shipping, and other costs associated with running a physical store.
3. Quick Turnaround Time
Since there is no need to stock inventory, it is much easier to quickly add new products to your store.
4. No Barrier to Entry
You don't need any experience to open an online store. With just a good idea and a basic understanding of how the internet works, you can create a profitable dropshipping store.
5. Easy To Scale Your Business
Because you don't need to deal with inventory, you won't have to worry about inventory fluctuations.
6. Can Easily Be Converted Into A Full-Fledged E-Commerce Store
You can use dropshipping as a stepping stone to build a larger e-commerce business. When you start out with dropshipping, you'll still have all the skills needed to run a successful e-commerce business. 
7. Flexibility
A dropshipper has more flexibility than an affiliate marketer. They can change their mind at anytime and sell a different item/product.
8. High Profit Margin
Dropshipping allows you to set your own prices and determine your own profit margins.
Cons of Dropshipping
Although dropshipping has many benefits, it also comes with a few drawbacks. Here are some of them:
1. You don't have control over your inventory
In dropshipping you don't have control over your inventory . It is the responsibility of the supplier to provide the right products at the right time and place. If they do not deliver on their orders, then there will be no sales.
2. Your sales can be affected by the market
If the demand for your product decreases, then your profit margin will diminish as well. This means that you need to sell more to make up for a reduction in profits.
3. High competition 
The online marketplace is filled with various competitors offering similar products. So if you want to succeed, it is very important that you target niches where there aren't too many other sellers already selling similar products.
4. Disjointed orders
If you have a wide variety of products listed on the site, they may be coming from different suppliers. Customers may receive multiple shipments for the same order, leading to high shipping costs, wasted packaging, confusing branding, annoyed customers, and even fraud.
5. Not Easy To Find Products
Finding good products to dropship isn't easy. If you want to make a profit, you have to find products that people are willing to buy.
6. Unpredictable Income Stream
Your income stream depends entirely on how well you leverage the dropshipping platform. There is no guarantee that you'll earn anything if you choose poorly.
5 Difference Between Dropshipping and Affiliate Marketing
| Dropshipping | Affiliate Marketing |
| --- | --- |
| You don't have to store inventory or ship products in dropshipping. Just get orders to make a profit by buying low and selling high. | An affiliate marketer refers a customer to another business, and takes a certain percentage as commission for each customer. |
| You sell products that aren't currently in your inventory from your online store. You sell products to your customers, and they buy them from the manufacturers. | When a potential customer clicks on one of your affiliate links, he/she will be automatically directed to a merchant's website where he/she can purchase the product. The affiliate tracking cookie stays on the browser of the visitors' browser for a limited time. |
| One of the downsides to dropshipping is the fact that as the store owner you're responsible for customer service. By outsourcing this component to an expert, you free up your time to focus on marketing and optimizing. This helps you grow your business faster. | As an Affiliate marketers you only need pay for your own website and hosting server, so you don't have to incur any additional costs. As an affiliate marketer, however, you're expected to pay for the marketing expenses as you're driving traffic to the merchant's site. |
| You have complete control over the dropshipped products available to you. | You don't have control over the affiliate offers available to you. |
| You can easily turn your dropshipping store into a full-fledged eCommerce business. | As an affiliate marketer, you're dependent on the retailer/ manufacturer whose products you promote. |
Dropshipping Vs Affiliate Marketing: Which is More Profitable?
While affiliate marketing is great for beginners who don't have enough experience to market their own product, I believe dropshippers are far better choices. Here's what makes them superior to affiliate marketing.
Dropshipping requires less effort than affiliate marketing. Unlike affiliate marketing, which involves constantly maintaining websites and promoting products, dropshipping only requires a single website.
This means that if you decide to go into dropshipping, there's no need to worry about creating another site. Instead, you can spend more time focusing on growing your existing website.
You can easily grow your audience using free social media platforms such as Facebook, Instagram, Twitter, etc.
The Bottom Line
Both dropshipping and affiliate marketing are viable options for anyone who wants to make money online. It all boils down to what you prefer. Dropshipping requires less investment, but it might be difficult to find quality products to dropship. On the other hand, affiliates don't require much effort to set up, but you have to promote the products yourself.
Which one should you choose?
That depends entirely on what you want from running an online store. If you're looking for fast results, then affiliate marketing may be best for you. However, if you want to build long-term relationships with your customers, then dropshipping may be more suitable.
The choice is yours.
I hope you found my post useful. Please let me know in the comments below.