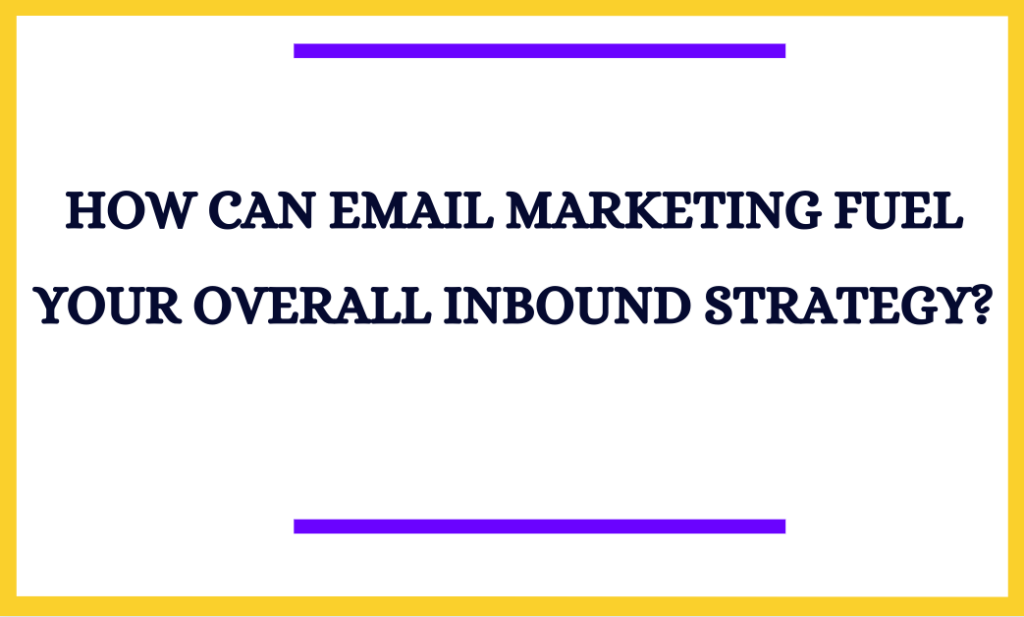 Email marketing is one of the most effective ways to engage with your audience and drive sales. It's also a great way to build relationships, nurture leads, and increase brand awareness.
There are many reasons why email marketing works well as part of an overall strategy. But most importantly, it helps you build relationships with your customers. It gives you a way to stay top-of-mind with your audience. And it allows you to communicate directly with your prospects without going through a third party.
If you want to succeed, you must learn how to leverage email marketing to fuel your overall inbound strategy. Whether you're new to email marketing or already using it for lead nurturing, it is a must to implement this tactic into your inbound strategy.
What Is Inbound Marketing?
Inbound marketing is an effective way to create valuable content that aligns with your target audience's needs and inspire long-term customer relationship.
It involves creating high-quality content that people actually want to consume. This includes blog posts, eBooks, webinars, videos, etc. The goal is to attract visitors to your website who will become loyal customers of your brand.
Inbound marketing has become the most effective method of generating leads online. When done correctly, this type of marketing creates long-lasting relationships that are deep and genuine. These types of relationships are what help businesses grow over time.
What Is Email Marketing?
Email marketing is a form of direct marketing where you send messages to specific groups of people. You can use these emails to promote products and services, share news about your business, and more.
You can use email marketing to generate leads, nurture them, convert them into customers, and keep them engaged with your company.
Email marketing is a powerful tool used by companies all around the world to connect with their current and potential customers. The main objective of email marketing is to get your message across to your audience quickly and efficiently to encourage them to take action.
The best thing about email marketing is that once you've built up an audience, you own them. You don't need to be beholden to any social media platform that could shut down your account at any time or an algorithm that might decide to rank you lower than others. You own it completely, which means you have complete control over your messaging and how you reach your audience.
How Can Email Marketing Fuel Your Overall Inbound Strategy
Email marketing can fuel your overall inbound marketing strategy when you do it right. The benefits of email marketing include:
1. Generating Leads
Email marketing can help you generate leads from your existing list of subscribers, it is a great way to stay top of mind with your prospects. It also helps you build trust with your audience and encourages them to buy from you.
2. Higher Conversion Rate
When you're sending out emails that are relevant to your audience, they'll be much more likely to engage with your content and purchase your product.
You should always make sure that your emails are well-designed and easy to read. Make sure that your subject lines are compelling so that your recipients open your emails, and if possible, add images and video to make your emails even more engaging. This will improve your conversion rate.
3. Increase Brand Awareness
Your email list is a great asset for building awareness of your brand. If you're able to create valuable content that your audience wants to receive, then you're on your way to becoming a thought leader in your industry.
If you're not using email marketing properly, then you're missing out on one of the biggest opportunities available to you as a business owner. If you're able to capture the attention of your audience through email, then you can grow your business and become successful faster than ever before.
READ ALSO:
4. Build Customer Retention
One of the most important things about email marketing is that it allows you to communicate with your customers regularly. When you send regular emails to your customers, you show them that you care about them and that you value your business.
When you offer something unique and useful to your audience, they're going to want to come back to see what else you have to offer. With email marketing, you can easily communicate with your audience and keep them interested in your brand.
5. Boosts Sales
Researching your business's audience and its purchasing habits allows you to create targeted emails that boost your sales, this is why email marketing is such a powerful tool.
With email marketing, you can use automation tools to send targeted messages to your contacts based on who they are and what they've purchased previously.
This makes it easier for you to sell to people who are already interested in your products. By doing this, you can increase sales and boost revenue.
6. Grow Your Audience
Another benefit of email marketing is that it gives you the opportunity to connect with new people. By creating an email list of potential customers, you can now market directly to them instead of having to rely on traditional advertising methods to reach your target audience.
Email marketing can let you connect to thousands of potential customers at once to give you access to promote your products or services. You can now get in touch with your audience without spending a lot of money on ads.
7. High Return on Investment (ROI)
There's no doubt that email marketing has been proven to have a high ROI. A study conducted by ConstantContact found that businesses that use email marketing see an ROI of $36 for every $1 spent on an email marketing campaign. This shows just how effective this type of marketing can be.
When you start using email marketing correctly, you can expect to see results like these. As long as you're doing it rightly, you will see an increase in conversions, brand awareness, customer retention, and ultimately, sales.
8. Increase Website Traffic
A well-designed website is an essential part of any online business. However, if you don't have enough traffic coming into your site, then you won't make much money from it.
You need to find ways to drive more visitors to your website so that you can convert those visitors into paying customers. One of the best ways to do this is through email marketing.
By sending targeted emails to your audience, you'll be able to attract more traffic to your site and increase your conversion rate, which means more revenue for your company.
So, How Can Email Marketing Fuel Your Overall Inbound Strategy?
Email marketing can fuel your overall inbound strategy in many ways. It can help you build relationships with your audience, generate leads, increase conversion rate, boost sales, grow your audience, and even increase your website traffic.
If you're looking for a way to improve your overall inbound strategy, then email marketing should definitely be one of your top priorities because it can really change everything about your business.