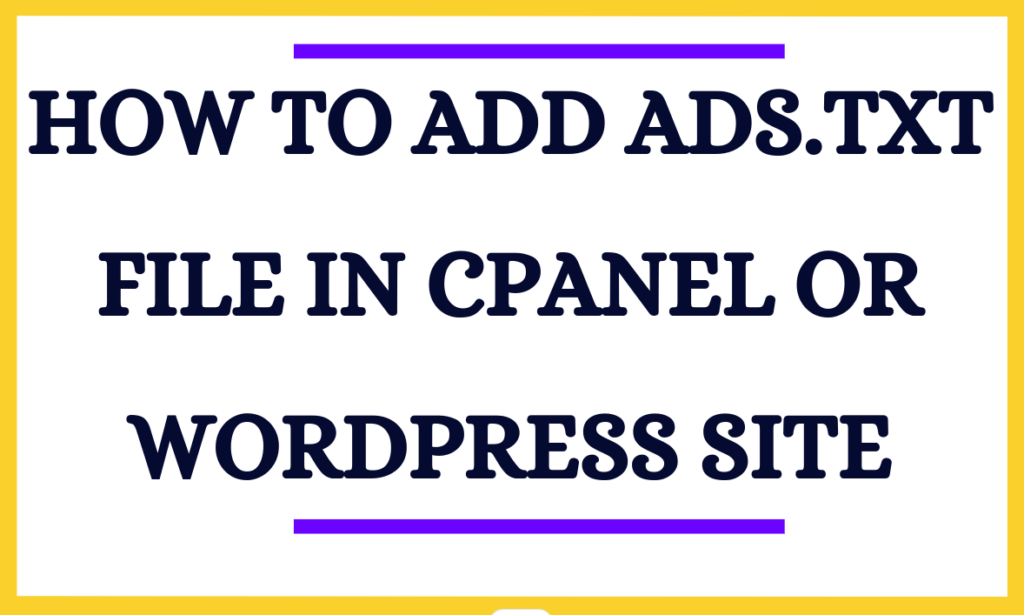 This article will guide you to add ads.txt file in cPanel for your website, doing this does not require any technical knowledge or skills. Adding ads.txt file is very easy and can be done by anyone. This tutorial will show you how to do it step-by-step.
What Is A ads.txt File?
Ads.txt files are text files that are used by ad exchanges to provide information about the ads they serve on a web page. This prevents fraudulent activity and helps to ensure that only legitimate ads are served. By adding an ads.txt file to your cPanel, you can improve your site's security and help protect your revenue stream.
6 Steps To Add ads.txt File In Cpanel Or WordPress Site
Let's see 6 steps to add ads.txt in cPanel or WordPress site:
Step 1: Login Into Your Hosting Account
Login into your hosting account using the username and password that you registered with. You must have access to your hosting account before proceeding with these steps.
Step 2:  Access your cPanel Account
Next, you access your cPanel so you can add the ads.txt files to your website. When logged into your cPanel, click on "File Manager" at the top of the screen.
Step 3: Select The "Web Root (public_html/www)" Option And Click "Go"
In order to add the ads.txt file to the root directory of your website, select the option labeled "web root (public_html/www)" from the drop-down menu. Then click "go".
Step 4: Create A New File Called "ads.txt" And Open It In The Text Editor
Now that you have selected the correct folder, you need to create a new file called "ads.txt." Once created, open it up in the text editor.
Enter the following code into the text editor that appears:
google.com, pub-0000000000000000, DIRECT, f08c47fec0942fa0
Step 5: Save The File And Close The Text Editor
That's it! Your Cpanel account is now configured to use an ads.txt file, making your website more secure. Now all you need to do is upload the ads.txt file onto your server.
Step 6: Check Your Setup
Once uploaded, you should check if the ads.txt file has been added correctly. You can do so by visiting the ads.txt file URL of your website. 
For example, our website is "lumpkinpedia.com" and our ads file URL is "lumpkinpedia.com/ads.txt".
You can check yours by visiting "YOUR-DOMAIN.com/ads.txt", you should try to see if there is a line similar to the one below:
google.com,pub-0000000000000000,DIRECT,f08c47fec942fa0
If you don't see anything like this, then you haven't successfully added the ads.txt file yet.
READ ALSO:
Why Should You Use Ads.txt Files For Your Website?
There are many benefits to having an ads.txt file on your website. Here are just some of them:
1. Protects Against Fraudulent Activity
The first benefit of adding an ads.txt to your website is that it protects against fraudulent activity.
Ads.txt was created by the International Advertising Bureau Tech Lab in 2017 with a focus on preventing different kinds of fraud, including domain spoofing and inventory arbitrage.
Ads.txt aims at helping publishers regulate the way they advertise and sell their inventory so as to avoid any kind of fraudulent activity.
2. Improves Security
Ads.txt helps websites protect their advertisers from fake inventory, which ensures more transparency for the online advertising industry. 
3. Helps Improve Revenue
The third reason why you should add an ads.txt file is that it helps improve revenue for your website. By placing an ads.txt file in your website, you can increase the revenue of your site by allowing ad exchanges to display relevant advertisements to your visitors that will help generate more earning potential for your website.
4. Improve Ad Quality
The fourth reason why you should add ads.txt files to the sites you manage is that it improves ad quality. This is because when you allow ad exchanges to display ads on your website, you get to decide which ones are displayed. Therefore, you can choose only those ads that best fit with your content and audience.
5. Increase Transparency And Communication With Advertisers
The fifth reason why you should add an ads.txt file to the sites you manage is that it increases transparency and communication with advertisers. When you allow ad exchanges to place ads on your website, it allows you to communicate directly with these advertisers. This way, you can ensure that they are displaying their ads as intended.
Transparency is key when it comes to advertising. It's important that you know exactly what types of ads are being displayed on your website. That's why it's crucial to have an ads.txt file.
Conclusion
An ads.txt file is one of the easiest ways to verify the authenticity of your advertising partners ensures that your ads are being served by trustworthy sources. So if you're looking for a quick and easy way to improve your ad delivery rate and boost your revenue, adding ads.txt file is a good starting point.
Adding an ads.txt file to your website is not difficult or complicated, but it does require a little bit of work. However, once you've done it, you'll be able to enjoy all the benefits mentioned above.
Hope this article helped you understand how to add ads.txt file to cPanel or WordPress website. Thank you for reading!