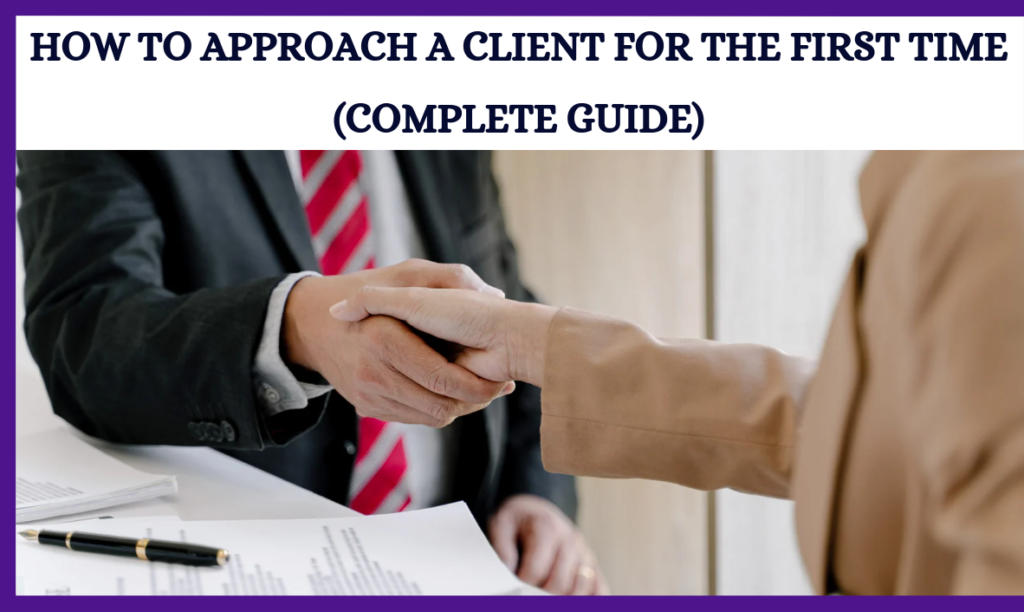 When approaching a client for the first time, there are certain steps you need to follow in order to ensure a successful outcome.
The first time you meet a client, it's important to understand how they will perceive your work. You need to be prepared for the questions that come up and the concerns that are expressed. This is even more true if you're starting out as an independent contractor or freelancer.
Clients are one of the most important aspects of any business, so it's essential to approach them with confidence and professionalism. If you do this correctly, then you can expect to have many clients coming back to you for future projects.
I decided to write this post because I wanted to share my tips and tricks for approaching a potential client for the very first time.
This post will teach you how to make your initial approach as effective and efficient as possible. It will also help you avoid any awkward situations that may arise during your first meeting.
Who Is A Potential Client?
A potential client is someone who has some kind of problem that needs solving. They could be looking for a logo design, web design, SEO services, social media management, or anything else.
They might have been referred to you by another business owner or colleague. Or maybe they saw something online about your skillset and reached out to you directly.
Whatever their reason, the most important thing is that they want to hire you.
12 Tips On How To Approach A Client For Your First Meeting
Approaching a client for the first time is a delicate process, which requires careful planning and preparation. Here are 12 useful tips on how to approach a potential client for the first time:
1. Do Your Research
Researching a client beforbeforeg with them is extremely helpful to know what type of person they are.
You should always try to find out as much information as possible about the company/person beforehand.
If you want to land a big contract, it pays to know all the details about the client you're about to deal with.
Every meeting with a potential client should be treated like an interview for a job. As such, you need to prepare thoroughly and research everything you can about him/her.
 2. Be Prepared
It's crucial to be ready at every step of the way when dealing with a new client.
Your goal is to get the ball rolling as quickly as possible and build long-lasting relationships with your clients.
To achieve this, you need to be well prepared from the start.
As mentioned earlier, you should always be researching the client beforehand.
Make sure you know exactly what they're looking for, what problems they face, and why they came to you.
Preparation is key when meeting with clients. Your presentation rial should be prepared prior to the meeting, so you can relax and focus on what matters most – talking to your client. Always have a pen and notebook available. Don't show up unprepared.
3. Be Professional
Always act professionally and treat every client interaction with respect.
Remember that your client is paying you to provide services. Treat him/her with respect and professionalism. Show that you care about his/her success and happiness.
Always dress professionally and speak clearly and concisely. Don't ramble on and on. Make sure that your voice is clear and audible. And remember to smile. That goes a long way in building rapport with your client.
In business, you always want to present yourself as someone who is approachable and trustworthy. When you meet new potential customers, make sure you come across as friendly and professional. Your goal is to win over not only their trust but also their loyalty.
4. Start With Small Talk
When starting a conversation with a potential client, start off with small talk.
Small talk can be fun. However, before launching into the serious stuff, try to have some light conversation first. Don't just jump right into pitching your business; instead, start by discussing something interesting like the weather, sports events, or asking how their day was. Stick to safe subjects and keep things light.
When approaching a new client, you don't want to come across as too aggressive or pushy. You need to make sure that the client feels comfortable around you.
5. Let Your Client Speak Uninterrupted
Once you've started small talk, let your client take control of the conversation.
During a one-on-one meeting with a potential client, let your client speak uninterrupted.
Let your client do most of the talking, especially if there are a lot of things to cover during the meeting. It will help you to connect better with your client.
Let them talk for as long as they wish, but don't interrupt them unless necessary. If you feel that you need to interject, wait until they finish speaking. Then ask for clarification or more information.
You can even add some supportive words or gestures to show that you understand and you care. It's a subtle way for the client to reassure that they're doing well when delivering their speech, which makes it easier for them to continue and not worry about being interrupted.
When you're presenting, you'll have many opportunities to give feedback or add support. But, when you approach a new client, don't interrupt. Instead, wait until your client finishes speaking. This gives you a chance to absorb everything he says and formulate your response. 
6. Listen Carefully
Listen carefully to what your client has to say. He/she wants to feel heard, understood, and valued. 
This will help you understand the problem better and give you insights into what the client wants and needs.
When necessary, ask clarifying questions to understand exactly what your client is trying to tell you.
READ ALSO:
7. Ask Questions
Ask questions during the meeting to ensure that you fully understand the situation,
Questions are important because they allow you to gather more information about the issue the client faces.
They also help you empathize with the client and connect with him/her on a deeper level.
Your goal during this stage should be to gather all the info possible so that you have a full understanding of the situation. Ask lots of questions and make sure that you've taken note of everything that was said. Take detailed notes so that you don't forget anything important. When you meet the prospective client, focus on making a good impression by showing genuine interest in what they have to say. Showing concern for their interests will go a long way toward winning over clients.
However, don't forget to listen carefully to what prospects have to say. This is an excellent opportunity to learn more about your clients' businesses and determine whether they're a good fit for your services.  
8. Address Their Specific Pain Points
If you notice that your prospect has a certain pain point, address it directly.
It shows that you know what matters to them and how you can help them solve their problems.
After you understand what's bothering your potential customer, you should be able to formulate a solution. In order to do so, you'll have to look at their business through fresh eyes. Take some time to think like a customer and consider what would make them happy.
Once you have a clear understanding of your client's problems, you can now turn to address their concerns. Your first step should be to explain why you're qualified to solve these issues. In addition to that, you can include a case study demonstrating how you've successfully addressed a similar problem in the past. 
Make sure to use factspositively, and images whenever possible; they're useful for showing off the results of your work. Videos are also helpful because they allow people to see exactly what you did. This type of evidence will make it easier for clients to understand how you can meet their needs so that they can decide if you're the right person for the job.
9. Explain Why You Are Qualified To Do The Job
You want to show your potential clients that you're not just another salesperson who's trying to take advantage of them.
Explain why you're qualified to handle their particular issue. Make sure to emphasize your credentials and skills.
You can take a few minutes to talk about similar projects you've worked on in the past, any training courses you've taken, and how long you've been working in the industry. These kinds of details give prospects confidence that you are capable of solving their problems.
10. Be Clear About Fees
You may feel awkward at times during this part of the conversation, but approaching it in a positive manner can be helpful.
Be straightforward about your fees, and explain what you charge per hour or per project. You want to set yourself apart from others by clearly explaining what makes you different. Remember that your fee structure should reflect your expertise and experience.
Also, keep in mind that there are many different types of clients. Some are very price-sensitive while others won't even entertain the idea unless you offer something really special. 
Just as importantly, never try to sell your services before you've earned the trust of your clients. If you start talking about money too soon in the process, you could come across as pushy. Instead, wait until you've built up enough rapport with your client so that you can comfortably discuss your pricing strategy.
11. Bring the Meeting to a Close
Meetings should not be ended abruptly. End the meeting by taking a few moments to reflect upon what was discussed and ask the client if he or she has anything else to add. Then thank him or her for his or her time, and politely end the meeting.
12. Follow-Up With An Email
Follow-up emails are crucial when it comes to closing deals. They let your clients know that you're still interested in working together and that you value their business.
You can send follow-up emails a few days after your initial meeting with your client or wait until you receive feedback from them before sending another email.
The purpose of sending a quick follow-up email is not only to thank your client but also to remind him/her that you're always available if he/she ever needs you.
5 Mistakes To Avoid When Meeting Your Client For The First Time
Here are 5 mistakes to avoid when meeting your client for the first time:
1. Opening With A Pitch
If you open a conversation by pitching your services, you might seem like an unprofessional person.
Instead, start by asking questions about the client and the problem he/she is having. Ask about the client's goals and objectives.
Then, move into discussing what you have to offer and how you can help solve their issues.
2. Not Asking The Right Questions
Asking the right questions will make all the difference between a successful meeting and one where nothing happens.
Make sure that you ask relevant questions about your client's situation, this will help you understand exactly what they need.
3. Talking Too Much
If you talk too much, you run the risk of losing your client's attention. It's best to listen more than speak.
4. Showing Up Late
It's important to arrive on time. This shows respect and professionalism.
Always arrive 30 minutes early for every appointment. This gives you plenty of time to prepare for the meeting. If possible, be there 1 hour minutes earlier than the scheduled time.
This shows your customer that you respect his/her time and value him/her as an individual.
5. Being Unprepared
Even though you may feel prepared, you shouldn't underestimate the importance of being well-prepared.
Have everything ready before you meet your clien, including any documents and information that you plan to use during the meeting.
Remember, preparation is key to a successful meeting.
Conclusion
When approaching your client for the first time, remember these tips to ensure that you get off to a good start in building long-term relationships with your customers.
By following these guidelines, you'll increase the chances of getting hired and growing your client base.