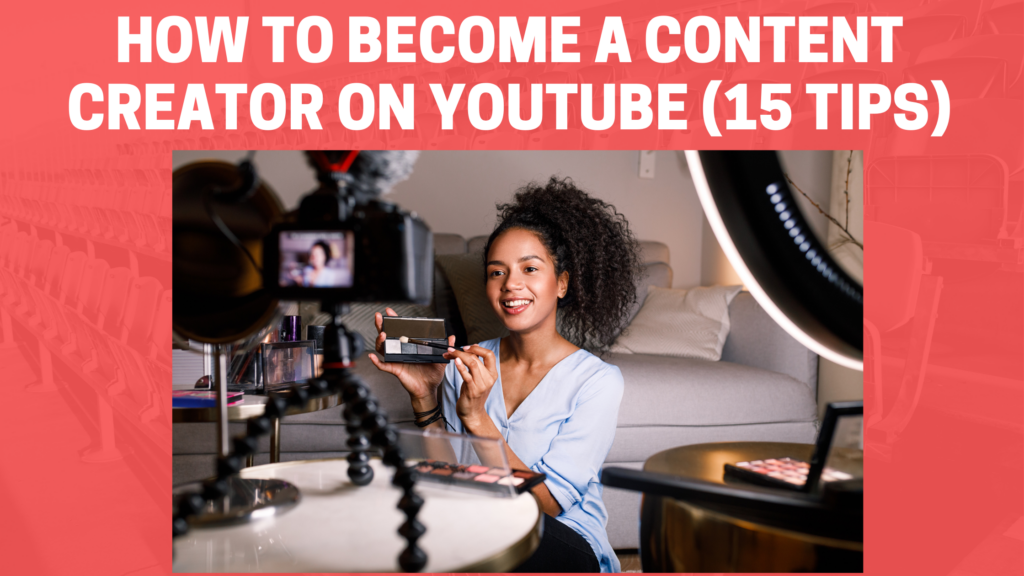 YouTube has become a major source of traffic for millions of businesses around the globe. If you want to start earning from your video content, then you should consider creating your own YouTube channel.
YouTube has over 2 billion unique visitors per month and 300 hours of video uploaded every minute. This means that there are plenty of opportunities for you to become a successful content creator and earn money from your passion.
What is a YouTuber?
A YouTuber is someone who creates videos on their computer or phone using a camera and uploads them directly to YouTube, which is where they can be viewed by anyone in the world with an internet connection.
Creating content for YouTube requires some technical skills and an understanding of how the platform works. However, once you have created your first video, you will find it easier to create more as your audience grows.
Why Create Your Own Channel?
The main reason why people get into making YouTube videos is because they enjoy doing it. However, if you are looking for an easy way to make some extra cash, then owning your own channel could be just what you need. There are many different ways in which you can monetize your YouTube channel, but we will look at the most popular ones here.
AdSense – This is probably the easiest method of monetization for new creators. Once you have created your account, you can add Google Adsense ads to your videos. The more views you receive, the higher the percentage of revenue you will earn.
Affiliate Marketing – Another great option is affiliate marketing. If you know how to drive targeted traffic to a website, this can be a very lucrative way to monetize your channel.
Sponsorships – Many big companies are now starting to sponsor YouTube channels. If you can find a company that you love and would want to work for, it might be worth setting up a sponsorship deal with them.
15 Tips On How To Become A Content Creator On Youtube
Here are 15 tips to follow to become a successful content maker on YouTube:
1. Find Your Niche
The first thing that you need to do before starting out as a content creator on YouTube is finding a niche that people are interested in. You can choose any topic that interests you but make sure that it's something that people will be willing to pay for. 
To start with, you should create a channel where you can share videos about your niche. This way, you can attract more viewers and subscribers. You should try to find topics that your audience has problems with and then offer solutions to those problems. This way you will earn more than just views, you will also earn trust and loyalty among your audience.
2. Know Your Audience
Before you start making videos, you need to know who your target audience is. Who would benefit most from what you have to say? What kind of problem does this audience face? These questions will help you decide which type of videos you should make. 
3. Create High Quality Content
The important thing you need to do when starting out as a content creator is to create high quality videos, and this will be one of the most important things in your journey towards success.
If you don't have any experience with filming or editing videos, it is best to hire someone who does, so they can help you get started.
A computer with decent speed and specifications is essential to producing high-quality content. Video editing software is also important because it helps you create videos. Make sure it has all the basic features needed to edit videos. Windows Movie Maker and iMovie are great starting points. There are many affordable options available.
A screen recorder is needed to record video. A good camera is needed to capture images. Don't forget to buy a great mic, You'll be glad you did when you see how much better your videos sound.
4. Decide What Kind Of Video Style Will Work Best For You
Once you have decided what kind of video style works best for you, you can move onto deciding how long each video should last. The average length of a video on YouTube ranges between 3 and 5 minutes, although longer videos tend to perform better.
When choosing the length of your videos, you should take into account the type of content that you are going to produce, as well as your target audience.
5. Choose An Interesting Title And Description
One of the biggest mistakes that new creators make is to use boring titles and descriptions. It doesn't matter how interesting your videos are, if no one knows what they are about, they won't click through to watch them.
Your title and description are two very important elements of your video because these are what will determine whether or not people click on your video. These two elements should be written in a way that makes them interesting and catchy.
6. Create Compelling Thumbnails
Thumbnails are small images that appear next to your video while it's loading. They're used to tell viewers which video they should watch first. Thumbnail designs can have a big impact on what kind of views your videos receive.
The best thumbnail design will make your video stand out from the crowd. A good thumbnail should grab attention and encourage people to click and view more. Bad thumbnails can distract people and make them less likely to view your video.  
7. Practice Good SEO
Search Engine Optimization (SEO) is an important part of making sure your videos get noticed. SEO is about getting your content seen by people who want to see what you've got. Your title should match your video content. Your description should include keywords related to your video. People looking for your type of content will find you if you do these things.
Keyword research is vital to any website or blog. Search engines suggest keywords based on what users are typing into the search box. These keywords help drive traffic to your site. To make sure you're getting the most out of these suggestions, use SEO tools like AhRefs, Moz, and SEMRush to see how many searches there are for each term.
Keywords are important for SEO purposes. You need to use keywords that are relevant to your topic. When people search for your keyword, your video should appear on top of the search results. In addition to that, if someone searches for your keyword, your description should be filled with those keywords.
Also, try to add your keyword as many times as possible within your video title and description. Videos are included in the search results for some specific keywords. You can use this knowledge to rank for those keywords. If you can rank for them in a high-volume search result, you'll see a significant increase in visitors to your site.
8. Respond To Comments
You can use Hootsuite to manage your comments. You can reply to them right away or schedule future replies. This allows you to stay organized and focused on what you want to do.
9. Optimize Your Channel
Optimizing your channel means making it easier for people to find it. You can do this with tags, descriptions, and categories. Tags are keywords that describe your videos. Descriptions include information like the type of video and length. Categories allow you to organize your videos in a way that makes sense to you.
10. Schedule Your Videos In Advance
Having a consistent schedule helps you maintain consistency. It provides your viewers with an assurance that they can count upon you for new video updates on the scheduled dates. A weekly or biweekly schedule is more manageable for a single person who wants to create content, this way you won't overwhelm your followers with too much content all at once.
11. Study Your Competitors
If you want to know what kinds of videos work, it's helpful to look at other similar content. You can study other videos by visiting their channels and watching them.
YouTube makes it easy to see what others are doing with video. When you visit YouTube, you can search for keywords related to your topic to find other videos. Once you've found some videos that interest you, click into one to watch more details about it. Then, take notes and study the video, This will help you figure out what works best for your audience when creating your own videos.
12. Understand The YouTube Algorithm
The algorithm determines how often your videos show up in searches. The higher your rank, the better chance your video will appear when someone types in your keyword. The algorithm also takes into account how many times your videos have been viewed.
YouTube has become one of the most popular platforms for online video sharing. In fact, according to YouTube, more than 1 billion people visit YouTube every month. This makes YouTube the second-most visited website in the world after Google.com. If you want to reach as many potential customers as possible, then you need to make sure that your videos appear high in search results.
13. Make Sure Your Audience Loves What You Do
If you aren't sure if your audience loves what you do, ask them to leave feedback on your videos. People love sharing their opinions so be sure to let your fans know what you think about their suggestions.
14. Promote Your Videos
Once you've created a few videos, promote them to get more subscribers. There are several ways to share your videos. You can post links to them on social media sites such as Facebook and Twitter. Also, you can send emails to your friends and family inviting them to subscribe to your channel.
15. Be Consistent
Consistency builds trust among your viewer base. If you post regularly, your subscribers will feel comfortable following along without having to worry about missing something important. If you don't post anything for weeks, you'll lose credibility with your viewers.
Hopefully, these tips helped you learn how to become a better creator. If you have other helpful tips please comment below. Thanks for reading guys!