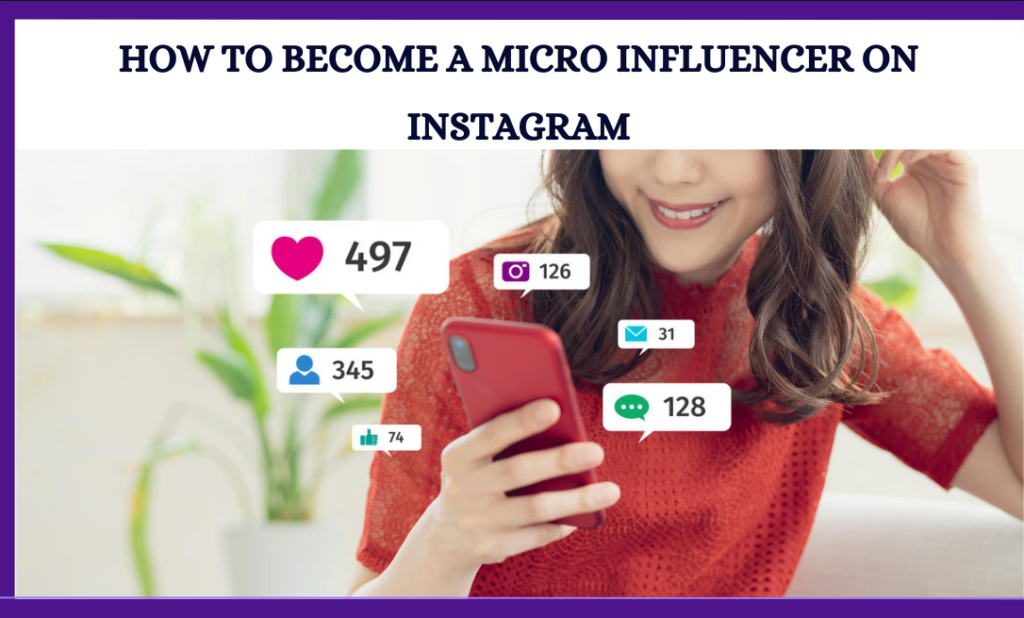 Are you interested in becoming a micro-influencer on Instagram? Or maybe you already are and just need some help growing your following. In either case, this guide will show you how to become a successful micro-influencer on Instagram.
What Is Influencer Marketing?
Influencer marketing is a type of marketing where you pay someone to promote your products or services. You can use anyone that already has influence over their audience – a celebrity, blogger, or even a person with thousands of followers on Instagram.
Influencer marketing is a type of marketing strategy where brands pay people to talk about products on social media. Brands use this tactic because consumers trust recommendations from influencers they trust more than ads. This means influencers can have a big impact on people by promoting certain products, which makes them very effective for marketers.
Who Is A Micro-Influencer?
A micro-influencer is someone who has a larger social media presence than an ordinary person but less than that of a celebrity. Typically, this means more than 1,000 followers but less than 100,000 followers.
Why Should I Be A Micro-Influencer?
There are many reasons why you should consider being a micro-influencer.
1. Make Money
As a micro-influencer, you can make money in different ways such as:
Influencer marketing deals where you get paid to promote a brand's product
Sponsored posts where you get free products in exchange for posting about it
Affiliate programs where you get rewarded when people buy a product after clicking on one of your affiliate links
When you start making money through these methods, you can earn a lot of extra cash each month.
2. Gain More Exposure
If you want to be well known among your friends, then you must first gain exposure online. The best way to do so is through social media. When you become a micro-influencer, you have the opportunity to reach millions of people every day.
3. Build Your Brand
Being a micro-influence gives you an opportunity to build your personal brand while also helping others. As a result, you will be able to create a strong reputation online, which can lead to more opportunities in the future.
4. Networking Opportunities
The biggest benefit of being a micro-influencer is networking opportunities. You can get contacted by other influential people all around the world. These contacts could help you land bigger projects in the future.
READ ALSO:
How To Become A Micro-Influencer On Instagram?
To become a successful micro-influencer on Instagram, follow these tips:
1. Determine Your Niche
The first and most crucial step in becoming an influencer is finding what you are passionate about – and being able to articulate it clearly, both in words and pictures.
Before you start creating content, it's important to find out what kind of content works best for you to attract your target audience.
Your niche is paramount as it reflects who you are, conveys what your account represents, and should be made very clear within your profile setup. When deciding on the right niche, think about topics that interest you and are relevant to your audience.
2. Create Content That Works For You
After you decide on the topic you want to cover, you need to figure out what kind of content you want to post.
Figuring out what kind of content resonates with your audience is key to success. It's not enough just to have a good idea; you need to know how to execute it effectively.
You should focus on creating content that engages your followers. It should be something that they would like to see from you.
Try to be consistent with your content creation process. Being strategic in sharing your content helps you stay focused and get better results over time.
Hashtags are extremely helpful when added to your posts, by using hashtags properly, you can increase engagement and visibility.
There are many different ways to use hashtags, but the best way to use them is to include them at the end of your captions or descriptions.
It's recommended to use no more than 3 hashtags per post, so make sure that you add only those tags that are related to your content.
4. Use High-Quality Images
Adding visuals to your posts increases engagement and makes your content look much more appealing.
When posting images, make sure they are high quality, interesting, and engaging. If you are looking to grow your following, it's essential to post high-quality images and videos. Your audience wants to see professional photos and videos.
Try to avoid using low-quality images as much as you can, because this may turn off your followers and reduce their trust in you.
5. Write Meaningful Captions
Captions play a huge role in determining whether your followers engage with your content or not.
Captioning is an excellent way to spark conversations, provide valuable content, and connect with your audience.
Make sure that you write meaningful captions and descriptions because if your captions aren't engaging, your followers won't like to read them further.
6. Interact With Your Followers
Interacting with your followers is another great way to engage with them. This means commenting on their posts, liking their photos, and replying to their comments and messages.
This shows that you care about your followers and want to connect with them. If you can relate to your audience, you will gain credibility, increased followers, and higher engagement rates.
7. Post Short-Form Videos And Reels
If you are starting out, it's important to remember that short-form videos and reels are currently the most popular types of content among influencers.
Short-form videos and reels are one of the fastest ways to grow your following on Instagram. But mastering both takes work—and it doesn't happen overnight. In fact, it requires several steps you must take to become a master of short-form video creation and distribution.
Videos and reels help you grow your account faster to reach new audiences and grow your account easily, so try to create these kinds of content often.
8. Sign Up For Influencer Marketing Platforms
Influencer marketing platforms are online communities where brands and businesses come together to collaborate with influencers, allowing them to reach new audiences.
When you sign up for an influencer marketing platform, you can easily connect with other influencers, brands, and companies.
The more people you network with, the greater exposure you will receive, the more people follow you, and the more opportunities you will have to promote products and services.
9. Ask For A Referral
Asking for referrals is one of the most effective ways to grow your following.
If someone follows you on Instagram, ask them if they would mind sharing your page with their friends. This will help you build relationships with influencers and brands, which could lead to collaborations down the line.
Referrals allow you to expand your reach and create a strong community for yourself. The more people who follow you, the easier it will be for you to grow as an Instagram influencer.
10. Let Brands Know About You
Your bio is the most important part of your social profile. You can use it to let brands know about yourself and what you do.
Pitching brands is also another way for you to get started as an influencer. When pitching a brand, make sure that you give them a reason why they should work with you. When pitching, try to find brands that align with your interests and niche.
Brands love partnering with micro-influencers because they know that these accounts will attract a specific type of audience.
Brands often hire people with large followers to promote their products. So if you have thousands of followers, brands might want to contact you.
If you do receive a request from a brand, don't hesitate to respond, but remember to keep things professional. Don't send a generic response or pitch your services. Instead, mention how you can help them and what you can offer. 
11. Post Regularly And Consistently
Posting regularly and consistently is one of the keys to growing your account. The more you post, the higher your chances of getting noticed.
Posting frequently means that you will have new content available to share with your audience. This allows you to keep up with the latest trends and provide your followers with fresh material.
If you don't post often, your audience might lose interest in your page. Make sure that you schedule your posts ahead of time when necessary.
12. Focus On Quality Over Quantity
While it's true that quantity does matter, it's equally important to focus on quality.
If you are going to share lots of content on Instagram, you must ensure that each piece of content is worth sharing.
When it comes to posting on Instagram, quality beats quantity every single time. Your goal should always be to produce high-quality images that capture attention that will ultimately drive engagement.
13. Be Yourself
In order to become successful as an Instagram influencer, you need to develop a unique voice.
You shouldn't copy other users. If you do this, you risk losing your authenticity and credibility.
Instead, you should strive to become known for being yourself. It simply means that your photos should reflect who you really are.
By doing so, you will be able to connect better with your followers. They will feel like they already know you and trust you more.
FAQ
How Much Do Micro-influencers Make On Instagram?
The average income for a micro-influencer varies depending on factors such as the number of followers they have, their level of engagement, and the price tag of their sponsored posts. On average, a micro-influencer can charge up to $50 -$1000 per post.
How Many Followers Do You Need To Be A Micro-influencer?
To be considered a micro-influencer, you only need to have at least 10,000 followers. However, having more followers can mean more earning opportunities for you.
What Is The Best Time Of Day To Post On Instagram?
According to research, the best times to post on Instagram are between 9 am and 12 pm. During these hours, there is less competition for your attention. However, after 12pm, your chances of gaining more visibility decrease significantly.
Conclusion
Micro Influencing is the art of getting people to like you without being annoying.  Becoming a micro-influencer is not easy. But if you follow the steps above, you will be well on your way to becoming a successful influencer on Instagram.
When it comes down to it, the most important thing is to just enjoy what you do. That's why we created this guide. We hope that it helps you get started and achieve success!