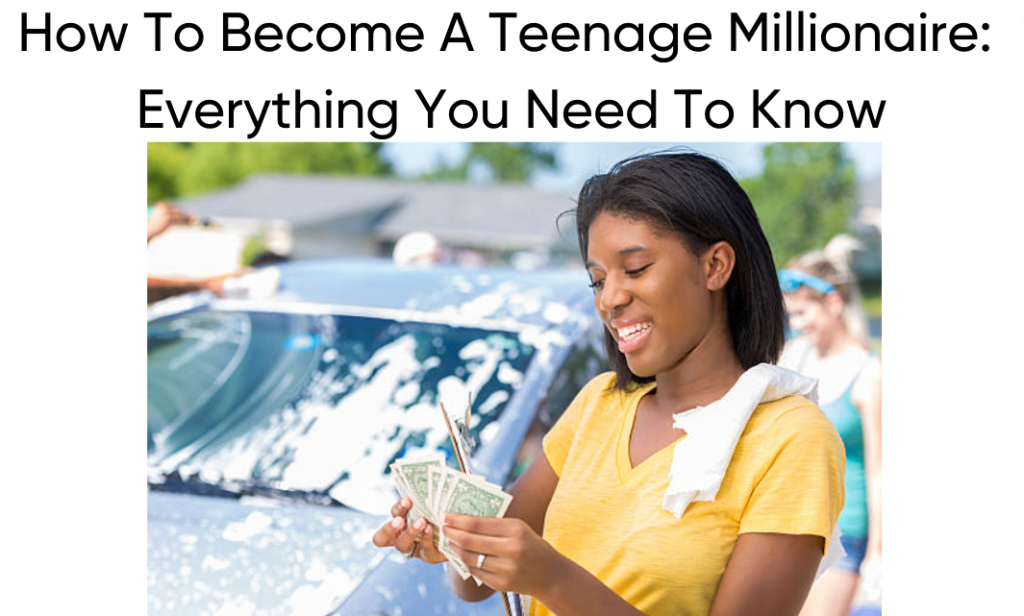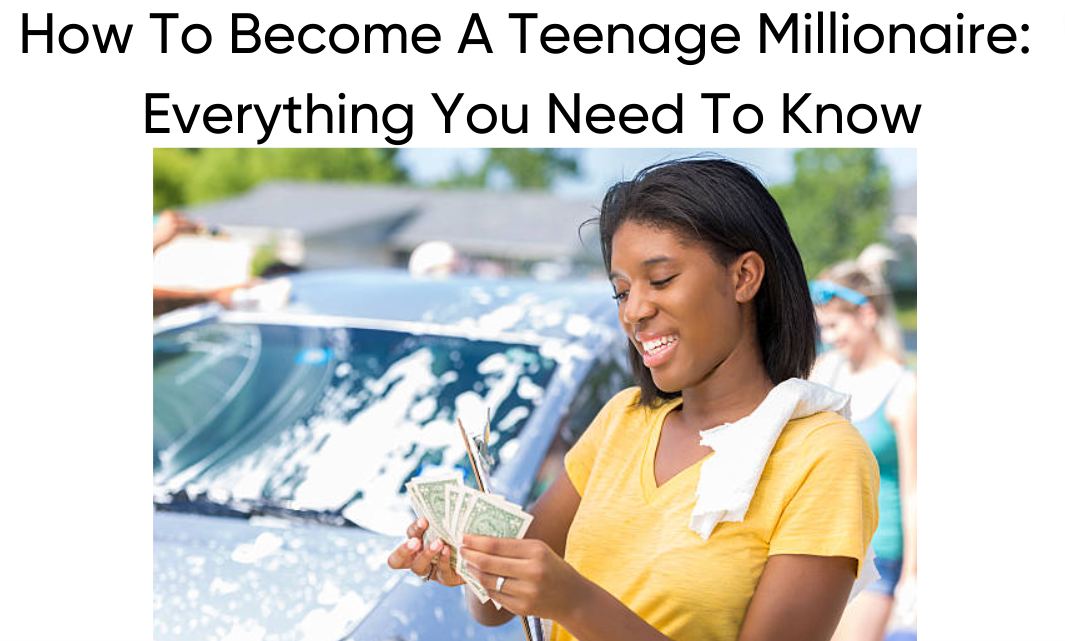 If you are a teenager, then you probably have many questions about how to become a teenage millionaire. You may be wondering what it takes to become a teen millionaire and whether or not becoming one is even possible. If so, then this article will help answer your questions by providing some of the most important information that you need to know in order to start on your path toward becoming a teenage millionaire.
Becoming a millionaire at a young age is definitely possible. In fact, if you are willing to work hard and smart, there's no reason why you can't begin building wealth as soon as today. The main thing that you must do is to find out exactly what it takes to become wealthy because once you understand that, everything else becomes much easier for you.
8 Ways To Become A Millionaire As A Teenager
There are several ways in which you can become a millionaire as a teenager, you just need to make sure that you focus on the right ones for you. Here are 8 of them:
1. Start A Youtube Channel
This is an excellent way to get started with making money online. By creating a video channel on YouTube, you can easily earn thousands of dollars per month. It doesn't matter where you live in the world, either; anyone who has access to the internet can create their own youtube channel. Once you have created a successful channel, you will start getting paid for each time someone views your videos. This means that you can actually make money while you sleep!
You need to grow your Youtube channel to have more subscribers, comments and likes for it to be able to generate revenue. When people like your content, they share it with their friends. This helps you build up a huge audience quickly.
You can monetize your channel through Google Adsense, you can also earn through affiliate marketing, sponsored reviews, etc. The more popular your channel gets, the more opportunities you will have to earn money from it.
2. Learn Programming
Programming is another great skill to learn if you want to become a millionaire as a teen. There are hundreds of websites that offer free programming courses. You can learn how to code in Javascript, PHP, Python, Ruby, Java, C++, Objective-C, Swift, and other languages to name a few.
When you learn how to program, you will have the ability to develop whatever applications you want. For example, you could create a website builder app, a social media platform, a mobile application, a web design tool, or anything else that you can think of.
You can create whatever programs you want using these skills, when you have enough knowledge, you can monetize your apps, and even build and sell your apps to big companies to make millions of dollars.
3. Start A Blog
Blogging is another great way to make money online and become a millionaire as a teenager. Building a blog requires minimal effort and costs nothing to set up. But it does require dedication and plenty of patience to grow a blog and see results.
To start a blog, you need to pick a niche that you are interested in writing about. Then, you need to write regularly (at least 2 times a week) and provide value to your readers by sharing useful information and helpful tips.
You would also have knowledge of SEO for blogging so that you can rank your posts very high in search engines. Eventually, this will lead to increased traffic to your blog, which will help you build your blog readers and ultimately increase your income.
READ ALSO:
4. Earn Money As An Affiliate Marketer
If you enjoy learning new things and meeting new people, becoming an affiliate marketer may be a good fit for you. In this type of business model, you promote products and services that are sold by other businesses. These businesses usually pay you a commission whenever someone purchases their product after following your recommendation.
There are many different ways you can do this. You can post links to your favorite products on social media platforms such as Facebook, Twitter, Instagram, Pinterest, etc. You can also use forums to advertise their products, or you can create a blog about them.
The more you product sales you make, the more money you will make. So, if you're looking to earn money as a teenager, then affiliate marketing might be a great choice.
5. Sell Your Photos Online
Selling photos online is one of the best ways to earn extra cash as a teenager. If you take beautiful pictures, you should consider selling them online. Many stock photo sites allow users to upload their own photos and charge a fee per image downloaded.
If you have a decent camera and take beautiful pictures, you can easily make money with this method. The only downside to this is that you don't get paid until someone downloads your images.
When you first begin uploading your photos, you won't make much money. However, over time, your earnings will increase dramatically as long as you continue uploading quality content that people want to download. So, if you love taking beautiful pictures, then you'll definitely find this method rewarding.
6. Become A Social Media Influencer
A social media influencer is someone who has a large number of followers/subscribers on social networks like Facebook, Twitter, Instagram, Reddit, etc.  
As a teen, you could potentially become a social media influencer if you have a lot of followers on social media.
In order to become a social media influencer, all you need to do is share interesting content on your social media profiles. This includes posting videos, articles, and anything else that is likely to engage your audience.
This is how most influencers got started – they shared interesting content on social media and eventually became popular. Once you gain large followers and increased popularity, companies will hire you to promote their products. So, if you want to earn money as a teenage millionaire, then this is a great option.
7. Start Trading Cryptocurrencies
Trading cryptocurrencies is another way to earn money as a young teen. 
You can start trading cryptocurrency by using a website called Coinbase or Binance. It allows you to purchase Bitcoin, Ethereum, Litecoin, Ripple, and any other currency that is available through its platform.
When trading cryptocurrencies, it's important to know what you're doing. Make sure you study each coin before you invest in it. You need to understand the fundamentals behind every single cryptocurrency so that you can predict future trends.
You only need to buy low and sell high in order to make profits. This is the basic principle behind investing. So, if you follow these simple steps, then you're guaranteed to make some good returns when you trade cryptocurrencies.
Trading cryptocurrencies can make you a millionaire very quickly. In fact, many successful traders have made millions from trading cryptocurrencies and are now considered "crypto millionaires." So, if you want a quick route to becoming a teenage millionaire, then investing in cryptocurrencies might be for you.
8. Become A Freelancer
Freelancing allows you to work from home and set your own hours. You can choose what projects you want to focus on and when you want to work. 
With freelance jobs, you can decide exactly what kind of work you want to do, It really depends on your skills and interests. The best part about freelancing is that it gives you complete control over your schedule and income.
So, if you'd like to earn money as a teen, then freelance work is a great way to go, especially if you enjoy working in your spare time.
FAQ
Can I Become A Millionaire At 16?
Yes, there is no minimum age for becoming a millionaire. There are many people who have already achieved this goal at an early age. You can do I too if you are willing to put in the hard work.
Can I Be A Teenage Millionaire?
The answer to this question is yes. If you practice discipline and follow the tips mentioned above, then you will definitely get there. However, it takes lots of effort and dedication.
At What Age Do Most People Become Millionaires?
Conclusion
Becoming a teenager millionaire isn't easy. There are many things that you must consider. But with proper planning, you will surely achieve your goals. If you want to become a millionaire at a young age, then it's possible. All you need is determination and patience to succeed.