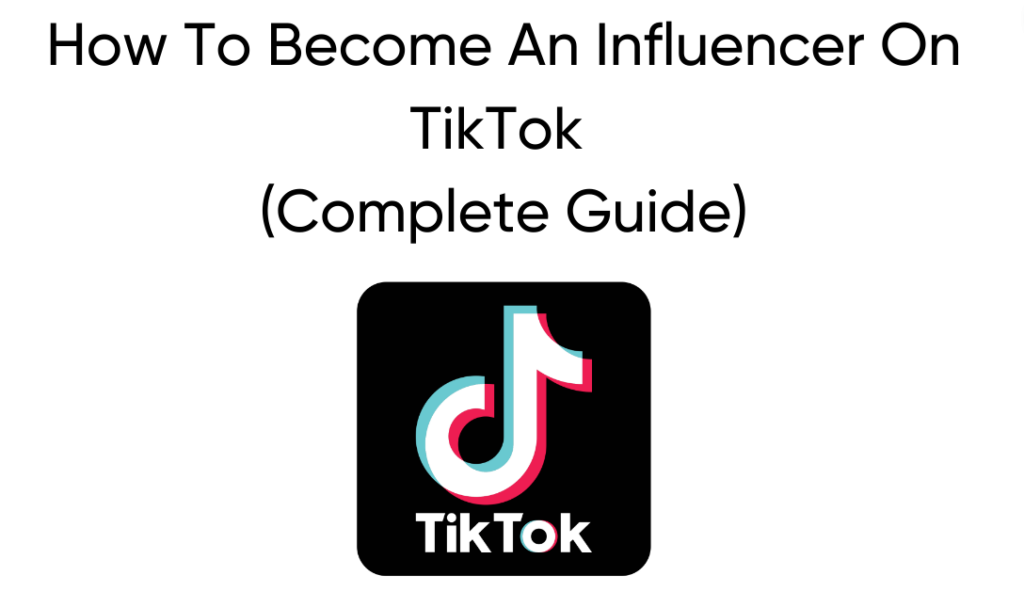 Are you looking to become an influencer on TikTok? If yes, then this article will help you. In this article, i will explain to you how to become an influencer and the best ways to do that.
In order to become an influencer, you need to have a good number of followers and likes for your videos. The more followers and likes you get, the better it is for you because people are going to be attracted to you when they see your content, and they might even follow you back. This means that you can earn money from them as well.
What Is TikTok?
TikTok is a popular social media app that lets users create short videos that can vary between 15 and 10 minutes. It's an excellent platform for sharing and discovering creative content, and it's also a great way to build your own following. With over 1 billion users, you can easily build a following and become an influencer on TikTok.
TikTok is a great place to get your content seen and talked about by millions of people around the world. There are no restrictions in terms of what kind of video you can make. You can either make funny videos, share inspirational quotes videos, or do anything else that you want.
How Does The TikTok Algorithm Work?
The TikTok algorithm is a secret, but we can make some guesses.
Like other social media platforms, TikTok likely uses engagement as one of the factors in its ranking algorithm. This means that the more likes, shares, and comments a video receives, the more likely it is to appear in other users' feeds.
TikTok may also take into account the number of followers a user has. The more followers you have, the more likely your videos are to be seen by other users, which increases your chances of getting views.
In order to build a strong social media following, it is vital to understand how the TikTok algorithm works. Once you have mastered this knowledge, it will be possible to develop strategies that maximize your exposure and increase your influence.
The key to growing your TikTok following is to have a good social media strategy. Your social media presence is what makes you visible online. To grow your presence on TikTok, you need a consistent approach to uploading engaging content. A strong strategy will help you to stay current and relevant with your audience.
TikTok is primarily an entertainment platform where users share short videos (15 to 60 seconds). However, there are ways to make some extra cash by monetizing this platform. The most common source of income is through ads and sponsored posts. Influencers who have large followings can earn significant amounts of money from these sources.
10 Tips For Becoming An Influencer On TikTok
Let's look at some tips that will help you to become an influencer:
1. Optimize Your TikTok Profile
Your profile plays a big role in determining whether or not people will follow you. Make sure that your profile is optimized so that people can find you easily.
Top TikTokers share similar profiles, which include short, concise descriptions, professional photos, and links to their websites. You should try to look as professional as possible.
2. Find Your Niche
There are many different niches within the TikTok community. Some people like making music videos, while others prefer to upload dance routines. If you don't know what type of content you would like to produce, then you must first figure out what type of niche you fall under.
When creating content for TikTok, it is important to know your target audience. What type of content would they like to watch? Would they prefer something humorous, inspiring, educational, or entertaining? Knowing your audience helps you to create content that is appealing to them.
When you find your niche, you will be able to focus all of your efforts on producing quality content. It is essential to remember that the goal of TikTok is to entertain. Therefore, try to entertain your viewers with your content.
3. Create Interesting And Engaging Videos
People love watching interesting videos. If you upload videos that don't engage viewers, then your videos won't get many views.
You should always strive to produce high-quality videos. Don't worry if you aren't very skilled at making videos; you should learn it quickly.
You should always try to come up with unique ideas for your videos. People like to watch something new every now and then. Try to think outside the box and come up with something different than what everyone else is doing.
4. Use TikTok Hashtags
Hashtags are a great way to get your videos seen by more people. When you use relevant hashtags, your videos will show up in the search results for those hashtags, which means that more people will see your video.
If you want to become an influencer on TikTok, then you should start using hashtags. Adding hashtags to your TikTok videos is one of the fastest ways to grow your TikTok Account.
You need to add the appropriate hashtags to your videos. These hashtags should be related to your niche and must be relevant to your video to increase its chances of getting more views, likes, and comments. 
READ ALSO:
5. Jump On Trends
It is important to stay current with the latest trends on TikTok. By following popular trends, and challenges, you will be able to gain more followers.
Make sure you identify any emerging trends and create some content for them ASAP. A trend involves using a particular song, visual effect, or joke. Watch out for any potential trends in your feed, and get involved and make some content!
When you jump on trending topics, you will have the opportunity to reach thousands, if not millions of people who might not otherwise discover your account, so try to do this as often as possible.
6. Engage With Your Audience
If you want to be an influencer on TikTok, you need to engage with your followers. Reply to their comments, like their videos, and follow them back.
Interacting with your audience is key to building a successful Influencer career. When you interact with your followers, you show that you care about them and want to connect with them.
Try as much as possible to interact with your followers in order to build trust between you and them. This will help you gain more followers and make your account more popular.
7. Host "Ask me anything" Event
Hosting an Ask Me Anything event can be really fun and engaging.
These sessions give you an opportunity to engage your audiences and prompt them to ask anything they want to know about your personal or professional life. As a result, people will feel connected to you emotionally. Additionally, you can share your knowledge and expertise with others.
This is a great way to let your followers know you better and encourage them to follow you, make sure you keep your answers short and sweet. When you host these events, it shows that you are friendly and willing to answer questions from your followers. So, try to be as open-minded as possible when hosting these events because it will benefit you in the long run to grow your TikTok account.
8. Announce A Giveaway/Contest
Announcing a giveaway or contest is another great way to promote yourself and your brand. 
Giveaways are a great way to attract new followers. People love free stuff, especially when it comes to social media platforms.
So, announce a giveaway or contest and invite your followers to participate. Make sure that you offer something valuable to your followers in exchange for participating in the giveaway.
When you run a giveaway, you're rewarding people who liked, shared and commented on your videos. It's a win-win situation for you and your followers because everyone wins. You get more followers, and your followers get something valuable in return.
9. Publish Posts Regularly At Peak Hours
Peak hours refer to the times during the day when most people use TikTok. If you post at peak hours, you'll increase your chances of getting views, likes, and increased exposure.
You need to know the right time to post in order to maximize your results, but there are certain times when you should definitely post. For example, if you're posting at night, you won't get many views. But, if you post during the noon-evening time, you are likely to see a lot of engagement.
So try to publish posts regularly at peak hours to attract maximum attention, engagement, and views to grow your TikTok following and become an influencer.
10. Promote Your Videos
Uploading your video on TikTok alone isn't going to get you a lot of views. You'll need to promote your TikTok account by using other social media platforms.
Promoting your videos is an essential part of growing your TikTok account. The best way to do this is by sharing your content on other social media platforms like Facebook, Instagram, Twitter, etc.
If you have a large number of followers on any of those platforms, then you can easily share your video on their platform, which will lead to more views, likes, and comments on your TikTok videos.
You can add a link of your TikTok account to your blog, Facebook, and Instagram accounts. You can also upload your videos on YouTube if you want. The more you promote, the more followers you will gain, and the more you are bound to reach out to more people and get close to your goal of becoming an influencer on TikTok.
FAQ
How Much Do Tiktok Influencers Make?
TikTok influencers can earn anywhere between $100 – $10,000 per sponsored post, it depends on their number of followers, their engagement rate, and how much they charge.
Is It Easy To Become A Tiktok Influencer?
Yes, anyone can be a TikTok influencer as long as you have a large audience. However, it takes a lot of hard work and dedication to build up a huge following to become a TikTok influencer.
How Many Followers Do You Need To Be A Tiktok Influencer?
The minimum number of followers recommended for being a TikTok influencer is 10,000 followers, so if you are looking forward to becoming an influencer on TikTok, you should try to acquire at least that amount of followers to get started.
Who Is The Highest Paid Tiktok Influencer?
According to Forbes, the highest-paid TikTok influencer is Charli D'Amelio with over 147 million followers. She earns around $50 million every year from her TikTok account.
Conclusion
Becoming an influencer on Tik Tok is not easy, but it's possible with enough effort and determination. There are several ways to achieve this goal, and we've shared some tips here. Hopefully, these tips will help you to start building your own TikTok account and become an influencer on Tiktok.