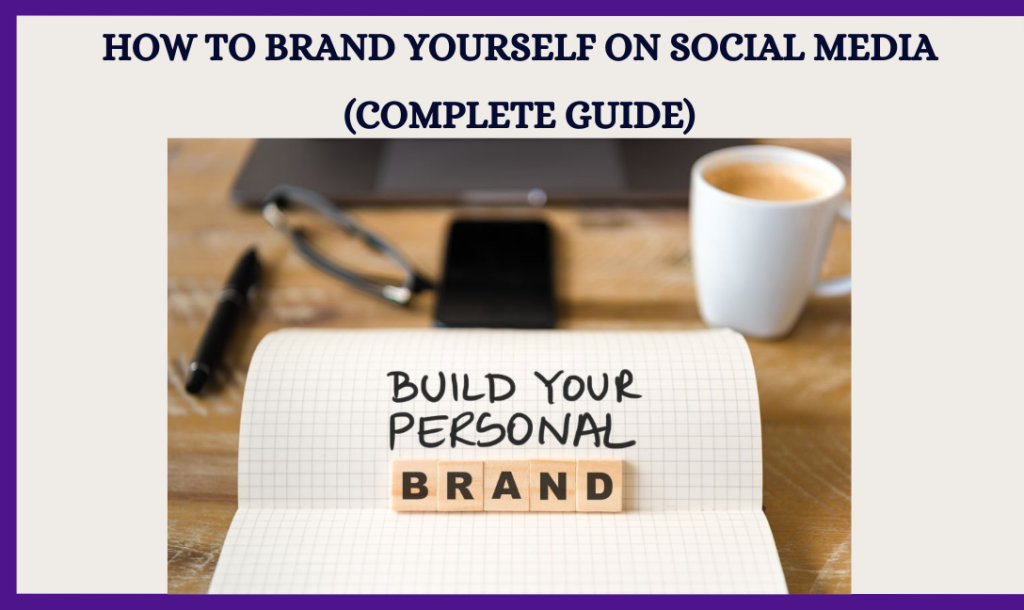 Branding yourself on social media is a great way to get more exposure and increase your brand recognition, but it can also be an intimidating process. If you're looking for tips on how to effectively brand yourself on social media, then this guide will show you the best ways to do so.
What Is Personal Branding On Social Media?
Personal branding on social media is essentially building a personal online presence that represents who you are as a person or business. It includes everything from writing content that reflects your personality and interests to creating a professional-looking profile with photos of yourself, to using social media platforms like Facebook, Twitter, LinkedIn, Instagram, YouTube, etc., to build your own community around your business or career.
Personal branding is all about creating a strong online presence. Your brand is essentially your digital identity. Your ability to manage this identity is completely up to you. Social media provides the perfect platform for promoting your business and showcasing your skills, knowledge, and expertise.
You can use these social media platforms wisely to build a powerful image that helps people understand what you do and why they should care about you. By doing this, you can gain credibility in your industry, attract new clients, and grow your business.
Why Should You Brand Yourself Online?
There are many reasons why you should brand yourself online:
1. To Build Trust
Your reputation is one of the most important things to have when starting out in any field. People trust those who are well known, and if you want to become successful, you need to make sure that others know who you are.
Social media allows you to create a public persona that builds trust and credibility. As long as you keep your interactions genuine and authentic, you can develop a positive reputation that will help you stand out among other brands.
2. To Grow Your Business
Personal branding can help grow your business in a way that will benefit you in the future. When you start building a following on social media, you begin to establish relationships with potential customers. These connections allow you to engage with them directly, which makes it easier for you to sell your products and services.
You can also use social media to promote your business by sharing information about upcoming events, new products, discounts, etc. This type of promotion can lead to increased sales and revenue.
3. Increased Exposure
When you brand yourself online, you open yourself up to a wider audience than ever before. The internet has made it possible for anyone to reach millions of people at once.
If you want to market your business, you need to find a way to connect with people who might not otherwise hear about you. Social media can be a perfect tool for getting your message across to a wide range of people.
This means that you can potentially increase your exposure significantly. If you're looking to get more customers, then this could be an excellent strategy for you.
11 Tips For Branding Yourself On Social Media
Here are 11 tips for how to brand yourself on social media:
1. Choose The Right Social Media Platform That Suits You
Before you start building your personal brand, you need to decide which social media platform(s) you want to focus on first. There are so many different options available to you, but some may work better than others depending on your goals.
There are many different platforms available for social media users today. You have Facebook, Twitter, Instagram, LinkedIn, Pinterest, etc.
Choosing the right platform depends on your needs and preferences. Each platform offers its own benefits and drawbacks. Before choosing a specific platform, think about what kind of results you want to achieve.
When you choose the right platform, you can easily expand your network and reach a larger audience to help you build your brand. So, choose wisely!
2. Create A Unique Profile/Page
A unique profile or Page is essential for establishing a strong brand. Make sure that your profile looks professional and polished. Use images that represent your brand and reflect your personality.
A professional-looking social media profile will give off a sense of authority and professionalism. It will also set you apart from other businesses. The way you present yourself online is very important because it reflects back onto your company.
3. Define Your Branding Goals
Before you start creating content for your social media profiles, you need to define your goals. What do you want to accomplish through social media? Do you want to generate leads? Gain followers? Increase traffic to your website? Or maybe you just want to build awareness for your brand. Whatever your goal is, you need to figure it out first.
Whatever your goal is, make sure that you clearly state it so that you can measure your progress along the way to see whether or not you've achieved your objective.
4. Know Your Audience
Once you've defined your goals, you need to understand what kind of person would be interested in your product or service. Who are you trying to attract? Are they male or female? Young or old? Their income level? Educated or uneducated? Geolocation? Knowing these things will help you decide what types of content you should share.
Social media is a great way to reach out and connect with people. So knowing your target audience will help you create content that is relevant to them, and therefore increases your chances of success. 
5. Import Your Contacts
You can import contacts from email accounts like Gmail, Yahoo Mail, Outlook, etc.
Once you've established your social media profiles and pages, import all your current contacts into your account and start connecting with them. LinkedIn, Instagram, Facebook, and Twitter lets you import up to a certain limit of emails from your Gmail or Outlook account for free.
Doing this will allow you to stay connected with your existing customers and prospects. You can use this as an opportunity to connect with them and show them how much you care about them.
Creating and sharing great content is one of the most important things you can do to build your personal brand online. This includes posting blog posts, videos, images, and anything else that you think might help your audience.
When you share contents that are useful and relevant to your audience, you increase the chance that they will engage with your content and follow you on social media. This means that they will become more familiar with you and your brand.
READ ALSO:
7. Find & Join The Right Groups
Groups are another great place to find new connections and opportunities. They provide a platform where you can meet people who have similar interests to yours.
Joining groups related to your industry or niche will help you get to know people who are already doing what you want to do. You can learn from their experiences and gain valuable insights that you can apply to your own business.
Both Facebook and LinkedIn offer thousands of opportunities to join groups and connect with people who share similar interests. You can always look for groups related to your specific area of interest by using the search bar on each social media platform. After that, you'll be able to use your insights to build authority around your personal brand.
8. Engage Your Audience And Influencers
The best way to grow your personal brand is through engagement. People love when brands interact with them directly. It shows that you're listening to them and that you care about their opinions.
So whenever possible, try to reply to comments and questions posted by your followers and other influencers, especially if it's something you can answer.
When people retweet, share or comment on your content, try to respond to them. Show them that you're interested in their user experience by answering their questions. Every time you post something, get into those comments section and reply to your audience. Engaging with followers means that they'll come back for even more.
Connecting and collaborating with key influencers in your niche can help you build your business. Influencers help you reach out to their followers by creating relevant and engaging posts about your brand. This helps give authenticity and credibility to your personal brand on social media, which makes you stand out from your competitors.
Interacting with your audience and influencers will really help you establish yourself as an authority in your niche, which will eventually lead to more sales and leads.
9. Be Active And Responsive On All Your Social Media Channels
If you're busy with lots of other things , it's easy to forget about your social media channels, then you might struggle to keep track of everything you need to get finished.
If you're having trouble coming up with topics for new posts or don't have time to post consistently, then you can use a scheduling app like Hootsuite to help you out.
You should never stop growing your personal brand. Even after you've built up a solid following, you still need to keep working hard at building your presence on all your social media channels.
If you don't update your profile and post regularly your followers won't see any updates and they may start losing interest in you, so make sure you stay active on all your social media platforms.
Being active on all your social media channels can help you build a strong relationship with your audience and ensure that they are loyal to your brand.
10. Analyze Your Efforts
After you've been running your personal brand for some time, you need to analyze how well you're doing. 
Analyzing your efforts will help you improve your strategy and figure out where you could do better.
Analytics tools can tell you exactly what content performs well, which networks are working for you, and which days of the week perform better than others. This information helps you plan future posts and optimize your marketing strategies to get better results.
This data will also show you which types of content work best for your audience and which ones don't. If you notice that certain types of content are performing poorly, you can adjust your strategy accordingly.
When you're ready to take your personal branding to the next level, you need to be able to measure your success, so you know when you're making progress.
11. Keep Up With The Trends 
As your personal brand grows, you want to continue to grow along with it. As your personal brand becomes more established, you'll want to focus on keeping up with the trends in your industry.
The most successful brands always look ahead and try to anticipate what is going to happen in the near future. By staying aware of current events and trends, you can create content that is relevant to your audience, this way you can attract more people and increase your brand exposure.
FAQ
What Does It Mean To Brand Yourself On Social Media?
Personal branding on social media is simply using social media to educate and market yourself. You can use social media to share your expertise and knowledge, connect with potential customers, and promote your business.
Do I Need A Personal Branding Strategy For My Business?
Yes, Having a personal branding strategy for your business will help you reach your goals faster. When you have a clear vision of what you want to achieve, you can set specific goals and develop a plan that will help you achieve them.
Why Is Personal Branding Important On Social Media?
Personal branding is important because it allows you to establish an online identity that represents who you really are. People trust those who are genuine and consistent, so by establishing a personal brand on social media, you can become more trustworthy and credible.
Which Social Media Is Best For Personal Branding?
It depends on what type of content you want to produce and if you want to target different audiences, so you need to decide which platform works best for your brand. But Facebook is probably the best platform for personal branding. 
Conclusion
Building a personal brand takes time and effort, but it's worth it. And if you follow these 11 steps, you'll be well on your way to establishing yourself as an expert in your field.
Your personal brand will allow you to stand out from other professionals and give you credibility as an expert, which will ultimately lead to more clients and sales for your business.
Do you have any tips or tricks for building a personal brand on social networking? Please share them in the comment box below!
Thanks for reading!