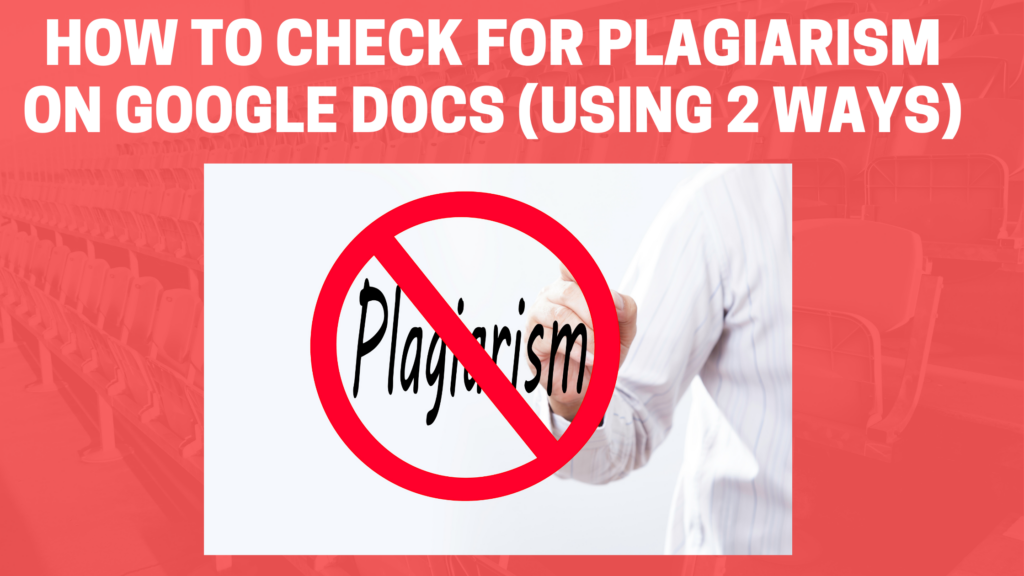 What Is Plagiarism?
Plagiarism is the act of taking someone else's work, ideas or words and passing them off as your own. It can be done in a variety of ways including paraphrasing, summarizing, quoting, rewording, stealing content from websites, etc.
Plagiarism is one of the most damaging forms of intellectual dishonesty. When it happens, people lose trust in the person who committed plagiarism and often in the entire organization. This can cost businesses big time, both financially and with respectability.
Why Does Plagiarism Matter?
The consequences for committing plagiarism are severe and include:
Losing credibility with clients/customers
Being blacklisted by potential employers
Not getting hired for jobs because of poor references
Getting sued
Having to pay fines
6 Ways To Avoid Plagiarism
Here are 6 steps you should take to avoid plagiarism when writing documents, reports, emails, presentations, blog posts, press releases, white papers, articles, etc.:
1. Identify Sources
Before you begin any project, make sure you identify all sources. This includes not only text but also images, videos, web pages, PDF files and other resources. Remember, if you use anything without permission, you could get into trouble!
2.Make Sure The Work Is Original
Once you have identified all resources, ensure they are original. If there are any similarities between your work and another source, this may indicate that you are using someone else's material without their permission.
3. Check References
If you find that you are using someone elses work and no reference has been made, then you need to do more research on the subject matter. You should check out any links provided within the document and see where and how others have cited the information.
4. Credit Your Sources
If you used information from another document, make sure you give credit to the author. Also, if you found an idea online, credit the owner of the site (or even better, link back to his or her page). You never know how long someone has been working on a particular idea, so don't steal it!
5. Get Permission Before Using Someone Else's Material
You cannot just copy-paste someone else's words and claim them as your own. So before you start writing, ask the person whose work you want to use whether you can use it. Most writers will say yes; however, some do not wish to share their work with others.
6. Use Creative Commons Licenses
Most legal sites allow you to use copyrighted materials under certain conditions. These licenses let you reuse and remix someone else's work while still giving proper credit to the author. And remember, if you are going to use any creative commons licensed material, you need to follow the license rules.
2 Ways On How To Check For Plagiarism On Google Docs
This post shows you how to detect plagiarism in google docs easily. It shows you some simple tips for avoiding plagiarism.
1. Using Unicheck
1. Install Unicheck Add-On
Unicheck is a free add-on for Google Chrome which allows you to search for copied content on the internet. It works by scanning websites and looking for unique phrases and sentences. Once detected, you can click on the 'Report' button to see the website.
2. Create A Unicheck Acoount
You need to create a unicheck account for you to be able to be able to use the tool
3. Write Your Text
Write whatever you want on Google Docs.
4. Start Scanning
Go to the top screen and open Unicheck to begin scanning for plaigarism.
5. Wait Until All Pages Are Scanned
The first thing you'll notice is that everything takes a bit longer than normal to load. When finished, you'll be able to access the results page like below:
6. Review Results
Reviewing the results gives you complete details about each page, similarities, citation and references.
7. Download Report
Click on the download report option near the bottom left hand side of the page. This will open up a new window showing the list of unique and similar text snippets along with the URLs of those pages.
Duplichecker is also a great way to quickly scan documents for plagiarism. The best part is that it does this automatically. Just upload the file you want to check into duplichecker and hit the "Check Plagiarism" button.
It will take a few minutes to run through all the files but once done, you'll get a detailed report detailing the exact places where there was plagiarism.
1. Upload Your Docx Word Document
Go to Duplichecker.com and upload your document
All Your Content In the document would be automatically imported
2. Confirm You're Not A Robot
Once uploaded, you'll receive a confirmation email asking you to confirm that you're not a robot. Just Solve the reCAPTCHA to proof you're not a robot.
3. Hit the "Check Plagirism" Button
Now, hit the "Check Plagiarism" button.
4. Wait While Duplichecker Checks Everything
After hitting the button, Duplichecker will start checking every word in your doc.
5. Get Your Results
When done, you'll get an extensive report detailing the exact places were there was plagiarism. You can even export the report as PDF or Word.
As you can see that what i checked is 100% free from plagiarism, so its 100% unique.
Conclusion
Both tools are very useful when it comes to detecting plagiarism. They both have their pros and cons. But I think using Unicheck is better because it scans more pages at one time compared to Duplichecker. Also, Unicheck has a lot more features such as being able to filter out specific words and phrases. So if you're looking for something that's easy to use and fast then go ahead and try Unicheck.
Hope this helps!