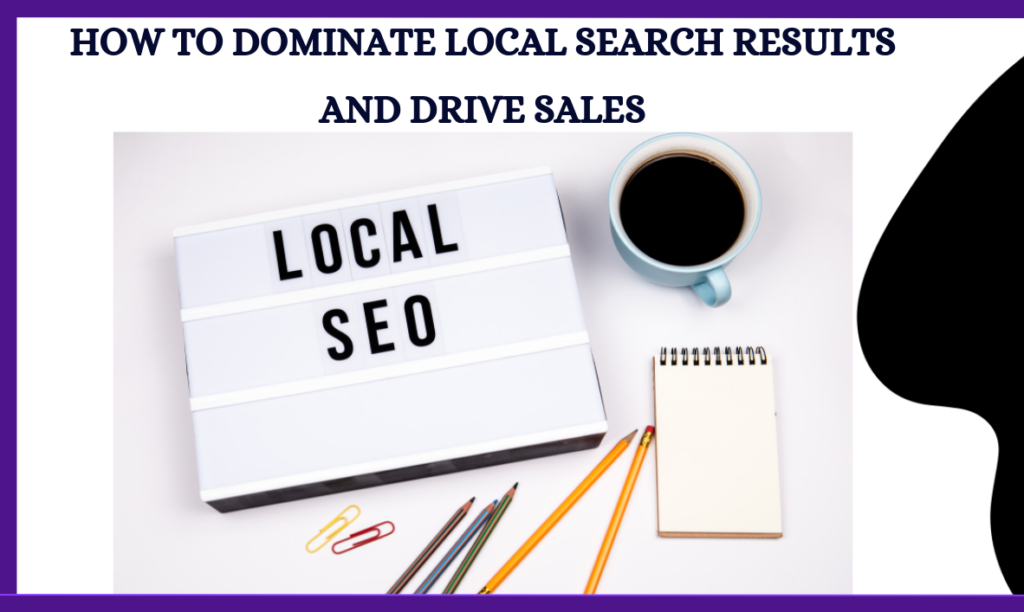 In this article, we'll be discussing how to dominate local search results and drive sales. This is the most important task that you can perform for your website's success.
Are you tired of being stuck with local search results that never seem to change? Do you wish you had a way to dominate local search results and drive sales?
But how do you make sure you dominate local search results? In this post, I'll share with you the tips to dominating local search results using SEO technique that will help you get found online and convert visitors into buyers.
What Is Local SEO?
Local SEO is the process of optimizing websites for local searches in specific geographic areas or locations. The main goal of these types of optimization techniques is to improve local visibility on major search engines like Google and Bing.
Local SEO optimization is essential if you have a small business. Your customers might be located anywhere in the world, but they're more likely to buy from businesses that are close by, so it makes sense to target them locally. When someone searches "close to me" or "nearby," their search intent is clear. They're looking for businesses that are close by. You need to make sure that your website appears at the top of these search results.
Why Should You Optimize For Local Searches?
There are several reasons why you should focus on local SEO:
1. It Boosts Brand Awareness
If you want to build brand awareness, then local SEO is definitely the way to go. People who live near you are more familiar with your company than people who don't. If you optimize for local searches, you'll increase the chances of getting seen by people who are searching for your products or services.
2. It Increases Conversions
Local SEO also helps you increase conversions because when people are searching for nearby businesses, they're much more likely to visit those businesses. These visits often lead to purchases.
3. It Helps Build Trust
Local SEO helps you establish your credibility as an authority in your field.
People trust businesses that are close to them, which means that if you rank well for local searches, you're increasing the likelihood that potential clients will choose your business over competitors.
4. It Gives You A Competitive Edge
By focusing on local SEO, you'll give yourself a competitive edge against other companies that aren't taking advantage of this opportunity. You'll be able to attract new clients and gain market share.
 If you're one of the few companies that appear for local searches, you stand out from the crowd and gain an advantage over your competition.
5. People Are More Likely To Buy From A Local Business
If you want to grow your business, you must know where your potential clients are. By targeting local search results, you can easily reach people who are living around your location. They're more likely to purchase from a business near them than from businesses that are far away.
READ ALSO:
8 Tips To Dominate Local Search Results And Drive Sales For Your Business
Now let's take a look at some tips to help you dominate local search results.
1. Optimize Your Google Business Profile
If you are not utilizing and optimizing your Google Business profile, you are missing out on an incredible opportunity to get your products or services seen where it matters the most.
The first thing you should do to get started with local SEO is to optimize your Google My Business profile. This includes filling out all relevant information about your business and adding relevant photos.
The GBP enables businesses to provide all relevant details about their business, including business hours, websites, categories, products, service, logos, images, videos, etc., to make their profiles as complete as possible.
Make sure that you include accurate contact information and address details. Add phone numbers and email addresses so that people can contact you directly.
You should also add a map to your page. Include a link to your website or social media pages so that people can find more information about your business.
2. Utilize Long-Tail Keywords
Long-tail keywords are phrases that contain two or three words.
For example, "best dog food" is a long-tail keyword while "dog food " is a short-tail keyword.
When someone types a phrase into a search engine like Google, Bing, Yahoo, etc., the search engine looks for the best match for what the person typed in.
You need to cover every way people might refer to your product or service when they search for it online, by doing so, you will be able to attract more traffic to your site and boost sales.
To improve local SEO, use local keywords in your page descriptions, blog posts, and other content, include relevant tags and include your city name or a nearby famous place to attract customers.
3. Build Local Authoritative Backlinks
Backlinks are links pointing from another website to yours. Backlink is one of the important factors that search engines use to determine if a page should rank higher in search results. A high number of quality backlinks indicates that a page is important and relevant to its audience.
Backlinks play an essential role in Local SEO. It can help you build trust and credibility online and increase your chances of ranking higher in local searches.
Here are some ways to generate quality backlinks:
Guest posting is a great way to build backlinks to your website. You can write articles and publish them on different blogs and websites. Make sure that the article has been written with your target market in mind. 
There are many reasons why guest blogging works well for local SEO. The biggest benefit is that you are sharing valuable content with a new audience which increases your brand exposure.
By writing an excellent post and publishing it on a popular website, you are giving yourself exposure. If you have a good reputation, then you could potentially receive thousands of visitors within a single month.
Another effective method for building backlinks is submitting your website to directories, especially those dedicated to local listings. These directory submissions will give you a chance to create backlinks to your own site.
3. Monitor Competitors' Backlinks for Relevant Opportunities
You can spy on competitors and see how they manage their backlinks. This will enable you to understand where they get their backlinks from and whether or not it's worth trying to get similar sources.
You can then try to replicate this strategy to gain additional backlinks for your own site, therefore increasing your rankings.
4. Update Your Blog Regularly
Updating your blog regularly is a very effective way to drive targeted traffic to your site. By keeping up with current events, latest news and trends, you'll be able to add fresh and interesting information about your niche.  This will improve your website's search engine ranking and bring more qualified leads.
5. Get Customers Reviews
Reviews affect Local SEO, the more reviews you have, the better you will rank. It will also give your users the confidence to visit your site if they see positive reviews from others or if they see how positively you respond when others review your site.
If you're not already present on online review sites like Yelp, TrustRadius, Citysearch, Manta, Trustpilot etc., you're missing out on lots of opportunities.
A recent study found that 77% of online shoppers use reviews when making a purchase decision. And if your customers are looking for recommendations on you, make it easy for them to find out what you've done right by claiming your listings on these sites. You'll get free exposure and increased visibility while at the same time improving customer satisfaction.
Google also notes that high-quality, "positive reviews from your customers will improve your business's visibility", this means that reviews might factor into your rankings on the local pack too.
Manage your reviews by responding to them. If you receive positive reviews on your profile page, take some time to acknowledge their feedback. Thank them for their support and let them know how much you appreciate their input. This will show your customers that you care and that you're willing to go out of your way to make sure they have a good experience. Positive reviews can be used to build brand awareness and trust. When someone writes a negative review, make sure to offer an explanation and solution to their concern.
By doing so, you'll show that you value your customers and want to resolve any issues they may have had. This will help you establish yourself as a trustworthy company in the eyes of potential customers.
6. Ensure Your Site Is Mobile Friendly
Mobile searches are becoming increasingly important because of the rise of smartphones and tablets. People are using their phones to search for local businesses, review products, and even make purchases. If you're not optimized for mobile, then you'll lose out on a lot of potential customers. To optimize your site for mobile users, follow Google's Mobile-Friendly Test. 
If your site doesn't feature a mobile friendly design, potential visitors will likely leave your site and head over to one of your competitors. Not only does this hurt your rankings, but it could also mean losing sales. Since Google considers mobile friendliness when ranking your site, you should make sure that your site is optimized for mobile devices.
7. Use Local Structured Data Markup
Structured data markup allows webmasters to add additional information about a website to its HTML code. This includes things such as addresses, phone numbers, opening hours, reviews, the product you sell, and more.
Google wants you to add structured data markup to your pages because it helps their spiders understand what your site content is all about.
Local business owners often use structured data markup to provide detailed information about their services or products. By adding this information to your website, you can increase your chances of showing up in local search results.
8. Optimize Your Site For Voice Search
Voice search has become increasingly popular among consumers who prefer to do most of their shopping on their phones.
In order to get started with local SEO, you need to ensure that your website is optimized for voice search. If you don't optimize your website for voice searches, you're missing out on an incredible opportunity to drive more traffic to your site and convert those visits into leads.
A recent study shows that voice search will reach $40 billion in sales by 2022. With such growth potential, it's vital that you maximize your efforts to target local consumers.
Optimizing your business' website for voice search is a must. Most local searches happen on mobile devices, so it's imperative that you optimize your site for mobile users. Make sure that you have high-quality images, fresh content, and fast loading pages for better user experiences.
Why Is Local SEO Important?
Local SEO is important for any business that wants to attract local customers who live nearby. The first page of Google results has been proven to increase conversion rates up to 31.7% which is great news for local businesses. As local searches account for almost half of all searches (46%), optimizing your website for these searches is essential to reach potential customers.
Conclusion
While there are many ways to optimize your local SEO, we've outlined eight simple steps that you can take right away to improve your local presence and boost your online visibility. These tips will help you rank higher in local search results, gain more organic traffic, and ultimately grow your business.