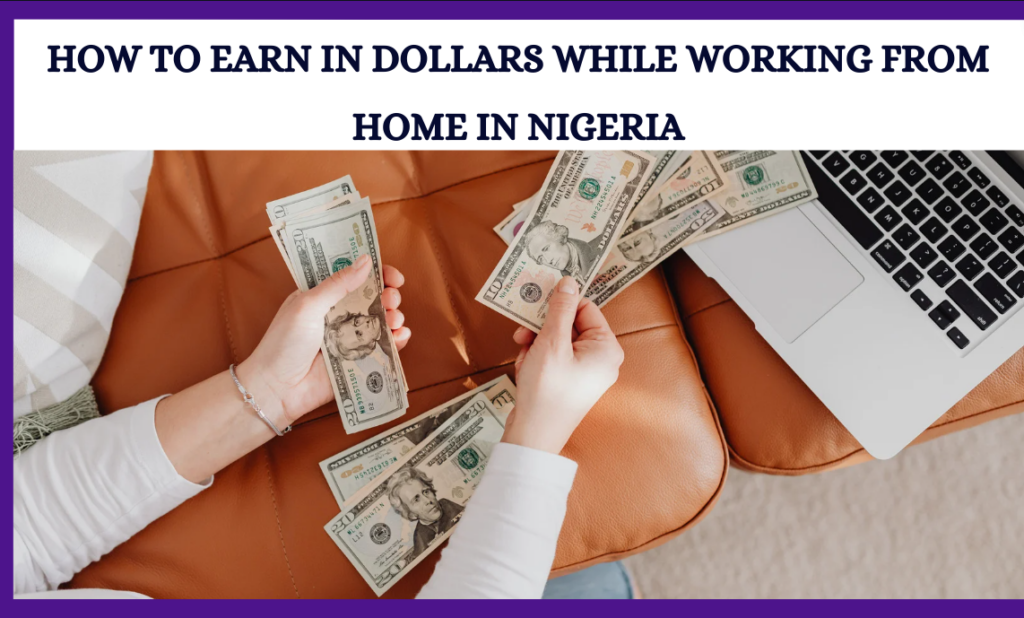 If you are a Nigerian and have been looking for ways to earn in dollars, then this article is for you. It will give you the best way on how you can start earning money from home in Nigeria.
The internet has made it possible for people all over the world to make money by working at home. You don't even have to leave your house, so if you want to make extra cash or change your life around completely, this might be the perfect option for you.
There are thousands of companies that hire individuals to work remotely. So, if you are willing to make money online, all you need is a computer, an Internet connection, the skills, and the ability to focus. No matter what kind of job you do, there is likely some sort of demand for remote workers.
10 Ways To Earn In Dollars While Working From Home In Nigeria
There are many ways to get started making money online. But here are 10 easy ways to earn while working from home in Nigeria.
1. Start A Blog
Blogging is one of the easiest ways to earn in dollars. Starting a professional blog is one of the best way you can make money in Dollars in Nigeria. However, there is no guarantee that your blog will generate revenue. In fact, most blogs fail within the first few months.
You need to have a decent amount of traffic before you can expect to see any income from your blog.
A professional blog allows you to monetize your site and turn it into a source of passive income. In fact, I am making over $10,000 per month from my blog alone. And I don't even really work on it anymore. 
So, if you are interested in starting a blog, I recommend you to read this article to learn more.
2. Become A Freelancer
Freelancing is another great way to earn in dollars. There are several types of freelancers out there including graphic designers, web developers, writers, programmers, etc.
Many businesses need these services and they are willing to pay good money for them, that is why they hire freelancers. If you learn any digital skill, you can easily become a freelance worker and get paid in dollars.
You can use sites such as Fiverr, Guru, Upwork, and oDesk to sell your service, so try to register and these sites and find clients who are ready to buy your service.
3. Create An Online Course
Creating an online course is another great way to make money online. This is a type of e-learning platform where students enroll for classes with topics ranging from business to personal development.
You can create an online course using platforms like Udemy, Teachable, Skillshare, and Coursera . These platforms allow you to charge money for each lesson you teach.
4. Sell Your Own Product
Selling products online is a popular way to make money in dollars, especially when you own a physical product.
If you have something to sell, you can list it on Amazon, eBay, Etsy, and other similar marketplaces. However, you should know that not every item sells well, so try to figure out which ones do well before spending too much time promoting and selling them.
To make money selling your own products, you need to be able to reach potential customers. You can promote your products through social media websites, forums, blogs, email marketing, and other methods.
5. Affiliate Marketing
Affiliate marketing is a way to make money by recommending products and getting commissions based on sales generated by those products.
This method requires affiliate marketers to build a website or blog that promotes a specific brand. They then drive traffic to their website and encourage people to purchase products.
When visitors buy certain items after clicking on links on your website, you will receive a commission. The amount of commission varies depending on how many people click on your link and how much they spend afterward.
With affiliate marketing, the key to success is generating high-quality content about products that your audience wants to buy, and you also must be able to convert visitors into buyers.
You can get a commission as high as 50% by some companies, but most affiliates only make 5% – 20%. Making money via affiliate marketing takes work, patience, and persistence, with the right strategy, you could eventually succeed.
READ ALSO:
6. Become A YouTuber
YouTube has become the second largest search engine in the world. Millions of people visit YouTube daily to watch videos about anything they want.
If you have some skills for creating and editing videos, you can make money by monetizing your YouTube channel with Google AdSense.
Even though it might seem difficult to grow your YouTube channel, there are many strategies you can try out to increase your views, and subscribers and earn more revenue.
7. Become A Virtual Assistant
A virtual assistant (or VA) does various tasks online for businesses, bloggers, and individuals. 
Virtual assistants perform administrative tasks for their clients. They help their clients manage their business by performing various tasks such as bookkeeping, data entry, customer support, social media management, content creation, email marketing, website maintenance, etc.
VAs are typically hired per project basis. Depending on the task, you may or may not be required to have skills in a particular area.
Some clients may ask you to research information about different industries while others may ask you to book travel arrangements. There's no standard pay structure for this job because it depends on the client.
As a virtual assistant, you can start charging anywhere between $10-$50 per hour. Although, the average hourly rate for VAs is around $20.98/hour. So if you charge $25 an hour, you would be making more than $1,000 every month from home in Nigeria.
8. Do Surveys
Surveys are a great way to earn in Dollars in Nigeria. They usually take less than 5 minutes to complete. You simply answer questions just about what you do every day.
The best part about surveys is that you don't need any special skills to participate in them. All you need is a smartphone and internet access.
Companies like ySense and Swagbucks send surveys via email. Generally, you receive points for every survey you complete and there are even options to redeem those points for cash.
You can earn up to $5 per survey and up to $500 monthly, you can withdraw to your preferred payment method like Paypal, Payoneer, Skrill, etc.
9.  Start Trading Cryptocurrencies
Cryptocurrency trading platforms allow users to trade digital currencies like Bitcoin, Ethereum, Litecoin, Ripple, Dash, Monero, Zcash, etc.
Trading cryptocurrencies is one of the easiest ways to earn in dollars in Nigeria. The process is very simple and anyone can learn how to invest in cryptocurrency within a few days, all you need is a computer, an internet connection, and a little bit of knowledge.
There are several websites that offer training courses to teach you everything you need to know about investing and trading cryptocurrencies.
Once you have learned how to invest and trade in cryptocurrencies, you will then be able to use your newfound skill to bring your dream of earning in dollars while you're living in Nigeria to reality.
10. Become A Transcriptionist 
Transcribing means taking audio recordings and turning them into written form. This is also known as voice-to-text transcription.
If you have a good listening ear, you can become a transcriptionist, which allows you to work remotely.
Most companies hire transcriptionists to transcribe recorded interviews, lectures, meetings, conferences, etc.
Typically, they pay you based on the number of words you transcribe. For example, if you transcribe 100 words, you get paid $10. If you transcribe 1,000 words, you get paid at least $100. This is a pretty easy job to do for you to make money from home in Nigeria.
Conclusion
We hope that we were able to give you some ideas on how to earn in dollars while working from home in Nigeria. We tried our best to cover all the major ways to earn in dollars while you live in Nigeria.
We hope that you found this article useful and informative. Please share this post with your friends and family so that they too can benefit from these tips.
Thank you for reading!