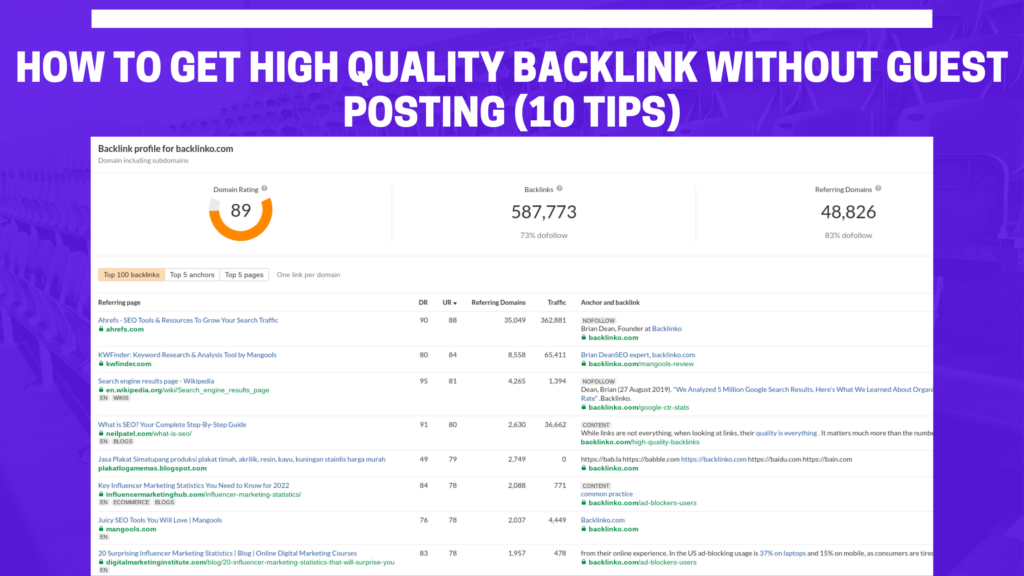 Guest posting is a great way to gain links, especially from highly trusted sites. The problem is that it takes time and effort to write compelling articles. All you need to do is contact other bloggers in your niche and ask them to link to your site. This is a quick and simple way to add high quality links to your site.
While guest posting remains a good way to build links, it is important to understand its limitations. For example, guest posting is not effective if you are not publishing original content. Another issue is that guest posting can negatively impact your brand reputation, It could also be difficult to track the success of each guest post.
In this post we're going to look at How To Get High Quality Backlinks Without Guest Posting, so you can build your blog faster and increase organic traffic.
10 Tips To Get High-Quality Backlinks Without Guest Posting
1. Start Writing High Quality Content
Writing high-quality content is one of the best ways to get high-quality backlinks, Your content helps other websites decide whether they want to link back to you. If your website looks low quality or lacks valuable information, other sites won't see you as an authoritative site worth linking to.
The more trusted and relevant your content is, the more likely you are to get a link from another site, which ultimately improves search engine rankings.
Quality content builds trust among other webmasters; this increases the likelihood of getting a link from another site. Don't forget to include useful resources in your posts such as images, videos, PDF files, charts, etc.
You can also get more traffic by providing value to your visitors through great content. This includes writing helpful posts, creating informative free guides or tutorials, etc.
2. Create Evergreen Content
Evergreen content is content that has staying power. You should always think about what kind of content would still be useful months or years after it was published. Creating evergreen content is a smart way to get high-quality links.
Evergreen content is important to any link-building campaign. It's important to your SEO strategy as well. Google rewards sites with evergreen content for being relevant today but also for providing value long term. If you create something that people want to read months or even years later, you'll rank higher in search results and get backlinks from other sites.
3. Find Broken Links To Build Backlinks
Broken links are links that don't point anywhere on a website. The most common types of broken links are 404 errors, page not found, redirect loops, etc. Broken links can be created intentionally or unintentionally. They can also occur when a website owner removes a link or updates their website.
To find broken links, you need to check out competitors' backlinks and see if there are any broken ones. You can also search for more websites in the same niche as yours. You can also use tools like SEMrush and Ahrefs to find broken links.
Once you have a list of the broken links, the next thing to do is to contact the webmasters and report about the broken links. Be sure to add the exact location of the site. Introduce yourself first. Then mention different alternatives for fixing the broken links. Chances are that they will use your website as an alternative and you'll get a backlink in exchange.
4. Common On "Do-Follow" Blogs
By Commenting on other blog posts, you can quickly build backlinks and gain authority over time. But before commenting, make sure that the post is actually good enough to comment on.
If you're lucky enough to find a dofollow blog, start commenting on some of its older posts. When you comment, try to write a genuine comment. Avoid using spammy comments like "great article!" or "I'm looking forward to reading your new post." Try to focus on why the post is interesting and share your own ideas or opinions instead.
5. Build Backlinks With Infographics
Infographics are visual representations of information. They help people who want to know more about a certain topic. Try to use graphics, images, and other types of art to make complex topics simpler. Media such as charts, infographics, and videos are great ways to attract links from other sites.
Infographics are visually appealing and easy to understand. Use infographics to explain concepts or trends related to your content. Infographics can also be used to educate readers by compellingly presenting facts.
6. Get High-Quality Links From Document Sharing Sites
Convert your blog post into a PDF file and upload it to these document sharing sites to get backlinks:
7. Submit Your Site To Blog Aggregators
Blog aggregators are websites that list blogs from different industries. You should submit your site to blog aggregators because it's a great way to get traffic and get high-quality dofollow backlinks.
Here's a list of blog aggregators you can submit your site to:
8. Spy On Your Competitors
You can spy on your competitors' backlinks to find sources for the source of their backlinks, look at their organic keyword rankings, top-performing content, and more.
To find out what kind of links your competitors are getting, spy on them. There are many free online services available that allow you to spy on your competitors' backlinks. Some of them include:
9. Reclaim Lost Image Links
Images embedded from other websites often link back to the source website. These images may be broken or may not point to the correct location. Make sure that all of your images used on other sites properly link back to your site.
10. Promote Your Content Everywhere
Great content won't generate links if no one knows about it. You need to make sure people know about your content before trying to get them to link to it. Find influencers who could help you promote your content.
Promoting your content everywhere will increase the chances of your content being shared across social media platforms. Share your content on Twitter, Facebook, LinkedIn, Pinterest, StumbleUpon, Reddit, Tumblr, Delicious, Digg, Fark, etc.
Conclusion
These 10 SEO tips will help you improve your search engine ranking and gain better visibility on Google. It is important to have good quality backlinks to rank higher in search engines, but if you follow proper SEO techniques then you will definitely get high-quality backlinks without using any guest posting technique.