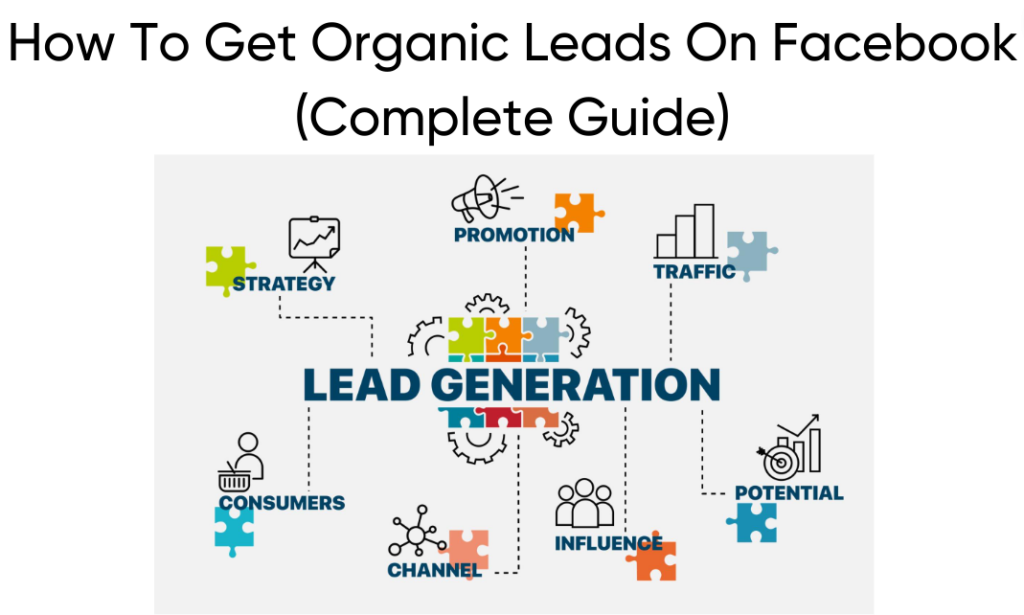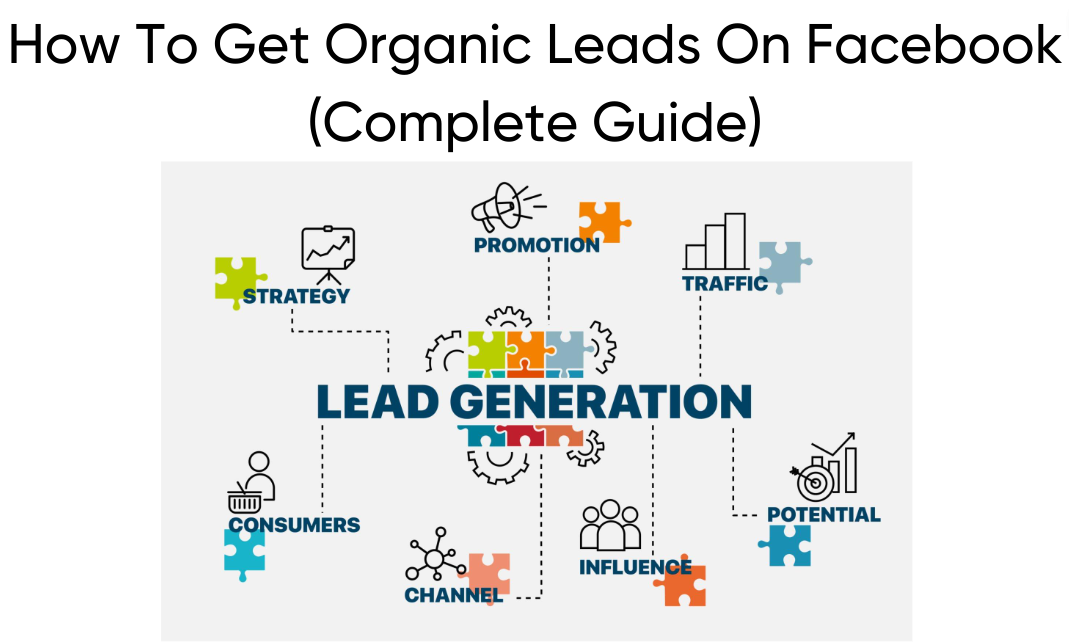 If you are looking for a way to get organic leads on Facebook, this guide will help you out. It's not as easy as it sounds though. This guide will show you how to use the right strategies to get organic leads on Facebook to grow your business and make more money.
What Is An Organic Lead?
An organic lead is any prospect who finds your business organically, they are not paid or bought by running paid ads. 
An organic lead is a person who has visited your website but hasn't converted into a paying customer yet. They might be a visitor or someone who came from social media sites like Facebook, Twitter, Pinterest, etc. The goal of getting an organic lead is to nurture them until they become customers.
Organic leads are very important because they have already shown interest in your product/service. That means that once you start marketing to these people, there is a higher chance that they will buy from you. In other words, they are ready to convert!
12 Tips For Getting More Organic Leads On Facebook
Getting more organic leads on Facebook isn't difficult if you know what to do. There are several ways to do so:
1. Optimize Your Facebook Business Page
You should try to optimize your Facebook page by making sure everything looks professional and appealing. You can do this by having a good cover photo, a great description, a high-quality logo, and a clear call-to-action button.
When you do these, you will naturally attract more visitors and potential customers to your page because they will see that your page is trustworthy and valuable. So, if you want to get more organic leads on Facebook, then firstly, optimize your Facebook business page.
2. Find The Right Time To Post
When you post content on Facebook, you want to target the right audience at the right time. You need to know the right time to post on Facebook to increase your chances of getting likes, comments, shares, and clicks.
If you post when your followers are most active, you increase the chances of your posts showing up first in their feed, which increases your organic reach. However, if you post during peak hours, you'll face more competition from other people who are trying to reach your target audience too.
The best solution is to find the perfect balance between posting when your followers are most likely to see your content and when you can expect high engagement so that you maximize your results.
3. Post Content That Will Increase Engagement
Once you've found the right time to post, you should create content that will drive engagement. If you don't, you won't get the exposure you deserve.
Engagement is defined as the number of likes, comments, and shares you receive after sharing a piece of content. You should know the type of content that gets the most engagement before you share it.
When your posts are engaging, they will attract new followers. These new followers will also engage with your posts and eventually become your followers. You then have a greater chance of growing your following and ultimately converting those followers into leads.
4. Use Eye-catching Images And Videos
Images and videos are great at capturing attention and keeping users interested. If you want to increase conversions, then images and videos are the best way to go because they can easily capture their attention.
Having visually appealing content is essential for standing out in people's increasingly crowded News Feeds. A recent survey found that over 49% of marketers believe that visuals are crucial to their social media marketing strategy. They're right. Visual content gets better engagement than text alone, and it's proven to have a positive impact on conversion rates, brand awareness, and lead generation.
Plus, Facebook's algorithm favors posts with visual content, meaning you should include more photos and videos in your posts for it to reach a wider audience, this will help in boosting your chance of generating more leads for your business.
5. Run A Contest Or Giveaway.
Contests or giveaways are another effective way to generate leads on Facebook. People love free stuff. This is why contests and giveaways are one of the top strategies used by businesses today.
You can run a contest or giveaway via your Facebook Page, but make sure you give away something worth winning. The prize has to be something that is valuable enough for people to want to win it.
When you set up a contest, you need to provide instructions on how to enter. Include information such as eligibility requirements, entry deadlines, and how to submit entries. You can even ask entrants to tag their friends, which means more people would be able to participate in your contest giving you the exposure needed to grow your business.
Your giveaway should be designed to generate leads. To accomplish this goal, you must have an eye-catching featured image or video, clear messaging, and a landing page. When creating your giveaway, make sure that all three pieces work together to give readers a reason to enter and convert them into leads.
6. Design User-Friendly Landing Pages That Delivers
A landing page is where all the action happens when someone visits your site. If you want to get more leads on Facebook, then you need to create a landing page that is optimized for conversions.
This is why you need to make sure that your landing page is attractive and engaging. This includes using eye-catching headlines, images, and videos. Also, make sure that your page loads quickly and is mobile-friendly.
You should always design landing pages that deliver. Your landing page must be simple, clear, and engaging. If your landing page doesn't deliver, it means that visitors won't stay long enough for them to see what you offer.
A great landing page will make visitors feel like they are getting something special and unique. This type of experience is important because people are less likely to return to a site where they felt like they wasted their time. When developing a landing page, keep in mind that it should be user-friendly and easily navigable for both desktop and mobile users.
Your CTA button is one of the most critical parts of your landing page. Without a good CTA, no visitor will take action. You need to create a compelling call-to-action button that makes users want to click on it, which in turn ensures that they will complete the desired action for them to convert. So, having a good CTA button is essential to making sure that you capture all of those potential leads.
READ ALSO:
7. Go Live And Be Authentic
If you really want to connect with your audience, you need to go live on Facebook. By doing this, you show your followers that you care about them and that you are willing to share valuable content with them.
In addition, going live gives you the opportunity to interact with your followers. You can answer questions, comment on posts, and engage in conversations with them. Going live also lets you promote your products and services while increasing brand awareness at the same time.
To succeed at generating organic leads on Facebook, you need to be authentic and genuine. Facebook Live allows you to connect with potential leads by interacting with them directly. By doing this, they can get to know the people behind the business and feel more comfortable with your company, enabling them to trust you.
8. Take Advantage Of Facebook Stories
Facebook Stories are short user-generated photo and video collections that can be posted by a user or pager on Facebook and it disappears after 24 hours.
You can take advantage of Facebook stories by using it for promoting your business as well as sharing information about new products and services, events, and promotions. This way, you can generate a lot of interest from your followers and increase the chances of converting them into customers.
9. Use Chatbots
If you use Facebook Messenger, there's a good chance you've already interacted with a chatbot. Using chatbots, businesses can automate customer service interactions without human intervention.
You can use Facebook Messenger to build a powerful chatbot that enables your customers to ask questions, receive answers, and buy your products. In fact, Facebook Messenger already has over 2 billion monthly active users, so there is definitely an enormous market waiting for you to tap into.
You can use Chatbot to collect information from potential leads and nurture them through the sales funnel until they become paying customers.
10. Create A Facebook Group
Creating a group on Facebook is another effective strategy for generating organic leads. The key here is to have a clear objective for creating the group. For example, if you sell weight-loss products, you can create a group called "Weight Loss Success Tips".
This way, you can attract other people who are looking for tips and tricks on how to lose weight. If you manage to gather enough members, you can then use the group to post content that will help these members achieve their goals. From there, you can start collecting email addresses and eventually lead them down the sales funnel, turning them into paying customers.
11. Post Regularly
One of the best ways to get organic traffic on Facebook is to post regularly. If you don't post frequently enough, you won't be able to keep up with what your audience likes.
Posting every day will help you gain traction among your target audience and make them familiar with your brand. The more often you post, the better results you will see.
You should have a schedule for posting, whether it is once daily or 10 times weekly. It will help you stay consistent, boost engagement, and attract more people to your page. This will eventually lead to you generating more leads for your business.
12. Get Verified On Facebook
Verified badge show people that your Page is an official representative of your business. It helps you establish trust and credibility with your followers by standing out from fan pages and copycat accounts.
If you have the blue verification badge, then your page will appear before pages with similar names in Facebook search results. This means more organic reach for your brand.
Also, people will be able to find your page more easily and will be more likely to follow or engage with your official page instead of other Pages similar to yours. Overall, getting verified is definitely worth it because it can help you to get more organic leads, increase brand awareness, increase engagement and boost conversion rate.
Conclusion
Facebook as a marketing platform is very effective. You just need to know where to focus your efforts and invest your time. With the right strategies, you can generate tons of organic leads and convert them into loyal customers.
The above 12 tips will surely work for you, you should definitely try it out and let us know which one worked best for you!
Thanks For Reading.