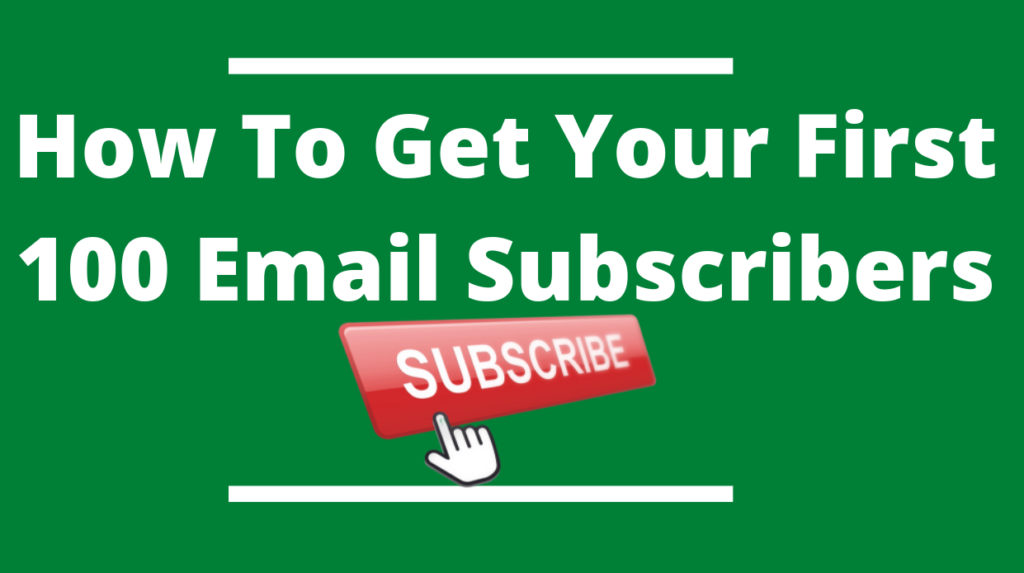 If you're reading this, it means that you've found my site and are interested in learning how to get your first 100 email subscribers.
I've been thinking about this topic for a while now and I finally decided to write it down so that other people can benefit from my experience. 
Many people struggle with getting their first 100 email subscribers and it's something that comes up all the time in our inboxes. Whether you're just getting started out or have been a professional for a while, your email list is one of the most valuable things you can have. If you're curious about what it takes and how to set yourself up for success, this post will help guide you in the right direction so let's get started.
10 Tips On How To Get Your First 100 Email Subscribers
Getting your first 100 email subscribers isn't an easy task but if you follow these 10 tips, you'll be on your way to building a successful business.
1. Publish Quality Content
The number 1 thing that will make or break your ability to build a successful email marketing campaign is the quality of content you publish. You need to constantly produce new content that is relevant to your audience. Quality Content will not only attract more subscribers, but it will also keep them engaged.
2. Optimize Your Landing Pages
Your landing page is where you want people to land when they subscribe to your emails. It should look good, be simple, and provide value. The better looking your landing page is, the higher chance you have of converting someone into a subscriber.
Your landing pages should immediately grab your visitors attention and get them to take action. This means that they need to be visually appealing, interesting, and engaging. 
Your landing pages should always be optimized for conversions. This means that they should be designed to convert as many visitors into subscribers as possible. You may think that your landing page looks good enough but when it comes down to it, you need to test different variations until you find one that converts well.
3. Use A/B Testing
A/B testing is a great tool to use when optimizing your landing pages. It allows you to compare two versions of your landing page and see which version performs better. 
When it comes to conversion and landing pages, A/B testing is your best friend. It's what will help you find the right design, copy, and layout that will get you the most subscribers. The more you test and tweak your pages, the faster you'll get to 100 subscribers but there is a bit of an art to this process so don't be discouraged if there isn't any real progress for a few days.
There are tons of tools out there that allow you to do A/B testing such as Unbounce, Leadpages, and Visual Website Optimizer. These tools make it super simple to create and optimize your landing pages.
4. Use A Call-To-Action Button
A call-to-action button on a landing page can help entice people to subscribe, sign up for your newsletter, or do whatever else you want them to do next.
Call-to-action is one of the most important elements to growing your email list quickly. Use it as often as possible where appropriate and you'll start seeing results very soon.
5. Give People A Reason To Subscribe
If you want people to subscribe, there needs to be an incentive. The incentive doesn't have to be crazy or expensive. It can simply be that they'll receive a free guide, video, or ebook.
It's not mandatory that you offer something in exchange for signing up to your newsletter. However, it is highly recommended as it will increase the number of subscribers you get and the number of leads you generate.
People love free stuff. They're going to sign up just because they know that you're offering something valuable in return. Offering something in return for signing up helps you build trust with your audience and makes them feel valued.
READ ALSO:
6. Attract the Right Traffic To Your Blog
You need traffic to grow your blog. If you want to get subscribers, then you need to focus on getting traffic. There are several ways to do this including:
Guest Posting – By guest posting on other blogs, you'll be able to drive targeted traffic back to your own website.
Social Media Marketing – By sharing content across social media platforms like Facebook, Twitter, LinkedIn, etc., you'll be able to attract new readers and followers who might become interested in your blog.
SEO – Search engine optimization (SEO) is another way to attract traffic to your site. When people search for certain keywords, they'll end up at your website.
By driving traffic to your site using these methods, you'll be able improve your chances of attracting subscribers.
When brainstorming blog post ideas for your site, focus on topics that your specific target audience would want to read. When you start out, be sure to focus on the most relevant keywords for your niche so that you attract the right traffic and readers who will subscribe to your list.
7. Add An Optin Form
Adding an optin form to your landing page is a great way to capture emails from visitors. You can add forms to your landing page through various services such as Unbounce and LeadPages.
Optin forms work by asking visitors to enter their name and email address. Once they submit the information, they'll be added to your subscriber list.
You can also share the link to your opt-in or sign-up form on your social media pages. You must post regularly on social media platforms, so you need to be familiar with social media scheduling softwares if you're not always active on social media.
You can also integrate your campaign with your favorite email service providers such as Constant Contact or mailchimp. You can then set-up automated email series, so that your subscribers will receive emails when they complete this subscription form.
8. Host An Online Webinar
An online webinar is a live presentation done over the internet. This means that anyone anywhere can attend, webinars are an excellent way to share information with your target blog audience.
If you have a large following, you should consider hosting regular webinars. It could be about anything related to your niche, but make sure that it has value to your audience.
Webinars are an excellent way to talk about your industry, connect with thought leaders, and get exposure for your brand. Webinars are usually registered for via email, which means you have an audience email address to add to your list of people to nurture after registration.
9. Host Your Own Offline In-Person Events
In-person events are a great way to engage with your target audience. They are a low cost option compared to digital marketing campaigns.
Networking events, such as meetups, seminars, hackat­hons, educational panels, conferences, and your own company's events place you front and center for networking. Those who attend your events are often more qualified to receive contact than those who didn't come. Make sure to collect email addresses from people at the event, and send them a welcome email and encourage them to sign up for your newsletter.
10. Trigger Popups When Visitors Display Intent To Exit Your Website
A popup is a pop-up window that appears in front of a visitor's browser while he/she is browsing the web. These windows typically ask visitors to take actions such as signing up for an account, subscribing to your mailing list, filling out a survey, etc.
You can set a pop-up to appear when a website visitor displays an exit intent to leave his/her current page. The goal of setting up a popup is to persuade site visitors to take action and subscribe to your email list.
Conclusion
These are just some of the ways you can build an email list without using paid traffic. As you can see, there are many simple ways to grow your email list.
Getting started with email nurturing is easy. All you need to do is follow these tips and create a plan. If you implement all of these strategies, you'll see results within 30 days.