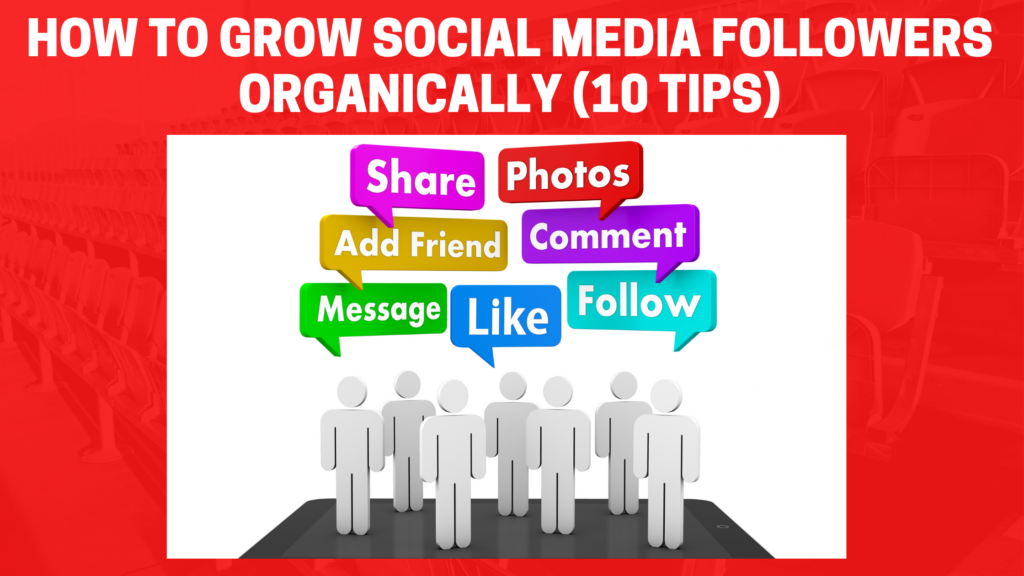 Are you looking for ways to grow your social media followers organically? Then, read on for some great tips from our experts.
Social media has become an integral part of our lives. From Facebook and Twitter to Instagram and LinkedIn, these platforms allow us to share information, stay updated, interact with friends, and connect with companies. Today, over 4.48 billion people use social media every month. And according to recent research, nearly half of them use social media daily.
However, growing your audience isn't always easy. There are two main types of growth: organic and paid. Organic growth refers to the number of new followers you get through natural means, such as posting interesting content or interacting with other users. Paid growth refers to the number gained through advertising. 
In this post we'll cover how to grow your social media following organically, so that it can be done naturally. To stand out from the crowd, you need to create unique content that engages your audience. This means creating original posts that are worth sharing.
10 Tips On How To Grow Social Media Followers Organically
Here are 10 tips to help you grow your social media followers:
1. Optimize Your Social Media Profiles
The first step in growing your social media following is optimizing your profiles on all of the major social networks. Make sure your profile picture is optimized so it looks good and attractive to users.
Every aspect of your social media profile can be tweaked for better visibility and optimization. If you want to be a social media influencer , you need to know the ins and outs of these elements.
You can tweak every aspect of your social media profiles for better visibility and optimization if you want to grow your social media followers organically.
2. Share Unique Content
The best way to grow your social media following is to post unique content on a regular basis. You can do this through images, videos or infographics. When it comes to posting content, make sure that it's something your audience will find interesting.
If you want to increase engagement with your followers, then you need to share content that people will enjoy. This doesn't mean that you should only post about topics that interest you. It means that you should focus on sharing content that your followers will appreciate.
If you're struggling to come up with ideas, try using tools such as Google Trends to see what terms are trending. Then, look for ways to create content that relates to those trends.
3. Use Hashtags
Hashtags allow people to easily search for topics related to what they're interested in. They're an easy way to keep track of conversations about specific keywords.
If you use hashtags correctly, you can increase your chances of being found when someone searches for those terms, which could lead to more followers.
Hashtags are one of the most powerful tools available to social media users today. They help you find relevant discussions about topics you care about, and they make it easier for others to find you as well.
4. Reshare Valuable Content
Resharing valuable content is another effective strategy for increasing your social media followers. People love seeing what others have shared because it gives them insight into what's popular.
Sharing great content with your audience is one of the best ways to increase your social media followers. When people see something they enjoy, they want to share it with their friends. This is why sharing content on Social media has become so important. It allows you to reach more people than ever before.
5. Interact With Other Users
Interacting with other users is another way to build relationships with them, which helps you gain more followers. Once you've built up a relationship with someone, he or she might follow you back.
The best way to interact with others is by commenting on their posts. This shows your interest in what they're saying and gives them something to respond to. It also builds mutual relationship between you and your followers.
6. Understand The Algorithm
Understanding how algorithms work is essential if you want to grow social media followers. There are many different factors that go into determining where your content appears on the feed.
Algorithms change frequently, so it's important to stay updated on the latest changes. If you don't understand how these algorithms work, you won't be able to optimize your content effectively.
7. Create A Community
Creating a community around your brand is another way to get more followers. By creating a group where people can discuss things that matter to you, you'll be able to connect with new people who share similar interests.
This will give you a chance to engage with people who are already interested in what you do. You can also encourage them to follow you.
8. Add Images And Videos
Adding images and videos to your posts is a great way to attract attention. These types of posts tend to perform better than text-only posts since they contain visuals. People like to read text, but they also like to watch video. Adding photos and videos to your posts makes them more engaging.
Images and videos are powerful tools when used correctly. They help people understand what you're trying to say and make your message easier to remember. When you add images and videos to your posts, you'll see engagement go up.
9. Promote Your Posts On Multiple Platforms
Promoting your posts across multiple platforms is an excellent way to get more followers from all over the world.
You should promote your posts on Twitter, Facebook, Instagram, LinkedIn, Google+, Pinterest, Tumblr, Reddit, YouTube, Vine, Snapchat, Medium, and even blogs.
You can use several methods to promote your posts, such as paid advertising, organic promotion, and influencer marketing. Whatever method you choose, just make sure that you're promoting your posts consistently.
10. Be Consistent
Being consistent is another key factor for growing social media followers. People need to know what to expect from you, otherwise they might not continue following you.
If you post regularly, your followers will come to expect regular updates from you. As long as you keep posting quality content, your followers will stick around.
Conclusion
Growing social media followers organically isn't easy. However, we've listed some ways to increase your follower count without spending too much money.
If you have any questions about this post or anything else related to social media, feel free to comment below!