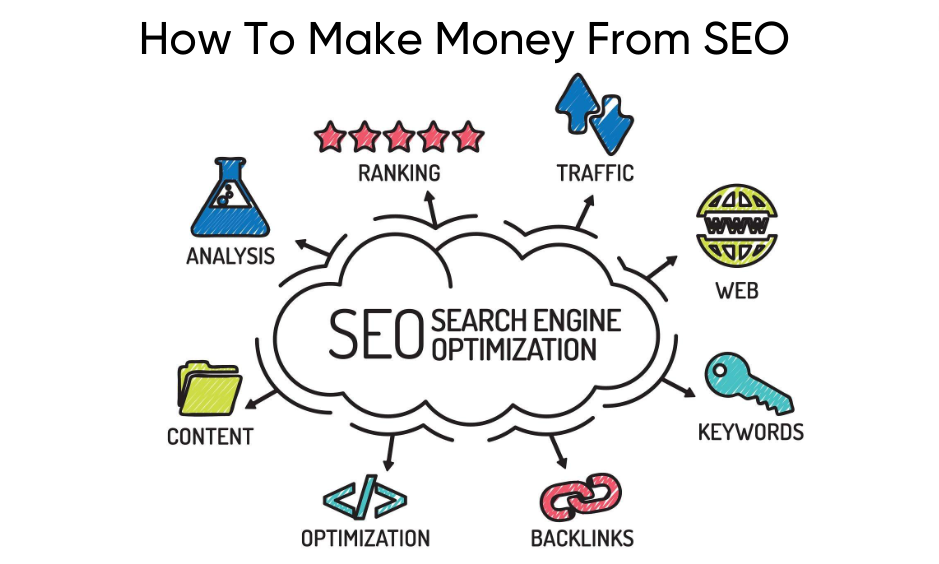 SEO is a very popular and effective way to make money online, but it can be difficult to get started with. The good news is that there are many ways you can start making money from SEO today. In this article, I will show you how to get started with SEO in the easiest possible way. So, if you want to learn more about how to make money from SEO, keep reading!
What Is SEO?
SEO stands for Search Engine Optimization. It refers to any strategy or tactic that improves a website's visibility in search engines like Google. There are many different ways to improve your SEO, such as writing great content, optimizing images, creating high-quality links, etc.
SEO is one of the most important things you need to know before going into the field. If you don't have a solid understanding of SEO, then you won't be able to rank on page 1 of Google. This means that you won't be able to find customers easily.
The reason why SEO is so important is that people use Google every single day when they're looking for information online, and if your site doesn't appear at the top of their results, then you'll miss out on tons of potential traffic.
12 Ways To Make Money From SEO
There are a variety of ways you can make money from SEO, including:
1. Become A Full-time SEO Specialist
You can make money from SEO by becoming an SEO specialist, which involves helping other companies optimize their websites to increase their rankings on search engines which leads to increased sales.
When you become an SEO specialist, you work directly for clients who hire you to help them achieve higher rankings on search engines. You do this by improving their sites' content, linking structure, and overall optimization.
If you start working as an SEO specialist, you can expect to earn anywhere between $20-$100 per hour. However, some SEO specialists charge much more than this.
2. Work In An SEO Agency
By working in an agency, you can also make money from SEO. These agencies usually hire freelance SEO specialists to work on projects for them.
An SEO agency is a great place to start a career because it gives you exposure to both sides of the digital marketing world. You'll learn how to manage campaigns and implement strategies while also being exposed to new ideas and trends. Plus, you get to work with different clients and brands, giving you the chance to gain experience across a variety of industries.
When you work in an SEO agency, you typically receive a monthly salary plus bonuses based on your performance, industry knowledge, and client satisfaction.
3. Create And Sell SEO Online Courses
Another option is to create your own course on SEO. When you teach others what they need to know about SEO so that they can become good at SEO, you can sell your courses to students around the globe.
This is a great side hustle idea since you can work from home and set your own schedule. This method works well if you already have a lot of expertise in SEO. However, if you're just starting out, then you might not have enough experience to teach others.
Creating a course around a specific topic is a good idea. Not only does this make it easier to teach, but it makes it easier to sell. So, instead of creating an all-in-one SEO course, you can create a course on keyword research, link building, on-page SEO, speed optimization, technical SEO, etc.
4. Sell SEO Copywriting Services
SEO copywriting services involve writing articles and blog posts for businesses that want to rank better on search engines.
As an SEO copywriter, you can choose to write either short or long-form content depending on the needs of the client. Short-form content includes things like product descriptions and reviews, whereas long-form content includes ebooks, guides, webinars, and videos.
You need to be very proficient in English to become a successful SEO copywriter. If you don't have a strong command of the language, then you should consider taking improve your skills for you to succeed.
5. Become An SEO Freelancer
If you are looking to make money online through SEO, then becoming a freelancer may be a good choice for you. As an SEO freelancer, you will be able to offer your services to companies who need help getting their websites ranked higher in search engine results pages (SERPs).
These companies will pay you a certain amount each month for every project that you complete. The best part about these jobs is that you can do them from wherever you want, whenever you want as long as you meet the deadline.
There are many platforms where you can find freelance SEO projects. Some of the most popular ones include Upwork, Fiverr, Guru, and PeoplePerHour.
Freelancing allows you to pick up projects when you want them and complete them within a reasonable time frame, which means more flexibility, less stress, and more money.
READ ALSO:
6. Build And Sell SEO Software Tools
An SEO software tool is a piece of software that helps people with SEO tasks such as backlink analysis, competitor analysis, keyword research, site audit, and other similar activities.
When you build and sell SEO tools, you will be helping people get better at SEO by providing them with the right information at the right time. You can charge anywhere between $50-$500 per tool depending on the features, complexity, and how much effort you put into developing it.
If you can come out with a good tool for automating an important SEO process, you could earn a lot of money in the SEO industry. People love to buy software that makes their work easier in digital marketing, so if you can develop something that provides value to users, you can definitely make some serious cash.
7. Build an eCommerce Store and Sell Physical Products
Another way to make money from SEO is to start an eCommerce store where you sell physical products. This is a great business model because you keep making money as long as you can drive traffic to your website.
The key here is to find a niche market that has a high demand for your products. For example, if you live in California, you might decide to focus on selling water filters since there is a huge demand for this type of product in the state.
Once you have decided what type of products you want to sell, you can set up a Shopify store and start selling. Then you optimize your website to ensure that it ranks well in search engines and drive your target audience to your store as you rank higher in SERPs.
8. Charge For Keyword Research
You can also make money from SEO by charging others for doing keyword research for them.
Many bloggers, affiliate marketers, and small businesses struggle with this SEO process and need help from an expert. You would be surprised at how much SEO services are needed in the digital marketing world.
Since keyword research is an important part of SEO, many companies are looking for someone to perform this task for them. If you know how to conduct effective keyword research, you can easily charge hundreds or even thousands of dollars for performing this service.
9. Sell On-Page SEO Services
Selling on-page SEO services is another popular method of generating passive income online.
On-page SEO refers to all the changes that you make to your website in order to improve its ranking in search engine results pages (SERPS).
There are different types of on-page SEO services that you can offer: optimizing alt text, image optimization, page speed optimization, etc. If you are very good at these kinds of tasks, you can charge quite a bit of money for each one.
10. Start A Lead Generation Website
Starting a lead generation website is another great idea when you want to generate passive income online.
A lead generation website allows you to connect with potential customers who are searching for certain products or services. Once they sign up for your list, you can send them emails about new products and offers that you think they'll like.
A good example of a lead generation website is a site that ranks for local keywords like "best dentist near me" or "best chiropractor near me. You can have partnership with local businesses that will pay you per lead generated. Typically, the visitor is required to take a specific action like, call a specific phone number to set up an appointment and the you will earn a commission for each lead.
You can earn as high as $50 – $100 per lead depending on the business, industry, and location. This means that if you are able to generate at least 100 leads monthly, then you can expect to make around $5,000 – $10,000 every month.
11. Host SEO Training Seminars
Hosting SEO training seminars is another way to make money. If you are knowledgeable about SEO, then you can teach other people about this tfield. In fact, some people may hire you to do so.
The SEO industry is always changing. As a result, there are many things that people want to be aware of. Establishing yourself as an authority in this area means that you have access to all the latest news and information. People will trust your opinions because you've proven that you're an expert.
SEO Training seminars can provide a steady stream of income for you over time. They provide value to attendees by education them on the latest trends in the field. These sessions can be hosted weekly, monthly, or even annually. They can be done either in-person or virtually. There are many different ways to organize SEO trainings, but it's best to choose something that suits your schedule.
You can charge as high as $100 – $500 for each seminar. The price depends on how much value you are giving out, what kind of venue you use, and whether you host it in person or virtually and other factors. You should ensure that you give enough content during the session so that people come back for more.
12. Start A Blog And Monetize It
Blogging is a cool way to make money from home. However, starting a blog takes a lot of work and dedication.
There are many types of blogs. Some focus on providing useful information while others try to entertain their readers. Whatever type of blog you decide to create, make sure that you write quality articles and keep them updated regularly.
There are many opportunities available for bloggers as long as you have traffic that visits your blog. You can monetize your blog through affiliate marketing, advertising, sponsorships, and other forms of generating revenue for your blog.
FAQ
Is SEO A Good Career?
Yes, it is a good career for those who love working independently. If you are very knowledgable in this field and you are following the latest trend, tools, and techniques used to rank websites, then you can definitely make a living off of it. 
Can I Earn Money With SEO?
Yes, you can earn money with SEO. But it requires hard work and dedication, and there is no limit to how much money you can make with your SEO skills to build, rank, and monetize websites. It does not matter where you live, what your age is, or what your gender is. All you need is determination and passion to succeed.
Does SEO Have A Future?
Yes, the future of SEO is bright. To rank well in search engines like Google, Bing, Yahoo, etc., you must follow the latest trends and learn new strategies. You need to write helpful content, optimize website speed, and ensure that you follow the latest guidelines set forth by search engine companies.
Conclusion
SEO is one of the most popular online jobs today. Many people are making a full-time living from it. This article has provided you with some great tips on how to start earning money from SEO. Hopefully, these tips will help you get started.
If you enjoyed reading this post, please share it with your friends!