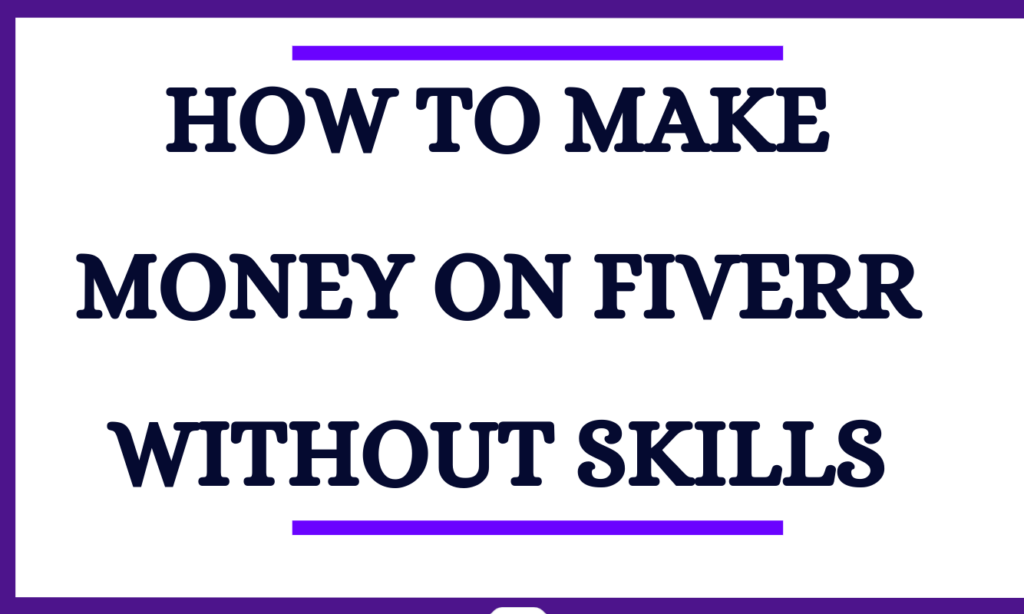 Do you want to make extra money on Fiverr without having any skills? What if I told you there are gigs that you can do to make money on Fiverr just by completing them within the timeframe given by your clients without you having any special skills. This article will show you how to make money on Fiverr with no skills at all so read it until the end.
What Is Fiverr?
Fiverr is a marketplace where freelancers from all over the world sell their services for a minimum of $5. Even though the pay isn't great, it's a perfect way for beginners to get started earning some extra cash.
Fiverr is a great place to sell services or get paid for completing tasks. In fact, it has become the go-to marketplace for freelancers who want to earn extra cash without skills, experience, or qualifications.
The best part about Fiverr is that they have an easy-to-use platform that makes selling your service as simple as possible. You only need to create a free account, upload photos and videos, write a description, set up payment options, and then start offering your services.
You don't need special skills to become a successful seller on Fiverr. All you need is a computer, an Internet connection, and a willingness to complete orders in the specified timeframe.
15 Ways To Make Money On Fiverr Without Skills
Here are some easy gigs that don't require any skills and you can start making money quickly.
1. Virtual Assistant
A virtual assistant (VA) performs administrative functions such as data entry, customer support, writing, proofreading, transcription, social media management, and more. Most VAs offer a variety of different services, so be sure to check out the listing before signing up.
There has been a significant increase in demand for virtual assistants over the past few years. People who use these services are typically busy business owners who don't have the time to handle all their administrative tasks. These workers perform a variety of duties including data entry, scheduling appointments, answering emails, creating spreadsheets, etc. They usually earn anywhere between $5-$50 per hour depending on the task done.
As the number of people working from home increases, companies and executives are looking for ways to hire virtual assistants. This gig idea is highly sought after at the moment. Fortunately, you don't need any special skills to be a virtual assistant either. And the fun part about it is that you have to do all this from the comforts of your home.
2. Removal of Image Background
You can change the background of an image by changing its background color.
Image removal tools like those offered by Burner Bonanza or Remove.bg are incredibly useful when removing unwanted backgrounds from photos. These services make it extremely easy to remove background from pictures. They are completely free and there's no limit to how many times you can use them.
Background removal services are popular among companies who need professional looking photos for marketing purposes.They then have their photos edited by graphic designers before they're posted online. They then make sure that the background matches the style of the brand, looks good, and is appropriate for the content.
You could offer similar products and services by taking stock photography, adding a company logo, and selling them online. You'd just be doing what they already do, but at a lower cost.
The usual pay for a job like this will be between $5 and $20 depending on the size of the images you need to prepare. And the best thing is that it won't take too long to learn how to do this kind of work.
3. Blog Commenting
You can earn money by commenting on articles online. You just need to read the entire article before commenting. Make sure you understand what the author is saying before you leave your opinion. If you don't, then you will not get paid.
Positive comments and reviews mean more business. Sellers hire some buyers to write some good reviews about their product or service because when people read many positive comments and reviews, they will buy their products. You just have to post a positive comment or review on websites/blogs.
If you get orders from this gig subcategory, you just need to find websites that meet the requirements set by buyers and leave comments on their blogs with links to your buyer's domain (or domains).
You just need an internet connection and a computer. There are no special skills required.
4. Website, And App Testing
One way to make money on Fiverr without skills is to test websites and apps. Companies and developers are always looking to find people willing to test their newly created sites or applications, so if you can do this, you'll be able to make some extra cash in no time.
You can create a Gig offering this service to test out new websites or applications. Typically, you'll receive instructions on how to use the product before starting work. So, you won't need any special skills.
There are many different ways that you can use this type of service to earn extra income. As such, it's a great option for those who are looking to make money without investing any capital.
5. Language Translation
This is another one of the most common gigs available on Fiverr. People often want someone to translate texts into other languages. This involves translating written documents, emails, etc., which is why this is a very common gig.
Companies usually provide clients with a document that needs to be translated. You simply need to translate it using Google Translate and submit it back to the client. The payment depends on the quality of work provided.
If you offer this service, you can earn up to $50 per gig. All types of document translation, audio translation, etc. are possible.
6.Voice Overing
If you've got a talent for voice acting, why not turn it into a side hustle? Many businesses are now hiring voice actors to record audio clips for advertisements, presentations, and other types of content.
Voice over is one of the most common services offered on Fiverr. There are many buyers who hire voice actors to record scripts for them. Buyers pay anywhere between $5-$50 per script depending on how good the recording sounds.
Voice over is not only possible on a computer, but it can be done on most smartphones, tablets, and laptops. There are many inexpensive microphones available online that let you record sound from anywhere. No matter what device you have, you should try to find a quiet spot to record audio so that you can avoid getting distracted while recording.
Fiverr has become one of the most popular freelancing platforms out there. As such, it makes sense that many people would seek gigs on this website. You can easily make money by creating a Fiverr gig offering voiceovers in a certain accent. Many clients will be looking for a voiceover in their native tongue. They'll pay top dollar for this service.
Whether it is a script, monologue to even a customer service voiceover, If you have an accent that fits the bill, this gig is easy for you. By taking advantage of these opportunities, you can start making money today.
7. Beta Reading
Beta readers are those who test out new books before they are published. It is pretty much like writing a book review before the actual release of the book. They read the drafts of a novel and offer feedback so the author can make changes to ensure the book is ready for publication. As a freelancer, you could be paid to read a book and provide feedback to the writer.
The best part about beta reading is that you don't actually write the book. Instead, you just read it and give feedback to the author. This helps authors improve their writing style as well as the overall quality of their book.
You'd be required to read an author's book and provide feedback on it. You don't need any special skills, just be able to read and communicate effectively.
Freelance proofreading services are in high demand, so you can find plenty of work to keep busy with. You don't need special skills or training to provide these services – all you need is a keen eye for detail and a willingness to provide honest feedback.
READ ALSO:
8. Designing With Canva
Canva is an incredible tool for creating graphics quickly. Its greatest strength is that anyone can use this platform regardless of their experience level. With Canva, you don't have to be a graphic designer to make beautiful images. Anyone can easily create engaging graphics using this online service.
With Canva you can create professional looking images quickly and easily. Plus, there are plenty of pre-designed templates available to use when creating your own graphics. You don't need any design skills at all to make these images look amazing. Simply choose one of the pre-made templates and customize it to suit your needs.
In order to build trust on Fiverr, you should always include a clear description of what kind of work you can offer. Include details like how many revisions you'll provide, and so forth. Make sure to include all these details when listing your gigs on Fiverr.
As soon as you list this gig on Fiverr, you should include a note that you'll use Canva. You can expect to earn at least $5 for creating images using this tool. Your ability and expertise will determine how much money you can actually make.
9. Content Writing
Writing content is another great way to make money on Fiverr, especially if you're good at it. There are tons of different niches where you can get hired to write content.
If you're not even good at content writing, you can use AI assistant tools to help write unique, quality content for you. 
You might offer services like writing blog posts, newsletters and articles among others. For each piece, it costs anything from $5 to $100 (or more as you gain more skills).
Writing for Fiverr can be a great way to make a steady stream of income if you are able to consistently write high-quality content. You should also direct every thing that appears on your Gig Page towards providing value to your customers so they come back for more.
10. Data Entry
Data entry jobs are relatively easy to find on Fiverr. You'll need a computer, software like Microsoft Excel and Microsoft Word, and typing skills. These days there is so much information coming out of businesses and organizations that they have a big need to organize their data. They hire freelancers who can type up everything into databases and spreadsheets for them.
Data entry jobs aren't the most exciting gigs on Fiverr. However, they pay extremely well if you don't have experience doing so. Most clients will require you to input data into spreadsheets or some sort of software system they use but Microsoft Excel is usually sufficient knowledge to be able to complete this task.
You can stand out from others by taking some free online speed typing test and posting the results on the gig page.
Although It takes some time, but most of the tasks will be typing, copying and pasting stuff, and browsing the internet. It's also one the most popular Fiverr gigs. The pay range for a gig like this varies from $5 to $100 depending on the tasks you're asked to do.
11. Social Media Marketing or Managing
Social media marketing is an excellent way to make money on the side. If you've got a knack for social media management, then you could potentially make thousands of dollars per month with this gig.
Do you have a following on one or multiple platforms such as Facebook, Instagram, Twitter, LinkedIn, YouTube, Pinterest, etc.? If yes, then chances are likely someone would hire you to promote their business or brand on those platforms.
There are plenty of companies that want to advertise on social media, and many of them will pay you to promote their products or services. Some people may ask you to post about certain topics while other companies may just want you to share links of their website on your own social media profile.
Companies can also hire you to manage their social media profile. This includes managing their pages, scheduling posts, responding to comments, replying to messages, etc.
Providing this service does not need any specific skills or training; all that is required is familiarity with social media platforms and the ability to communicate effectively on them.
This is one of the most straightforward Fiverr jobs available, and you won't grow tired of it.
Providing this type of service doesn't require any special skill set. Your only requirement is familiarity with social media and communication skills. As a result, you can make up to $200 – $300 each month by creating posts and managing clients' social media pages.
12. Image Compression
Image compression is another great way to make money on Fiverr, The best part about image compression gigs is that you don't need any special skills in order to get started.
Today's cameras produce images that are large in size. Buyers, however need images that take less storage space to upload on their websites and require assistance in reducing the file size, which is where image compression comes in.
You can compress images within a few minutes by using the TinyPNG command. This free tool compresses image sizes without compromising image quality. 
You can make around $5-$20 per gig by providing this service.
13. Subtitling Videos
Subtitles are very important when watching videos. They help viewers understand what is being said in the video.
Subtitles and transcriptions are great side hustles because they provide passive income by allowing you to work remotely. They don't require a ton of skill and are perfect for those who enjoy watching videos  
As a subtitle writer, you watch a video and then write subtitles for it. Both services pay per project, which means that the more projects you complete, the more you earn.
If you know how to create subtitles, you can make money by offering your services to businesses who use videos. You can charge anywhere between $10-200 per gig.
14. Travel Planning
Traveling is one of those activities that most people enjoy at some point during their lives. If you've got experience planning trips and have a knack for finding interesting places to visit, why not try selling your expertise online? There are plenty of travelers out there who'd be willing to pay someone to give them tips. Put together a portfolio showcasing your work and start offering your services to clients.

As a travel planner, you'll be responsible for helping clients find accommodations, flights, tours, and activities, among other things.
You can make as much as $100 per gig working from home if you're good at researching and recommending options. And if you're able to build a reputation as an expert in your field, you could potentially charge much higher rates.
15. Video Testimonials
Video testimonials can be one of the highest paying gigs on Fiverr, especially when done right. They're usually used by companies looking to sell their products online. Companies will pay good money for someone to record a short video review of their product. So if you have access to a good camera, you could make serious cash by doing this gig.
Video testimonials are a fantastic way to promote your business. They provide a powerful medium for connecting with customers. However, there are some things you should keep in mind before filming your first video. First, make sure that you have a good background behind you. Second, ensure that you are comfortable speaking in front of the camera. Finally, remember to be professional when shooting your video.
Videos submitted to your clients will determine whether you become a popular seller on Fiverr's Testimonial platform. You can create hundreds of online testimonials for businesses and get paid up to $80 per gig.
Writing your own scripts is a sure way to make even MORE money. Also, consider recording your testimonials on full HD with a high-quality camera so that your clients will be impressed by the quality of your work. 
What Is The Easiest Job In Fiverr?
The easiest job on Fiverr is blog commenting. This is because it requires no special skills or training. All you need is a computer and Internet connection.
Conclusion
Fiverr has become a very popular platform for freelancers to earn extra income. By now, you've probably realized that making money on Fiverr isn't as hard as you thought it would be. If you want to start making money right away, then you should try starting with the easiest gigs first.
Thanks for Reading!