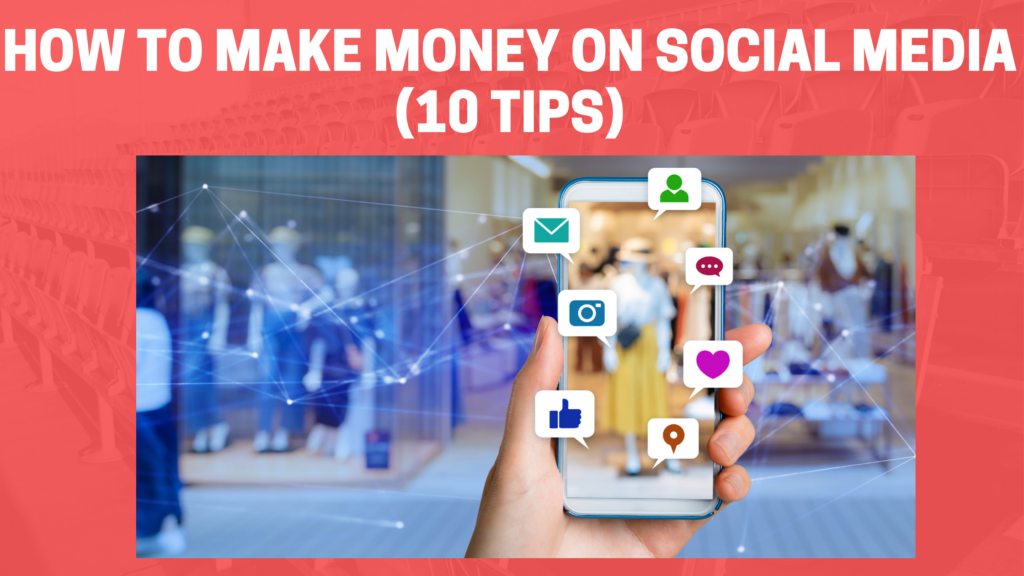 Social media has become a major source of income for millions of people around the globe. If you want to get started, these tips will show you how to make money from social media marketing.
The key to success is to create high quality content that engages your audience. This means creating content that is relevant to your target audience and sharing it across multiple platforms.
You can start earning money through social media without spending too much time or effort. In addition to posting regularly, you should also consider joining affiliate programs, advertising, and selling your own products.
Influencers are people who use social media to attract fans. They may appear to be regular people but they make money off their followers. Social media users follow them because they want to know more about the person.
People who make money off of social media are called influencers. This is a growing industry and experts predict it could be worth up to $7 billion years to come. You should start by getting to know your audience. Know who your target market is and what they want. Then, you can go about creating content that is relevant to them. Make sure you create high quality content that is interesting and valuable. This helps you get noticed by potential customers.
How to Make Money on Social Media (10 Tips)
Here are 10 tips for making money on social media:
1. Become An Influencer
A person who influences others by being knowledgeable about a certain subject can be called an influencer. Social media influencers are people who have created a reputation for themselves online.
Influencer Marketing is a growing trend in the world of digital marketing. As the market continues to grow, influencer marketing is becoming a popular method of gaining exposure. They are paid to post content about topics they know well. Brands are interested in paying influencers because they help create trends and get their followers to buy products that they recommend.
Influencers often make money by selling sponsored posts. This is when brands pay them to promote their products. They can also earn money by posting links to affiliate sites where they earn commissions on sales generated by those links.
2. Choose Your Niche
Before you choose a niche, think about what kind of information you would like to share. Would you rather talk about fashion, entertainment, health, or technology? These are just three examples of different niches.
If you're not sure which one to pick, then try writing about something you love. People will appreciate your enthusiasm and passion. It might take some trial and error before you find your perfect topic.
If you want to write about a specific subject, make sure you research it thoroughly. Find out what people are talking about online and see what interests them. Then, look for ways to add value by sharing new insights or offering advice.
3. Create Content That Is Valuable To Your Audience
When you write content, keep in mind that your readers are looking for answers to questions. If there isn't enough information available, they'll leave.
You don't need to provide all the details. Instead, focus on providing high-quality information that is easy to understand. Readers will thank you for this effort.
4. Be Consistent With Your Posts
People who consistently produce good content tend to attract more followers. Once you build a following, you can use it to promote yourself as an influencer.
The best way to grow your audience is by producing great content. If you want to become an influencer, you need to create content that people find valuable.
This requires research into what your target audience likes and dislikes. It also takes time to write compelling copy. So don't expect to start making money right away. Instead, focus on building up a following first. Then, when you feel ready, you can begin promoting your brand.
5. Use Hashtags
Hashtags are keywords that appear at the end of a tweet. When someone searches for these terms, tweets containing them pop up in search results.
Hashtagging allows people to find your brand and your products more easily by searching for specific topics. It also gives you a way to connect with others who share similar interests.
6. Join Affiliate Programs
Affiliate programs are a great way to earn extra money. These programs allow you to promote other companies products and services. There are many different types of affiliate programs so choose one that fits your niche.
Affiliate programs are a great source of income. They offer a variety of ways to make money including commissions, bonuses, freebies, and more. Some affiliates even give away free stuff to build up their list. Others offer discounts to customers. Whatever method you decide to use, you need to find a program that works well with you.
7. Sell Your Own Products/Services
Advertising your own products is another way to generate revenue from social media. You can sell anything from books to clothing to anything. The key is finding a product that has demand. 
8. Collaborate with Brands
Brands often partner with influencers to get their message across. This means that you could work with brands to help them reach their target market.
For example, if you have experience working with children, you may be able to collaborate with a company that sells toys. Or, if you're knowledgeable about fashion, you could work with a company that makes clothes.
9. Charge for Sponsored Posts
Companies and brands are ever more seeking social proof to market their products and services. You can provide this by creating sponsored content. This may include product reviews, promotions, etc. Always make sure to let your audience know you're providing paid content. Payments vary depending on your reach, niche, and if you include images, videos, or audio.
10. Be Consistent
Consistency is key to success on any platform, Whether you're an influencer, a blogger, a vlogger, a photographer, or any kind of online entrepreneur: if you want to succeed and grow your Followers, you need to be active on your various social media accounts. You need to be consistent in what content you post.
How Much Money Can You Make On Social Media?
The amount of money you can make depends on how much effort you put into it. Your earnings will vary depending on the number of followers and your engagement rates.
Conclusion
In conclusion, here are 10 ways to make money on social media. This includes things such as blogging, affiliate marketing, and charging for sponsored posts. All of these methods will help you earn money online. So, use these tips to make money on social networks.