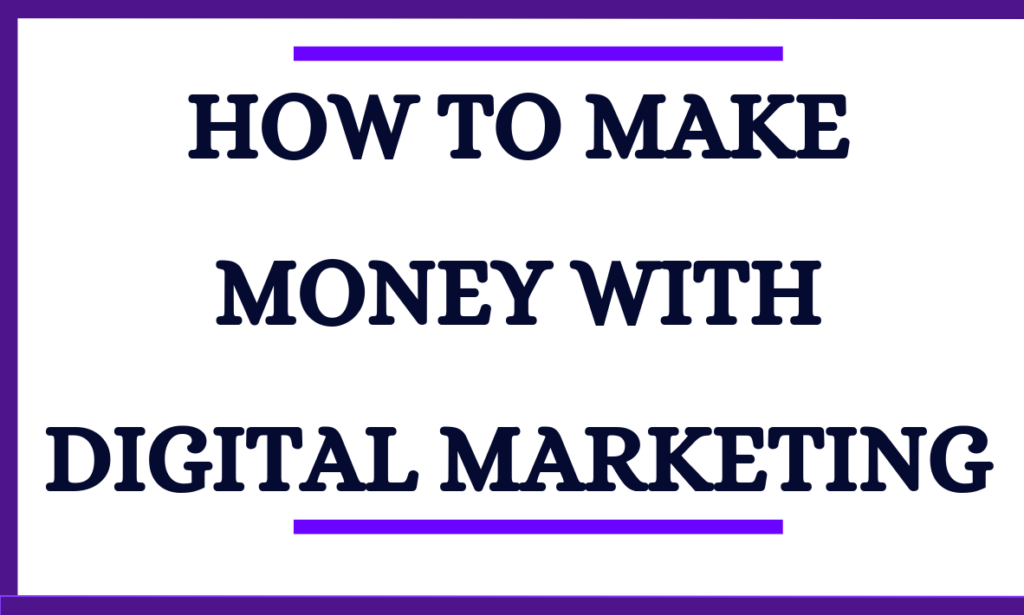 Are you looking for ways to make extra income online? Do you want to work from home and make money without a boss or having to follow the 9-5 schedule? This guide will give you all the information you need on how to make money with digital marketing.
What Is Digital Marketing?
Digital marketing is all about promoting a business online using internet based tools like social media networking sites, search engines, email marketing, mobile advertising, video sharing websites etc.
It's now possible to reach millions of people at one time when they are searching for products and services online with the help of these internet marketing tools. Most businesses have started making use of digital marketing as it helps them in reaching out to their potential customers easily and quickly.
Digital marketing helps companies to promote their products and services by creating awareness among the targeted audience, thus helping them generate more sales. It also helps in building loyalty among existing customers, thereby increasing repeat purchases.
12 Ways To Make Money With Digital Marketing 
Let's take a look at some of the best ways through which you can make money online with digital marketing:
1. Content Creation
Content writing is one of the most popular ways to earn money, even if you know little about digital marketing.
If you are an expert in something then why not create content that other people can benefit from? You can write articles, create tutorials, do product reviews, host webinars, etc.
There are many different types of content that you can create and share such as images, videos, podcasts, infographics, blogs, eBooks, etc.
People consume digital content everyday in more ways than you could ever imagine, so there is always going to be demand for your work. If you can produce high quality content that people enjoy reading or listening to, you should be able to get clients who would pay you for your efforts.
2. Affiliate Marketing
Affiliate marketing is another great way to make money online. There are several platforms that allow you to connect with advertisers and promote their products. When visitors click on the ads displayed on your site, affiliate programs will usually give you with a commission once the visitor completes the purchase.
To optimize your affiliate marketer campaign, you should look at offers that are relevant to the audience you're targeting. If your target audience consists of students, then it makes sense to promote books, writing instruments, and other stationery products. On the other hand, if your customers are parents, you might want to advertise diapers, baby food, and other similar products.
The best part about this method is that you don't really need any vast amount of experience or knowledge to get started. Just sign up for the program of choice and start promoting their products, and before you know it you'll be earning commissions from every successful sale.
3. Blogging
Blogging is another great way to earn money online. Many digital marketers see blogging as a way to build authority and trust within their niche. This is because blog posts often include valuable information and educational material.
You can blog about anything you want and make money doing it. Most bloggers choose to focus on specific niche topics like weight loss, makeup, health, cooking, parenting, finances, business, career, lifestyle, etc.
Blogging is becoming increasingly popular due to its simplicity and effectiveness. Many bloggers have been able to turn their passion into a profitable side hustle. You can set up a blog and earn money by selling your own products, paid guest posts, advertising, sponsored posts, etc. You just need to pick a niche that interests you and provides enough value to others for you to be successful.
4. Social Media Manager
Social media managers are individuals hired to manage social media accounts for businesses. These individuals monitor all activity related to a brand's presence on various social media platforms. They schedule social media posts, reply to followers, run ads, and respond to customer service inquiries.
As the popularity of social media continues to grow, companies are hiring Social media managers to help them maintain a strong community engagement.
A social media manager serves a critical role for any business looking to thrive online, particularly when it comes to engaging potential customers. The job duties vary depending on which platform you decide to specialize in, but many social media managers work closely with content creators and designers to ensure that each post is well-written, visually appealing, and most importantly – engaging.
If you can adopt different marketing techniques to increase the brand's presence online, consider becoming a social media manager. The job can be done remotely and the pay is good and it can provide an additional income stream for you..
5. SEO Expert
Search engine optimization (SEO) involves improving the visibility of websites on search engines like Google and Bing. It includes optimizing website content, HTML code, site architecture, and more to improve how sites appear in search results.
There are many ways to approach SEO, including backlink building, off-page SEO, on-page SEO, content creation, and more. As a SEO expert, you will be responsible for coming up with strategies to help clients rank higher in search results, drive traffic, and convert those visitors into sales.
If you are an expert at SEO, you could charge anywhere between $500-$2000 per month. Your expertise will likely determine your rate.
6. Selling Online Courses
Online courses are one of the best ways to create passive income, if done correctly. There's no shortage of people who want to learn something new from you – whether you're teaching mathematics or computer programming, there's a market for what you know.
If you think you are really good at creating content and have the ability to share your knowledge and skills in the simplest way, then you should definitely create a course.
Make your course convenient and accessible for everyone so that they would love to enroll. Provide lifetime access to students and give them support through email or other forms of communication. This way, you will not only build a great relationship with your future students, but also make sure they get maximum value out of their investment. 
You can sell your course through digital platforms such as Udemy, Teachable and Skillshare, among others. With these platforms, you don't need to worry about setting up your own learning management system because they take care of everything for you. You simply need to upload your lectures and set your pricing.
7. Web Designer/Developer
Web design is another lucrative freelance career option thanks to the growing demand for custom web development services.
The main responsibilities of a web designer include creating attractive designs for websites, making sure the overall user experience is top notch, and ensuring that all technical requirements are met.
If you have a knack for web designing, then this might be the perfect side hustle for you. Websites are always needed nowadays, and having a designer helps businesses establish themselves online. 
 By offering your service as a freelancer, you can work as much or as little as you want depending on your availability and the workload. You can find clients locally or online and start making money immediately.
READ ALSO:
8. PPC Expert
Pay Per Click (PPC) advertising works by paying each time someone clicks on your ad. The amount you pay depends on various factors, such as where your ads appear, the type of device used to click on your ads, etc.
As a PPC expert, you will be involved in managing campaigns, analyzing data, and devising creative solutions to increase conversions.
Businesses use PPC to promote their products and services and generate leads. It is a very efficient marketing tool that allows companies to target specific audiences, especially when it comes to small businesses.
As a PPC expert, you can earn a steady stream of extra cash every month. However, it takes a lot of effort and time to generate consistent revenue. You'll need to invest in tools and equipment, develop your skill set, and do extensive research before getting started. But once you've learned how to maximize your potential, you can enjoy financial freedom sooner than you'd expect.
9. Graphic Design
Graphic designers are responsible for coming up with visual concepts that convey ideas to people effectively. They may specialize in logos, posters, brochures, book covers, magazines, business cards, and more.
Graphic designers must know how to choose colors, fonts, layouts, and images that appeal to different types of customers and markets. They should also be able to create original artwork and illustrations, which are essential skills for any graphic designer.
If you are very good at designing graphics, you could make a decent living out of it if you work hard enough. There are many ways to go about making money with graphic design, you can choose between any of these three categories: selling your own work, working for an agency, or doing freelance projects.
10. Digital Marketing Consultant
Digital marketing consultants help businesses build effective digital marketing strategies. These experts usually provide training and consulting services to small and medium-sized businesses.
To become a successful digital marketing consultant, you need to gain knowledge about the latest trends in the industry. In addition, you should possess strong communication skills and be well organized.
Digital marketing consultants can be involved in almost anything related to online marketing. They can work on paid advertising, social media marketing, SEO, affiliate marketing, and more. They may work directly with clients, manage teams, coordinate advertising strategies, develop new ideas, and implement those plans. Whatever their role, they should have experience working in the field.
Digital marketing consulting is a smart way to monetize your skills. When you have the knowledge necessary to advise others, you can offer consultation services at a fee, or you can sell your expertise as a service. Either way, you can earn additional income by helping other people succeed in the world of online marketing.
11. Lead Generation
Lead generation is the process of generating new sales leads from the market. This involves using multiple channels like email, phone calls, social media, etc., to connect with prospective buyers.
Lead generation is one of the most important skills when it comes to earning money through digital marketing. If you don't generate leads, there won't be anyone to sell anything to. Without leads, there can never be sales.
Lead generation is one of the most effective ways to generate new customers for your business or provide a service to others. In order to generate quality leads, you must first understand what type of person is likely to be interested in your product or service. There are many different types of leads available depending on what type of product or service you offer.
You can use this lead generation skill to start your own online business, get hired by other businesses, or even find clients who want to hire you as a freelancer. By mastering lead generation, you will have no problem finding clients or customers for businesses.
12. Email Marketing
Email marketing is a powerful tool because it provides businesses with the ability to communicate directly with their customers. It's also cost-effective and highly targeted.
Email marketing is one of the most powerful forms of digital marketing. It can be used by businesses of all sizes and industries. Today, more than half of small businesses use email marketing to promote their business and attract new clients. Email marketing is a cost effective method of promoting businesses and reaching out to prospects.
If you're looking to make money through email marketing, then you'll need to know how to create an attractive newsletter that will draw readers into opening your emails. You'll also need to learn how to build a list of subscribers so that you can send them regular messages, and how to measure the success of your campaigns.
With the right tools and techniques, you can easily automate the entire process of creating and sending newsletters. Once you've mastered these skills, you can begin to make money by helping businesses grow their customer base and increase revenue.
Why Should You Start Making Money Online?
You may be wondering why should you start making money online instead of working a regular job. Well, there are many reasons why you should consider this option. Here are some of those:
1. Work From Home
Working from home can be very relaxing and convenient . You do not have to worry about traffic jams, commuting time,, dress code, etc. The only thing that you need to keep in mind is your computer and an internet connection.
2. Flexible Schedule
Since you decide what days and times you work, you can choose to work whenever you feel most productive. Many people love working flexible hours because it gives them more free time. They can spend time doing other things such as taking care of their family, exercising, reading books, watching movies, playing games, etc.
This is probably the biggest benefit of working online. When you work online, you get control over your own time. This means that you set your own schedule according to your preferences and needs.
3. No Boss
One of the best aspects of working online is that you don't have to answer to anyone else. You are your own boss and you determine your own salary. There is no boss staring at you every day and telling you what to do. This gives you complete freedom and flexibility.
4. Unlimited Earning Potential
If you are willing to put in the hard work and dedication, then you can earn unlimited amounts of money online. All you need to do is find a way to market yourself and build trust among your target audience.
There are so many different types of jobs available online ranging from blogging, freelancing, data entry jobs, affiliate marketing, selling ebooks, designing websites, etc.
You're responsible for your own income. It means no more salary, and it also means your income is not limited by a corporate structure or dictated by someone else.
The sky really is the limit when it comes to earning online. If you know where to look and which opportunities to take advantage of, you can achieve financial independence in just a few years.
5. Endless Opportunities
With the internet, there are endless possibilities for earning a living online. In fact, many people make full-time incomes online without even leaving their homes.
FAQ
Is Digital Marketing A Good Career?
Yes, digital marketing is a great career choice. However, if you want to succeed in this field, you must first learn how to master the basics and become familiar with all the latest trends.
Is Digital Marketing A High Income Skill?
Yes, digital marketers can expect to earn anywhere between $40,000 to $97,000 per year depending on their experience level and expertise. If you are looking to earn a high income, then you will need to invest in yourself through education and training to increase your skillset.
How Do People Make Money In Digital Marketing?
Digital marketers can make money through various methods including SEO (search engine optimization), Affiliate Marketing, Social Media Marketing, Email Marketing, Content Creation, Blogging, etc. With these skills, they can easily start making money today.
Can I Earn Money From Digital Marketing?
Yes, you can earn money from digital marketing. However, you will need to invest some amount of time and effort before you start making any significant earnings, but once you do, you will be able to generate an income stream that will allow you to live comfortably.
Conclusion
When it comes to choosing a career path, you should always consider your interests and passions. If you love something, then you will never feel like you are doing a job. Instead, you will enjoy what you are doing and eventually, you will end up loving your profession.
That being said, if you are passionate about digital marketing, then you should definitely consider becoming a digital marketer. The good thing about this type of career is that you can choose to work at home, and you don't have to worry about commuting because you can work whenever you want.
By learning how to master the basics of digital marketing, you will be well prepared to enter this lucrative industry. Once you get started, you will see that it's much easier than you thought. You may even find that you actually enjoy working as a digital marketer.