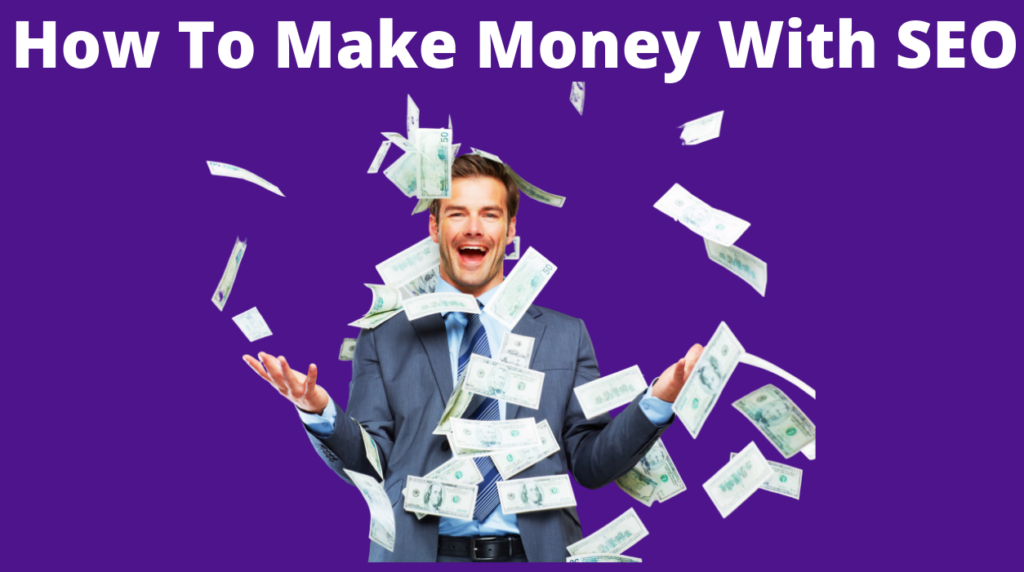 SEO is a very important part of any website. It is the most effective way to get your website ranked on Google, Yahoo and Bing. If you want to make money with SEO then this article will teach you how to do it.
Search engine optimization is one of the most important parts of modern digital marketing. It's a great skill to learn for anyone who wants to make money online.
SEO can be a great way for people to make money online. If you already have the right skills, you can start ranking your website and making money,
It depends entirely on your skills, abilities, and ability to scale. The short answer is that SEO can make a good living for someone who has the right skills and experience.
How Long Does It Take To Learn SEO?
SEO takes time to learn, however, once mastered it can be applied to any website, regardless of niche. The best way to learn SEO is to read articles from experts, watch tutorials online, and practice on your own website. Once you're comfortable with basic concepts, you should be able to build out an effective SEO campaign for your site.
10 Ways To Make Money With SEO
If you're an expert at Search Engine Optimization (SEO), then you can easily make money from your blog by ranking highly in search engines.
You need to find a niche where there is a lot of traffic but it is not too competitive. With solid SEO experience, you'll be able to quickly rank your new site in search engines.
If you want to build a successful blog site, then you need to focus on SEO. You can earn a passive income by just writing about things that interest you.
2. Create An Ecommerce Store
An e-commerce store can also be a good source of revenue when combined with SEO. It's a good idea to start a niche website and rank it well in search engines.
Then, use your site to sell products that you bought at wholesale prices. E-commerce is more competitive than SEO, but the profits can be quite rewarding if you build things the right way.
If you want to make money online selling products, then you need to find a product that has high demand. If you can find something people want, you can set up a website where you sell them. All you have to do is figure out how to get traffic to your site and how to convert your visitors into buyers.
You can choose whether to sell physical products or online digital products. There are no limits to how much you can make from SEO when running an eCommerce store.
3. Offer SEO Consulting Services
Another way to make money with SEO is by offering consulting services. As an SEO consultant, you might help small businesses optimize their sites for search engines if they are interested in ranking higher on Google, Yahoo!, and Bing search results pages (SERPs).
With SEO consulting services you can help clients increase their website traffic and boost their sales.
SEO Consulting is a great career choice if you enjoy working with clients and helping them succeed online. Depending on your experience level and skillset, you could expect to earn anywhere from $70K to $100K annually.
4. Affiliate Marketing
Affiliate marketers promote other people's products by earning commissions when someone buys a product after clicking on one of their affiliate links. The commission rates depend on what kind of product you're promoting. There is no limit to how many affiliates there could be in a single website. The earnings potential is unlimited! 
Researching products before you promote them is essential. Your goal should be to find products that have enough demand so that you can make money by promoting them. Some products may not be popular enough to generate significant revenue from affiliate marketing alone. However, if you find a product that has enough demand, you'll be able to earn a good amount of money by making affiliate sales.
The best part about this type of business model is that you don't even need to own any inventory. What you need is a website where you can place affiliate links to products. Then, once someone clicks on those links, you will get paid a percentage of whatever sale happens as an affiliate reward.
5. Get An SEO Job At An Agency Or Company
An alternative option is to work for a company that offers Search Engine Optimization services. You can either work directly for the agency itself or for one of its client companies. This is another way to earn passive income.
Working in an SEO agency offers many benefits, especially if you're looking to expand your knowledge and experience in SEO. You'll gain valuable technical skills, while also gaining exposure to the management side of the industry through your job.
READ ALSO:
6. Sell SEO Services On Fiverr
Fiverr is a website where freelancers offer different types of services at very affordable prices. If you are an expert in SEO, you can start your service on Fiverr by creating SEO packages that include everything you think would be helpful for your clients.
Selling SEO services on Fiverr is another great way to make extra cash. When you become more experienced in the SEO field, you can charge more for your services.
You can offer services like:
Keyword research & analysis
Onsite optimization
Backlink building
In-depth site audits
Outreach for social media
Technical optimization
By starting out on Fiverr, you can build additional income without having to spend much time and effort, but you will need to invest some time and energy in order to achieve success on Fiverr.
7. Create And Sell SEO Courses
If you want to create an online course, then it may be a viable option. People who love being taught new things often pay good money to learn something new. And if you can teach them well, they may recommend your courses to others.
Another way to make money online is to offer your own SEO training course. You can sell these courses via your own website or marketplaces, such as Udemy.com.
By teaching people with your expertise, you can easily earn hundreds of thousands of dollars per year selling your SEO courses, especially if you focus on high ticket items.
8. Set Up A Blog And Make Money From Ads Network
A blog is a great way to earn money online because it allows you to reach millions of potential customers every day. 
If you have good SEO skills you can easily make money from a monetized blog. Once your blog has enough traffic, you can join an ad network like Adsense, Ezoic, Mediavine or AdThrive and earn money for each visitor that lands on your site.
Monetizing a website with paid ads is one the most passive ways to make money online because you're earning money on the volume of visitors and clicks on your blog.
9. Sell SEO Copywriting Services
If you are an excellent writer, then you can use your talent to write content for websites. Some websites hire professional SEO writers to write and optimize their articles to rank higher in search engines.
Selling SEO copywriting services is a great option for anyone looking to make money online. Your ability to write SEO-friendly content isn't limited by location. In fact, there's a huge demand for SEO writers because nearly every website needs a steady flow of fresh content.
10. Become a Keyword Planner
Another way to make extra cash with SEO is to start up your own business as a freelance keyword planner. Clients hire planners for performing keyword research. This saves the client time because they don't have to perform the research themselves.
You can make money doing this work once you've developed strong knowledge in keyword research and planning. However, you'll need to find clients first. It can take time to develop a reputation for yourself in this industry.
You can use tools like Ahrefs, Moz, Semrush, SpyFu, SEMRush, etc. to help you do keyword research. These tools allow you to do keyword research like a pro. They also provide information about keyword difficulty, monthly searches, keyword trends, and more.
READ ALSO:  10 Best Way To Get Traffic To Any Affiliate Link
FAQ
Why Is SEO A Great Way To Make Money Online?
The fact is that if you are willing to put in the time and effort required to rank well on search engines like Google, Yahoo!, and Bing, you can make a lot of money.
You don't need millions of visitors per month to make money with SEO. People who earn thousands or even tens of thousands of dollars per month through SEO, are doing so by focusing on niche markets with high growth potential.
If you target an area where there is not much competition, you have a better chance at getting more traffic to your site. This means more sales and higher profits.
There are many different ways to make money online. Some of those include creating an eCommerce store, building a popular blog, selling digital products, selling services, and so on. But before you can start making money with any of those strategies, you first need to build traffic. And one of the best ways to generate traffic is through Search Engine Optimization (SEO).
How Much Can SEO Earn You?
SEO is an industry that pays well, especially if you're already working full time. Many SEOs earn around $100k per year, but salaries vary widely depending on your skill level. If you're just getting started, expect to make less than $50k annually. However, if you have several years of experience under your belt, you could easily make upwards of $150k per year. Even if you're not an expert at SEO, there are still plenty of opportunities to make decent money. You'll need to put in long hours, but the payoffs will be great.
If you use SEO to rank your own websites or to get clients who pay you high fees for your SEO work, then SEO can make you rich. To become rich with SEO, you must earn organic search traffic at the lowest cost.
Will SEO Exist In 5 Years?
Yes. There's no doubt that in five years, SEO will be even more important than it is today. Search engines themselves are evolving faster than ever before. They're innovating constantly, and as they evolve, their algorithms change.
Yes, search engine optimization is still relevant today, and it will be for at least another 5 years. Search engines like Google always change their algorithms to keep up with the intent of the users. 
The goal of search engines is to provide the most relevant results for each user query, and SEO is how they accomplish this. SEO changes every day, because search engines are always trying to improve. 
Is SEO A Good Side Hustle?
Yes, SEO is a great side hustle. If you want to build a business around something related to internet marketing, then SEO is a great way to do it.
The key idea behind SEO is to increase traffic to your website from search engines such as Google, Bing, Yahoo!, and others. When visitors come to your site through organic searches, they tend to stay longer and visit other pages on your site. This means that you're able to sell them on your products or services.
Conclusion
These are just 10 ideas for how you can make money online with SEO. There are many other options available, so I hope that you found at least one idea that resonated with you.
What do you think? Have you made any money with SEO? What was your best strategy?