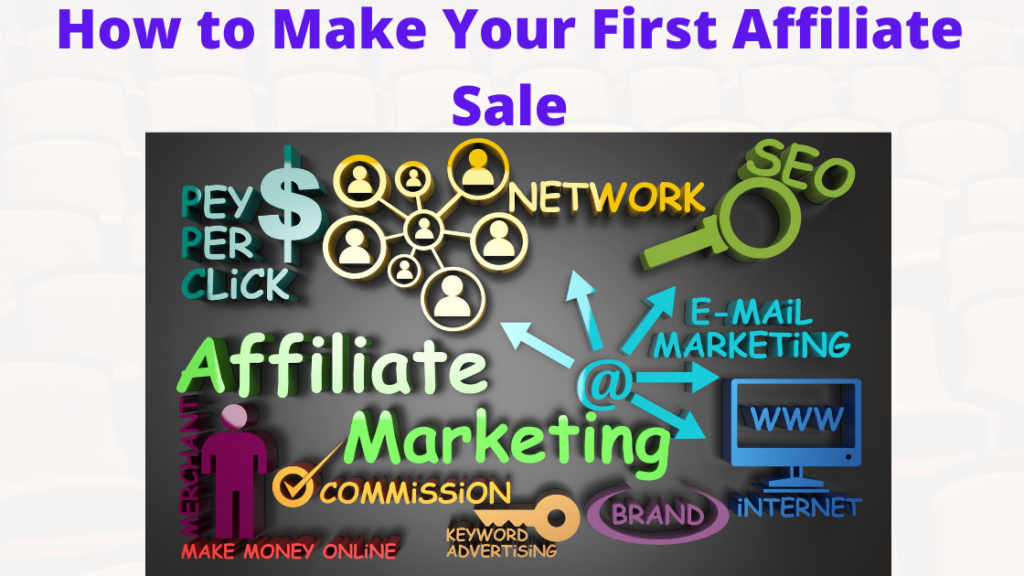 If you are new in the world of internet marketing, then this post is for you. If you have been working on affiliate programs for a while now and want to know how to make your first affiliate sale, then this post is also for you.
How would you like to earn $1,000 or even $10,000 from home without having to lift a finger? If you're looking for ways to make money online, affiliate marketing is one of the easiest options out there. In this post, I'll show you exactly how to get started. 
What Is Affiliate Marketing?
Affiliate marketing is a type of performance-based marketing in which a business rewards one or more affiliates for each visitor or customer brought by that affiliate's own marketing efforts.
When you recommend a product and someone buys that product through your link, then the company you recommend will pay your commission. The amount of money you earn will depend on the sales volume and how much they are paying their affiliates to promote.
Affiliate marketing has become extremely lucrative over the years because it allows you to earn commissions by simply referring people to a product or service that they might be interested in buying. For example, let's say that you run an eCommerce site that sells men's clothing. You can sign up as an affiliate with different manufacturers and promote their clothing line on your website. Once someone clicks through to purchase something from these affiliates, the company will pay you commission for bringing them business.
You don't need to worry about high startup fees when joining an affiliate program. If done right, this performance-based business can become a profitable online business idea by generating a steady stream of income for you.
How Does Affiliate Marketing Work?
Affiliate marketing involves recommending a product or service on a blog, social media sites, podcast, or website and earning a commission for every time someone makes a purchase through the unique link associated with your recommendation.
There are many different companies who offer affiliate programs and most often than not, the process is very straightforward. All you need to do is create a free account, apply for an affiliate program and then promote products within those specific networks.
Once you've got some experience under your belt, become an affiliate marketer expert yourself and start creating your own content and promoting other people's products and services.
How Do Affiliate Marketers Get Paid?
The affiliate may get paid in various ways:
1. Pay Per Sale
This is the standard affiliate marketing system. In this program, an affiliate marketer gets paid when someone buys a product or service via their links. In other words, you need to make sure your referrals buy something before you can be paid.
2. Pay Per Lead
Pay-per-lead affiliate marketing programs compensate affiliates based on the conversion of sales leads. Affiliates must persuade consumers to visit merchants' websites and complete the desired action (e.g., fill out a contact form, sign up for a trial of products, subscribe to a newsletter, download software or files).
3. Pay Per Click
Pay per click programs focus on incentivizing affiliates to direct traffic from their marketing platforms to the merchant's website by paying them for each visitor they send there. This means that the affiliate must convince the consumer to visit the merchant's site. If he or she does so, then the affiliate gets paid. Then the affiliate is paid for every new visitor he brings to the site.
4. Pay Per Install
Pay-per-install is another method used by advertisers to track how effective their marketing campaigns are. The advertiser pays an affiliate when users install an app or software onto their devices. It's similar to getting paid when customers buy a product but instead of being paid for each sale, affiliates are rewarded for every person who downloads the app or software. 
READ ALSO:
How to Make Your First Affiliate Sale: A Step-By-Step Guide
Step 1: Decide On A Product To Promote
To succeed as an affiliate marketer, it's important to choose products that have good demand. By choosing the right product, you can increase the chances of converting visitors into buyers.
You also want to select a niche that has a lot of potential to grow. Choosing a niche that has low competition ensures that you won't face too much difficulty selling your affiliate product. That way, you know which items are going to sell well without having to invest a ton of money in advertising.
Step 2: Choose an Affiliate Program
Affiliate marketing is probably one of the easiest online businesses to set up if you already have a website. However, you will need to find an affiliate program first, choose an affiliate program where you can earn money by promoting their products. You can find those programs everywhere online. Just search "Affiliate Programs" in Google.
Here are some examples of popular affiliate programs where you can promote any product including digital products like ebooks or software etc.
Amazon Associates – Amazon is one of the most successful affiliate programs and you can make good money from them. It has wide range of categories and products so you can easily pick up something related to your niche.
ShareASale – Shareasale is another affiliate program which offers high commissions and they pay monthly. 
ClickBank – ClickBank is a very famous affiliate network which pays its affiliates as soon as they get approved. As a matter of fact, they have many different niches and products.
If your goal is to earn more money, consider joining an affiliate program with high commissions. In general, the bigger commission programs pay better than smaller ones.
Step 3: Build An Email List
The next step is to create an email list. Building an email list takes time. But once you start building this list, you will see a steady stream of sales coming in over time. And the best part about emails is that they are free. So you don't even need to spend anything to build your list.
Start by creating a free account at a popular email service provider such as MailChimp, Moosend, Mailerlite or AWeber. Once you have created an account, you should start collecting emails. Once you have collected enough emails, you can move on to the next step.
Step 4: Create Content About The Product
This is the point where things really start to get interesting. Now that you have an email list, you need to figure out what kind of content works best for your audience. 
In order to be able to convert these people into customers, you need to provide value. Value means providing information that solves problems. If you're helping people solve problems, you will eventually get leads to offer solutions to. This is why it's important to collect emails.
When people subscribe to your list, you'll have all their contact information. You can then send a series of emails to your subscribers to help educate them about the benefits of using the product and why they should buy it.
Step 5: Try Offering A Bonus
Offering bonuses is a great way to drive more sales. But before you can offer bonuses, you have to have people who are interested in buying your product.
Let's say that you want to promote a digital product like an ebook, an online course or a software where people can download it and install it on their devices. Your first step should be to create content explaining the benefits of using this product. Explain why buying this product would solve the problems that people have in their lives.
Once you've done this, you can propose a bonus in which people will get instant access to your product if they purchase the main one (your main product).
Step 6:  Stay Current With Trends
There is serious competition in the Affiliate Marketing Sphere. You'll want to stay on top of any recent trends to ensure you remain in the game.
In addition, you'll likely be capable of benefit from at least a couple of the brand-new advertising tactics that are constantly being developed. Make certain you're staying current on all these fresh approaches to guarantee that your conversion prices, and therefore income, will be as great as possible.
Step 7: Utilize Social Media
You may not realize it but social media has become a very powerful tool when it comes to affiliate marketing. There are many different platforms available, including Twitter, Instagram, LinkedIn, Pinterest and others. Each platform offers unique features that allow you to reach a wide range of potential customers.
Social media is also a great place to find other affiliates. It's a good idea to join groups with similar interests so you can share ideas, learn new tricks and also find potential customers.
Step 8: Get Paid!
The final step is getting paid for your efforts. When you start making money, you'll know that you've made it in business. And remember, there's no such thing as quitting too soon.
Patience is key when starting out. The process takes time but once you see results, you'll be motivated to keep going. So don't give up too early. Instead, continue building relationships and finding ways to improve yourself.
Affiliate marketing is one of the easiest businesses to build and run. All you need is a little bit of knowledge and some dedication. By following these steps, you'll be off to a great start.