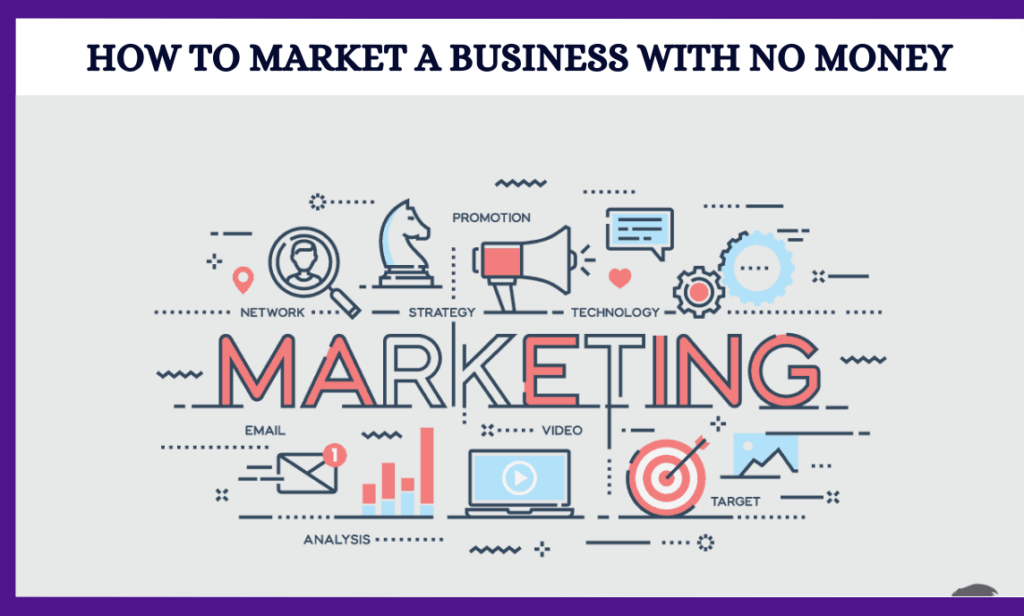 Are you struggling to market a business because you don't have any money? Well, here's some good news! There are plenty of ways available to help you market your business without paying.
Marketing is expensive, it can cost thousands of dollars per month and even more if you want to hire someone to do the job for you. But what if there was a way that you could get started marketing your business with no money at all?
I know what you might be thinking… "how on earth am I going to start marketing my business with no money?!"
Well, I'm glad you asked me that question. Because this article will show you how to market a business with no money.
If you're looking for an easy way to start marketing your business then look no further than this article. It contains everything you need to know about starting out with zero budget.
So let's get started, shall we?
What Is Marketing?
Marketing is the process of getting people to notice your brand or product, so they buy from you.
The main aim of marketing is to increase sales and profits by increasing awareness of your brand, products, or service.
Marketing helps businesses to grow their customer base, which in turn increases revenue, profit, and ultimately success.
With the right marketing strategies, you can easily reach new customers and make them aware of your brand.
10 Ways To Start Marketing Your Business Without Any Budget
Marketing is one of the most important aspects of running a successful business. If you want to succeed as a small business owner, you must learn how to market your business effectively.
But before you can start marketing your business, you first need to understand what marketing is. So let's take a closer look at 10 different ways to start marketing your business without spending any money.
1. Use Social Media
Social media has become one of the most powerful tools used by marketers today.
It allows you to connect with potential clients and build relationships with them.
You can use social media platforms such as Facebook, Instagram, Twitter, LinkedIn, etc.
These platforms allow you to create content that is relevant to your target audience, share information about your company, and interact with other users.
You can use social media to promote your business, generate leads, and engage with your current and prospective customers without having to spend any money. You just need to invest time into growing your social media accounts/pages to attract followers.
2. Build An Email List
Email lists are another great tool that you can use to market your business.
They allow you to send promotional emails directly to your contacts, which gives you the opportunity to communicate with your customers.
This means you can stay connected with your customers, keep them up-to-date with your latest offers, and encourage them to purchase your products or services.
Email marketing is a great way to build trust and rapport with your customers, but it does require some investment of time and effort.
3. Partner with Other Businesses
Another effective way to market your business is to partner with other companies that have similar goals and objectives. By partnering with other businesses, you can enjoy the benefits of both parties working together towards achieving common goals.
Partnering with other companies will not only contribute to the growth of your business, but it will also give you a chance to cross-promote your products. 
The more partnerships you form, the more opportunities you will have for exposure and promotion.
4. Offer Freebies
Freebies are great because it gives people something without having to pay anything. They're also effective in building brand awareness, increasing traffic to your website, and increasing sales.
When offering freebies, you should be careful in choosing what kind of offer you choose. Make sure you pick an offer that matches your brand and product line.
Freebies are a great way to get people interested in your business. They help you to stand out from your competitors and attract attention.
People love free stuff, so if you offer something valuable to your customers, they are likely to be happy to buy from you.
Offering freebies to your customers can increase sales and improve your reputation. It shows that you care about your clients. When you offer freebies, you should make sure that you provide value rather than simply giving away things for nothing.
5. Start A Blog To Promote Your Business
Blogging has become one of the most popular ways to market a business today. People like reading blogs because they contain useful tips and strategies that may help them achieve their goals.
Blogging is an excellent way to build awareness about your company and reach out to prospective clients. It allows you to connect with people online and create relationships with potential clients, providing you with exposure to a wider audience.
But remember that one of the main keys of blogging is to update your blog regularly. If you don't write regularly, your blog becomes stagnant and loses value. So make sure that each post you add provides visitors with useful information. Also, make sure that every post you publish tells your brand story and answers questions potential customers might have.
READ ALSO:
6. Claim Free Ad Promo Credits
You can use free ad credits to promote your business to increase your brand awareness and boost sales.
You can claim free ad promo credits by signing up for advertising programs offered by these ad networks.
Once you sign up for these programs, you'll receive ad credits in return for promoting certain ads. You can then use these ad credits to promote your own website. This is a great way to drive traffic to your site and increase sales.
Ads campaigns can be expensive. However, if you do some research, you might be able to get free ad promo credits for your campaign, allowing you to promote your business at no cost.
7. Set Up A Customer Referral/Affiliate Program
If you want to generate new leads and grow your customer base, you need to establish referral programs.
A customer referral program works on the principle that when someone refers his or her friends to your service or product, you reward him or her.
Offering existing clients a free product, a discount on their next purchase, or some other reward is an excellent way to get them to refer new customers. 
This is a great way to encourage referrals from existing customers and gain new ones. By rewarding customers who refer others to your business, you will be creating loyal customers who will keep coming back for more.
8. Do Local SEO
Local search engine optimization is becoming increasingly important as more people look for local businesses online.
Google's algorithm is great because it serves up the most accurate, quality, and relevant content for every single keyword you type into the search bar. But there's still room for improvement, especially for local searches. In fact, Google says nearly half of searchers use local queries. So what does that mean for you? Well, if you want to rank well for local searches, you need to do a few things.
Make sure your site meets Google's guidelines for local listings.
Start building out your citations.
Create a local map listing.
Optimize your address and phone number fields.
Include your physical address on your website.
Get listed in online directories.
Be patient.
By doing some local SEO, you are giving yourself a competitive advantage over your competitors. When you optimize your website for local search, you'll start ranking higher for local keywords. And once you do, you'll see increased conversions, which means more sales.
9. Write For Local Publications
One of the best ways to start getting some exposure for your new business is to write to local publications requesting them to feature your business since you are a local person.
Writing for local publications is a smart move because they have a large reach, so you can expect to get a lot of attention. It also gives you a chance to share more about your products and services with potential customers.
The best thing about writing for local publications is that you don't have to pay anything upfront. All you need to do is submit articles and wait for them to publish. Once published, your business will receive free publicity.
10. Get Added to Internet Directories
There are several internet directories where you can list your business. Some examples include:
Yelp
Manta
Google My Business
etc.
These directories help you increase your visibility by helping people find your business. You simply add your information and then wait for people to discover you.
Conclusion
If you follow all these tips, you will definitely succeed in marketing your business without money, but it takes time and dedication. The good news is that when you market your business successfully, you will not only earn more money, but you will also enjoy doing it.