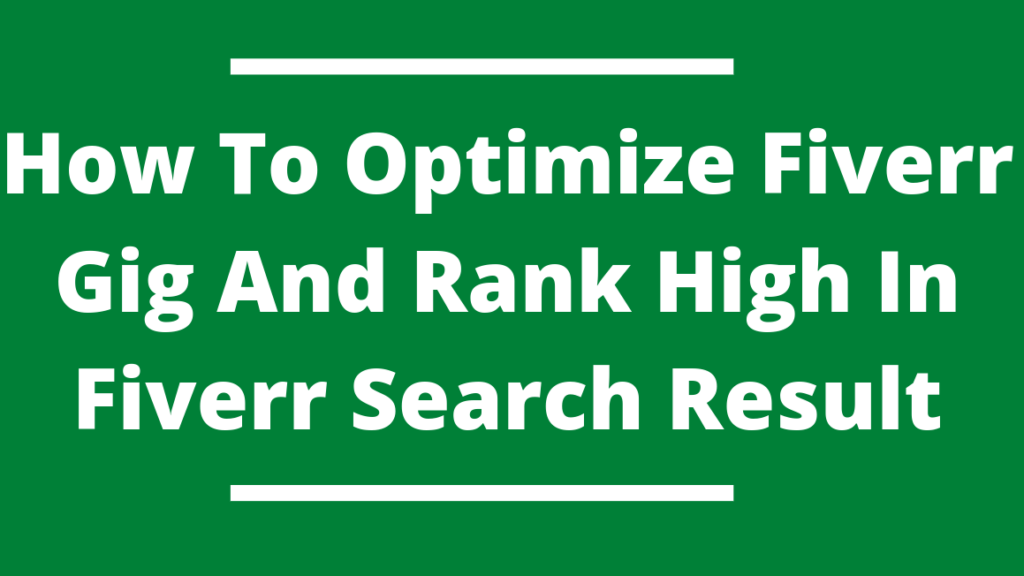 In this post, I'm going through the process of explaining how you can optimize your fiverr gig for Fiverr SEO in order to rank high and get more sales.
This is a very important step that most people miss out on when it comes to optimizing their gigs for Fiverr SEO.
And as we all know, getting your Gig ranked first on Fiverr is extremely hard. So let's dive right into it!
How To Optimize Fiverr Gig And Rank High In Fiverr Search Result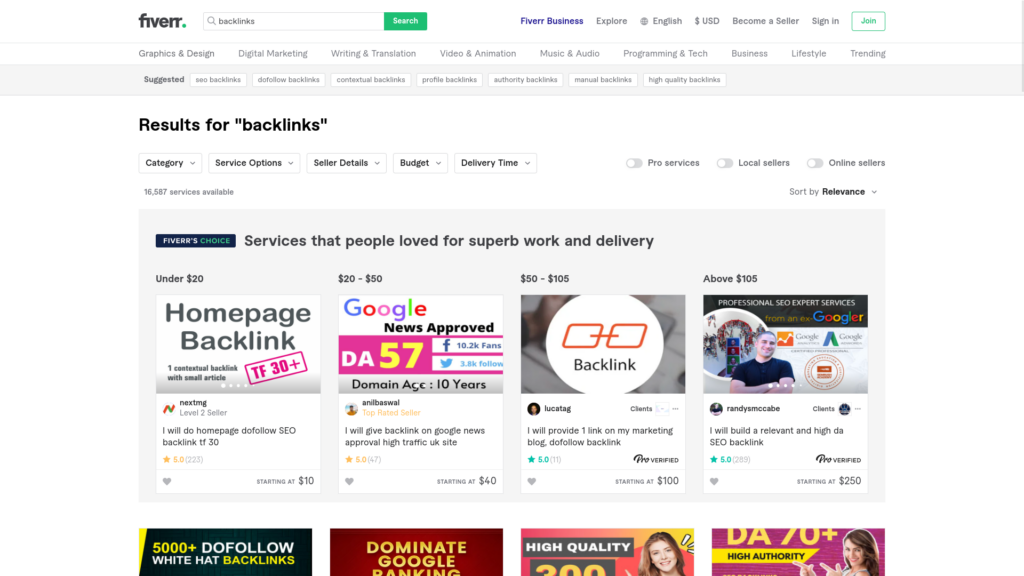 1. Have A Buyer Friendly Title
The title of your gig should be something that will make the buyer want to click on it.
If your title doesn't have any keywords or phrases in them then it won't help with your Fiverr SEO at all.
So if you're looking to optimize your gig for Fiverr SEO, then you need to write a title that has some keyword phrases in it, it should be related to what you are offering.
A gig title should be short, descriptive text that allows customers to easily identify your services. It should be concise, yet informative enough to attract potential clients.
2. Add Keywords In Your Gig Description
In order to make sure that your gig description gets noticed and helps you rank higher on Fiverr, you need to optimize it. 
Your description is where buyers see all the details about your gig. This is also where they will find out if they should buy from you or not.
It is also one of the best places to add your keywords so that they show up in Fiverr search results.
Using keyword-rich descriptions can help your gigs appear in the top ranking positions on fiverr when you use them correctly.
3. Use High Quality Images
High quality images are essential for any kind of online marketing. They give your gig an image boost and increase its chances of being clicked by potential clients.
An attractive photo can make your gig stand out from the rest. Your profile picture should be a good representation of what you offer. Don't use pictures of cartoons or anime characters unless your gig revolves around those subjects.
For some services, images can be used to showcase the results of your work This means using before and after photos, screenshots of positive customer reviews, or even videos showing you in action. These kinds of images will help potential buyers get an idea of what they can look forward to when ordering your gigs.
If your image is low quality and irrelevant, then there is a high chance that people will avoid and choose other's gigs instead.
So make sure that your photos are professional and relevant to your gig.
4. Have A Good URL For Your Gig
When you create the Title for your Gig, Fiverr automatically creates a custom URL for your listing using that Title. Another benefit of this feature is the fact that as long as your titles are descriptive, so are the link to your gigs.
You should always strive to keep your URLs simple, easy to read and understand.
5. Use Accurate Tags
When you start a gig, you can choose up to five keywords that will help the client find you. These keywords are called tags. Tags are like sub-routes to help clients find your gig. By using tags, you can increase your chances of getting found by clients searching for similar gigs. You should always try to add at least three keywords to your gig description. 
Tags can help you rank your gig under different keyword searches. Make sure that they're accurate but different enough so that it helps in different search terms. You can use a variety of keywords to help you rank your gigs very quickly. Make sure these tags accurately describe what your gig is about and don't repeat any of them .
6. Add a Video to Your Gig
A video is one of the most effective ways to market yourself on Fiverr. Videos allow you to explain how your service works and why it's worth buying. They also help you build trust with potential customers. The more information you include in your video, the better. You may want to consider adding a short intro to your video explaining who you are and what you do. Then, explain what your product/service does.
According to Fiverr, videos increase engagement by up to 72%. Videos allow you to communicate directly with your customers, explain what you will do for them, and establish a relationship.
Make sure that every one of your Fiverr gig videos has a professional and informative look. You don't need to be good at video editing if you don't want to. You can always hire someone else to do it for you.
7. Use Analytics To Tweak Your Gigs
Analytics can help you analyze your gig marketing strategy. Use analytics to track views, impressions and orders. Then see what changes you apply have the most significant effects. You'll then be able to identify what adjustments will have the greatest positive impact.
READ ALSO:
8. Have A Sensible Pricing Structure
Your pricing structure is important because it dictates the value you offer to clients. It must be clear and understandable.  
The pricing of your gig should depend on its complexity. It's important to have a reasonable price for each gig. If you overcharge, it could discourage prospective buyers from buying your gigs. As well, your pricing should match the value of your services. In order not to lose potential buyers, you must make sure that you set a fair price for your gigs.
9. Always Stay Online
If you want to get noticed on Fiverr, you must always be active on the platform. This means being online 24/7 as much as possible. 
You need to always be online so your gig will be displayed even if buyers select "Active Seller" in search. 
If you want to stay online always, install the Fiverr app for iOS or Android on your mobile phone and always be online from there.
If you use your computer to stay active, then that would be better, but make sure that it's always connected to the Internet. 
By staying online constantly, you will be able to attract new buyers.
10. Deliver On The Same Day
Delivering on time is an advantage. When people buy your gig, they expect you to deliver within a certain amount of time.
Fiverr is an online marketplace for freelancers who offer their services. As a newbie, you should aim to deliver your work as soon as possible (same day). This will give you an edge over two or three day delivery services.
Always try to deliver your Gig same day because this will show your professionalism.
11. Write FAQ
It's useful to write a FAQ section on your page because some buyers might have questions before purchasing your gig.
Having a FAQ section allows you to answer all those frequently asked questions about your gig.
12. Avoid High Bounce Rate on Your Fiverr Gig
High bounce rate indicates high customer dissatisfaction. Customers are likely to leave your gig when they find out that it doesn't meet their expectations.
If you can get visitors to click on your gig because of its catchy title and good thumbnail but they immediately click back on the results page, it will hurt your rankings.
If your gig has a high bounce rate, then it means that your gig isn't providing the solution for the potential buyers. In order to avoid this, you should strive to have a good and thorough gig description that will tell every possible detail about your gigs.
14. Become A Higher Level Seller
Becoming a higher level seller is one way to increase sales and improve profitability.
There are three different types of sellers on Fiverr. All sellers start at the same place, as a new seller. You will need to earn $400 before you can move up to become a level 1 seller.
As you grow, you will move to higher tiers. Each tier offers greater rewards, more potential customers, and more opportunities for growth. When you reach a certain level, buyers will start trusting you more. This means you will get more sales and earn more money.
However, when you change levels, sometimes your earnings go down. Don't worry about this because you still have time to grow and earn more. Just keep working hard and doing high quality work.
15. Promote Your Gigs On Social Media
Promoting your gigs on social media platforms like Facebook, Twitter, Instagram, etc., is another great way to gain exposure, build brand awareness, and sell more.
Create your own social media presence by setting up a Facebook, Instagram and Twitter account. You can promote the page by increasing likes and shares with the right audience, which leads to better results.
You must always try to promote your gigs on social media. It's not enough just to post them once in a while. Instead, you should create content regularly, publish photos and videos, and share links to your gigs on a regular basis.
What Is SEO On Fiverr?
Fiverr SEO is a technique where you provide information about your gig to the Fiverr algorithm, on what topic your gig is made and what service you are offering, so that you can rank higher in Fiverr search result.
Does SEO Work On Fiverr?
Yes, SEO works on fiverr. You simply need to add keywords to your gig description and make sure that you use relevant tags, and then you will see more people click on your gig which will increase your sales.
How Do I Attract Customers On Fiverr?
To attract customers on fiverr all you have to do is write a good profile and describe your services well. Always keep it short and simple. Also, try to offer unique services and if possible be different from other sellers.
Is It Easy To Get Clients On Fiverr?
Getting clients on Fiverr is easy when you optimize your gig the right way. But you should also try to promote gig through social media to get more exposure and potential clients.
Summary
SEO is an important part of any business, especially if you're selling services online such as Fiverr. If you want to succeed on Fiverr, you need to know how to apply SEO techniques to your gigs.
With help from our experts, we've put together these tips and tricks to help you master the art of optimizing your gigs for SEO success.
I hope you find this helpful!