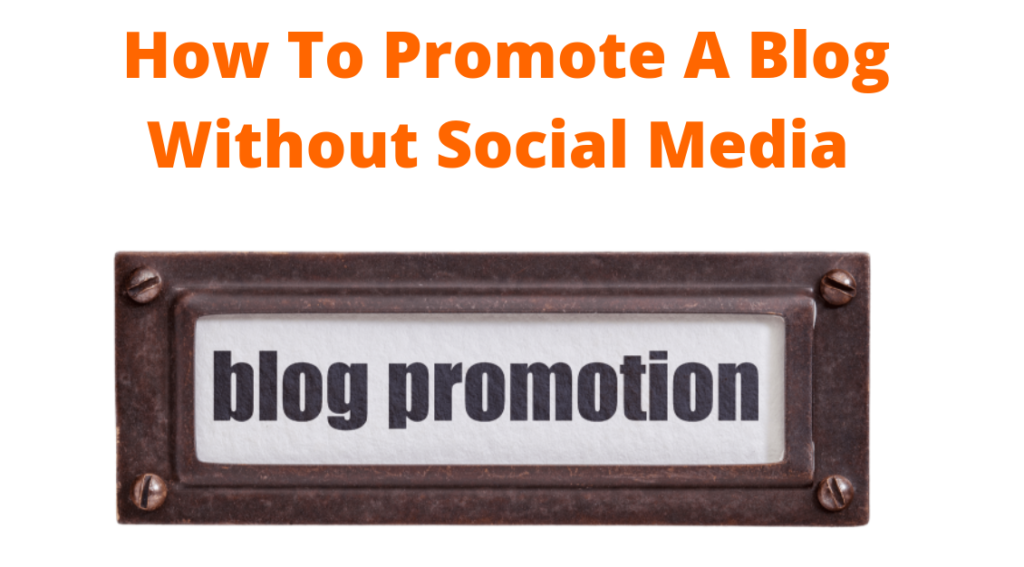 Blogging is a great way to share your thoughts and opinions with the world, but you need to know how to promote it effectively in order to get more readers. 
Blogging is a great way to promote your business, but it can be difficult to get people to visit your blog and read what you have written. The good news is that there are many ways to increase the traffic to your site without using social media. In this article we will show you how to promote a blog without social media.
7 Ways To Promote A Blog Without Social Media
1. Use SEO
SEO stands for Search Engine Optimization. It's a method of optimizing websites so they appear higher up on search engine results pages (SERPs). If you want to make sure your website gets visitors from Google, Bing or Yahoo, you should use SEO. You can do this by writing high-quality content and making sure it appears at the top of SERPs when someone searches for a keyword related to your niche.
SEO is very important when promoting a blog because if you don't optimize your content, you won't get much traffic from search engines, which means fewer potential customers visiting your site.
By optimizing your content, you will also improve the chances that visitors will stay on your page after they arrive. This will help you build a relationship with them and keep them coming back for more.
2. Start Growing Your Email List
An email list allows you to communicate directly with your customers through emails. It makes it easy for you to keep in touch with your clients and prospects, and to send them valuable information that will benefit them.
If you want to promote a blog without using social media, then you should start growing your email list. An email list allows you to send emails to your subscribers every time you publish new content. This makes it easy for you to communicate directly with your audience instead of relying on social media platforms like Facebook and Twitter to reach out to them.
You can grow an email list by offering free resources like ebooks, guides, and videos. When you offer something valuable to your audience, they will sign up to receive regular updates about your latest publish post and will prompt them to visit your blog.
3. Create Content That People Want To Read
The best way to promote a blog without Facebook or Twitter is to create content that people want to read. This could mean creating content that helps people solve problems, provides tips, or gives advice.
If you want to attract new readers to your blog, then you need to create great content. People love reading about topics that interest them, so try to write articles that cover topics that your audience wants to learn about.
READ ALSO:
4. Write Guest Posts for Other Blogs
Another way to promote a blog without using social media is by writing guest posts for other blogs. Writing guest posts is a great way to expand your network and gain exposure for your own blog.
When you write a guest post, you are essentially giving away some of your articles for free.
When you write a guest post for another blogger, you will not only provide value to their audience, but you will also give yourself a chance to connect with new people who may also try to visit your blog in the future.
Guest posting aims to promote your blog to a given number of targeted readers effectively. Provide useful content to build credibility. Establish yourself, your brand, or your company as one that others will want to be associated with. This way, you'll be able to build a loyal following of regular readers who will begin visiting your blog regularly.
5. Use Push Notifications
Push notifications allow you to send messages to your followers whenever there's a new update on your blog. 
This feature lets users know whenever you have published a new article, which means that they won't miss any of your important updates. You can also use push notifications to inform your followers about special events, giveaways, and promotions. If you want to start sending push notifications, there are many tools available to help you get started.
Push notifications allow you to send alerts to your subscribers' browsers even when they're not on your site. This means they will get a notification whenever there is something new on your website, which will encourage them to come back to check out what you have posted.
6. Promote Your Blog in Forums
Forums are online communities where members share information and ideas. They often have dedicated sections for different types of topics.
There are forums all over the internet where you can find people interested in sharing similar interests as yours. By joining these forums, you can easily reach thousands of people who might be interested in learning more about your topic.
You should join forums related to your niche and make sure you participate in discussions. This will help you establish yourself as an authority in your niche by posting content that people will find helpful.
You can link to your blog from forums, which will increase traffic to your site. When people see that you've been active in a forum, they're more likely to visit your blog and read your latest posts.
7. Run An Online Giveaway Contest
Giveaways are a popular way to promote a blog. If you run a giveaway contest, you will need to choose a prize that will attract attention. The best prizes are those that are highly valuable to your target audience.
Running an effective giveaway is a great way to drive more traffic and increasing engagement in your blog, so it makes sense to do this if you want to grow your blog.
Can You Be Successful Without Using Social Media?
Yes, you can be successful without using social media. However, you will find yourself at a disadvantage when compared to other businesses who use social media effectively. If you want to succeed, then you must learn how to leverage social media to your advantage.
Is Blogging Still Popular?
Yes, blogging is still popular because it allows you to share information about yourself and your business, and it also helps build trust with potential customers. It is a low-cost marketing strategy that has proven to work time after time.
Conclusion
The above mentioned 7 tips are proven ways to promote a blog without social media. These methods will help you gain more exposure and improve the overall performance of your blog.
Promoting a blog takes time, patience, and persistence. But once you have established yourself as an expert in your field, you will soon notice how much easier it becomes to promote your blog.
Promoting a blog without social media is possible, but it takes time and effort. It involves creating quality content, building relationships, and promoting your blog through various methods.
When done right, blogging can be very rewarding. But before you jump into the world of blogging, remember to plan ahead. Make sure you have enough time to dedicate to your blog. Also, don't forget to work on your writing skills before starting your blog.