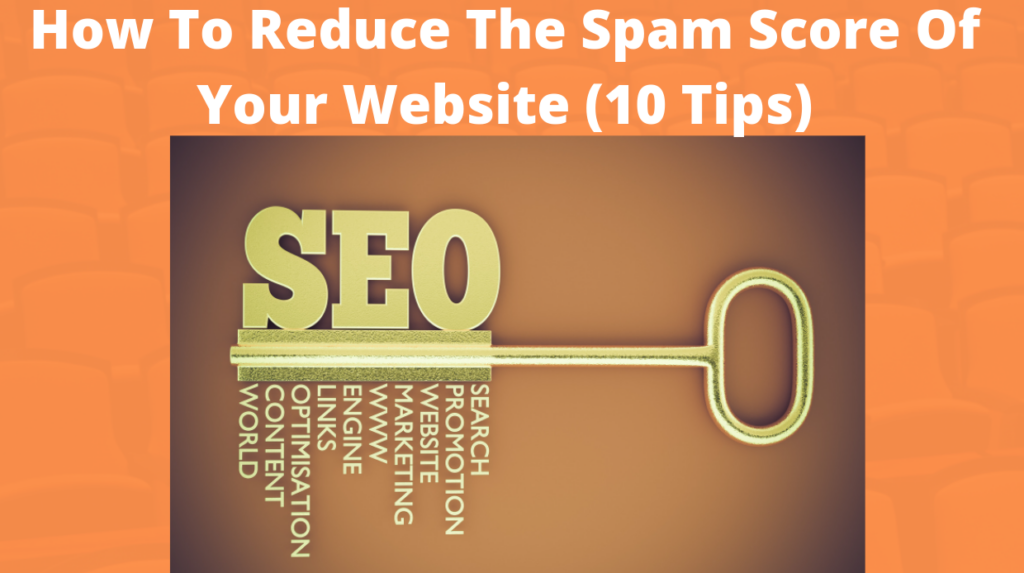 Spam score has become a major concern for every webmaster. There are several ways to reduce spam score of your site, but here we will discuss 10 tips that you can use to reduce the spam score of your website, and make it more trustworthy as well.
What Is Spam Score?
Spam score is a metric used by Moz to measure how spammy a site is. A high spam score means that a lot of other spammy websites link to yours. Your website may be penalized if you have a high spam score.
A spam score is an important factor for website ranking. A high spam score means that your site is mostly filled with spam content. This may result in penalties of your site.
If your spam score is increasing, and you need to take action now! You should try to avoid using anything that is associated with spamming. You should also make sure that your content is relevant to what people are searching for online.
10 Tips On How To Reduce Spam Score Of Your Website 
1. Get HTTPS
If you have an e-commerce website, blog or any other type of website, then getting https is mandatory. You need to get https if you want to increase the trust factor of your website by avoiding potential risks like data theft etc. If you don't want to spend money on SSL certificates, then there is another option available – CloudFlare. It provides free SSL certificates for all users.
2. Avoid Thin Content
Google penalizes websites with poor quality content. Spam scores increase if your website is poorly written or contains copied content.
Your websites should provide high quality content about topics such as news, education, health, sports, business, etc. Visitors are increasingly looking for information on specific topics.
In order to provide quality content, websites should focus on providing high-quality information. Visitors are also looking for something. You need to make sure that your website provides accurate information and helps people get what they want.
3. Build Quality Backlinks
Backlinks are one of the most important factors when it comes to SEO. They help search engines understand the authority of your website.
You can build backlinks from blogs, social media sites, forums, directories, press releases, citations, etc. When building links, make sure that you follow the guidelines provided by Google.
You should build backlinks from high quality sites and blogs. Websites that are related to your niche and offer useful information are great sources of backlinks.
Quality backlinks reduce your spam score because they help search engines understand that your website is highly authoritative. In addition, backlinks increase your rankings, traffic, and Visibility in search engines.
4. Avoid 'dodgy' Domain Extensions
You should keep away from "dodgy" domain extensions. These include.tk,.buzz,.gq, etc.
These domains attract spammers and often get blacklisted by search engines. Search engines consider these types of domains as spammy and will punalize them.
Never use any dodgy domain extension in your website. Always choose.com,.org,.net,.edu, etc.
5. Get A Favicon
A favicon is a small icon that usually appears in the address bar of your browser. The favicon is used by search engines to identify your website.
The favicon must be unique, clear, and visible. Make sure that you use only standard icons for your website.
Adding favicon to your site will give it more credibility. This gives search engines signal that you're serious about your website.
READ ALSO:
External links in navigation take readers to external pages. Google considers this as a sign of a low-quality website.
To improve your SEO and reduce spam scores, avoid using external links on your site's navigation. Instead, use internal links which point visitors to relevant pages within your website.
7. Avoid Using A Lengthy Domain Name
There was a time when people use to put their full keyword inside the domain. However, it is not recommended to put your whole keyword inside the domain because it makes the domain name too long. People want short, easy-to-remember, and straightforward domain names. You shouldn't go over 63 characters or else it could be considered spammy.
Most search engines prefer short, concise URLs. Longer URLs are rarely used on legitimate sites. Therefore, a spammy site that uses long URLs is likely to get flagged as spam.
We suggest that you should change your domain name if you receive a spam score flag because it might be harmful to your site. You should hire an SEO expert to help you with this task.
8. Balance Your Dofollow And Nofollow Links Proportion
Dofollow and nofollow links have different functions. Dofollow links pass link juice to other websites. On the other hand, dofollow links don't pass any link juice.
Backlinks impact the site score more than other factors. To decrease your spam score, make 50% dofollow and 50% nofollow links, by doing i guarantee you that you will see improvement in your site ranking and also your Domain Authority, so try to follow my advice.
9. Avoid Low Site Link Diversity 
Low site link diversity means that there are fewer referring domains pointing to your website. If you're trying to get rid of this problem, you may want to try increasing the number of referring domains that point to your site. This indicates that the majority of incoming links come from a few referring domains, so it can negatively influence your site's spam score.
If you want to increase the number of referring domains, you need to find high authority blogs and websites to link back to your website.
If you want to increase the amount of site link diversity, then you can try getting guest posting gigs. Guest posts are very useful because they provide many linking opportunities, and you'll be able to diversify your site's link profile.
10. Use a Disavow Tool
A disavow tool allows you to remove negative links from Google. It helps you remove all kinds of bad links that are harming your SEO campaign.
You can use Google's Disavow Tool to tell Google to ignore specific pages or domains. However, you should only use this tool if you know what you're doing.
Google recommends that you only use the tool when you have a lot of bad links pointing to your website and you are sure that these links are hurting your rankings. Don't use this tool when you want to get rid of a few annoying links. Instead, send polite emails asking the owners of the links to take down the links themselves.
Conclusion
After reading this article, we hope you have learned how to reduce spam score of your website. We recommend that you implement all the tips mentioned above in order to achieve success in SEO.
According to Moz, a website's spam score updates every quarter. So, if you make any changes to your website, it may take some time for them to become effective. If you follow these steps, the spam score will decrease. Spam score is a simple and straightforward idea, but many webmasters overlook it in their SEO strategy. That's unfortunate, because even the smallest mistake can cause problems in your entire ranking.
With the knowledge gained from this article, I'm sure you know how to reduce the spam score of your site in order to improve your SEO strategy.