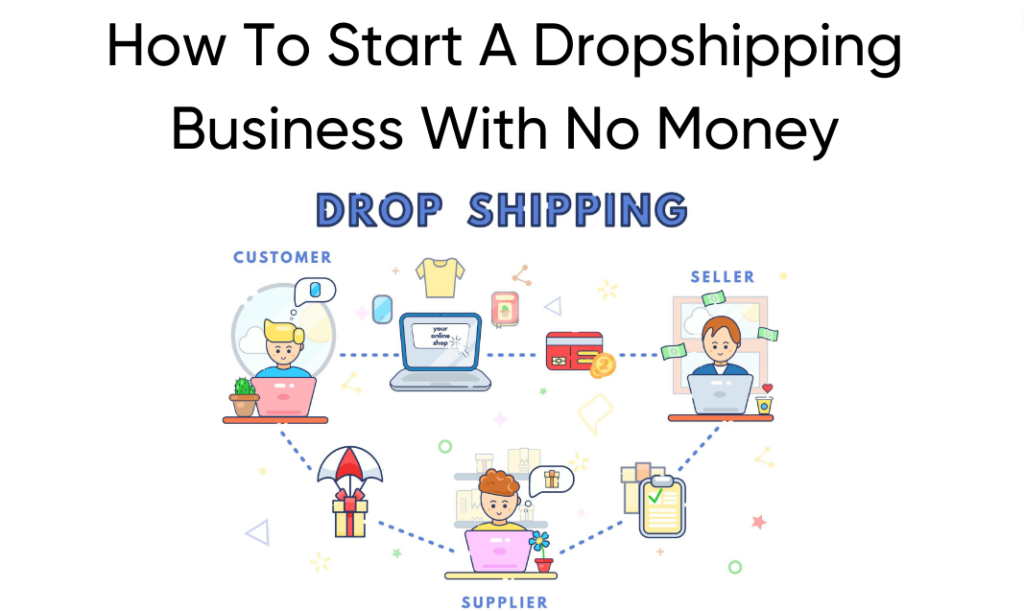 Starting a dropshipping business with little money is possible, and you can do it right away. In this article, I'll show you the step-by-step process of how to start your own dropshipping business store from scratch with little money.
Dropshipping is a great way to get started with eCommerce with very little capital expenditure in comparison to other types of online businesses. You might think that dropshipping is only suitable for people who have access to a lot of capital, but this is not true at all.
You don't need to invest thousands of dollars to start an effective dropshipping business, the reason why dropshipping works so well is because it allows you to sell products without having to spend any upfront costs on inventory. Instead, you simply order the product(s) from the manufacturer and then ship them directly to your customer.
This means that you can start selling as soon as you are ready, which makes it perfect for those who want to get into eCommerce quickly, or for anyone who has limited time and resources available to them.
What Is Dropshipping?
Dropshipping is a popular online retailing model used by many online stores. In this type of business, the retailer doesn't own the inventory — instead, he or she simply acts as the middleman between the customer and the manufacturer. As such, dropshippers don't have to worry about maintaining large inventories of goods. They can offer their customers the convenience of immediate delivery and low prices.
Dropshipping is a viable option for many online retailers. It's a low-risk business model that doesn't require large upfront capital investments. You don't have to worry about inventory or managing stock levels. Instead, all you have to do is sell products directly to customers via your own website. Your profits come directly from the sales you make on your site.
3 Things To Consider When Starting An Online Store Using Dropshipping
If you're interested in starting an online store using dropshipping, here are some things to consider:
1. What Type Of Products Do You Want To Sell?
In order to succeed as a dropshipper, you need to decide what kind of products you will be selling. This decision may seem simple enough, but it is an important one. You should choose products that you know people will buy, and that you know they will like. If you try to sell something that isn't in demand, you won't make much money.
2. Which Supplier Will Supply The Products For You?
Finding the right supplier is essential when you plan to use dropshipping to build your online store, failure to find a good supplier could mean losing out on potential profit. So, before you sign up with a new supplier, check out reviews of different suppliers. Look for companies that provide high-quality products,  and will be able to deliver orders within a reasonable timeframe.
3. How Much Time And Resources Are You Able To Invest?
The amount of time and resources you are willing to put into building your dropship business depends entirely upon how much time and effort you feel comfortable investing. There's no right answer here, as every person has different needs and preferences. However, if you don't have the time or resources to dedicate to running your dropshipping business, you might want to think twice before you start.
7 Tips To Start A Successful Dropshipping Business With No Money
Here are 7 tips to help you start a successful dropshipping business with no money:
1. Build Your Dropshipping Store
Before you even begin selling anything, you'll need to set up a website where you can display your products. Make sure that the website is easy to navigate so visitors can easily locate the products they want to purchase. 
You'll need to create a website where you can display these products and start attracting traffic to your site. Remember that even though you don't have any money invested in creating your website, you still need to pay for hosting fees and domain registration.
Your website is your shop window, and it is often the reason why customers end up buying from you. Therefore, it is very important that your website looks great, and offers a user experience that makes visitors want to come back again and again.
2. Decide On Your Niche Market
Whether you're planning to sell clothing, electronics, cosmetics, or other types of items, you'll first need to decide what niche you want to focus on, this will determine which products you will sell. Once you've decided on a product category, you can then research the market to see where there are gaps in terms of demand.
Your niche will determine whether you make a lot of money or just break even. If you choose a niche that is already saturated, you may struggle to get enough sales to cover your costs. But if you pick a niche that had low competition and lots of room for growth, you stand a better chance of making a decent profit.
So, once you know what type of products you want to sell, you should now look at the current trends in the market. This way, you can ensure that you're offering something that people are looking for.
3. Find High Demand Products
Once you've identified a niche that you think is worth exploring further, you'll need to find the products that are in high demand within your niche. These products are usually those that are most likely to have buyers looking for them.
A product that is in demand is also more likely to be profitable than a product that is not in demand, so finding these products is key to making sure you get started off on the right foot.
You should not only target product that has high demand, they should also be low competition products. Low competition means that there are fewer sellers offering similar products, so you stand a better chance of getting noticed buyers, therefore increasing sales.
READ ALSO:
4. Find The Right Supplier
Once you've chosen a niche and built your website, you'll need to find a supplier who sells the type of products you intend to sell. This means finding a supplier who can deliver the exact products you want to sell.
Since you don't manage and maintain your own inventory, your overall dropshipping business performance depends largely on the supplier. Finding trustworthy suppliers helps you get a good deal on your products and makes sure that the quality of your products is high when they're shipped to your clients.
Your business success relies on the supplier that you choose to work with. You may be able to get a lot of suppliers, but you must choose one that meets your needs. If you get bad service from a supplier, they could damage your reputation and cause you to lose potential future orders.
The best way to ensure good service is to order something from them and then see if they deliver when they say they will. To be a successful dropshipper, you need to keep your customers satisfied, so it's important that you choose a reliable supplier.
There are many platforms that you could use to start a dropshipping business without any initial investments. There are some big names in the industry, including eBay, AliExpress, SaleHoo, Amazon, and Shopify. They often give you a free trial so you can check out their service before deciding whether it's right for you. So, do not hesitate to take advantage of this offer.
5. Add Products And Write Unique Descriptions
Now that you've found a supplier, you'll need to add products to your store. When adding new items to your store, you'll need to write unique descriptions for each item.
This is because different products require different types of descriptions. It's important that you make sure that your description is clear enough for anyone reading it to understand exactly what the product is, how much it costs, the benefits of buying it, and why people should buy it.
If you don't know what to include in your description, you can also look at other stores selling similar products to learn about what works well for them. then you can replicate those things in your own description.
6. Promote Your Store
After you've added products to your store, you need to promote them to attract more traffic and boost sales. Promotion is key to growing an online business, so you should spend time promoting your store.
There are several ways you can promote your store:
Social Media Marketing – Social media marketing is a great way to reach a large audience quickly. You can take advantage of social media platforms like Facebook, Twitter, Instagram, and others to promote your store.
Search Engine Optimization (SEO) – SEO is a process of optimizing websites to rank higher in search engines. When you optimize your website for products that you sell, you can attract more visitors who might become buyers, which means more revenue for you.
Affiliate Marketing – Affiliate marketing is a type of promotion where you partner up with someone else who has a larger audience than you. The person with the bigger audience promotes your products and earns a commission whenever someone buys through their link on your store. You can use this method of promotion to grow your business effectively and efficiently.
Paid Advertisements – Paid advertisements are another effective way to promote your store. You can pay to get your product in front of your target audience who are like to buy your product. This is a quick and easy way to increase exposure for your store if you have the budget for it.
There are many other methods of promotion that you can use to drive traffic to your store. However, these methods above are proven to be highly effective, so they're worth considering first.
7. Track Sales And Analyze Data
Tracking is one of the most important aspects of running a successful dropshipping business. If you want to maximize profits, you must track all of your data carefully.
When you start tracking data, you'll notice patterns in your results. Analyzing data helps you identify areas of improvement, such as increasing conversion rates, reducing refunds, and boosting sales.
So try to keep track of everything that can help you to improve your overall performance.  You can even set up email automation tools to help you stay organized and efficient.
FAQ
Can I Start Dropshipping Without Money?
Yes, you can start dropshipping without having any money, but if you do not know how to run a successful a dropshipping business, then you might find it hard to make money from it.
How Much Does Beginner Dropshippers Make?
It depends on the quality of your products and how much effort you put into building your brand. But generally speaking, beginner dropshippers earn anywhere between $100-$20,000 per month.
Is Dropshipping Hard To Do?
Dropshipping is very simple compared to traditional retailing because there's no inventory or warehouse management involved, all you need to do is find high-quality products that are in demand and list them on our store for sale to customers. This way, you can make money easily and effortlessly.
Conclusion
Dropshipping is a fantastic way to sell products online without any upfront costs. All you have to do is find items to sell, create a website, and promote your store. Once you've done that, you simply ship the product directly from the supplier to your customers. And if you're looking to start a new online business, dropshipping might be exactly what you need.
So, now that you know how to start a dropshipping business with no money, I hope you will consider starting your own dropshipping business today!
Thank you so much for reading!